YakAttack TowNStow Kayak Carts
How-to & Fitment Guide

Located at the bottom of this page is a list sorted by brand that shows compatibility images and the recommended setup for our family of kayak carts. We will continue to add to this blog and the individiaul brand fitment guides as more information and compatibility images become available.
What is a kayak cart and why use one? A kayak cart is a tool, usually with two wheels, that assists the user in safely and efficiently transporting a vessel from one place to another over different types of terrain. Unless you live on your favorite body of water, you've probably already seen or used some type of kayak cart. In this article, we will discuss why you may need a cart, how to use one, the types of carts we offer, and show the compatibility of our TowNStow product line with different kayak brands and popular models of fishing kayaks.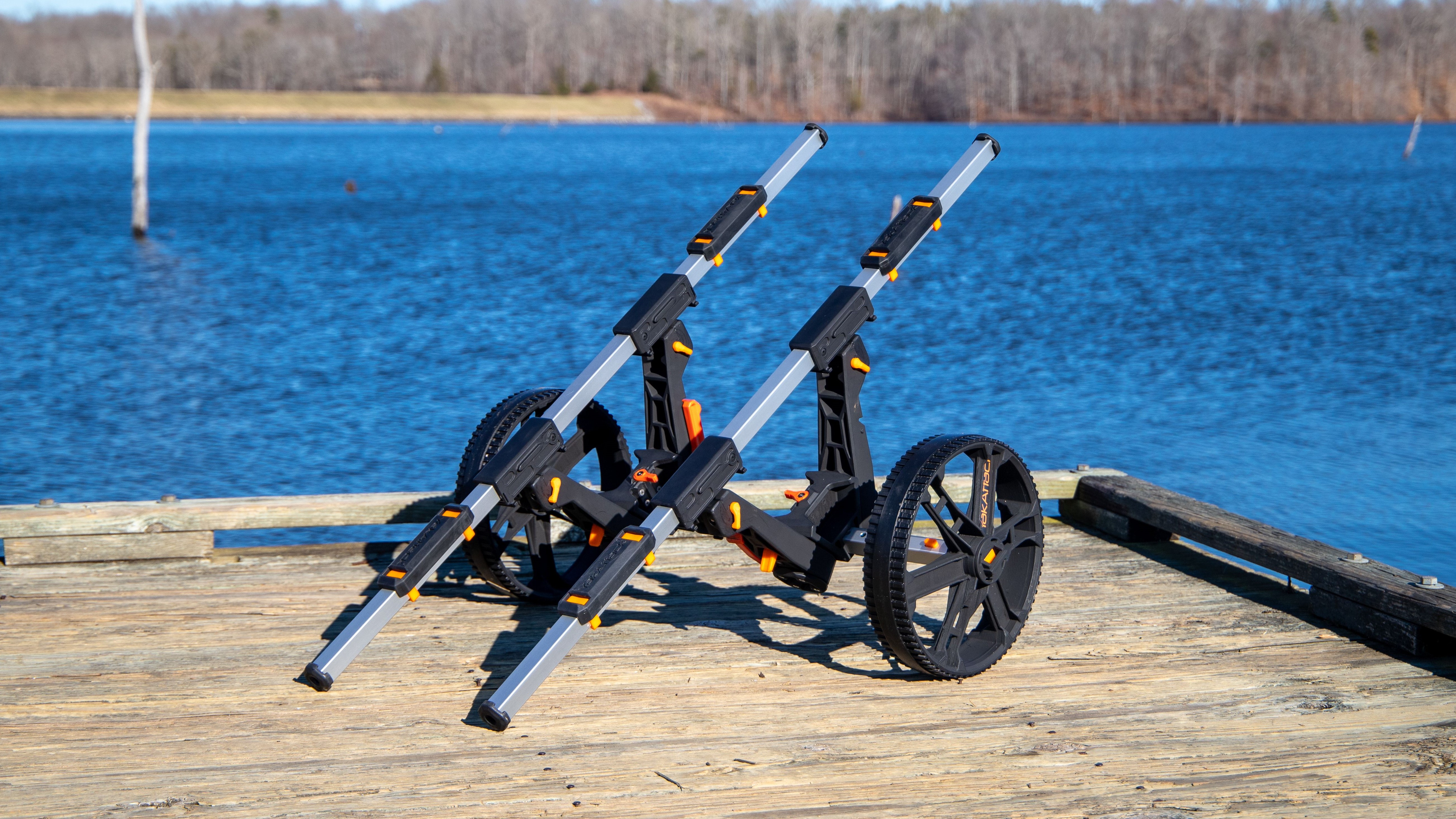 Why would you need to use a kayak cart? For many, getting their kayak to the water is a process that begins with getting the watercraft from the place where it is stored at home, to a vehicle, and then transporting it to the desired destination. If that destination is a public ramp, getting in and out of the water must be quick. Unless you're trailering directly into the water, many kayakers get their rigging done and setup their kayaks in the parking lot and then transport to the water's edge using a cart. If the destination is further off the beaten path, a cart is almost a necessity. For example, a secluded river launch or a coastal surf launch could be far from a decent parking spot. Today's heavier, fully loaded fishing platforms are not fun to drag long distances through challenging landscapes. Having the right cart will make getting to the water an easy process, saving your energy for the adventure ahead.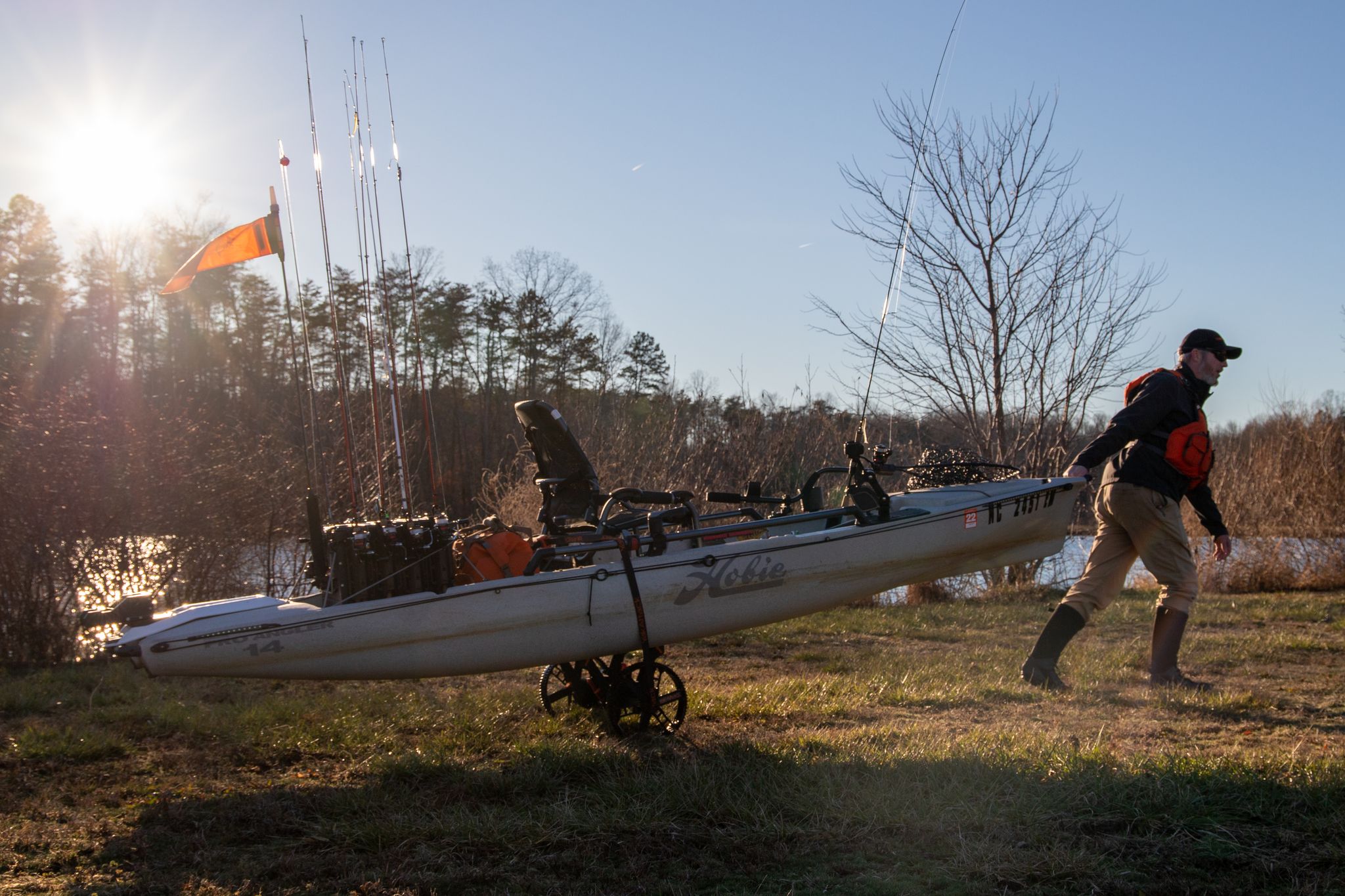 So you've never used a kayak cart before? Well, we're going to tell you how it works. First, you need to identify the type of cart you are using. There are a lot of carts on the market, and not all are designed for modern fishing kayaks like those from Jackson Kayak, Hobie, Bonafide, etc. Most kayak cart designs consist of a cradle or bunk the vessel rests on with two wheels attached to some form of axle or spindle. Another style is a scupper cart. A supper cart consists of two vertical poles on an axle that go up from the bottom of the hull and through the rear scuppers of a sit-on-top kayak. These carts create stress on the scuppers, which is a weak point of the kayak, and are only recommended for certain brands of kayaks where the kayaks were designed with the intent of a scupper cart being used. One of the only examples of this is Hobie. Other than that, most kayak manufacturers will not warranty damage caused by aftermarket products, and some brands specifically mention scupper damage as not being covered by their factory warranty. However, you'll find many people that will tell you they have been using scupper carts for years without issues. As for the rest of us, the investment in a high-end fishing kayak is not something we want to take a chance on causing structural damage to a critical part of our kayaks. Therefore, the cradle or bunk-style cart will work for a more significant percentage of kayaks, than the scupper cart.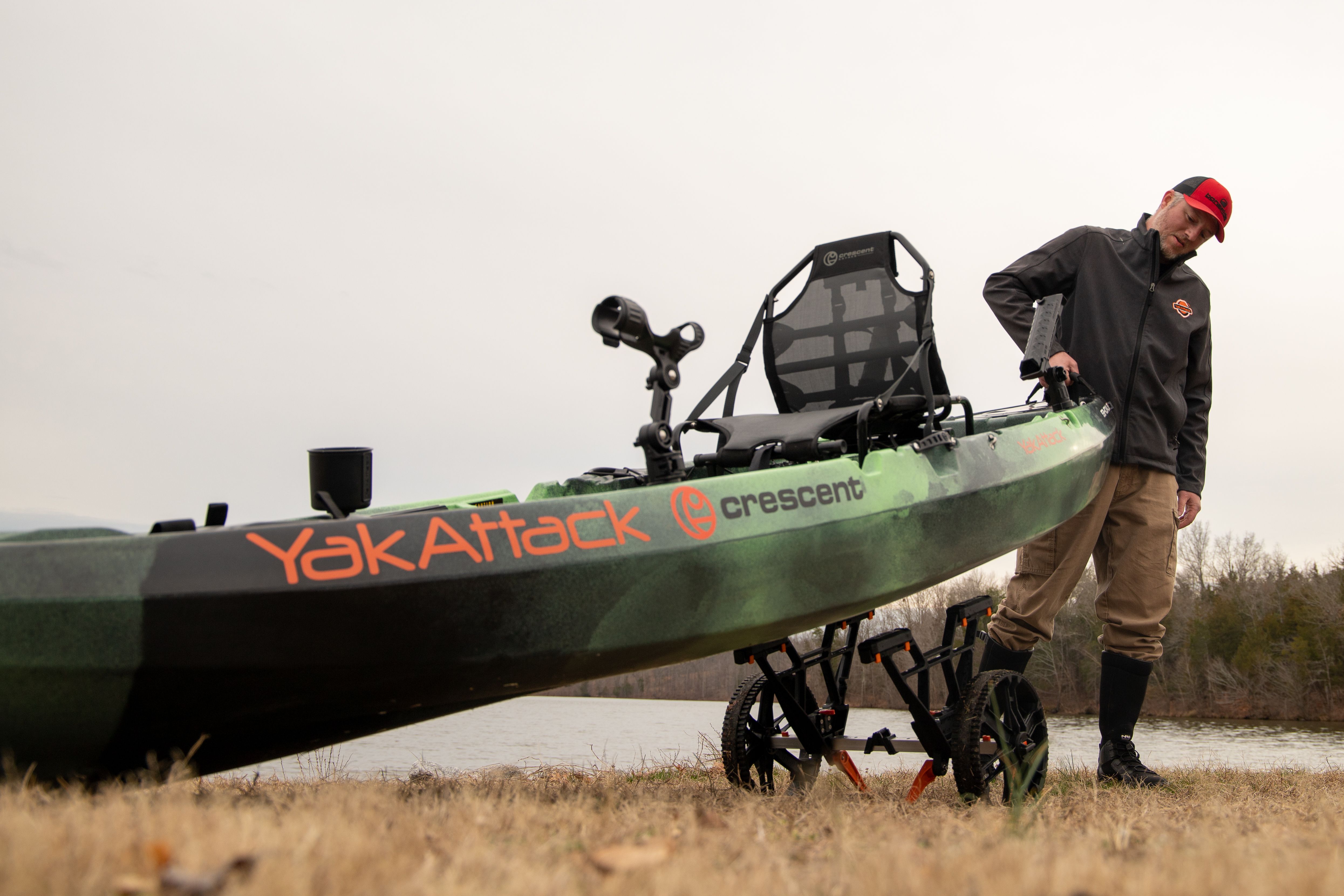 We've seen many different approaches to loading a kayak unto a cart, but we're going to tell you what we think is the easiest way. Before even getting to your destination with a fully rigged kayak, you'll want to find the bunk width adjustment that will work for your particular hull design. The easiest way to do this is to simply flip your kayak upside down and try different adjustments until you find what will work best for you. Once you've done that, you'll be ready to load your kayak with a lot less headache. Start by positioning your kayak and cart flat on the ground beside one another. Align your cart near the center of the kayak to evenly distribute the weight. This spot will differ for everyone depending on how your kayak is rigged. For example, if you have a stern mounted trolling motor, you'll want the cart further back. You'll find that sweet spot with practice, making the rest of the process easier.

Once you've positioned your cart beside your kayak where you want it, angle the cart to align it with the end of the kayak that will remain on the ground when lifting. Deciding which end to lift will also depend on your kayak and how you have it rigged. If your kayak has a rudder on the stern, picking it up from the bow could damage your rudder. For a kayak like the red Bonafide pictured above, picking up from the bow might work better because the kayak sits flat in the rear and won't rock side to side when lifting. Pick up the kayak high enough to clear the cart, pivot over the cart to align your hull with the bunks, and then rest the kayak down onto the cart.
A cam strap is often required to keep the kayak secured to the cart. This will also look different for most kayaks depending on their size, how it is loaded, and how far you need to transport your kayak to the water.

So, you're at the launch and your kayak is in the water, ready to depart, now what? Sometimes it's not convenient to take your cart back to your vehicle, and doing so leaves your kayak and gear unattended and susceptible to theft. Maybe you'll need to bring your cart with you for additional portages along a river. Having a cart that is compact and can be stored in the hatch of your kayak could be ideal.

Now that you know how to use a cart, Here are the TowNStow kayak carts we have available. Follow the links below to read all about them.
After 18 months of development, the YakAttack design team has truly redefined the kayak cart category. Combining best-in-class quality and durability with never-before-seen features and functionality, the TowNStow BarCart is one of the most highly engineered and versatile products we've ever produced!
Designed for extreme duty, the BarCart is universal, collapsible, user-friendly, and robust, requiring no tools to assemble or disassemble. Nothing about this design is what you'd expect, but your expectation will never be the same after using it. With the push of a button or the flip of a lever, the BarCart can be deployed, adjusted, or collapsed in seconds. And with two bunk bar configurations, it boasts unprecedented compatibility with different hull shapes.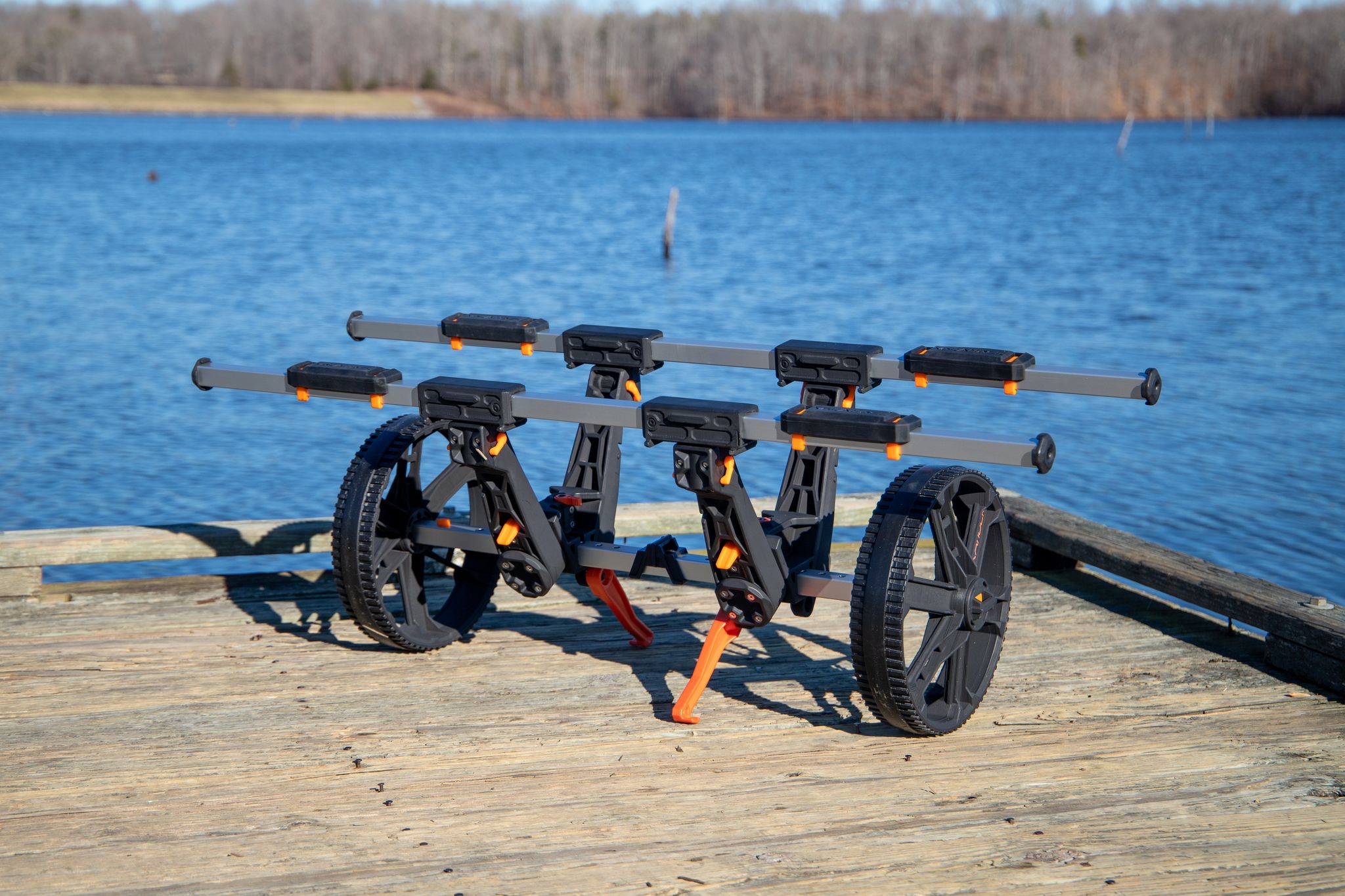 During our design process that resulted in the BarCart, there were other concepts that were too good to ignore. Observing feedback from the BarCart announcement, we knew a simplified version at a lower price point could be a great option to consider to give more depth to our kayak cart offering. With that, the TowNStow Bunkster became the second kayak cart in our TowNStow product line.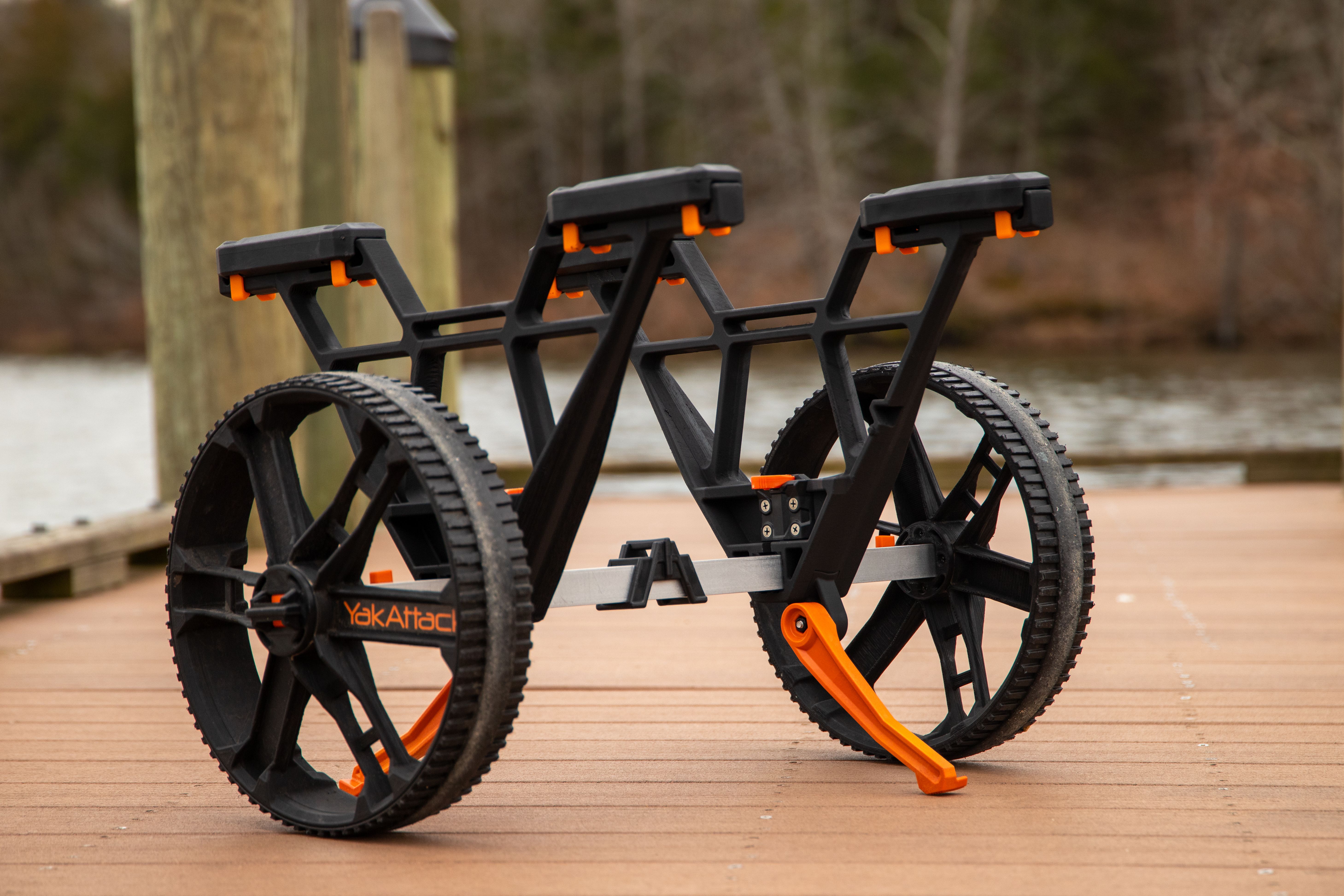 What makes these carts different? The Bunkster is a simplified version of the BarCart. While the wheels, axles, dual kickstands, and width adjustments will remain the same, the key difference is the uprights. The Bunkster consists of two solid uprights, fixed in the bunk-style orientation, which will work great for most kayak hulls, but sacrifices the collapsibility found on the BarCart. The BarCart features two chassis assemblies with upright arms that rotate up and down, allowing it to fold into a more compact package for storage. The BarCart also has removable bunk bars, which enable several different functions. First, this will allow you to change the orientation of the bars from the traditional Bunk-Style to the Roof Rack-Style, allowing it to accommodate a much wider variety of hull shapes. The bars also remove for storage, collapsing down from 44 inches to just under 18 inches. Both carts have the same weight capacities because they are built on the same foundation. The axle is what supports the weight. Choosing which cart you need will depend on your kayak's hull shape and whether or not you want the versatility to carry almost anything.
Finally, one last thing to consider is the type of terrain you will be using your cart on. For many, the 2.5" wide, rudder tread wheels that come stock on our kayak carts are all you will need, but for our coastal anglers, sand can be challenging. The stock kayak cart wheels were not designed for use in sand and will likely dig in. We have a beach wheel adapter in development that will be available for purchase as an upgrade kit.
Kayak Brand Compatibility
If you are interested in the recommended configuration (tie down point, bunk orientation, bunk width, and placement) here is a list of compatibility images sorted by kayak brand for our kayak cart product line. We will continue adding new compatibility images as new models of kayaks are released or as we get request from customers. This list and the compatibility pages listed below will be updated on a frequent basis. If you have a specific make/model of kayak that is not shown below or on each brand page please send a request to support@yakattack.us and we will work towards continual development of this resource.