Some people are just plain challenging to shop for, so this year we asked a few of our pro team members to provide some gift suggestions and pick their hands-down favorite YakAttack product. We wanted to find out the one accessory they found most useful and most used in their kayak or boat. Below is the list of top products and a short description of how they are utilized. Also, if you find yourself shopping for a gift for an angler in your life and still do not know what to buy them feel free to call our customer service team (434-392-3233), email at support@yakattack.us, or message us on Facebook and Instagram, and we will help out with a few ideas to make shopping this year just a little easier.
Barry Davis
One of my most used and favorite items from YakAttack is my Zooka II Rod Holder. I have two of them mounted mid kayak that set in the straight-up position. They are used to hold my rod while changing lures or refreshing a knot and get that rod and reel out of the crowded space when measuring fish on the bump board. With a small twist and adjustment, they also are set for trolling.
Scott Beutjer
12" x 20" Leverage Landing Net
I have been running the 12" x 20" Leverage Landing Net for over three years now, and it has made a believer out of me. Many anglers in the industry call it the "Ninja Net" because of how fast you can deploy it. It is easy to fold up and store behind you or leave open on the deck in front of you. The foam grips help keep wet hands locked on, and the extension gives me the ability to get some power under the big fish to get them in the boat. Treble hooks have no place to hide in the rubber netting, and it is easy on the body of the fish. This is one of my favorite YakAttack items for sure but do not think that it is only built for the kayak. This is the FISHING NET...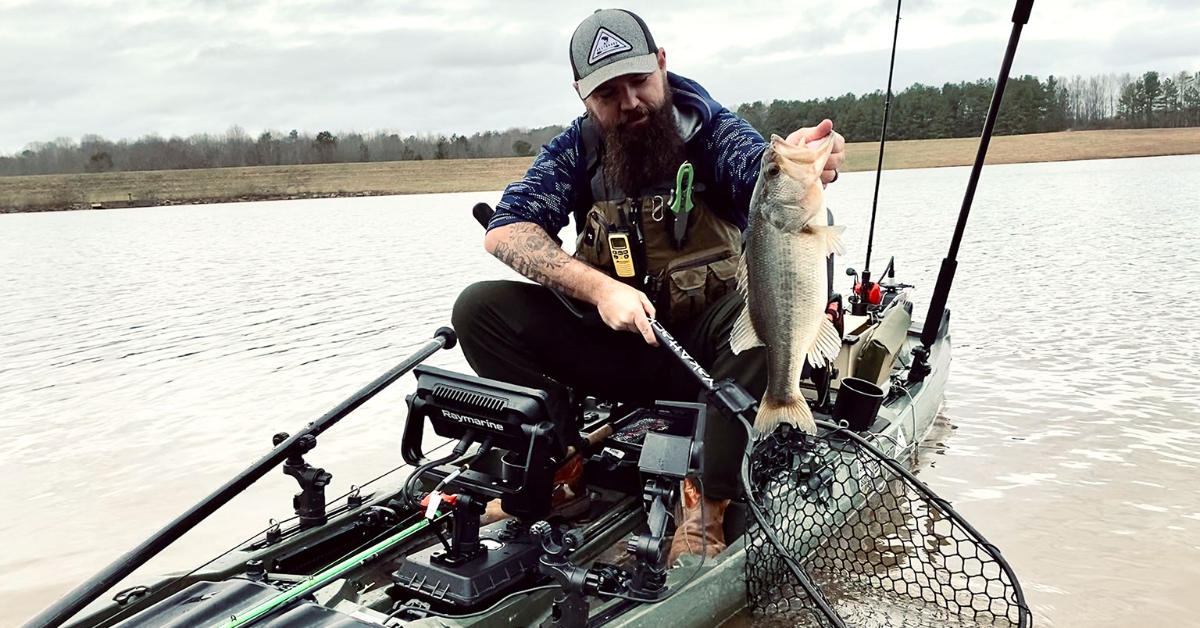 Michael Phillips
Anyone who has ever fished from a kayak knows that when you are handling a rod, holding your paddle, netting a fish, and trying to get a photo, you could use an extra hand...or two. Well, the YakAttack RotoGrip solves that problem. I use them to hold my paddle and my Leverage Landing Net. No more juggling for me!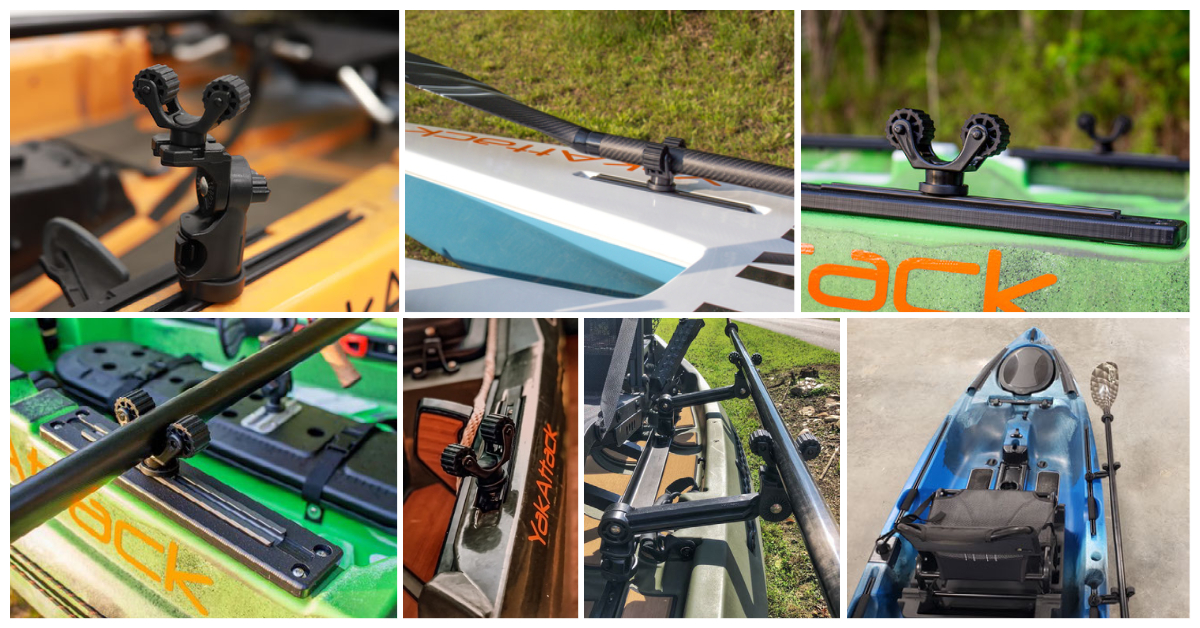 Raf Vargas
Whether you are on Santa's naughty list for embellishing a fish story or not, the BoomStick Pro Camera Mount from YakAttack is here to add credibility to those "hard to believe" fishing stories. The BoomStick is by far the most versatile camera mount system on the market. Its quick-release mounting system allows you to rapidly detach it or pivot it in-place in the event that you need to record all the action around you, above you, or under your kayak, when landing or releasing a big one. The best thing is that it floats, so you do not have to worry about losing your camera with your legitimate fish footage if it slips from your hands. No one will be able to call you out for any of your fish stories anymore because now you can capture all of these precious moments with the new BoomStick Pro Camera Mount from YakAttack.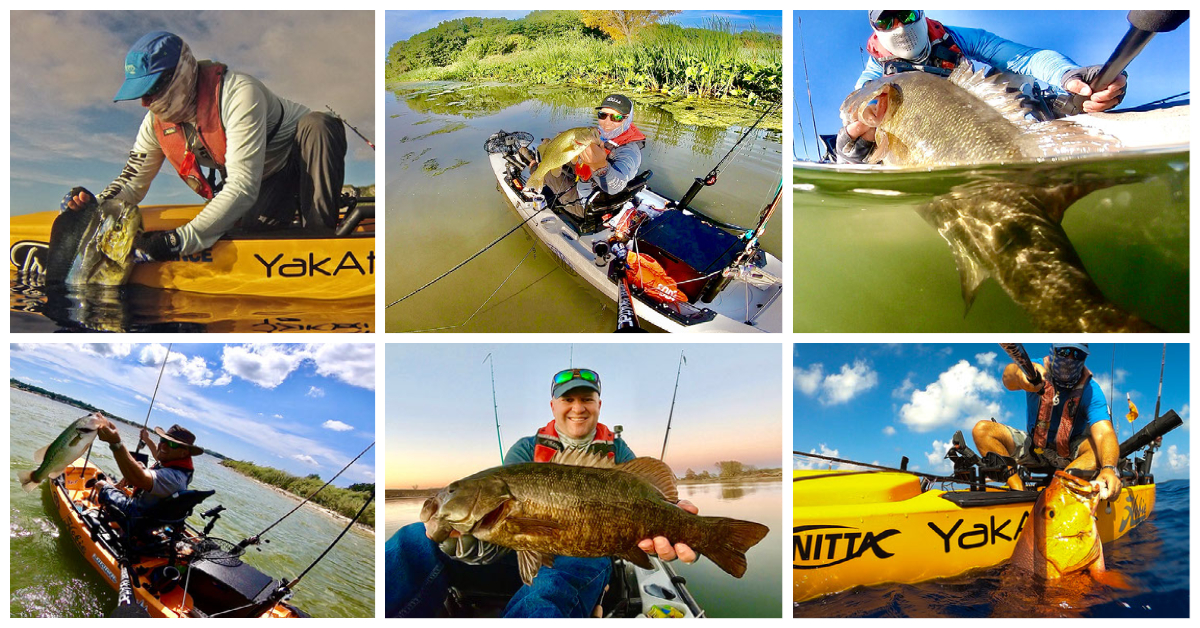 Adam Rourke
The YakAttack Rectangular Fish Finder Mount keeps my electronics securely mounted to the DryPod on my Bonafide Kayaks SS127 fishing kayak. Even in the roughest waters, I feel confident that my fish finder is secure, allowing me to focus on locating fish. Paired with YakAttack's MightyMount XL Track, I can adjust my fish finder in various positions to ensure the best viewing angle. This mount reflects the quality you can expect from the American made products that YakAttack offers.
Mike Case
My favorite product is the Through Hull Wiring Kit. I use quite a few electronics on my kayak, which often means drilling holes to run wires. With the through hull wiring kit, I do not have to worry about keeping the inside hull of my kayak dry. These fittings keep a secure and water-tight seal, regardless of the area I am using it. Whether it is passing transducer cables through the wall of my DryPod, or running heavy-gauge power wires for trolling motors, the through hull wiring kit gives me the confidence to focus on catching fish, not worry about my kayak leaking.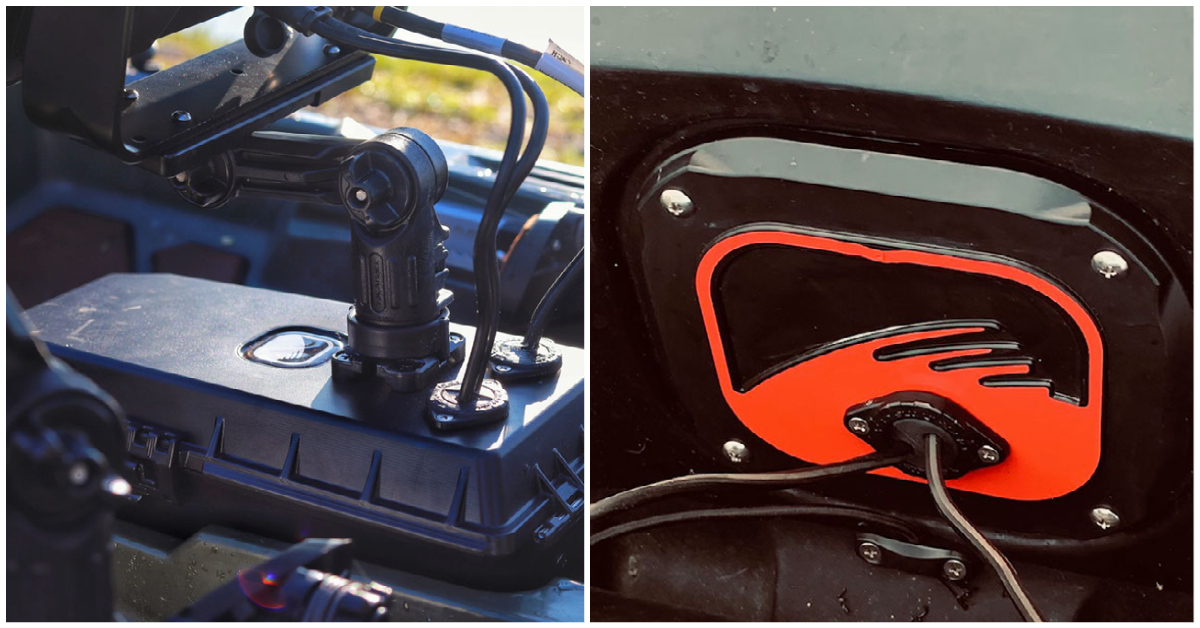 Jeremiah Burish
Time to stuff the stocking with a 12-foot stakeout pole! That does not sound possible, but with the YakAttack ParkNPole Link 8' two-piece stakeout and ParkNPole 46-inch Extension, you can easily place the three sections into little spaces for easy transportation or as a stocking surprise from Santa this holiday season! The ParkNPole Link and Extension are a must-have for beginner and experienced anglers alike. Pairing the ParkNPole with the YakAttack LeverLoc Anchor Trolley allows for maximum versatility to quickly move your kayak into multiple positions without having to remove the poles and reduces undo stress on scupper holes. The durable poles keep the kayak in a sturdy position in current and wind. One of the most significant benefits is the adaptability to hold position in 1-9 feet of water without having the pole in the way for casting.
I do this by simply removing the extension or, as I have done in extremely shallow bays, even just utilized the bottom section to hold in one to two feet of water. Lastly, the ParkNPole is an excellent push pole. I have found that this is the best way to stealthily move through an area and thoroughly pick it apart. To do so, deploy the stakeout pole, fan cast, pick up the pole and push your vessel 10 – 20 yards before staking out and repeating the process. I never have to sit down to do this, making me more efficient and faster through an area. This is an ideal method to pick apart vast lily pad fields or similar areas versus the louder and slower method of throwing out and retrieving an anchor, sitting down and paddling, and repeating.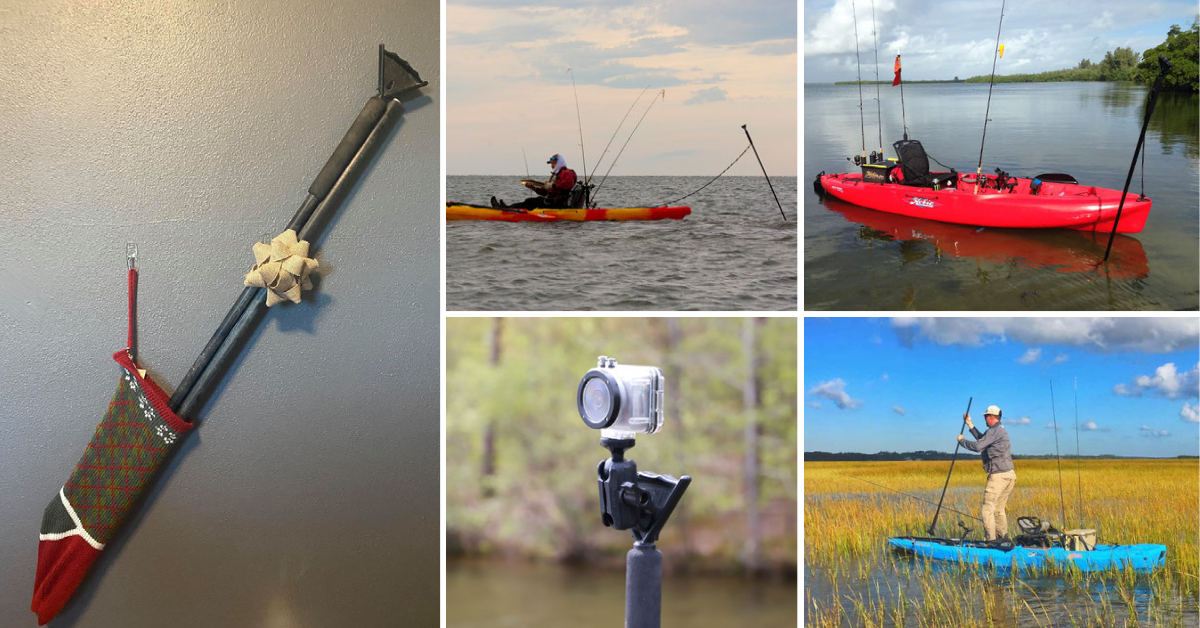 Dave Ohmer
Out of the multitude of accessories that I have installed on my various kayaks, the YakAttack LeverLoc Anchor Trolley has become the first modification that I add to any new boat that comes home to my garage. When targeting fish on specific structure, be it a line of rocks along the bottom or a fallen tree at the water's edge, being able to anchor my kayak so that the structure is directly in front of me is an essential variable in my success. The ability to dial my anchor point by adjusting the trolley ring and locking it in place with the line clamp allows me to focus on my lure presentation without worrying about the wind blowing me away from my target. Rarely does a day go by where I do not get a ton of use out of my LeverLoc Trolley.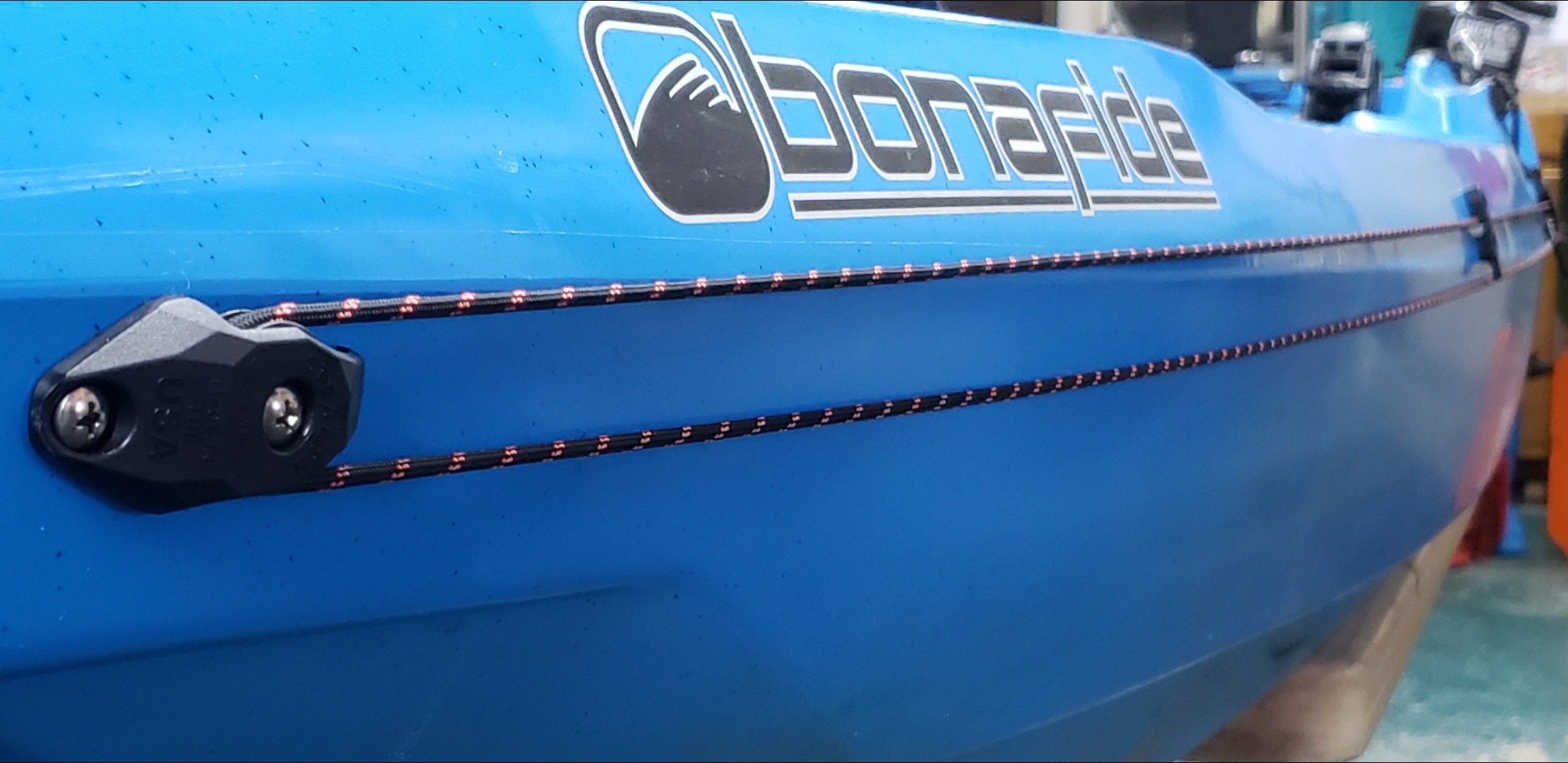 Michael Guyer
I have been transporting kayaks for 16 years and have tried lots of different straps. The Cam Straps by YakAttack are simply the finest that I have used. I prefer them over all others because of features like UV resistance, which means that they do not fade or rot due to sunlight. Fresh and saltwater do not affect them, and they do not stretch when wet like others. Finally, the large rubber bumper around the buckle means that they do not scratch or gouge anything. Available in either 12' or 15', they are great for anything that needs to be secured.
Chris Maher
One of my favorite YakAttack products is the Mighty Mounty XL Tracks. These tracks allow me to be creative when rigging my kayaks, and I can add them to any flat surface to have my accessories where I want them. They are strong, lightweight, and come in 6", 9", and 12" to fit your application and needs.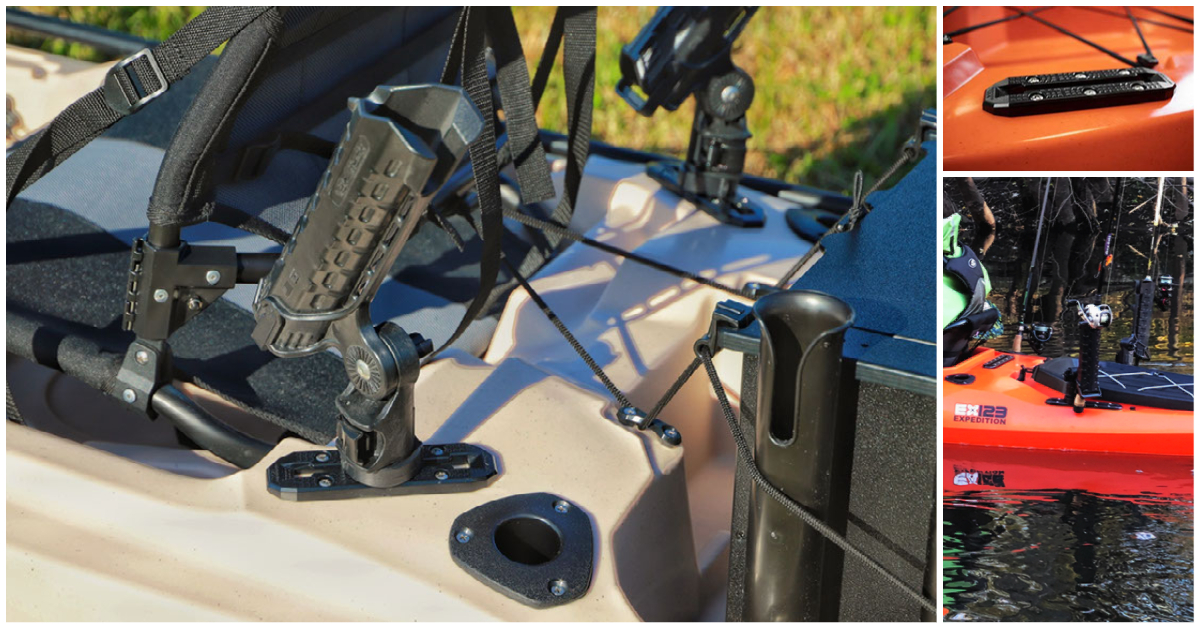 Bill DeJoseph
By far my favorite YakAttack accessory for my kayak is the YakAttack MultiMount Cup Holder. The cupholder is built tough, and the size is perfect for a variety of different beverage holders, even insulated cups. The mounting options are endless, and it is definitely a multi-use accessory. Need a place to hang lures off of, a place to collect all your used soft plastics, or a container to throw your hooks, sinkers, or swivels into when constantly rerigging while on the water? The YakAttack MultiMount Cup Holder is an easy, safe option for collecting all those used items. PRO TIP: If your cup holder does not have the holes in the bottom for drainage, you drill 2-4 small holes in the bottom. This allows for easy water displacement out of the cup and allows your baits and rigging components to dry out before you throw them in the tackle box at the end of the day.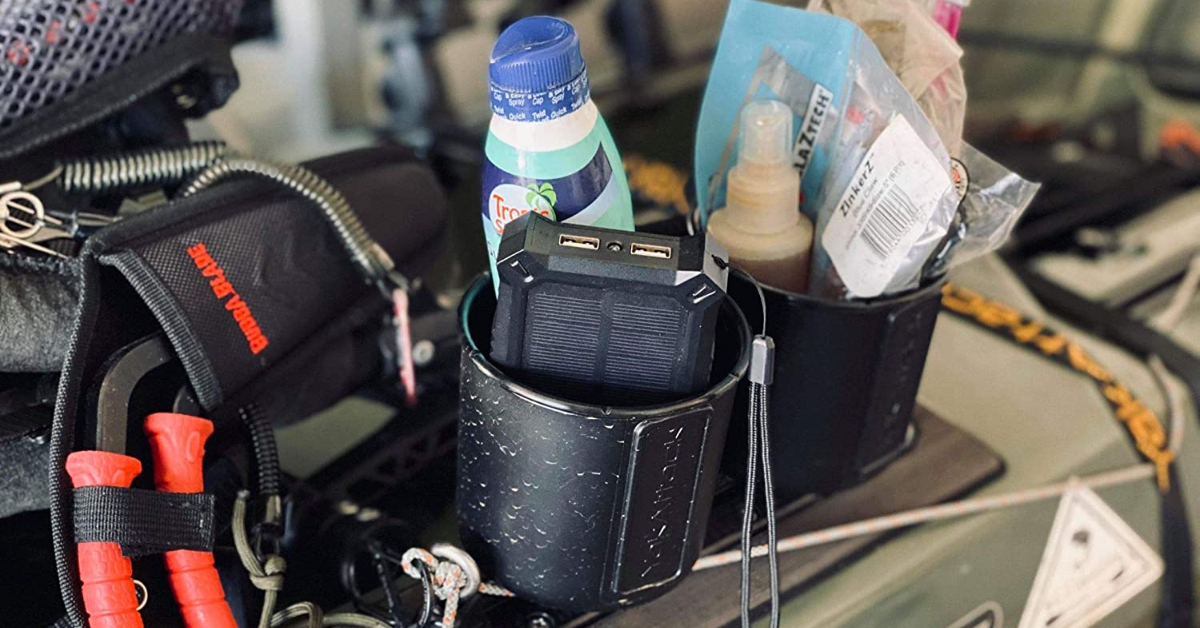 Wayne Bradby
One of the biggest gripes that kayak anglers have is losing equipment like cell phones, pliers, or other equipment into the water when dropped.
We have all done it, and it can be costly. This little gadget will end that nightmare! These Surface Mount Retractors can be installed almost anywhere on your kayak; from gear tracks to your JunkDrawer, and anywhere in-between. They feature a super-tough Kevlar cord and, with stainless steel mechanisms, can withstand both salt and freshwater.
I prefer to mount on the inside lip of the JunkDrawer of my Bonafide SS127. I can attach pliers, phone case, boga grips, or whatever gear I choose and know that I can easily retrieve if dropped. The best money you will spend protecting your gear.
Wayne Tu
Give your kayak angler a super functional gift that is unmistakable in the sport. Whether they fish waters with boat traffic or chase monster fish in the dark, the VISICarbon Pro is a staple among serious kayak anglers to stay visible and safe. Favorite features include the bright and long-lasting LED, collapsible masts, and the high visibility flag doubles as a storage pouch.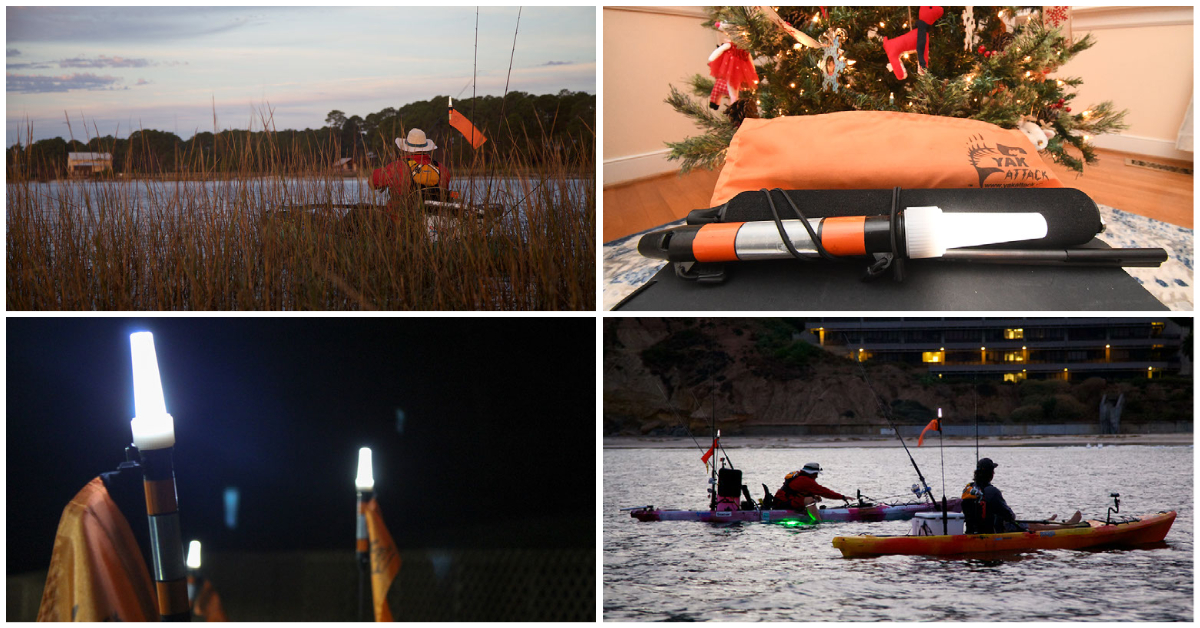 Alan Reed
The Panfish Portrait Pro is a shorter camera mount with lots of versatility. At 11.5 inches tall, it is short enough to be out in front of me without being in the way, while also having the flexibility to get the camera angles I am looking for. Another feature I utilize, is the LockNLoad mounting system, which enables me to quickly remove the camera and mount and then use the foam section as a handle to get those "selfie" video shots.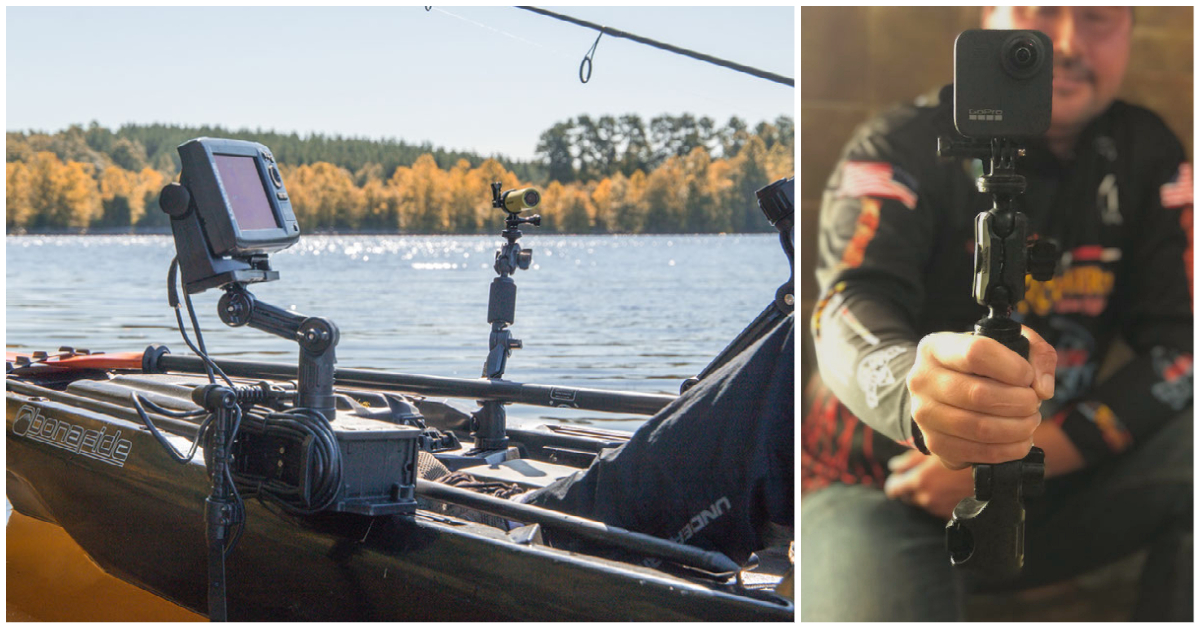 Trevor Soety
The CellBlock made installing a fish finder, transducer, and battery on my kayak a lot less stressful. I did not need to drill holes and worry about running wires. The CellBlock allows you to mount your electronics to track on your kayak and remove it with ease after a day on the water. It also allows me to move the whole system from one kayak to another if I decided to use a different kayak for the day.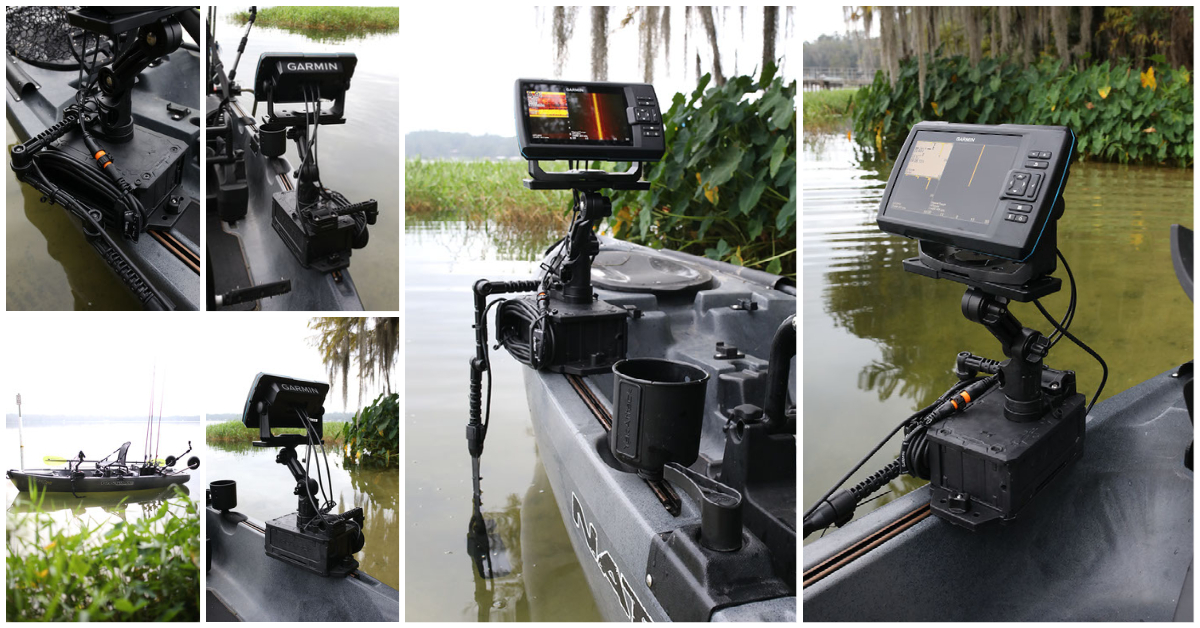 Craig Brashears
The Omega Pro Rod Holder is one of the most versatile accessories in the YakAttack line up. For me, it has many uses, rod holder, stakeout pole mount, and Leverage Landing Net holder. The fact that you can lock your spinning rods or bait casters into makes it a win. Your rods will not come out of the Omega even if you turn your kayak over. They have a rotatable collar that locks your rod in and keeps it from falling out. That rotating collar also allows me to use it with my leverage landing net, cradling the net and keeping it out of the way until needed.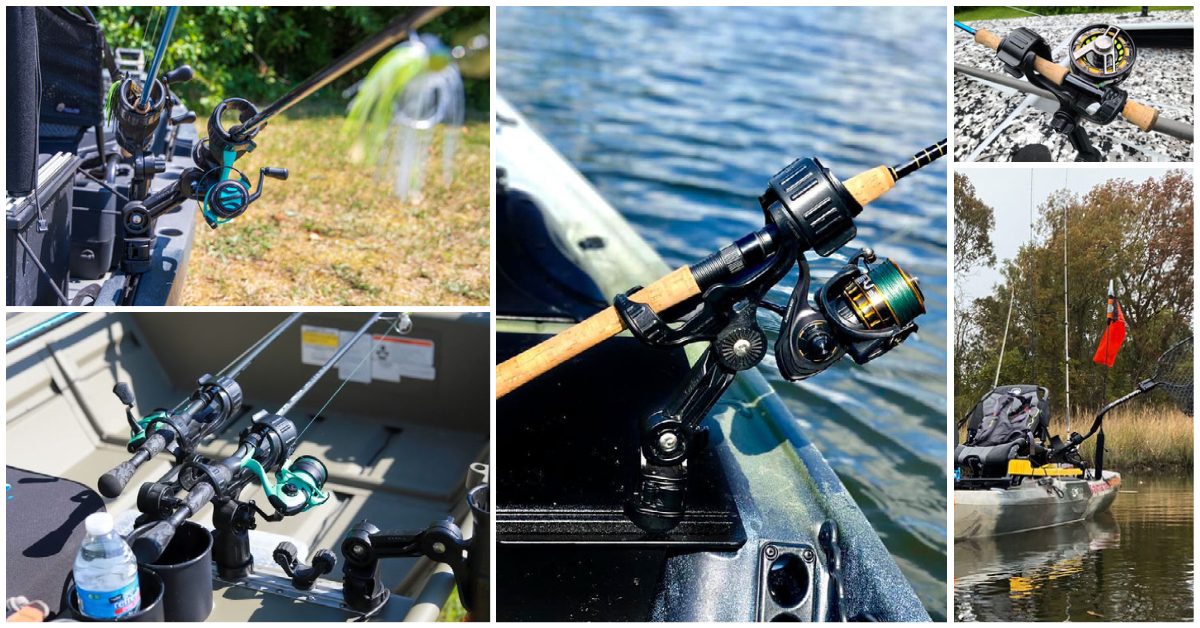 Cory Routh
One of my favorite YakAttack products is the Humminbird Helix Fish Finder Mount. It provides a super clean installation for my Helix 7. It is super stable and holds up to the rigors of high speeds and rough water on my skiff. I combine it with the HD LockNLoad base for even more stability. Like all of the Yak Attack track mounting options, it also allows for quick and clean removal.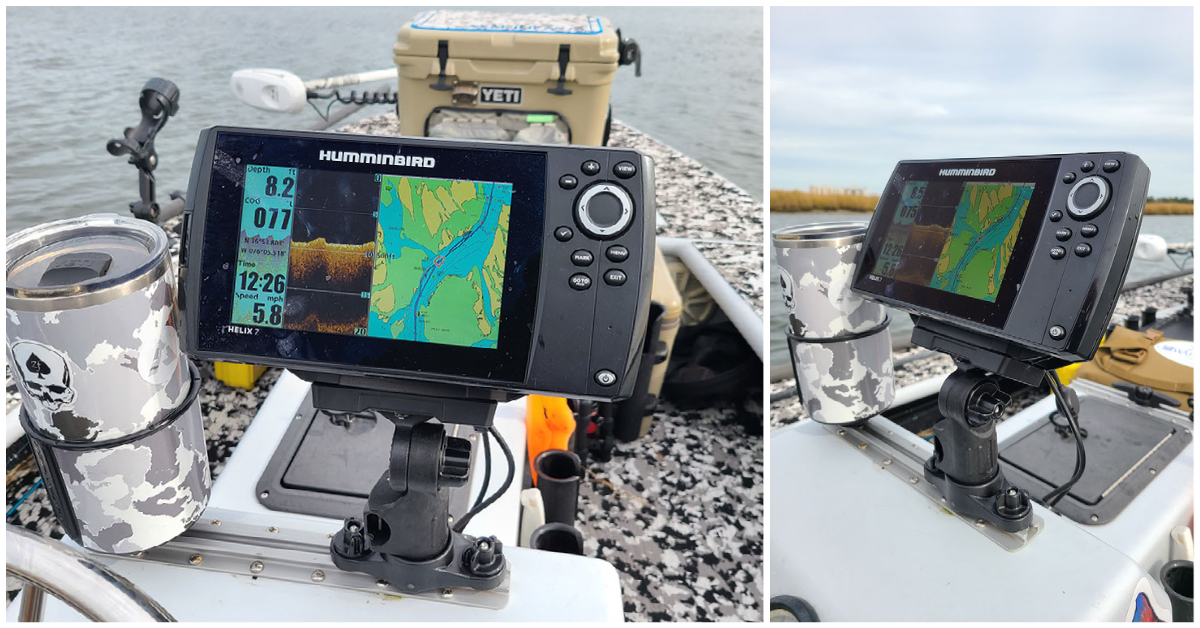 Stewart Venable
The YakAttack Vertical Tie Downs are my favorite accessory for one simple reason, versatility! I have been using them for years, and no matter what kayak or boat I have them on, they have worked great. I can use them to secure my BlackPac, coolers, camera cases, camping gear, and all kinds of other essential items. I have even used them in conjunction with GearTrac to secure items in and on my truck. The Vertical Tie Downs are the perfect inexpensive gift for any angler.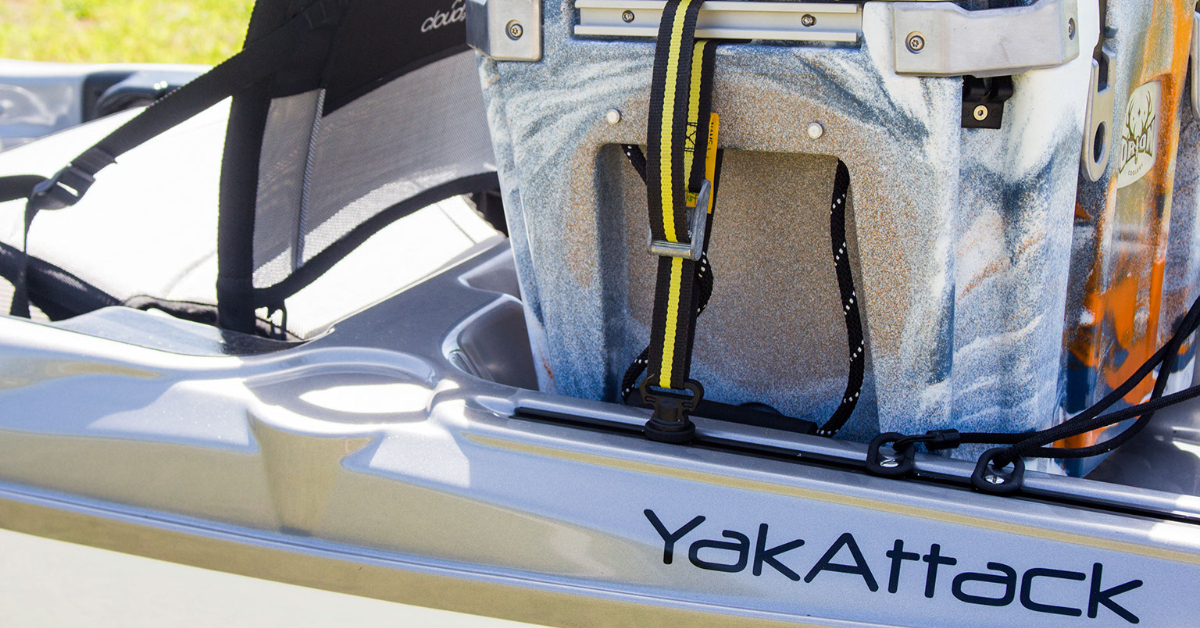 Eron Dodds
The BlackPak is my favorite accessory as it offers the ability to securely organize and store my tackle, tools, extra line, GoPro, spare Nocqua batteries, as well as food and drinks. The option of adding additional rod tubes and tethering them to bungee cords is functional and protects my rods from being lost overboard. Having two sections of GearTrac on the top gives me the versatility to quickly mount a VISICarbon Pro LED/flag and a camera mount. The Hawg Trough bracket keeps my measuring device secure when not in use. It truly is a must-have on any kayak, and I never hit the water without my BlackPak.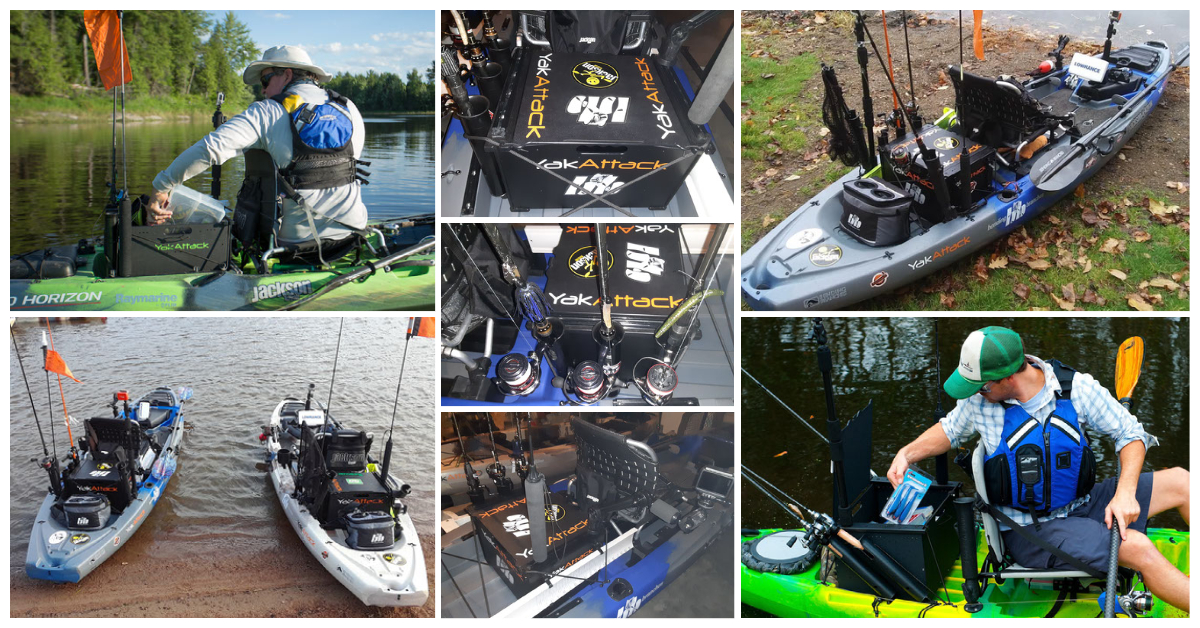 Drew Steele
My favorite and most useful YakAttack accessory is the Articulating Camera Mount. The versatility makes this more than just a camera mount. With the 1/4"-20 stud, you can attach almost anything for added height and/ or to simply offset your favorite accessory. I have two Rotogrip paddle holders mounted on the Articulating Camera Mount; one for my net and the other for my paddle. I also have a MultiMount Cup holder mounted to one to utilize every inch of my GearTrac as possible. Grab a couple of the YakAttack Articulating Camera Mounts to see what you can come up with.