Anglers, kayakers, and people who love the outdoors are sometimes challenging people to shop for during the holidays. Many of them seem to be individuals who already have everything and the kitchen sink. Here is a list of our top YakAttack stocking stuffers that are guaranteed crowd-pleasers. Also, if you find yourself shopping for a gift for the kayak angler in your life and still do not know what to purchase, feel free to call our customer service team (434-392-3233), email at support@yakattack.us, or message us on Facebook and Instagram, and we will help out with a few ideas to make shopping this year just a little easier.
GearTrac
One thing you can never have enough of is GearTrac. Nowadays, most fishing kayaks and some recreational kayaks come with a factory-installed accessory track. Most of the time, kayaks do not come with enough stock track, or it is in the wrong place for what you need it for. This track is handy for attaching popular accessories like rod holders, cup holders, camera mounts, etc. Currently, we have a wide variety of GearTrac available at deep discounts. Sizes range from 3" to 37.25" and there is a mix of polycarbonate and anodized aluminum. Our stock sizing ends at 16", so this is the chance to get longer GearTrac that isn't normally available. There is some unique Yellow GTSL90 and even a 21" black anodized option that is pretty awesome. Here is the LINK to our clearance page.
Cam Straps - 3', 6', and 9'
Cam straps are a paddler's best friend and can come in handy in various ways. Longer lengths, such as 12', 15', and 20', are commonly used to secure a kayak on a roof rack or trailer, but these longer lengths aren't too helpful when using them to secure anything to your kayak. From kayak crates, dry bags, coolers, and more, our 3', 6', and 9' straps pair nicely with our family of tie-downs and make secure gear to your kayak simple and easy. Shown here is our 3' cam strap paired with our Vertical Tie Downs used to secure the pedal drive found on a Bonafide P127 fishing kayak.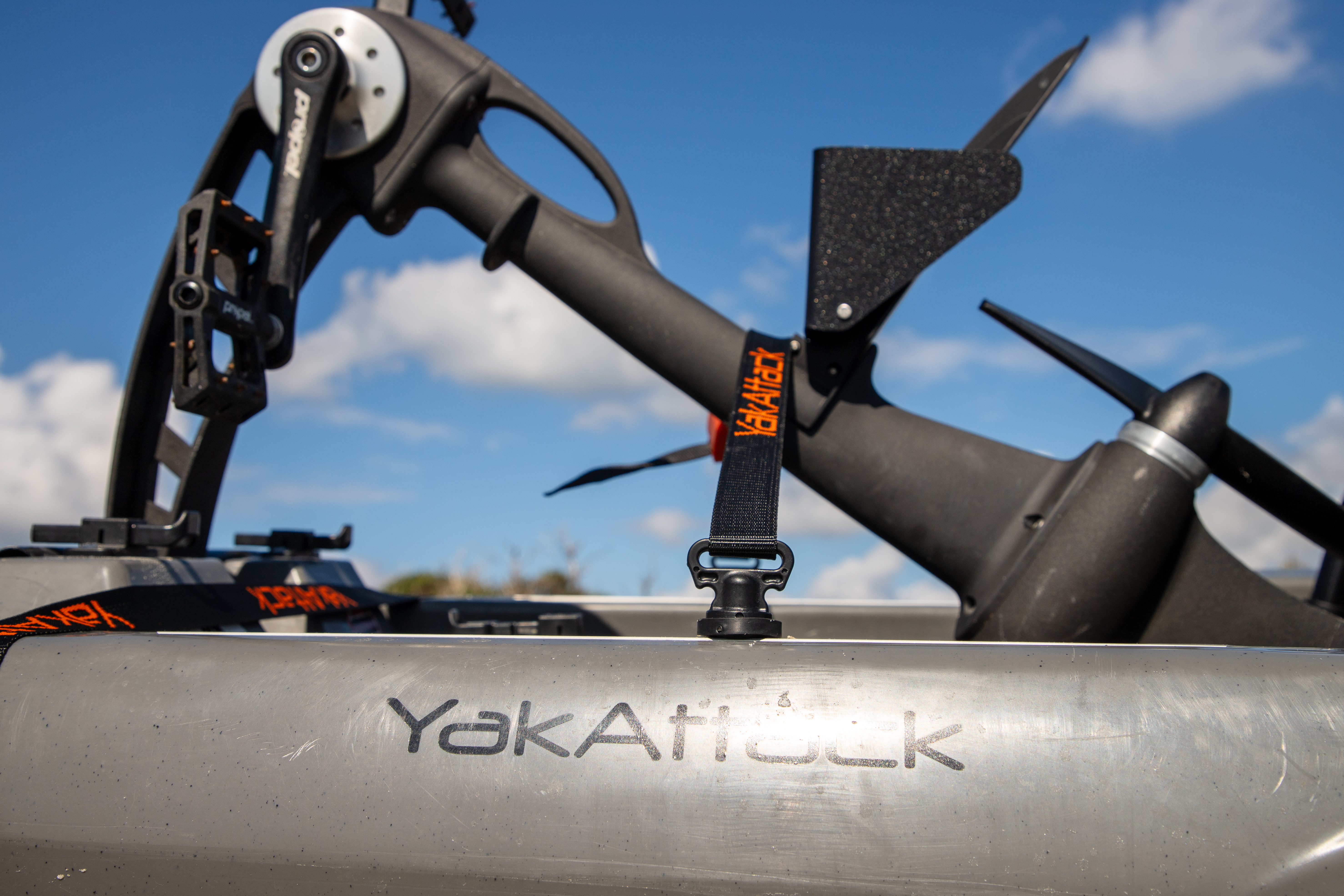 J-Hook Cam Straps
When transporting a kayak on a trailer or in a truck bed, standard cam buckle straps aren't the best tool for the job, as lashing them down to the d-rings in the truck bed can be a little tricky. For this reason, we added two J-Hooks to our popular cam buckle straps. Fighting with rachet straps is a thing of the past, as cam buckles simplify the process.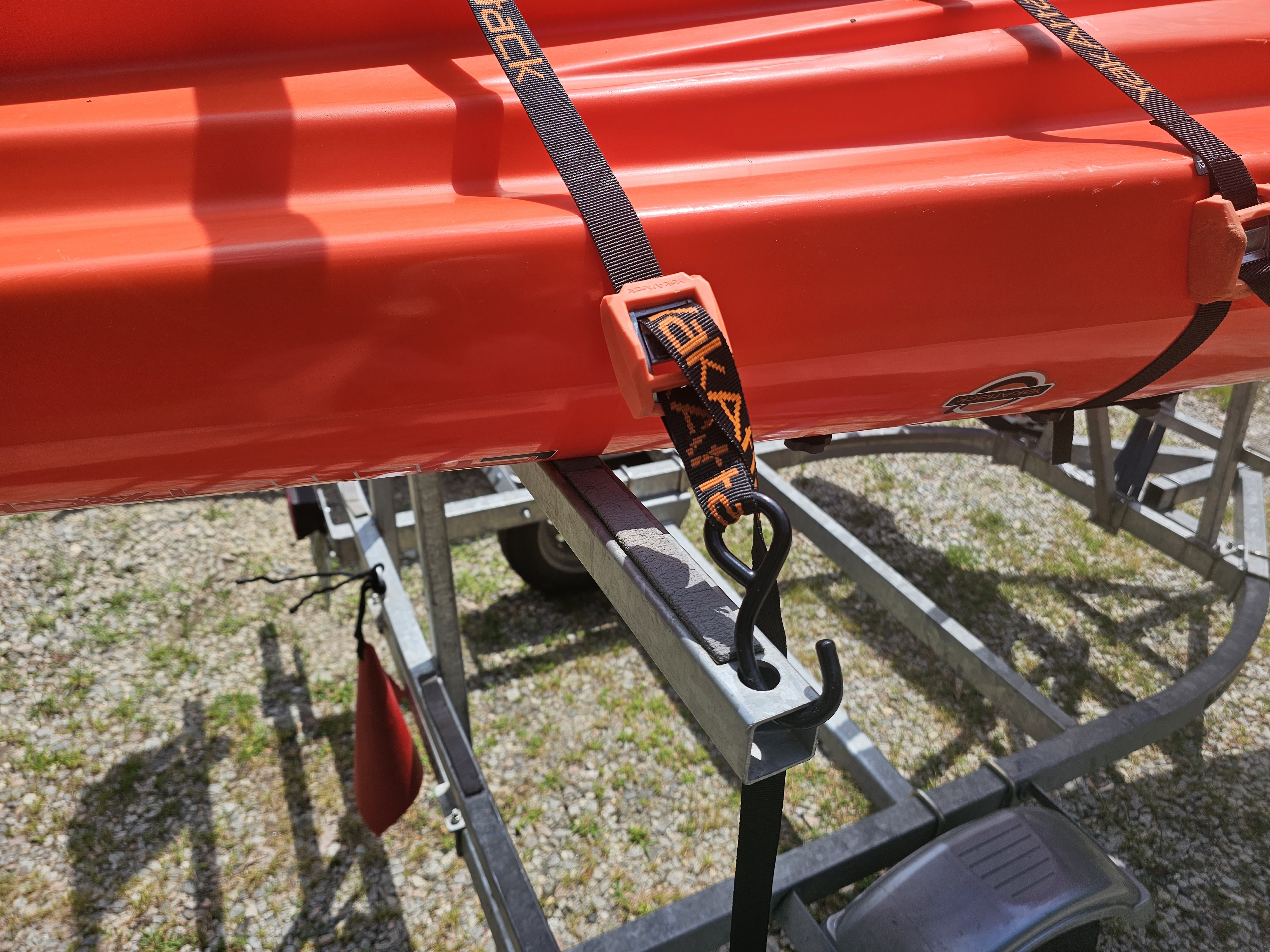 Tow Flag
Most state regulations require using a tow flag when transporting a kayak in the bed of a truck, and most of the time, you either forgot a tow flag entirely or misplaced it. A spare tow flag can be a good insurance policy to avoid getting pulled over and getting a ticket. This is a must-have for anyone who kayak fishes or simply kayaks and transports their watercraft in a truck bed.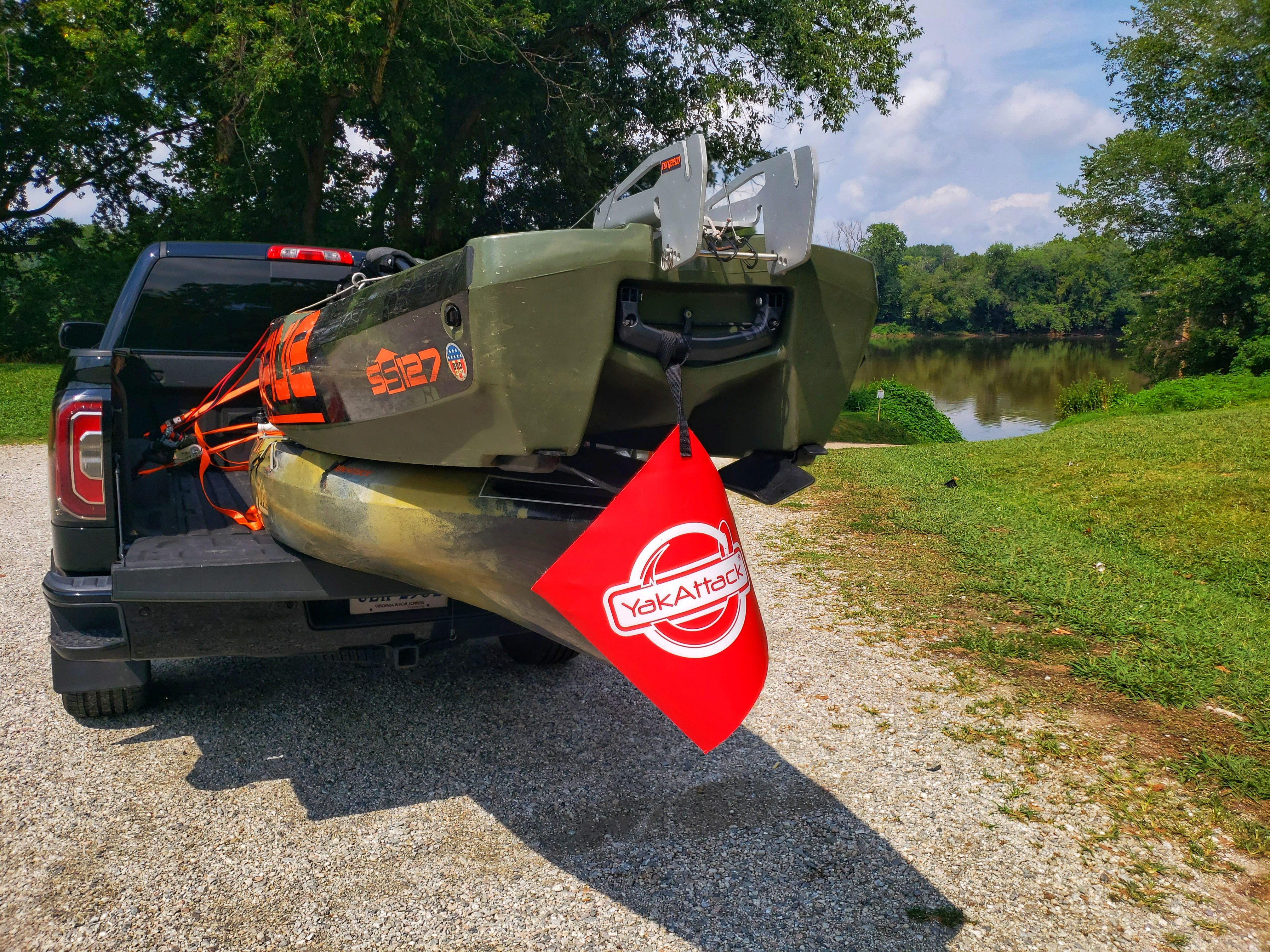 CatchNRelease Drip Rings
Often overlooked, but once utilized, you never look back. The standard drip ring on almost every paddle has been made obsolete. This deep dish CatchNRelease Drip Ring features a unique design that catches water coming off the paddle blade in the high position, and releases it back into the water during your downstroke. Soft and supple, the CatchNRelease Drip Ring is designed to fit all common-sized paddle shafts, including Werner, Bending Branches, and other popular brands of kayak paddles. It doesn't matter if you have a pedal drive kayak or one with a motor, you will still use a paddle at some point, and our CatchNRelease Drip Rings are an inexpensive way to upgrade your current paddle.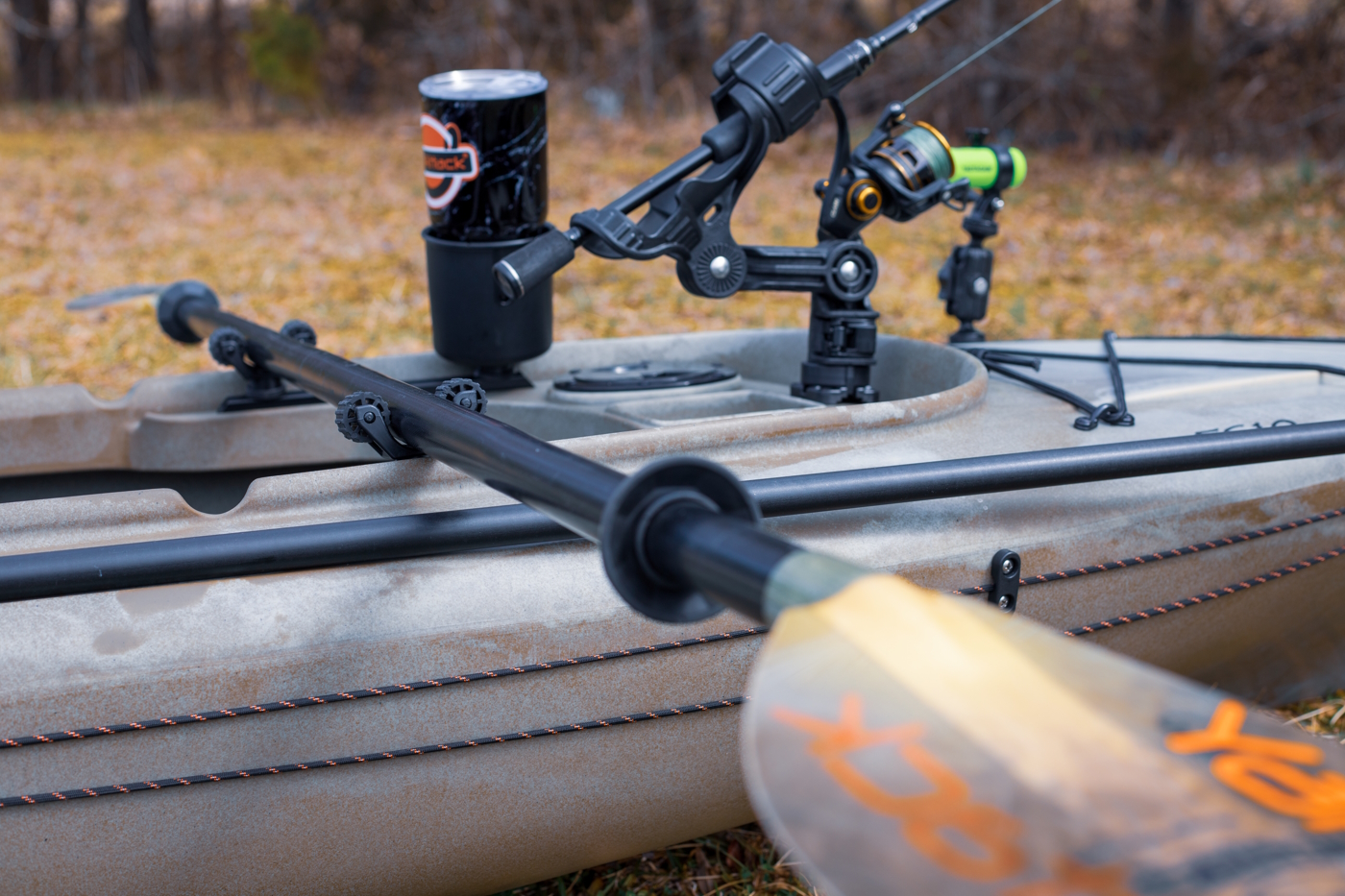 SideArm Track Mount
At its core, the SideArm crates an offset mount that opens up the possibilities for someone outfitting a kayak when they are limited on space or accessory mounts. This extension arm not only gives you the option to offset an accessory from your GearTrac, but it also enables you to mount multiple accessories from a single point. From dual rod holders to an offset ParkNPole RotoGrip, the SideArm could be a helpful tool for your next rigging project.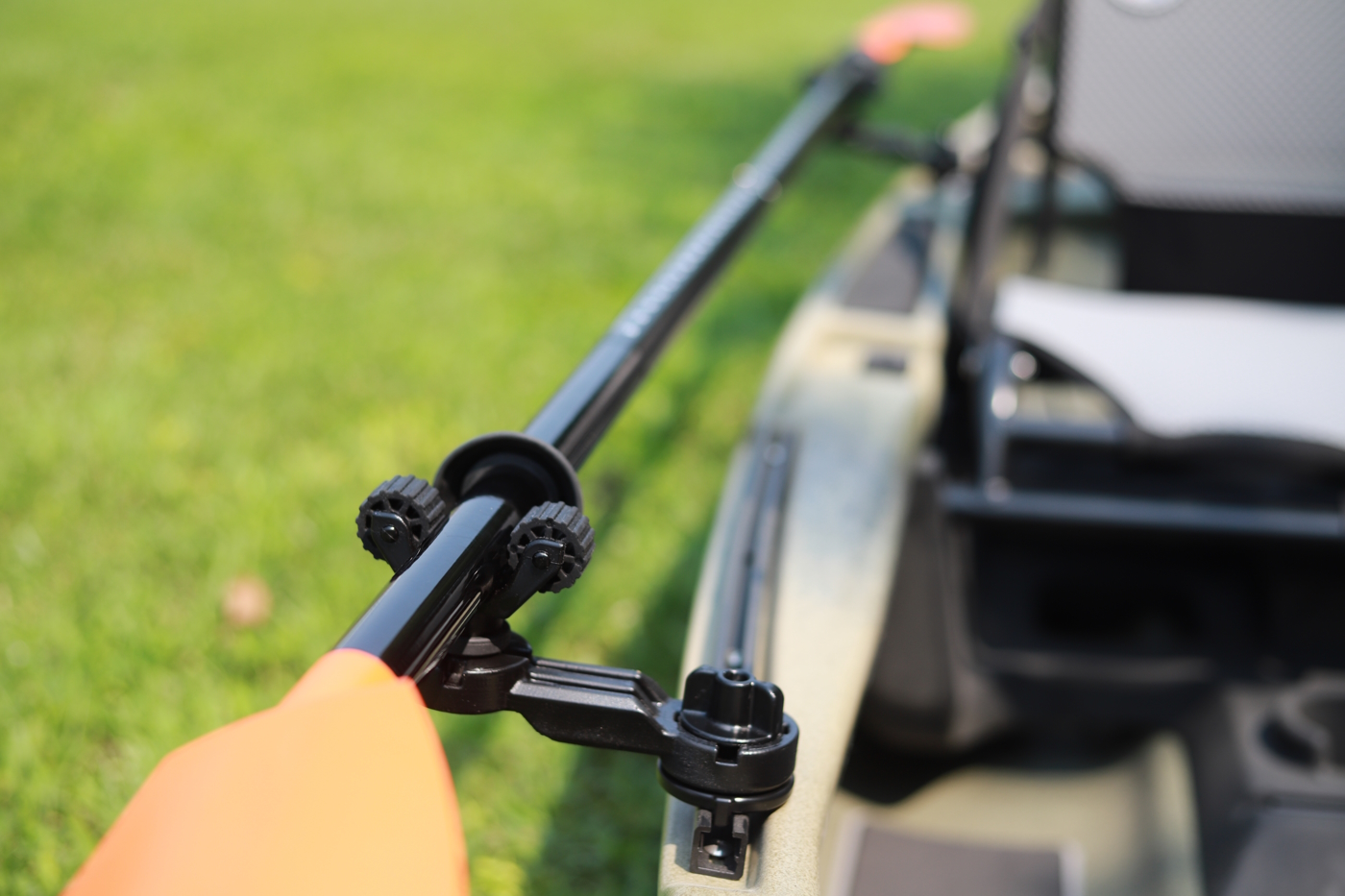 TracPak Combo Kit
The TracPak was new in 2023 and has quickly become a best seller. Secure, quick access, and versatility were the foundational requirements when designing the TracPak. We wanted the ability to mount one or two storage boxes on a MightyMount or GearTrac, and with the TracPak, you can stack two boxes onto a single mounting point, helping save track space for other accessories. The TracPak features a quick-release track base compatible with all YakAttack MightyMounts, GearTrac, and most other factory-installed kayak track. From tools to terminal tackle, the TracPack is a unique and handy storage solution for both recreational and kayak anglers. Sold as a two-pack of storage boxes and includes the quick-release base.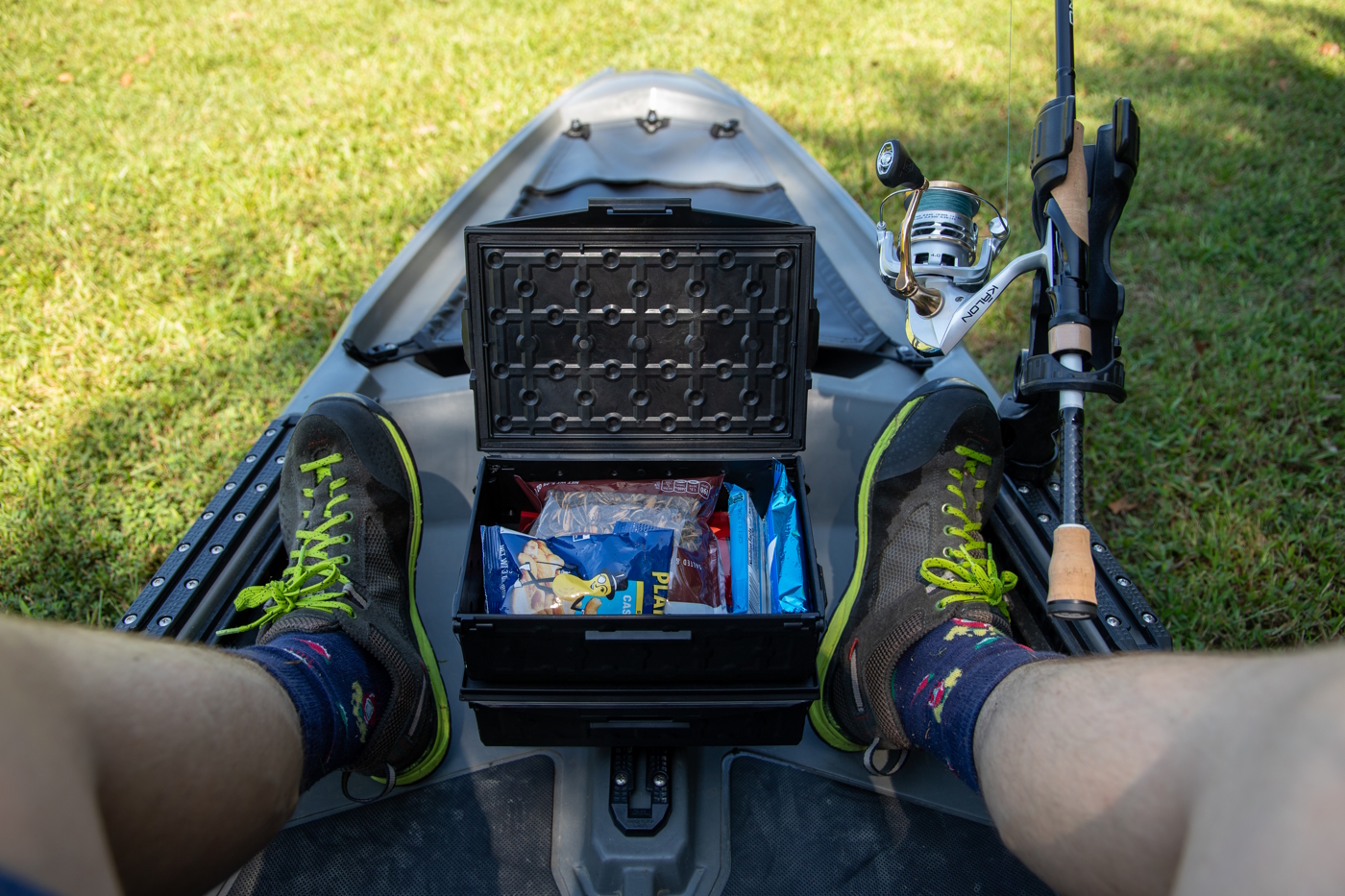 MultiMount Cup Holder
Sadly, most kayaks have poorly designed stock cup holders or are entirely missing from a kayak. At its core, the MultiMount Cup Holder is a deep and secure location to stash a water bottle, can, stainless tumble, or your water vessel of choice, but once you use it for the first time, everything changes. Within a few hours, your cup holders are full of lures, hooks, old soft plastics, and more, and you find yourself wanting to add more cup holders as they start to become the catch-all for loose items on your kayak or boat. As a rough guess, our in-house employees have two or more of these on their kayaks, and a few have four or more.
Track Mounted Retractor
Let's face it, most of us have dropped something in the water while in our boat, kayak, or on a dock. The inevitable will occur unless loose items like tools, pliers, knives, and fish grips are leashed down. This is precisely why we created our Track Mounted Retractor. This product attaches to the accessory track on a kayak and features a 36" long retractable Kevlar cord. If you are shopping for someone who seems to lose their iPhone every few months or is always searching for their car keys and wallet every morning, this is the perfect product for them.
MightyMount Duo
This product is for those with a Hobie kayak, such as a Hobie Outback, Pro Angler, and potentially a Lynx. These kayaks feature a mounting system call an H-Rail and attaching standard track mounted accessories requires an additional accessory. Instead of a singular attachment, the MightyMount Duo Rail Adapter features a mounting point for accessories on both halves of the mount. The mount can be oriented with the attachment points facing up/down or side to side. This option creates a plethora of possible rigging options to help you maximize and optimize your Hobie's cockpit. The MightyMount Duo Two Pack is our best seller.
Gift Certificate
Love it or hate it, a gift certificate is a great fallback plan when shopping for someone who seems like they have it all. If they are a kayak angler, then a YakAttack gift certificate is something they will significantly enjoy and be able to utilize in tons of ways for the 2024 season. We will be releasing new products very frequently in 2024, so this option creates the ability to purchase a new product that isn't available today down the road. Here is the LINK to purchase a gift certificate.
---
---
Dreaming of a White Christmas Giveaway