One of the most significant changes in kayak design over the past decade is the addition of better storage and organization. Some kayaks are better than others, but in the end, most could be improved on in terms of secure, quick-access storage areas. Our MultiMount Cup Holder has been an excellent product for us since 2015, but since its release, we have noticed more customers using this product to store just about everything on their kayak or boat. From being used to store pliers and braid scissors to old soft plastic baits that weren't usable anymore, the MultiMount Cup Holder became the catch-all for a wide variety of everyday items.
This is where the YakAttack design team started when designing what would become the new TracPak. We wanted a track-mounted storage box with the potential to be customized. After months of 3D prints and feedback, we landed on the concept of being able to stack the storage boxes on top of each other, and it had to have the ability to be track-mounted or surface-mounted. When two boxes were stacked on top of each other while mounted to a track we wanted the ability to access not only the top box but be able to access the inside of the bottom box without having to remove anything. When we first showed the TracPak to retailers and media at ICAST in July, we had no idea it would become the crowd favorite out of a handful of new YakAttack items previewed at the show. Since ICAST, we have continually improved our early prototype, and it resulted in the product that we have today. Below, you will find detailed info about the TracPak, its release date, where to buy it on launch week, and the Golden Ticket Giveaway.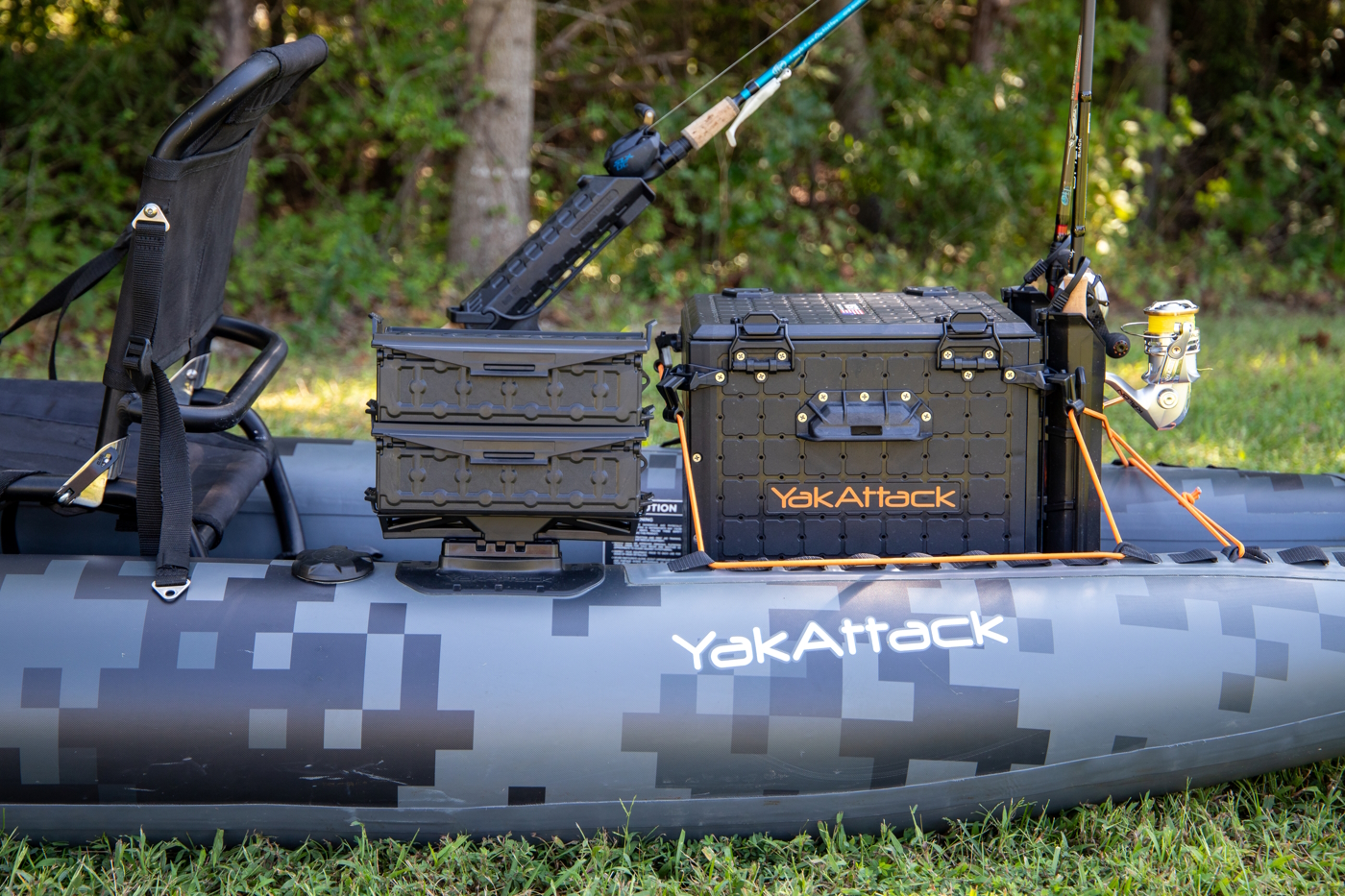 Secure, quick access, and versatility were the foundational requirements when designing the TracPak. We wanted the ability to mount one or two storage boxes on a MightyMount or GearTrac, and with the TracPak, you can stack two boxes onto a single mounting point, helping save track space for other accessories. The TracPak features a quick release track base compatible with all YakAttack MightyMounts, GearTrac, and most other factory-installed kayak track.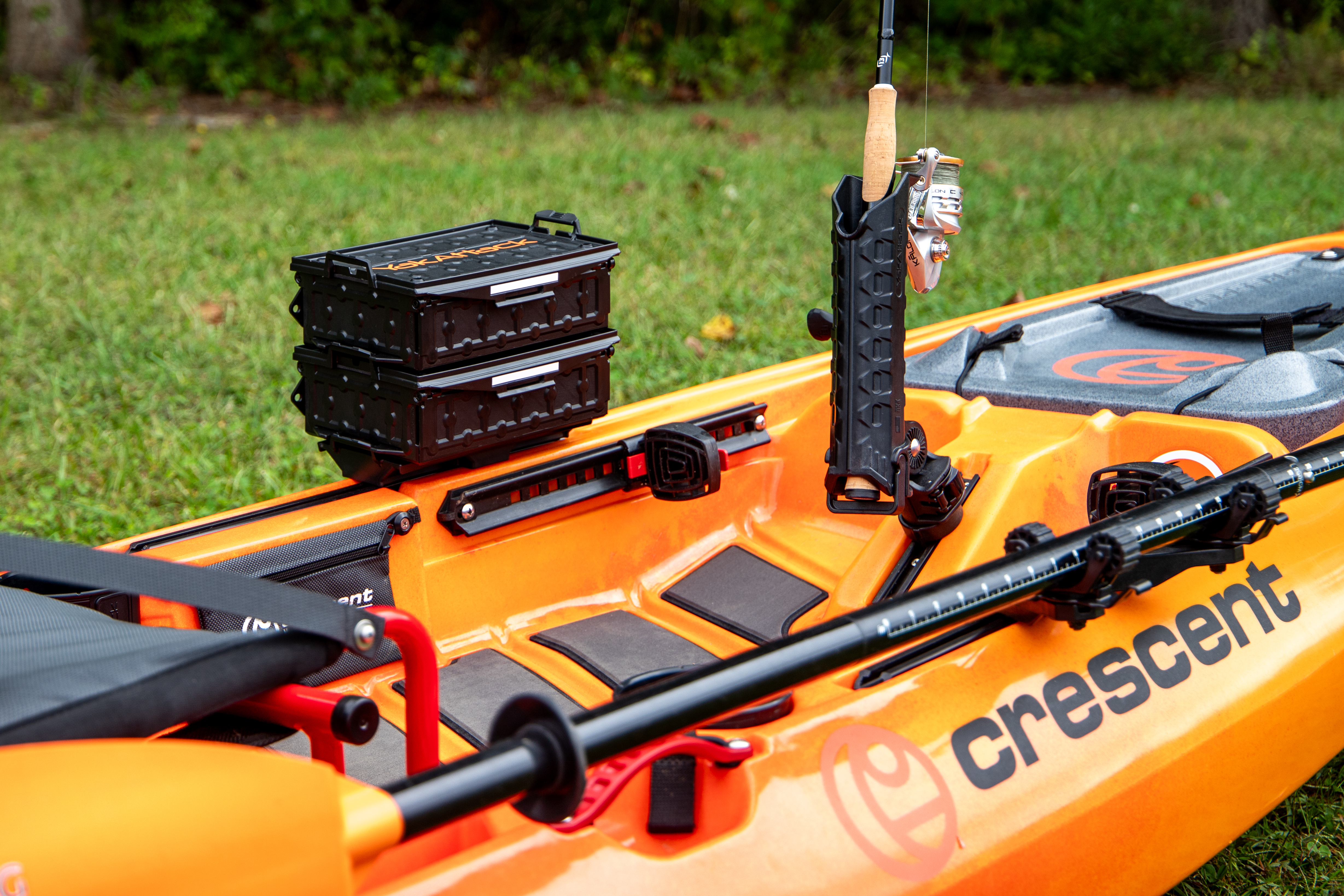 When attached to a track, the Quick Release Base features an array of slots, allowing for micro-adjustments in each direction of the t-bolt. This should maximize compatibility by increasing the locations where the TrackPak will fit on your watercraft.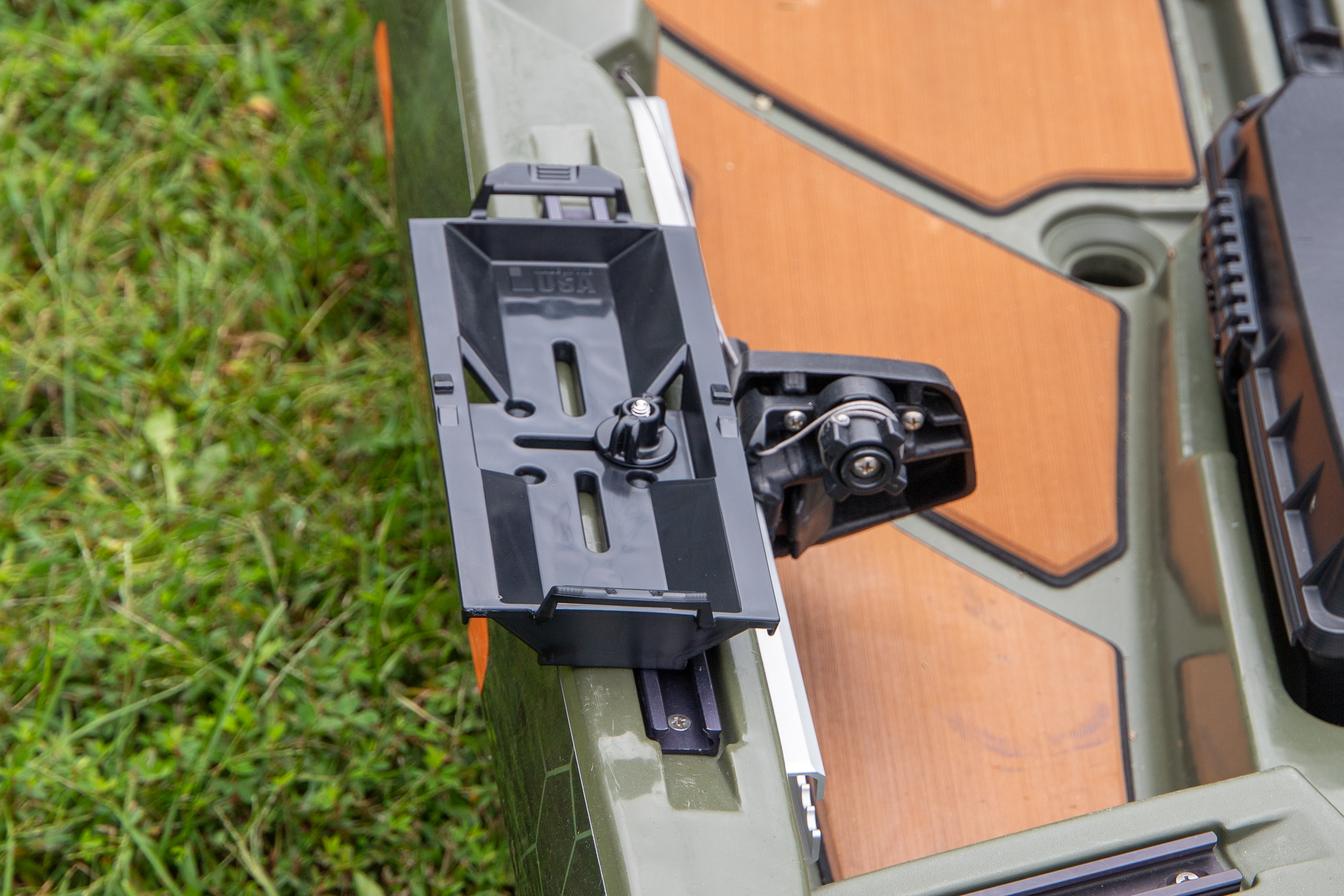 If you would rather surface mount the Quick Release Base, included are stainless steel screws for attachment on the BlackPak Pro, the deck of your kayak, or other flat surfaces. The Quick Release Base features the hole pattern that matches up with the GridLoc hole pattern on the BlackPak Pro. From our initial test we expect a fair number of customers to attach the base to the lid and the sides of the BlackPak Pro. Hardware to do this is included with the TracPak Combo Kit and the Quick Release Base. To install the base on the BlackPak Pro a handheld Phillips screw driver is the only needed tool required.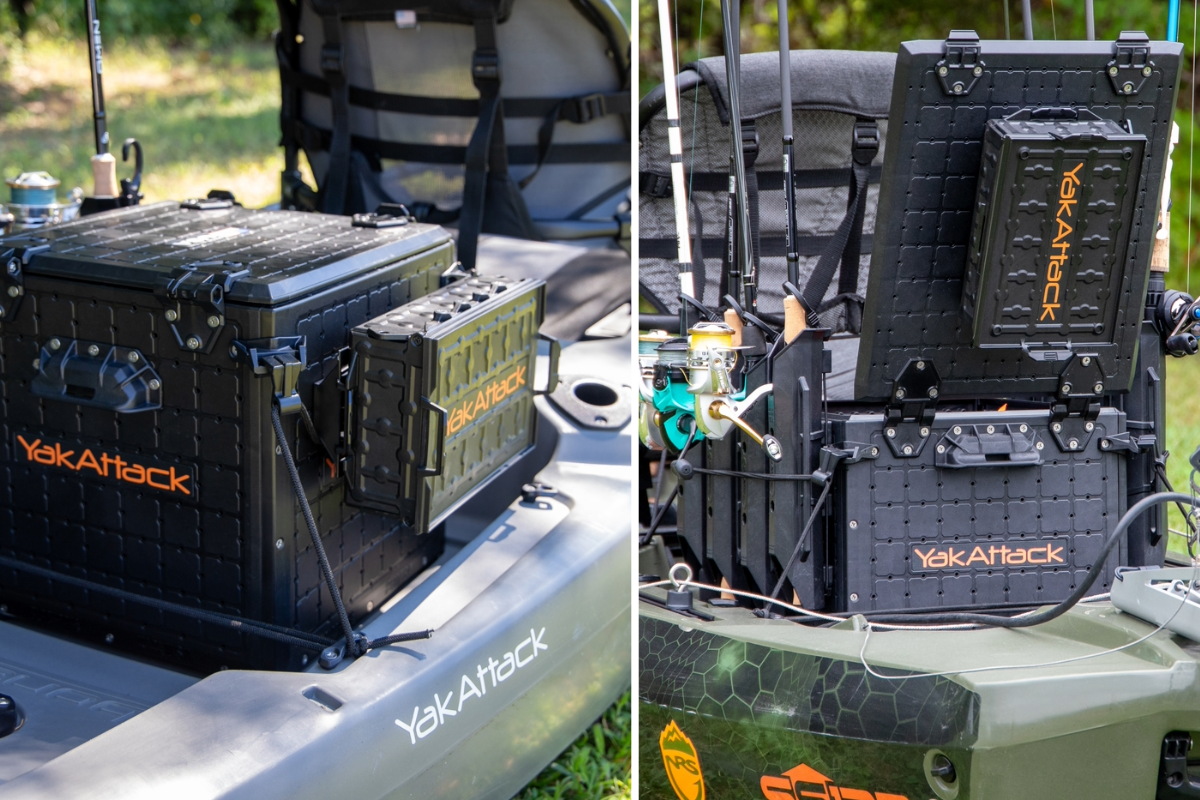 The stackable storage boxes quickly and securely snap onto the base and on top of each other. When two boxes are stacked on top of each other, you have the ability to not only access the top box, but you can access the bottom box.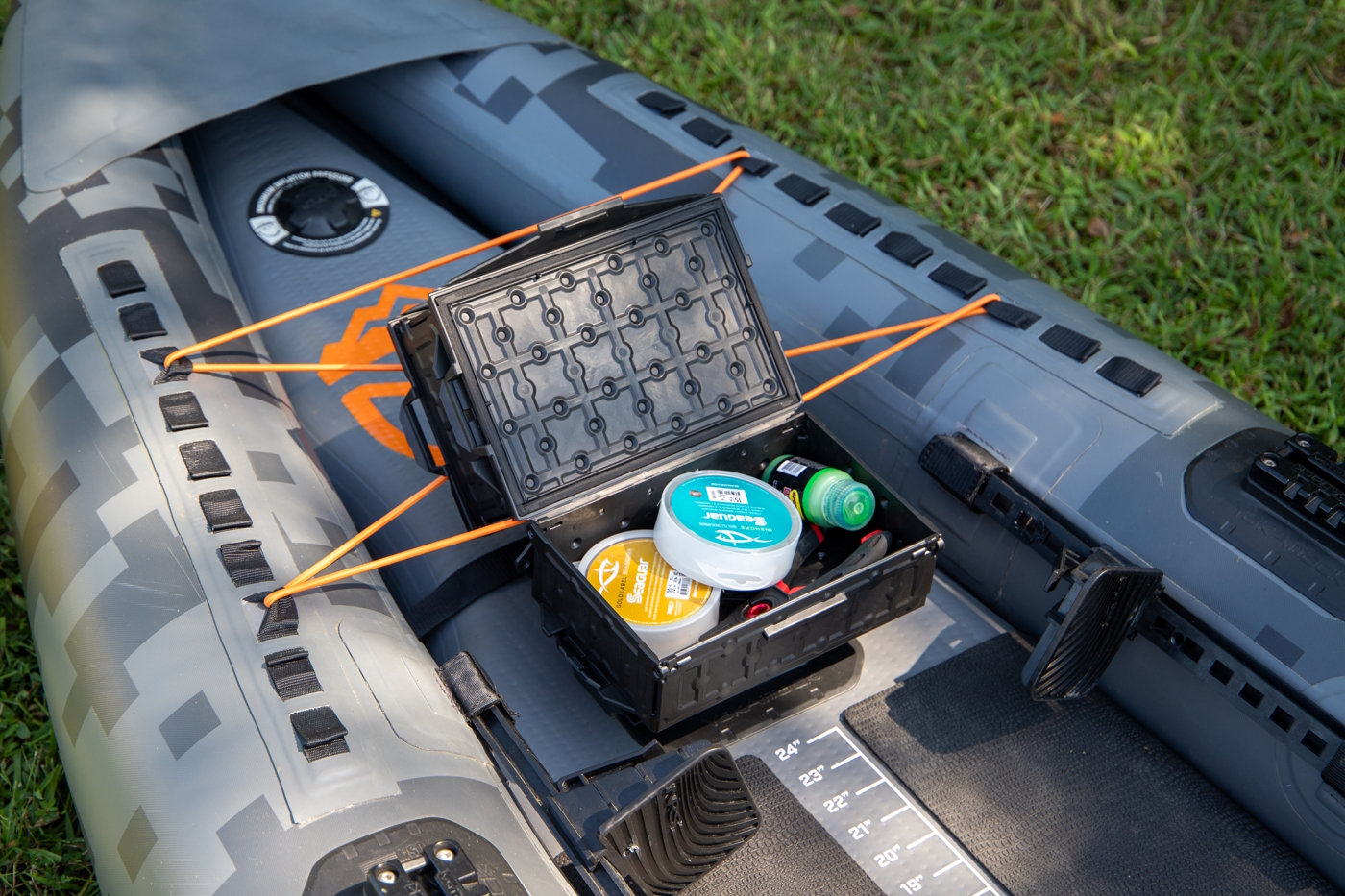 With interior dimensions measuring 8.375" x 5.375" x 2.375", there are many ways to utilize this secure quick access storage box. From tools to terminal tackle, the TracPack is a unique and handy storage solution for both recreational and kayak anglers.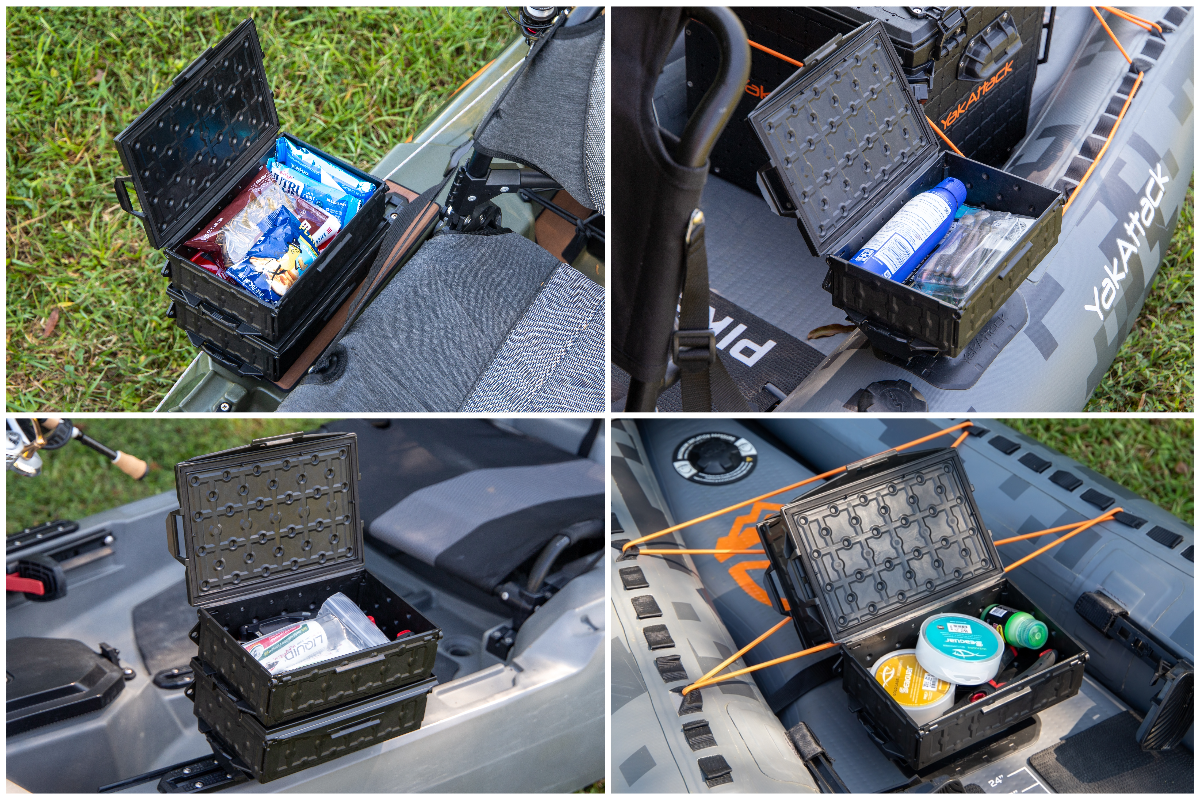 The TracPak is not waterproof or water-tight and does not float, so each storage box features an eyelet if you choose to use a leash for added security. If you are storing a bunch of terminal tackle and tungsten weights inside the TracPak, using a leash would be worthwhile in the event you flip your kayak.
For enhanced organization, we added white labels. Included with each box are 4 white labels (combo kit, 8 labels / spare box 4 labels). These labels are designed for the customer to attach them to the designated area on the front latch and work great with a permanent marker like a Sharpie to help identify what is stored in the box. The area on the front latch will also work with labels produced using a 1/4" label maker.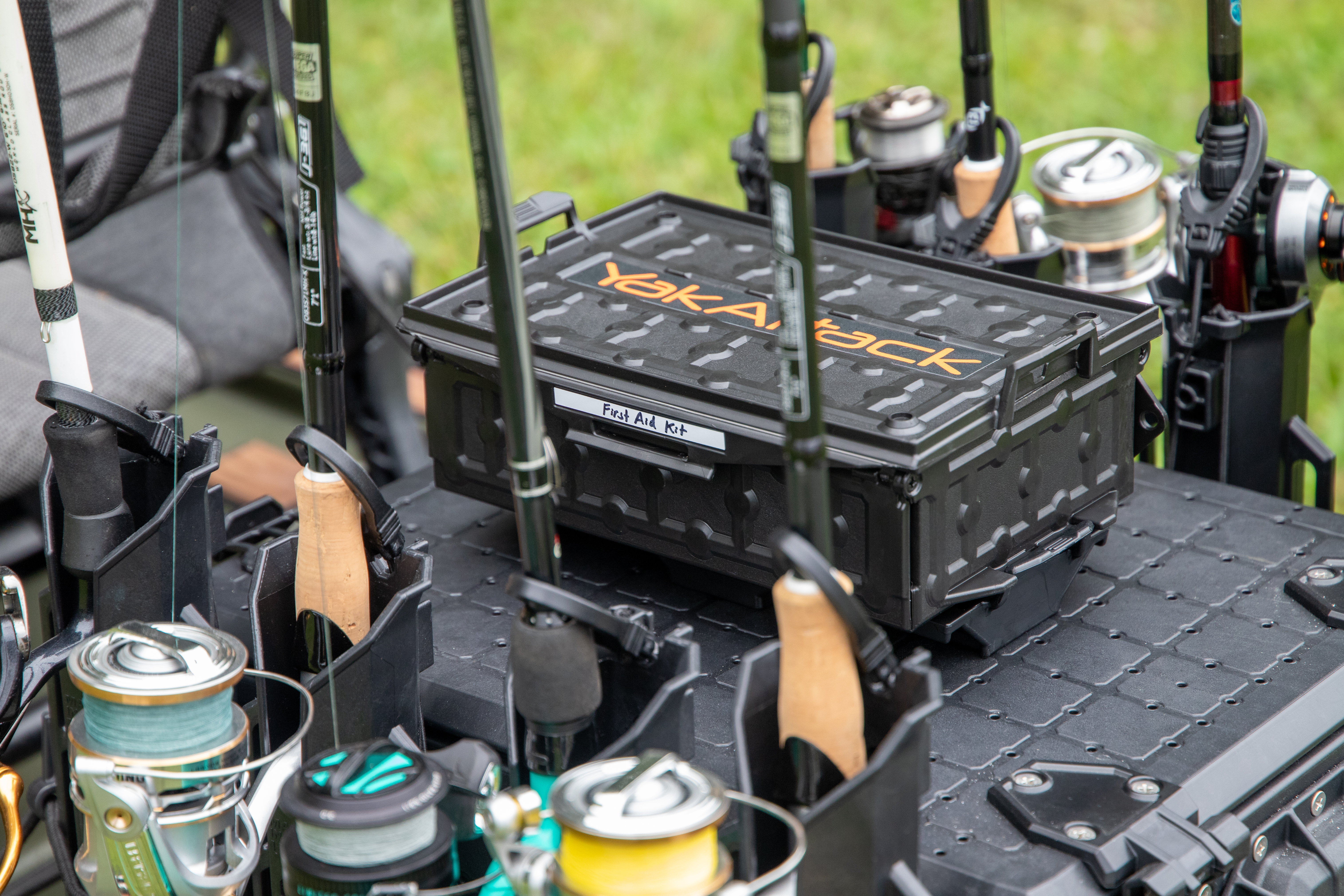 From initial tests, we received feedback from anglers wanting extra TracPak boxes stored under their seat or tucked away in their BlackPak or internal hatch on their kayak. They wanted to have a Quick Release Base, either track-mounted or surface-mounted. This method would provide the ability to keep several boxes close by containing items they are more likely to use. Below are TracPak boxes stored in the Junk Drawer found on the Bonafide Kayaks SS107/SS127 and in our 13x16 BlackPak Pro.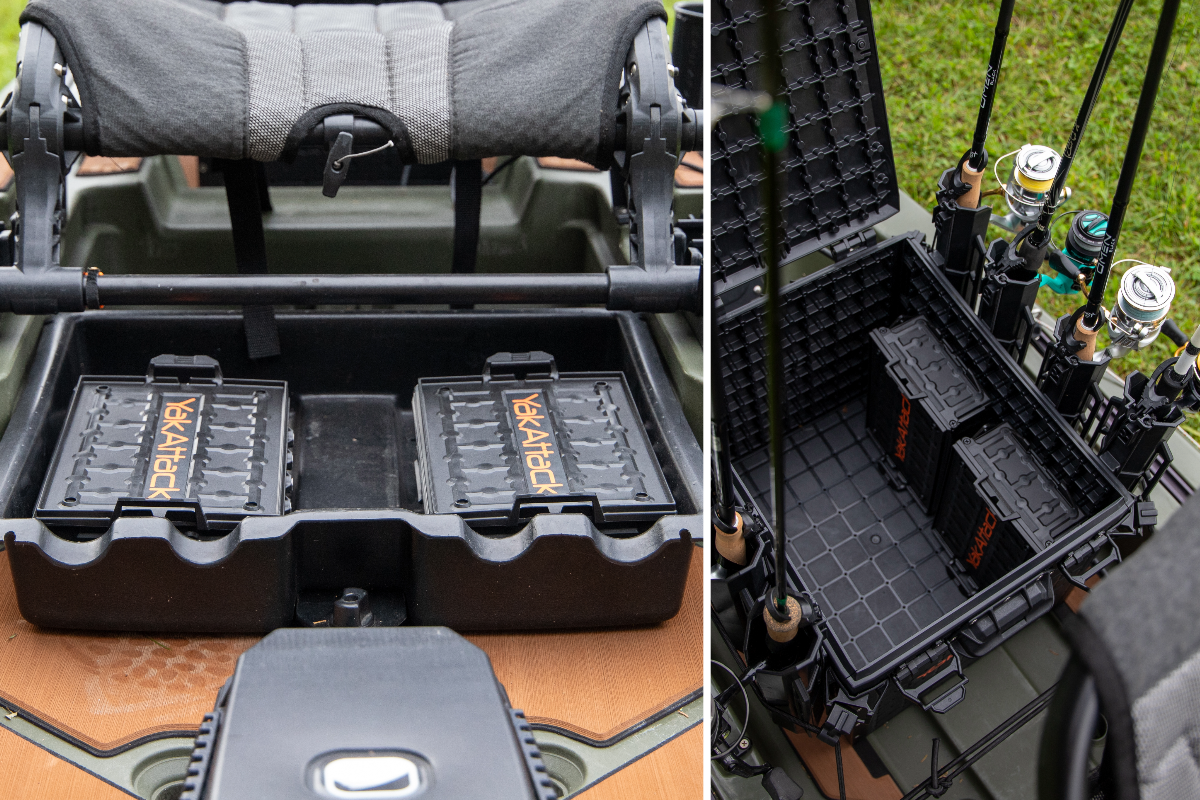 Product Specs:
Combo Kit Weight: 2.44 lbs.
Individual Storage Box Weight: 1.06 lbs.
Internal Box Dims: 8.375" x 5.375" x 2.375"
Made in the USA
Covered by our Built for Life Guarantee
Product Variations
The TrackPak is sold as three different variations; The Combo Kit is the focal point of the product family and consist of two stackable boxes and the Quick Release Base. Additional boxes and the Quick Release Base are also sold separately.
TracPak Combo Kit, Two Boxes and Quick Release Base, $50 MSRP, SKU: SSO-1002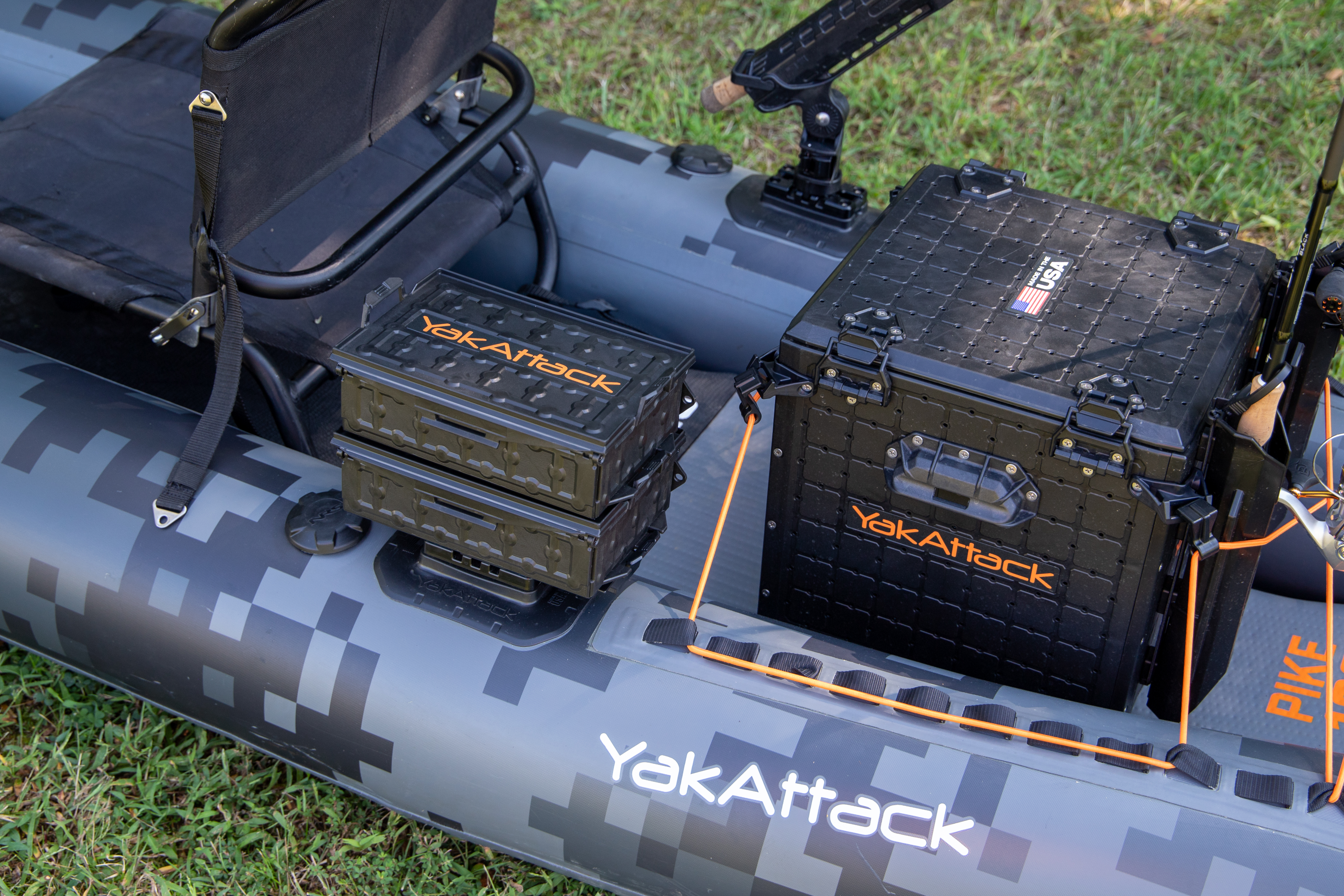 TracPak Stackable Storage Box, Spare Box Only, $25 MSRP, SKU: SSO-1003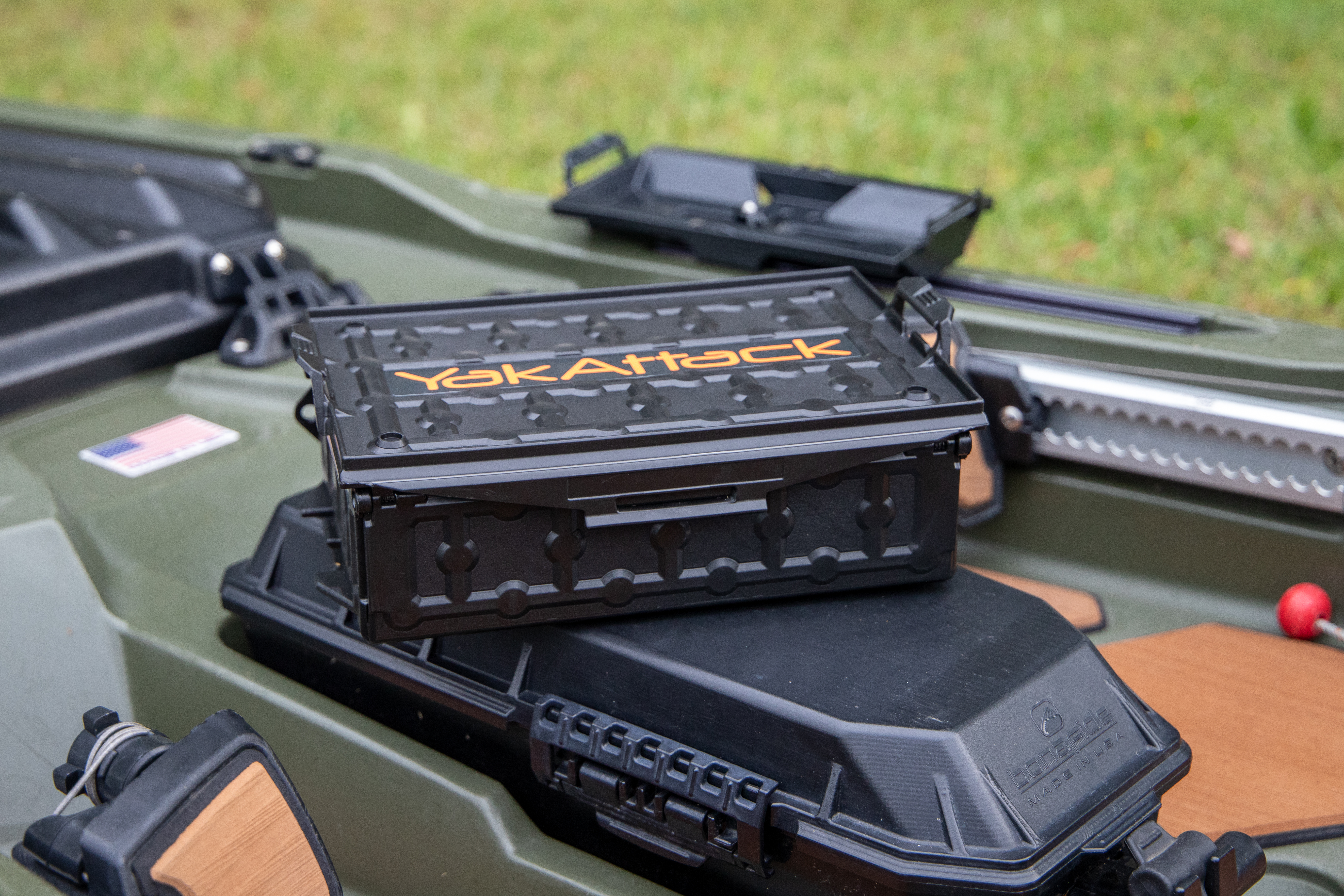 TracPak Quick Release Base, Mount Only, $10 MSRP, SKU: SSO-1004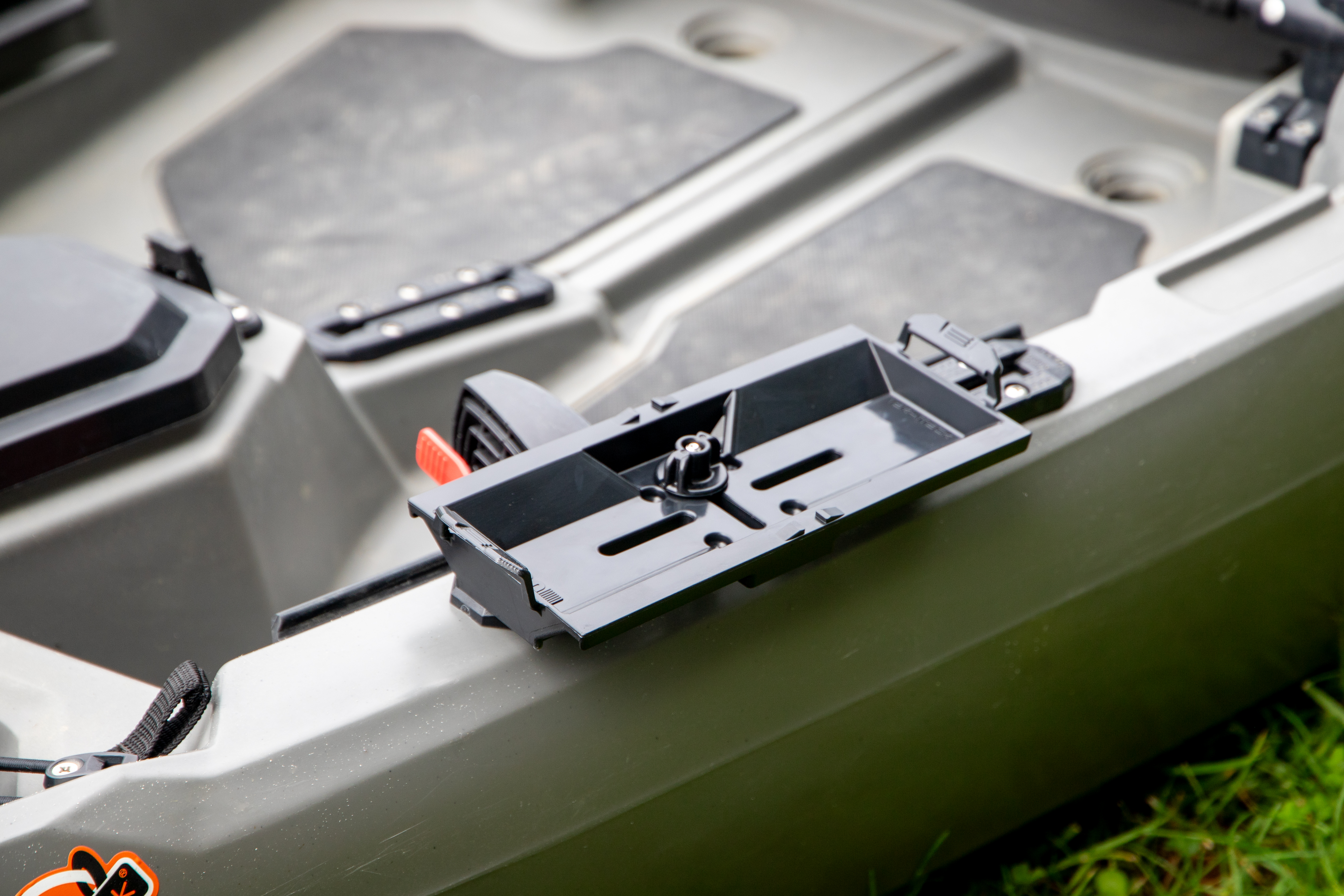 Launch Day and Where to Buy
The TracPak goes live at 9 am EST on Friday, 9/29/2023. It be available on our website and at select YakAttack retailers. Below is a list of those retailers. If you plan on purchasing a TracPak from one of these dealers it is recommended to call before making the trip to ensure they have the inventory on-hand and are ready to sell.
Golden Ticket Giveaway
To add to the launch day fun, we created a new giveaway. Inside 3 of the first 3,000 TracPaks are gift certificates ranging from $100.00 to $300.00 for future YakAttack purchases. All of these units have been packed and could be here at YakAttack HQ waiting for your web order, or they could be hanging on the shelf at one of the dealers listed above. The gift certificates could be in a combo kit, or they could be in a single spare box. We are excited to see where and when these turn up.