Writing this blog brings such joy and excitement as it has been years in the making to get to this moment. For the past few seasons, we have known it was time to update the BlackPak. The original hard-sided kayak crate just got better. A lot better. The result of intense collaboration and more than a year of R&D, the BlackPak Pro is fully riggable and boasts a hinged lid, 25% weight reduction, and best-in-class functionality. Enhancements include many things you might have expected, as well as some true-to-the-brand features that no one saw coming. This product addresses all of the angler objections and then adds the typical YakAttack flare of features and ideas that came out of nowhere but product features and value that will redefine the industry. Below is some basic info about what to expect with the BlackPak Pro and the three sizes options, and over the next few weeks, we will be posting more photos and content that will help you choose which size is best for you. Also, make sure you check out the giveaway below for your chance to win the 13x16 BlackPak Pro before it is available to the public.
BlackPak Pro
25% lighter in weight than the classic BlackPak
Designed around 3700 sized tackle boxes (Plano Edge and Bass Mafia)
Hinged Lid with built-in noise-damping features
Secure latches
New TetherTube with built-in rod leashes
3 sizes of the BlackPak Pro
Easy assembly
GridLoc 2D Panels offer extreme customization

Size
Three available sizes:
13" x 13", MSRP $125.00, Includes 3 rod holders, Available June 8th
13" x 16", MSRP $150.00, Includes 4 rod holders, Available April 8th
16" x 16", MSRP $175.00, Includes 6 rod holders, Available May 9th
Construction and Assembly
Injection-molded from UV stabilized polymers, the BlackPak Pro will last for many years, even in harsh marine environments. The ultra-stiff panels utilize a rib structure that offers exceptional rigidity with minimal weight, while their interlocking joints ensure an intuitive, frustration-free assembly process. Interlocking GridLock panels utilize a tongue and groove edge design to make assembly a breeze. Just press them together (they won't fall apart during assembly) and install the (included) stainless steel screws using a simple screwdriver.
Hinged Lid
The water shedding lid with fully adjustable hinges allows you to go from freely pivoting to a sticky setting that maintains the lid position when you let go of it, while integrated overtravel stops keep the lid within reach and limit it to a manageable angle. Sound dampening rubber bumpers ensure quiet closing of the lid, and the unique CatchLatch retention system secures the lid in a simple but surprisingly functional manner.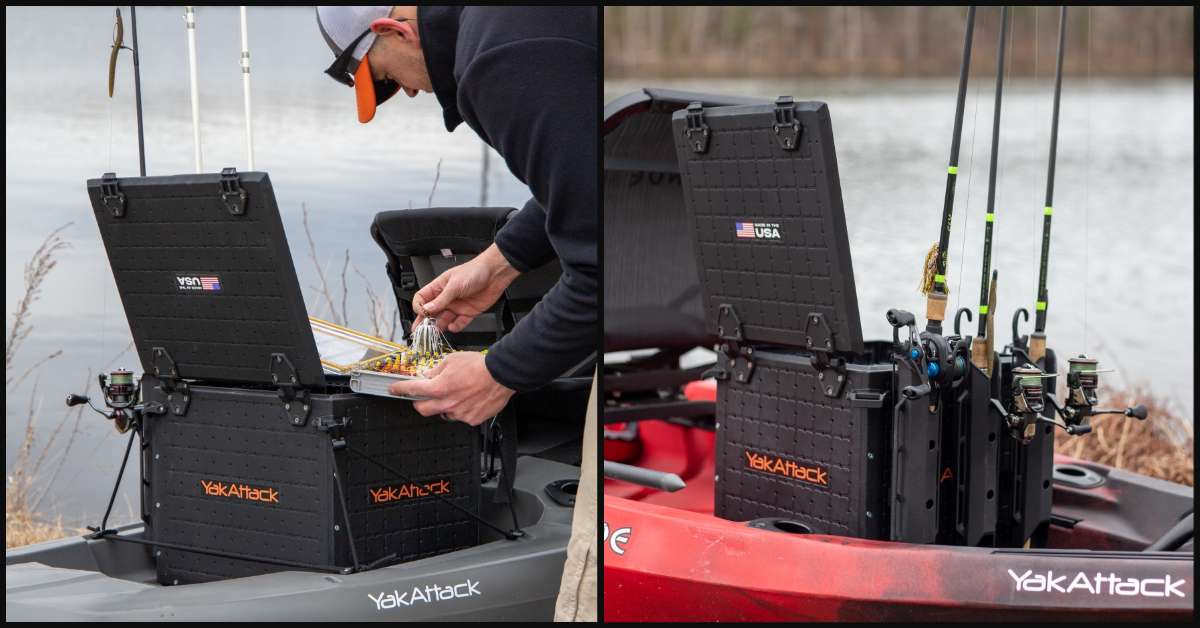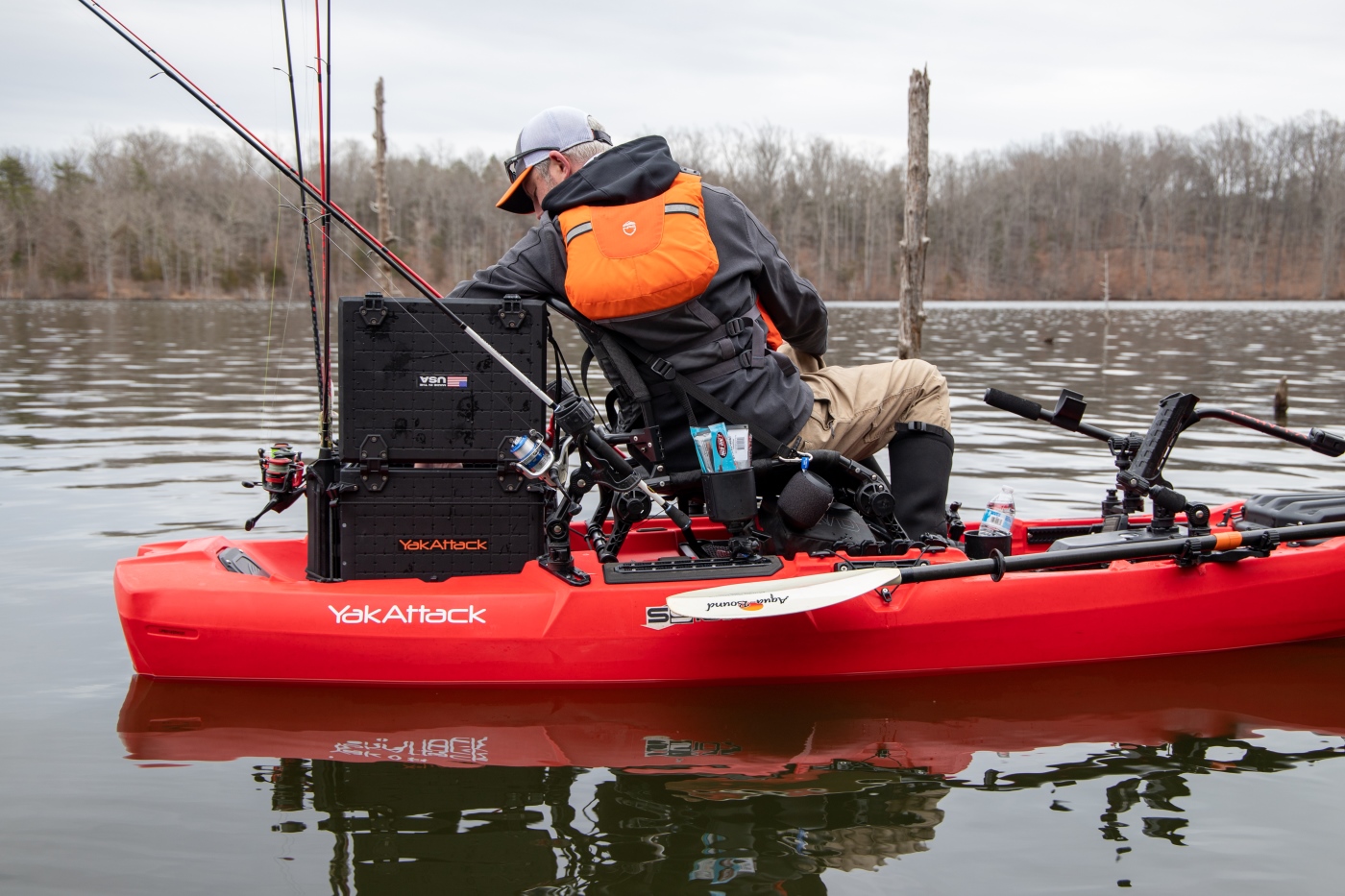 Rod Holders
The included TetherTube rod holders with integrated but easily removable hook and tether systems ensure your rods stay put if things go wrong. Caged attachment points on both sides of the tube offer multiple hook points, and the oversized hook design is sized to attach directly to the shaft of your fishing rod if desired. The TetherTube rod holder mounts to the GridLock panels using at least three of the four standoff pads, enabling several vertical positioning options. Mount them high for rods with long butts, or mount them low to elevate the BlackPak Pro into the HighNDry position. The TetherTube will be sold separately is you want to add more to your BlackPak. They will be sold in a single pack for $15 and a two-pack for $25.
13x13 - Includes 3 ThetherTubes
13x16 - Includes 4 ThetherTubes
16x16 - Includes 6 ThetherTubes
Tankwell Security
Rubber feet offer noise dampening and isolation, while Omni corner brackets enable multiple hold-down methods. They are designed as attachment points for YakAttack OmniHooks (four of which are included), generic hooks, carabiners, or simple bungee.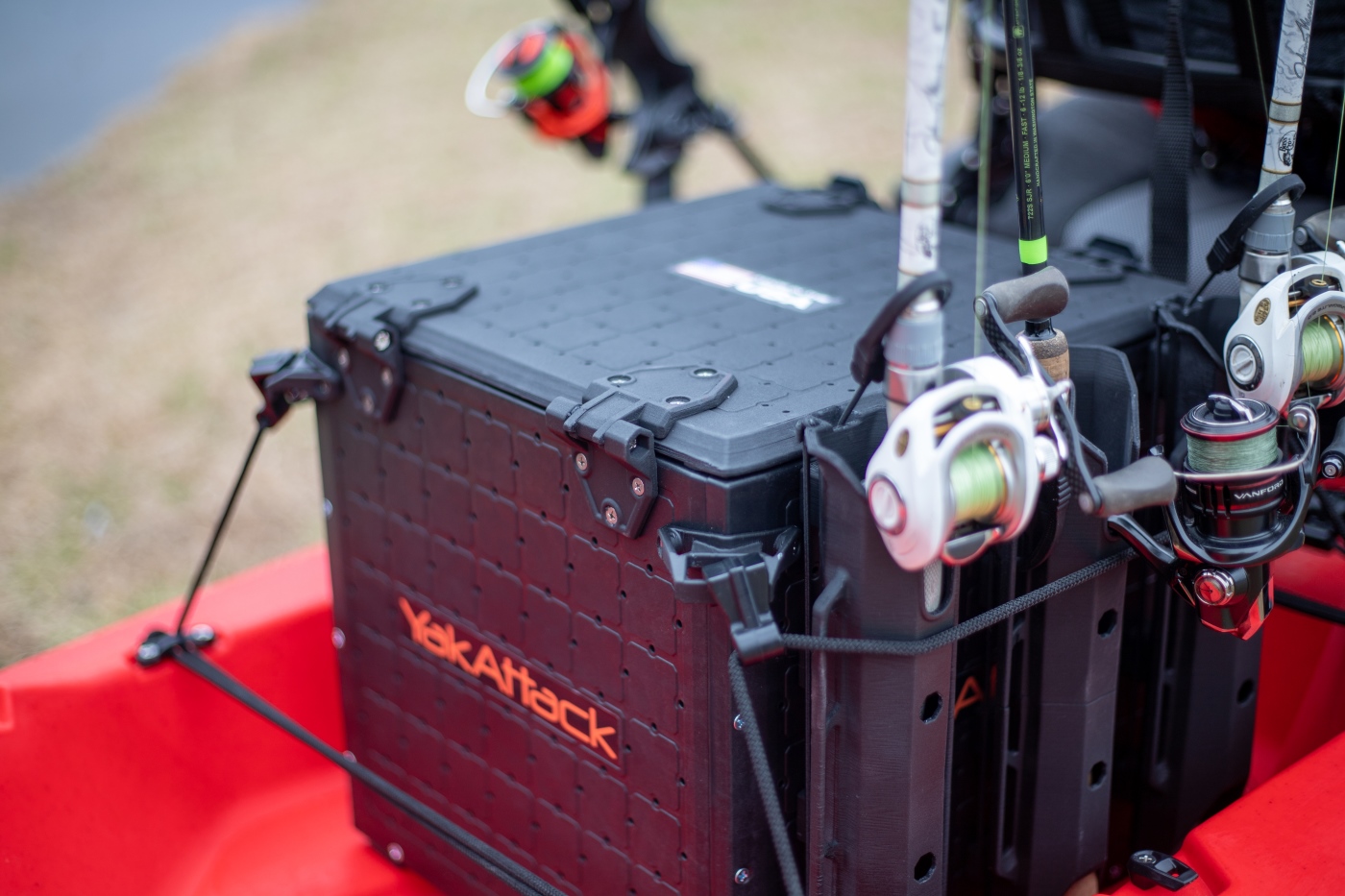 Storage
The 13x16 and 16x16 sizes are optimized for a wide variety of tackle boxes, including Plano 3700, Plano Edge, Bass Mafia Bait Coffin, Flambeau, and many more. The 13x13 is designed around 3600 sized boxes and fits a total of eight. The 13x16 holds five 3700 boxes and the 16x16 holes seven 3700 boxes with room on top for more.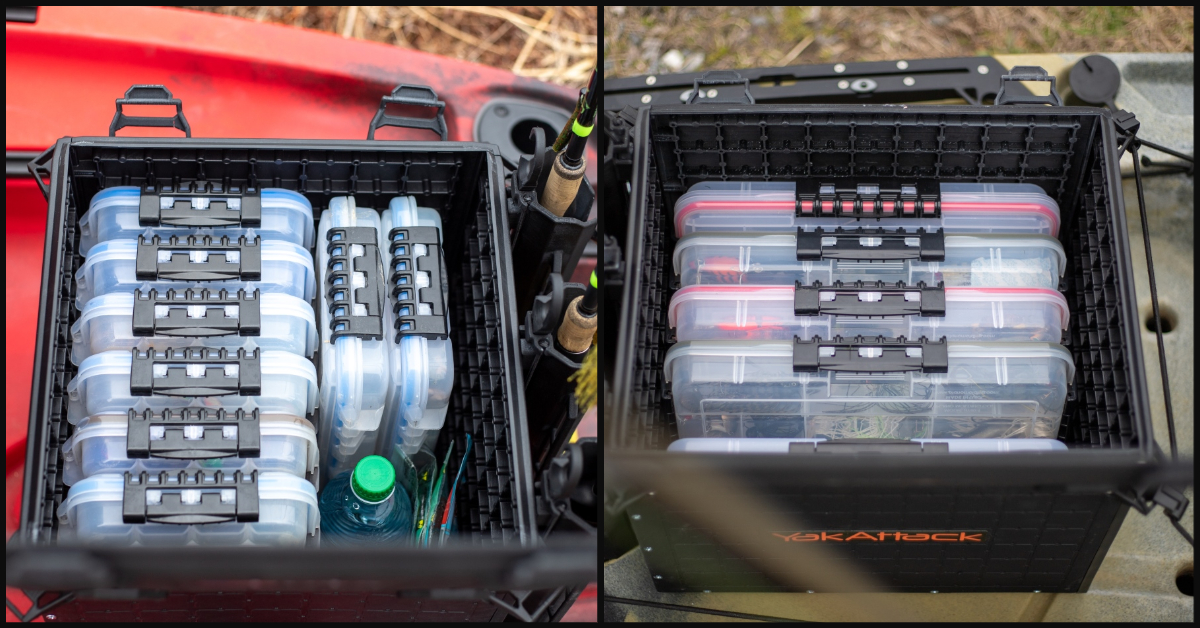 Rigability
The key to customizing and accessorizing the BlackPak Pro lies in the highly revolutionary GridLock 2D mounting system, which offers a plethora of attachment points on the inside and outside of the panels. This gives our design team a platform for which they can design a myriad of dividers, holders, and other attachments. Development of these accessories is already underway!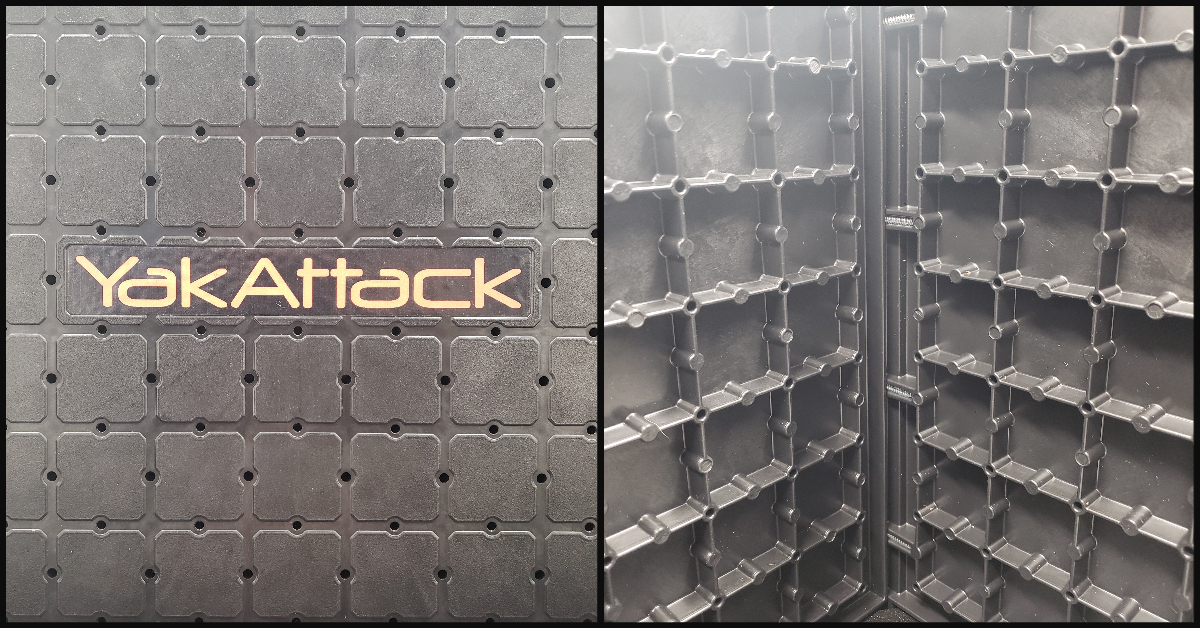 Availability Dates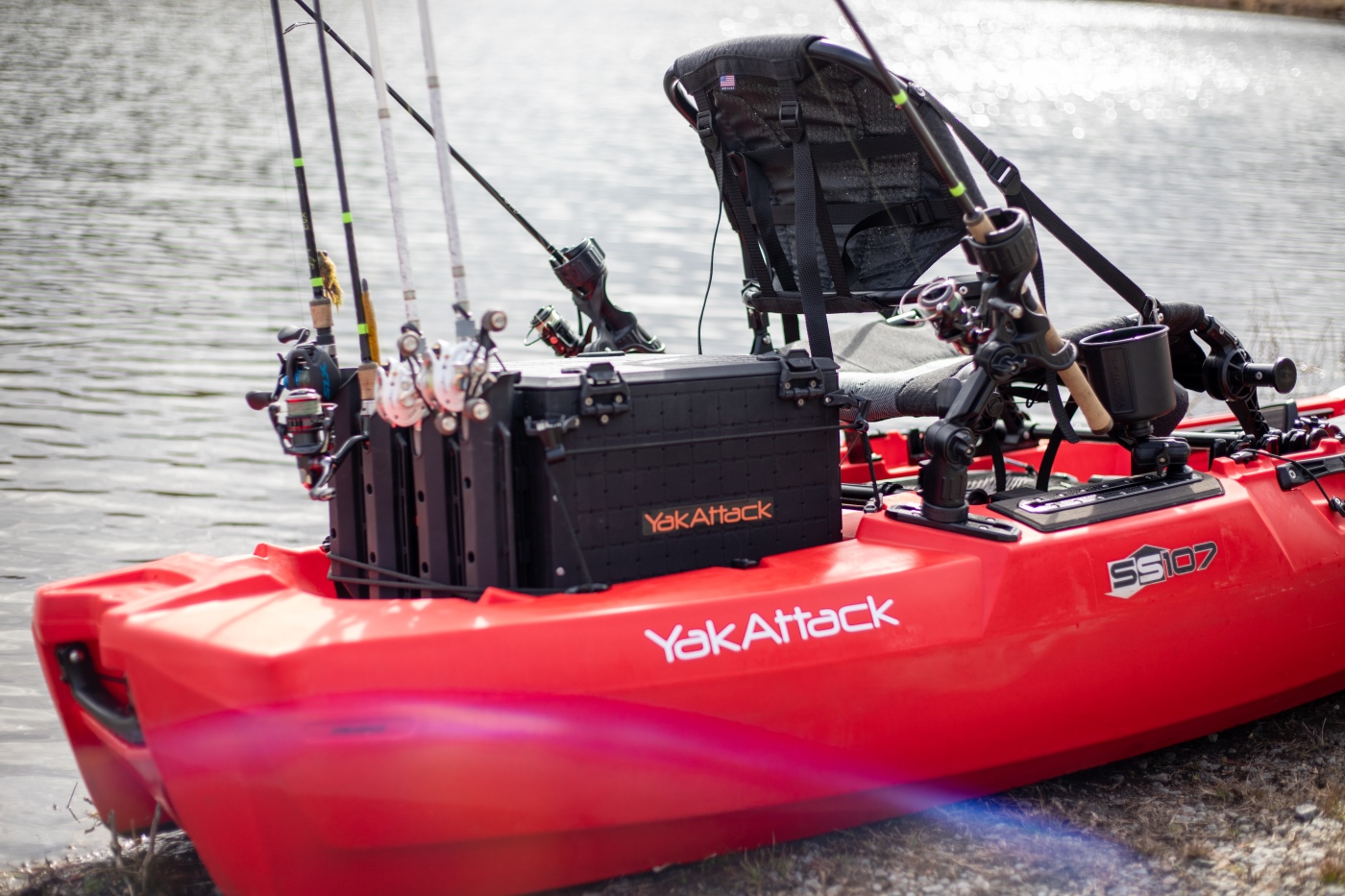 16x16 shown in a Bonafide SS107. The 16x16 version fit in all of the kayaks for our photoshoot; Bonafide RS117/SS107, Hobie Outback, and the NuCanoe Unlimited.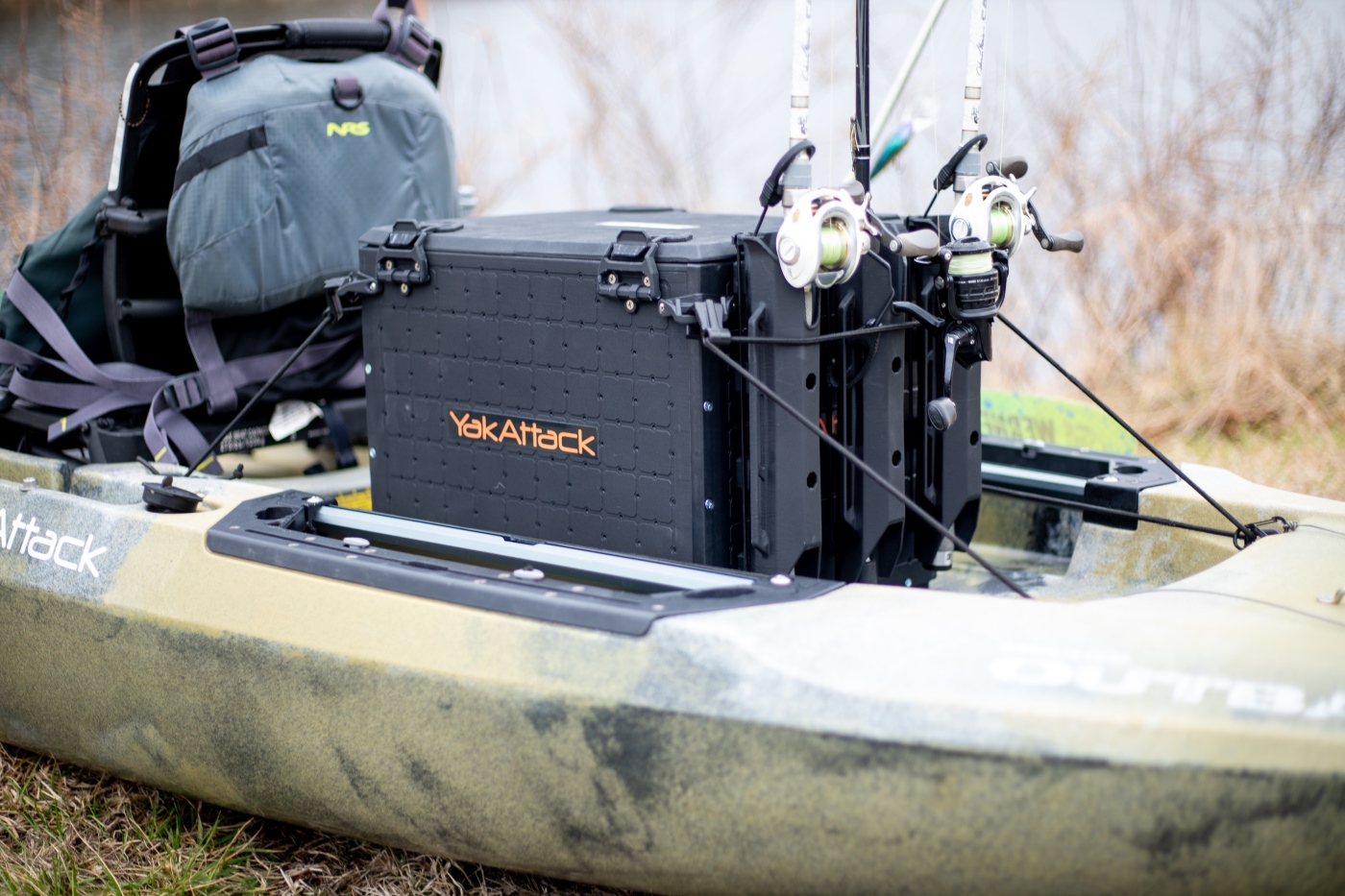 13x16 (same size as the classic BlackPak) shown in a newer Hobie Outback. In this photo you can see how TetherTubes work using the built-in rod leash.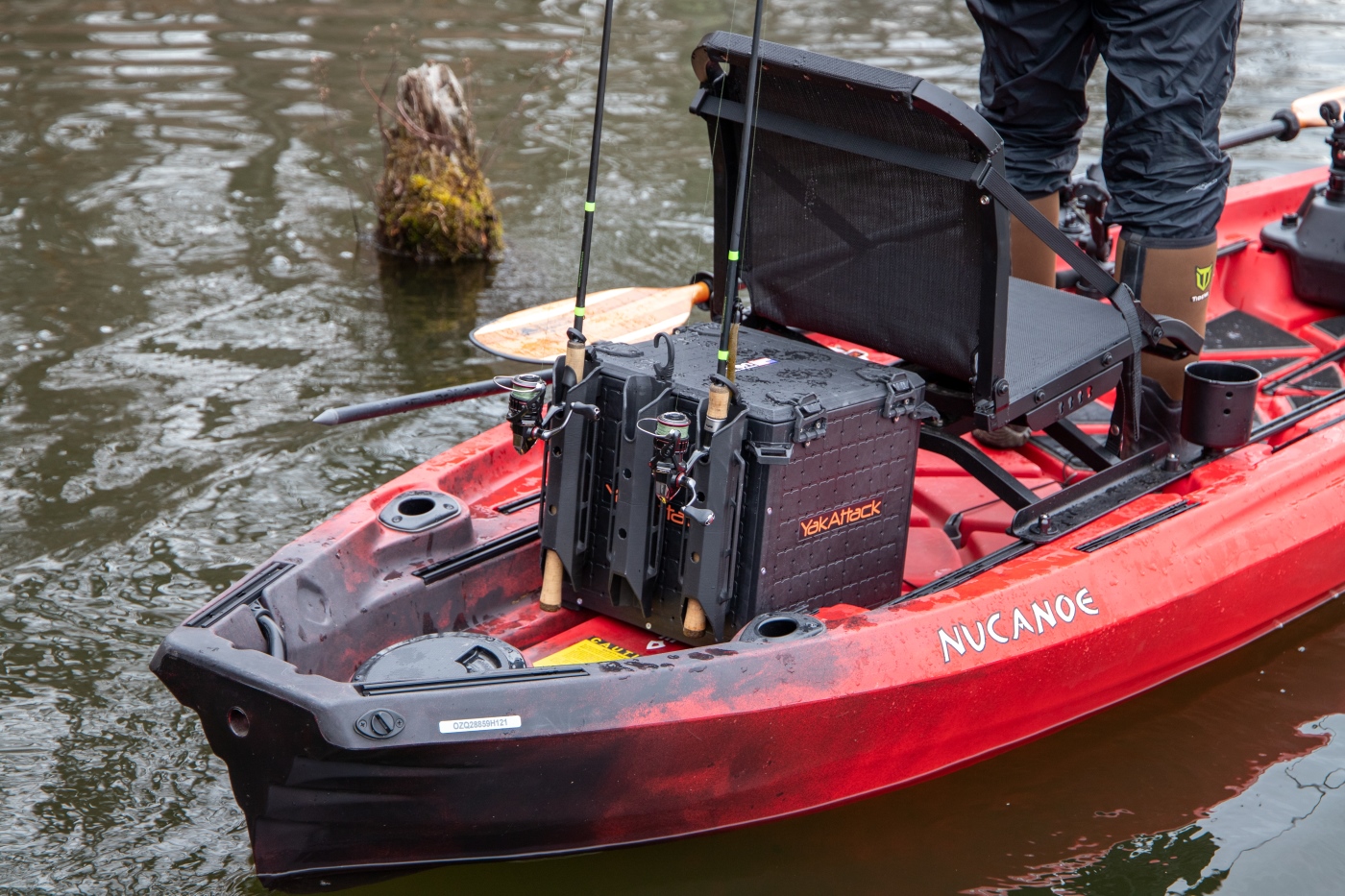 13x13 shown in a NuCanoe Unlimited.