The holidays are fast approaching. Do you need help deciding what to get that special angler in your life? Take a tip from the Pros. In this article we have a full list of favorites from our YakAttack Team Members highlighting the accessory they have come to personally reply on, spanning across all styles on fishing.
Luther Cifers - YakAttack Founder
For me, it's the BlackPak Pro. No matter how simple your boat is rigged, you need a place for the things you carry with you. The BlackPak helps you get things to and from the water as well as keeping them secure on the water. I also like that it's very utilitarian and has a lot of use cases. I personally know of several people who use their BlackPak regularly but who are not even kayak anglers. In my opinion, it's the closest product we have to one that every person, not just kayak anglers, can use and benefit from.
---
Amanda Brannon - YakAttack Team Member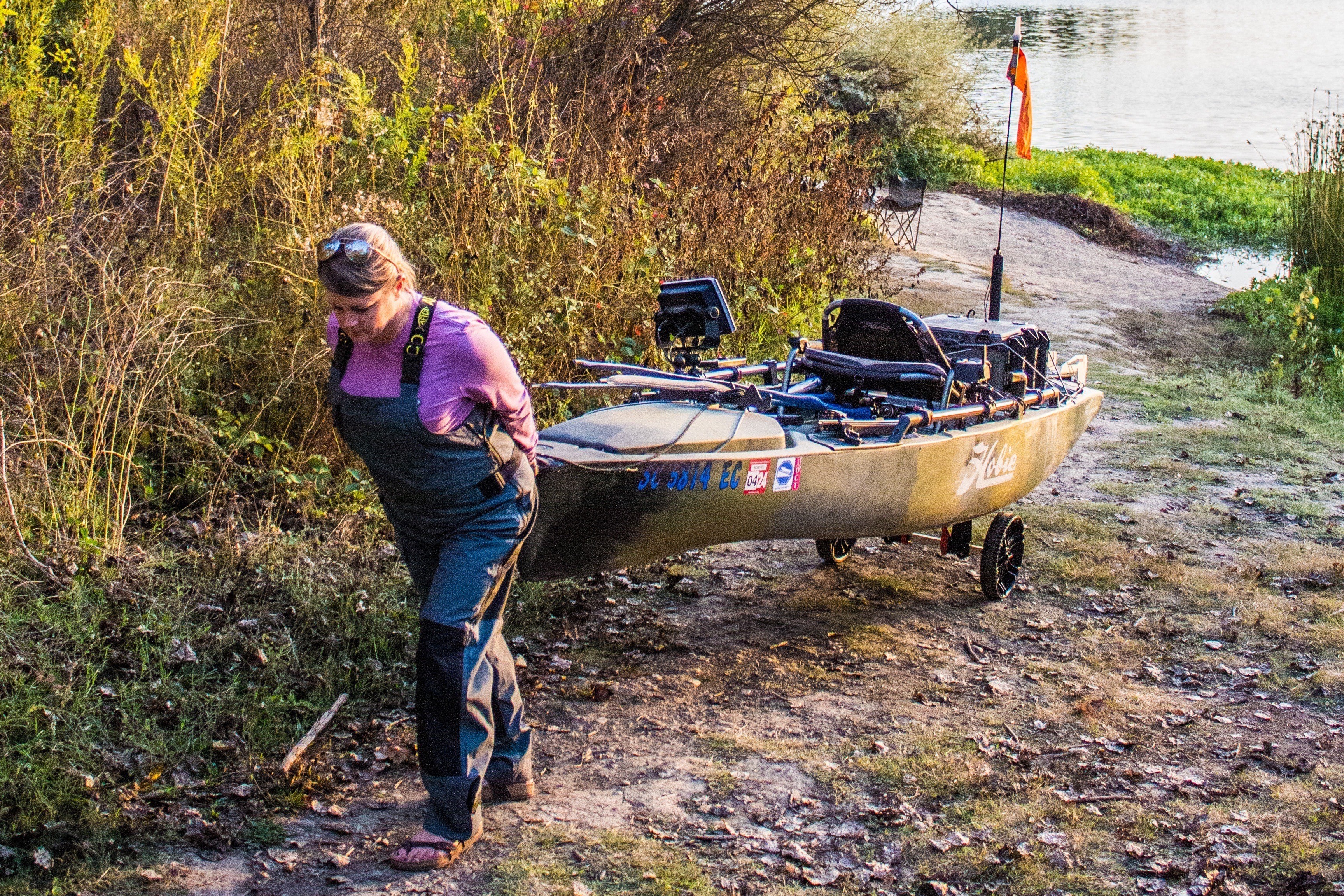 The new YakAttack Scupper Cart allows me to transport my Hobie Pro Angler 14 to areas where launching by trailer is not an option. The cart's build quality is exceptional; it feels sturdy and durable, able to withstand the weight of the Hobie Pro Angler 14 effortlessly. Its construction assures me that my kayak is secure during transport, even on rough or uneven terrain. The best part is it is easily and quickly broken down to store in my front hatch while on the water.
---
Joey Pruitt - YakAttack Lead Product Designer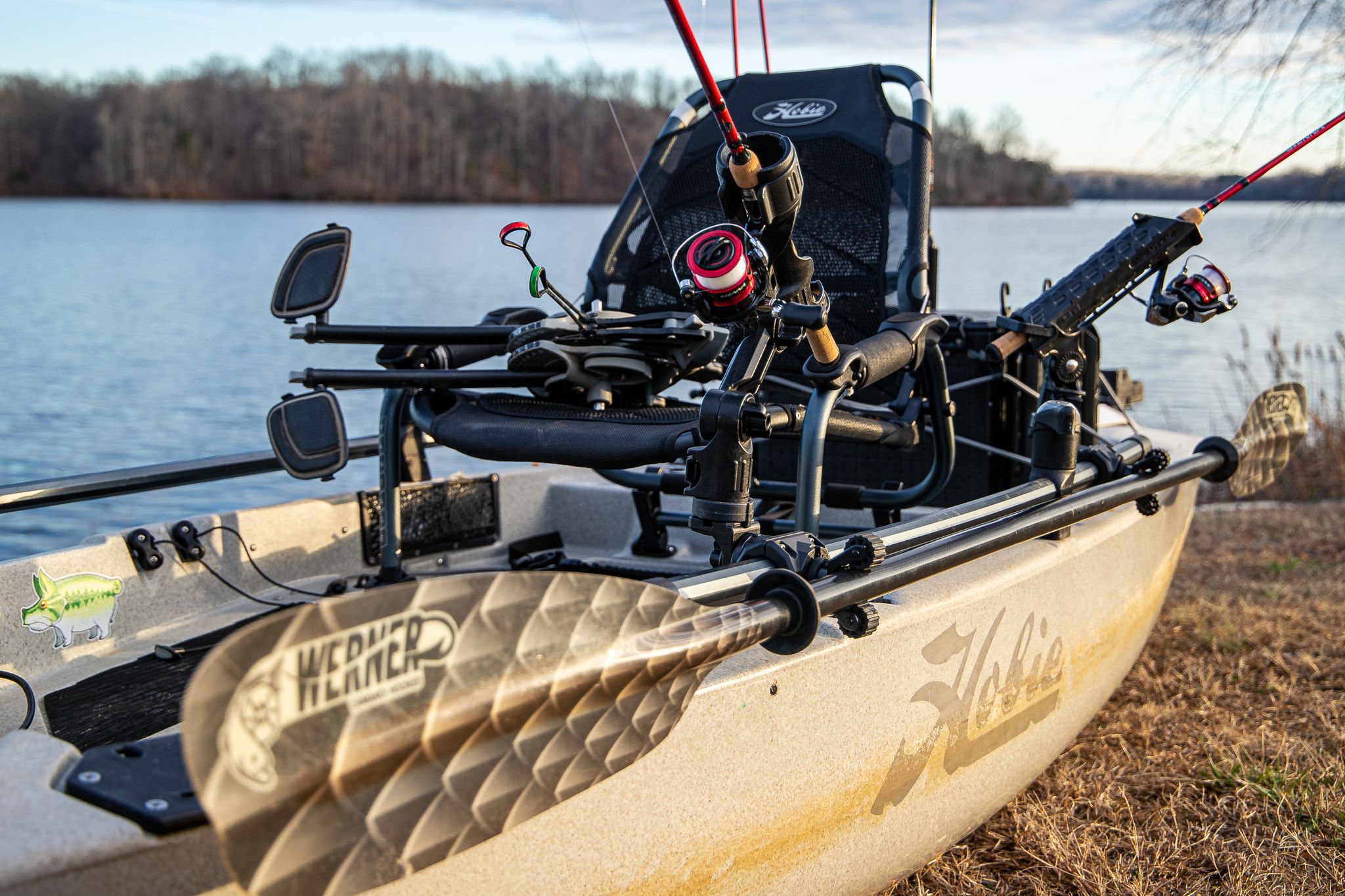 I've always been a diehard Hobie person; in my opinion, their drive system is second to none. However, I've always struggled with attaching YakAttack accessories to my Pro Angler. The Pro-Angler doesn't have GearTrac like many other fishing kayaks, which limited me to using only H-Rail compatible accessories or modifying flat H-Rail mounting plates to accept T-bolts (neither of which were ideal). That all changed when I got my hands on the MightyMount Duo. The MightyMount Duo allows me to attach all of my YakAttack accessories easily anywhere I want on the H-Rail. My favorite use of the MightMount Duo is placing one on the H-rail beside my seat and one behind me with RotoGrips attached to each. This allows me to place my paddle out of the way along the hull but still keep it easily accessible for when I need to rotate my Pro Angler in shallow water to make that perfect cast along a bank. Since the MightyMount Duo has two mounting faces (hence the name DUO), I'm able to use the second face to attach my Torqeedo throttle mount. I mirror this set-up on the opposite side of the boat to store my ParkNPole and mount my fish finder. For added security, I also like to add RotoGrip SnapNStraps to keep my paddle and ParkNPole from falling out if I happen to bump into a log and not notice while I'm fishing.
---
Wendy Biles - YakAttack Team Member
The Bunkster has a low platform keeping the lifting of my kayak to a minimum. It also has adjustable bunks to fit different hull sizes making it very versatile. Super rugged and rolls over most terrain.
---
Chris Funk - YakAttack Team Member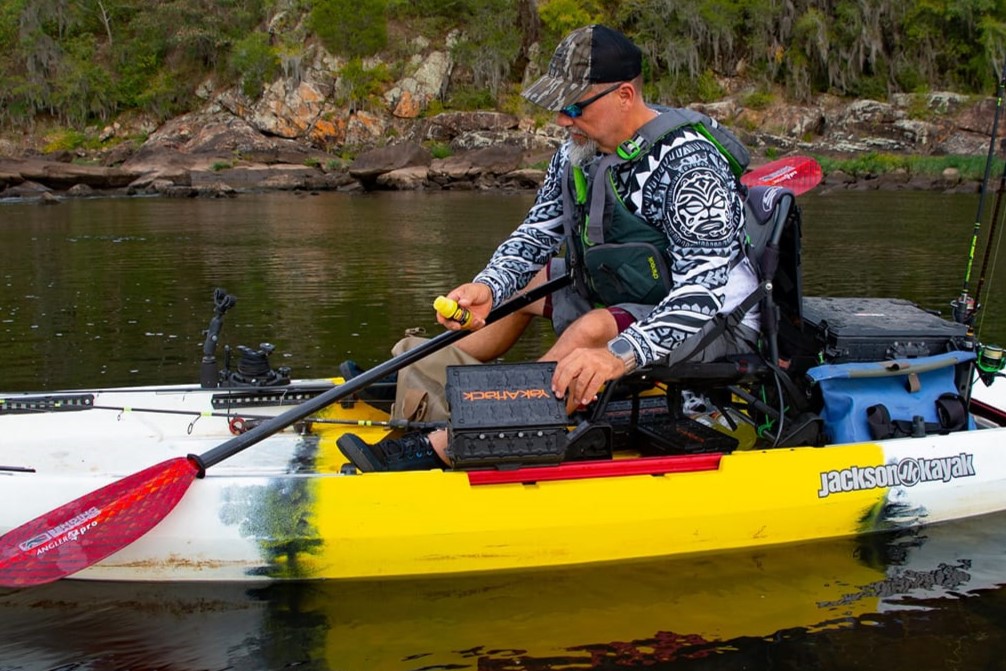 The TracPak is one accessory you didn't know you couldn't live without. Whether it is stand alone on a track or as a quick access utility tray mounted to the Black Pak Pro. Grab a few extra bases and the possibilities are endless!
---
John Hipsher - YakAttack Marketing Manager
Finding a kayak cart that fits all my kayaks and the occasional SUP has always been a struggle. Finding one that could easily be assembled and disassembled and had no hardware or small parts to lose was also nonexistent. The BarCart has changed all of that, and once the sand tires are available next year, it will be the one-and-done cart for all of my needs. The longer bunks make it easy to load, and most of the time, I don't need to use a tie-down strap, but to access specific kayak launches where the trail is rocky and uneven, I can utilize either of the built-in tie-down points for added security. Since the launch of the BarCart earlier in the year, this product has allowed me to access areas I typically would have avoided and allowed me to take the gear that I want since it is easy to load and unload. I look forward to more adventures and can't wait to see where the BarCart takes me in 2024.
---
Alan Thomson - YakAttack Team Member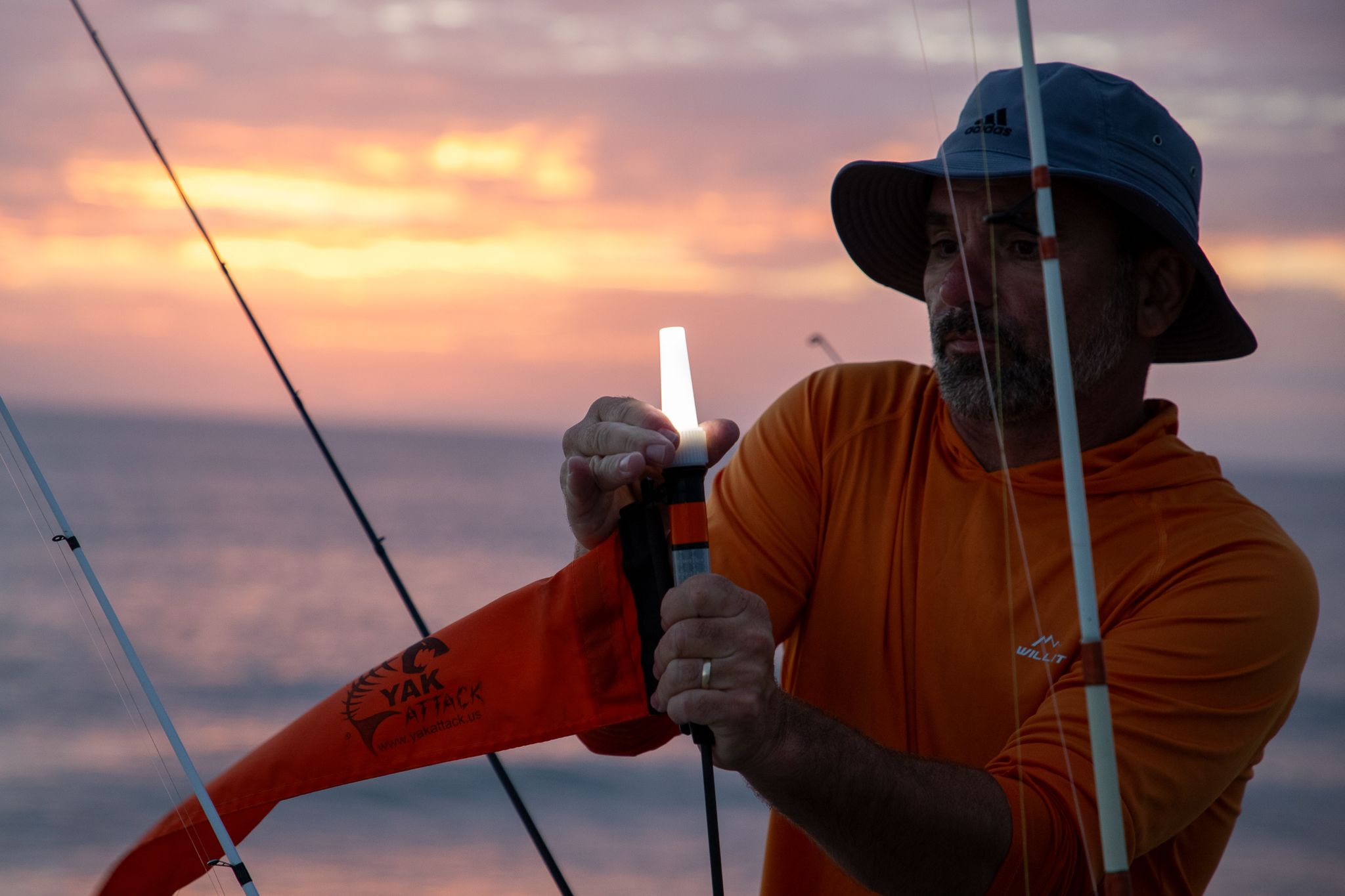 The YakAttack VisiCarbon Pro is hands down a must have for all kayak anglers. Being visible on the water is so crucial. It's compactable, easy to rig up and mount, very affordable, and offers a light on top as well for added safety!

---
Chuck Earls - YakAttack Team Member
SwitchBlade & CellBlok Combo Kit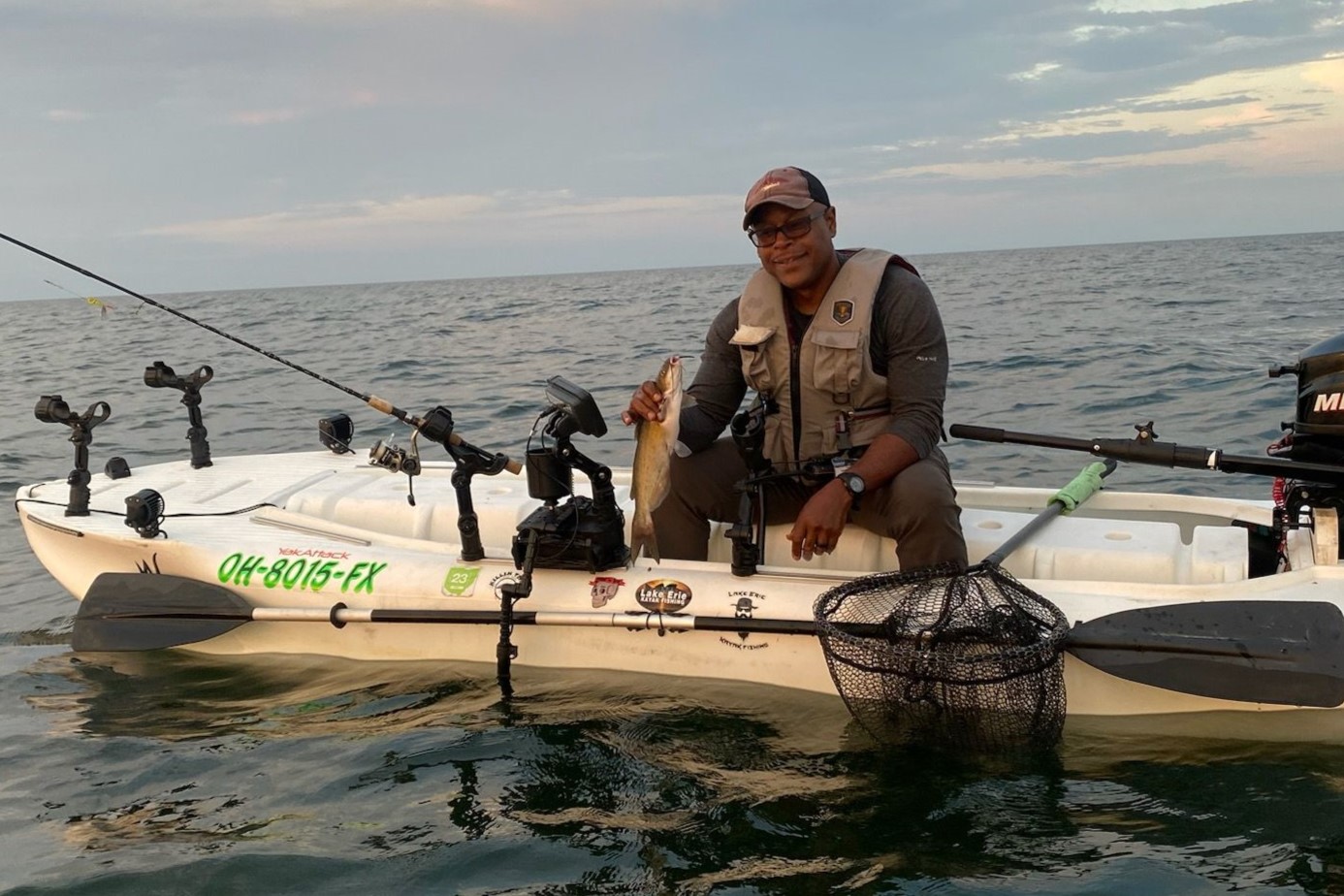 YakAttack CellBlok Battery Box and SwitchBlade Transducer Arm combo - Buying electronics for a fleet of kayaks can be expensive. But mounting your favorite fish finder on the YakAttack CellBlok Battery Box and SwitchBlade Transducer Arm combo means you can quickly switch your electronics to the kayak you plan on using for that day's adventure. It's an absolutely essential part of my Lake Erie Kayak Fishing guide service and has also been a must for many custom rigs out of the rigging shop including using it to install electronics on a WaveWalk S4 Microskiff.
---
Eron Dodds - YakAttack Team Member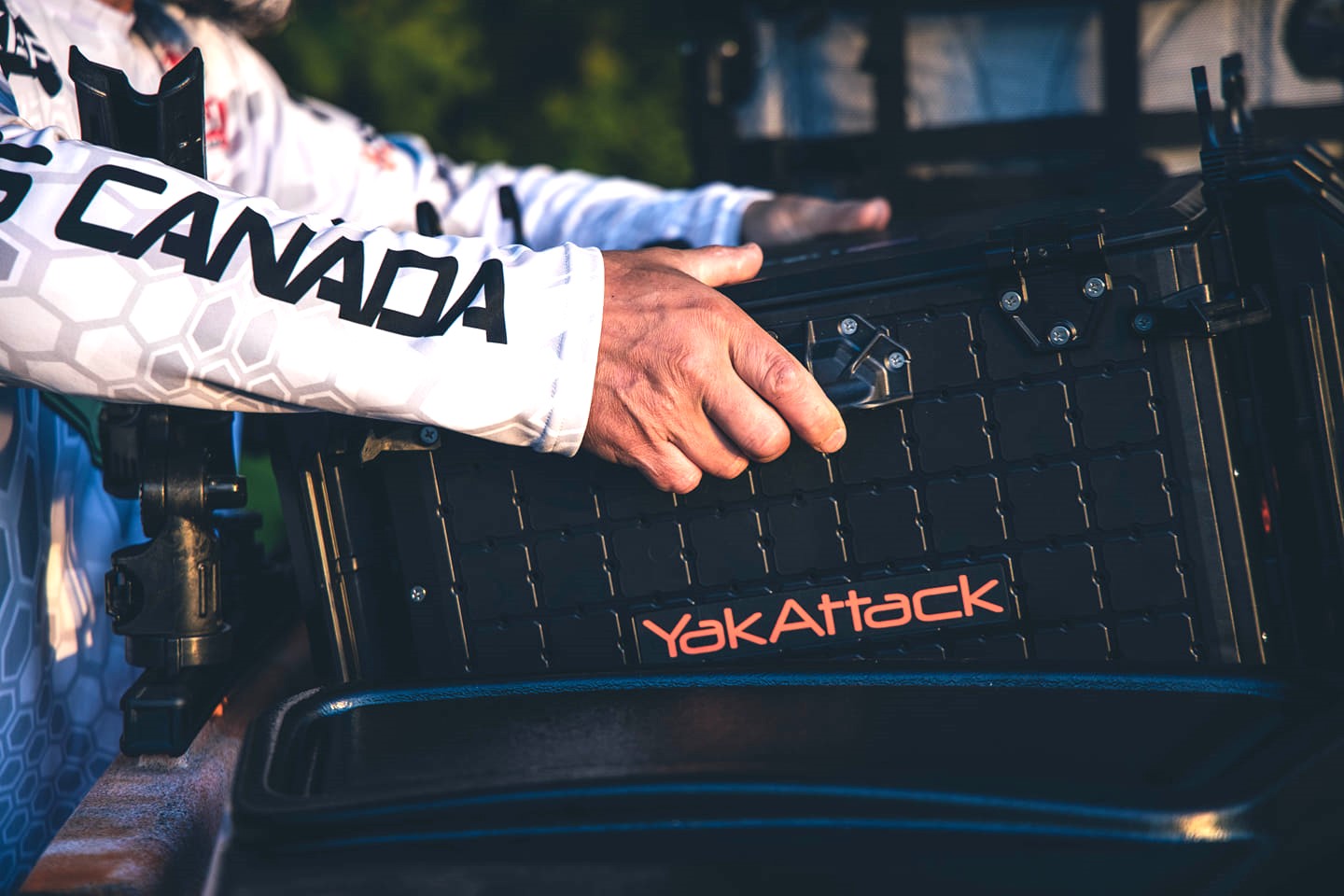 The Yakattack BlackPak Pro is an absolute must have when on the water. Rod storage with tethers, unlimited riggability and water resistant to store, organize and protect my valuables is key for me.
---
Jay Brown - YakAttack Team Member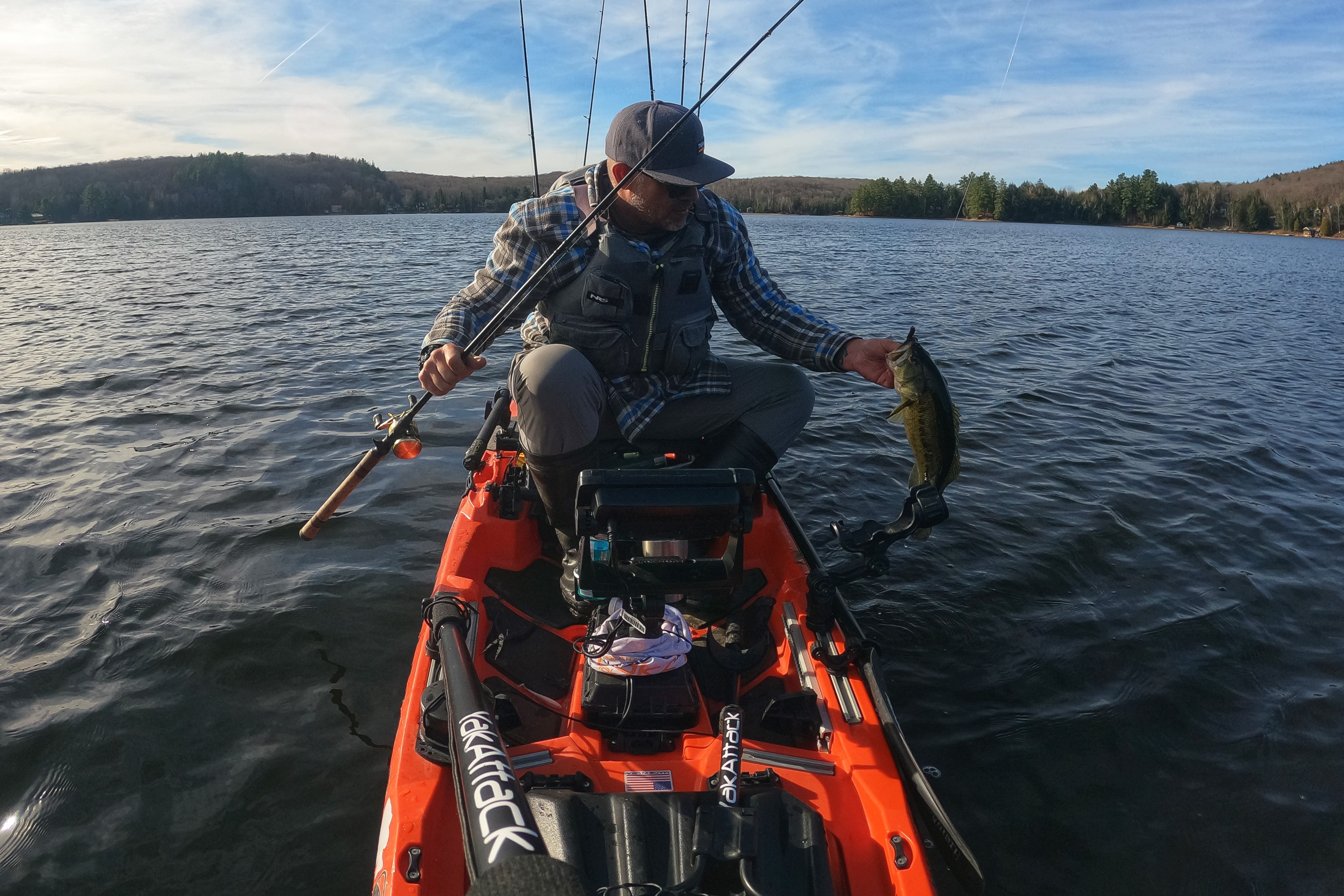 Originally purchasing the BoomStick Pro Camera Mount for capturing the "over the shoulder" POV, I soon found that depending on where I mounted it, it gave me seemingly endless POV's. Mounting it forward and pointing back on me gives me a great landscape captures, mounting it slightly behind me, kicked out to the side and parallel with the water is awesome for fish releases and for those days when I want to capture the full cast to catch POV, I mount it to my BlackPak Pro. So, if you're looking to capture and create some amazing cinematic content I would without hesitation recommend the BoomStick Pro!
---
Matt Ball - YakAttack Team Member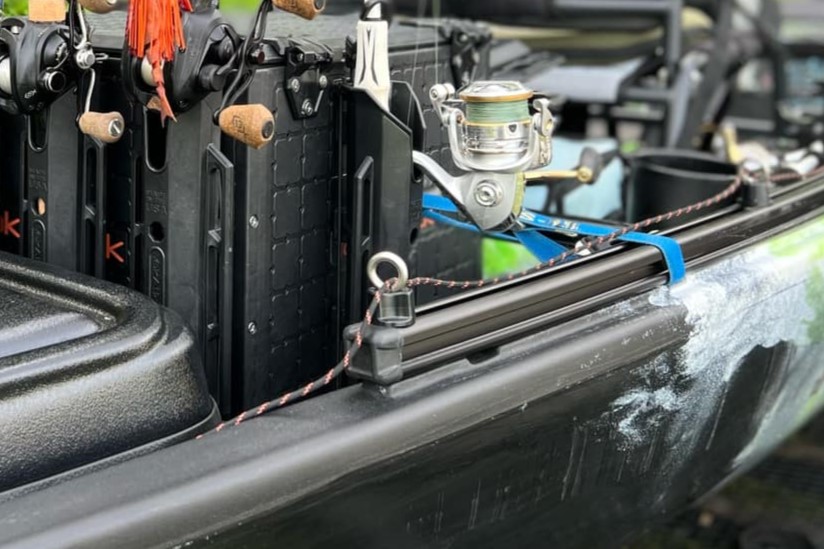 The YakAttack Tie Down Eyelets are a must on every kayak build that I do. From running lines down the side for anchor lines and foot steering, to adding a convenient spot to attach your crate, cooler, tackle or dry bags. Grab a few packs of these to add to your YakAttack gear track. The uses are endless!
---
Wade Clements - YakAttack Marketing Coordinator
SideArm paired with a ParkNPole RotoGrip and SnapNStrap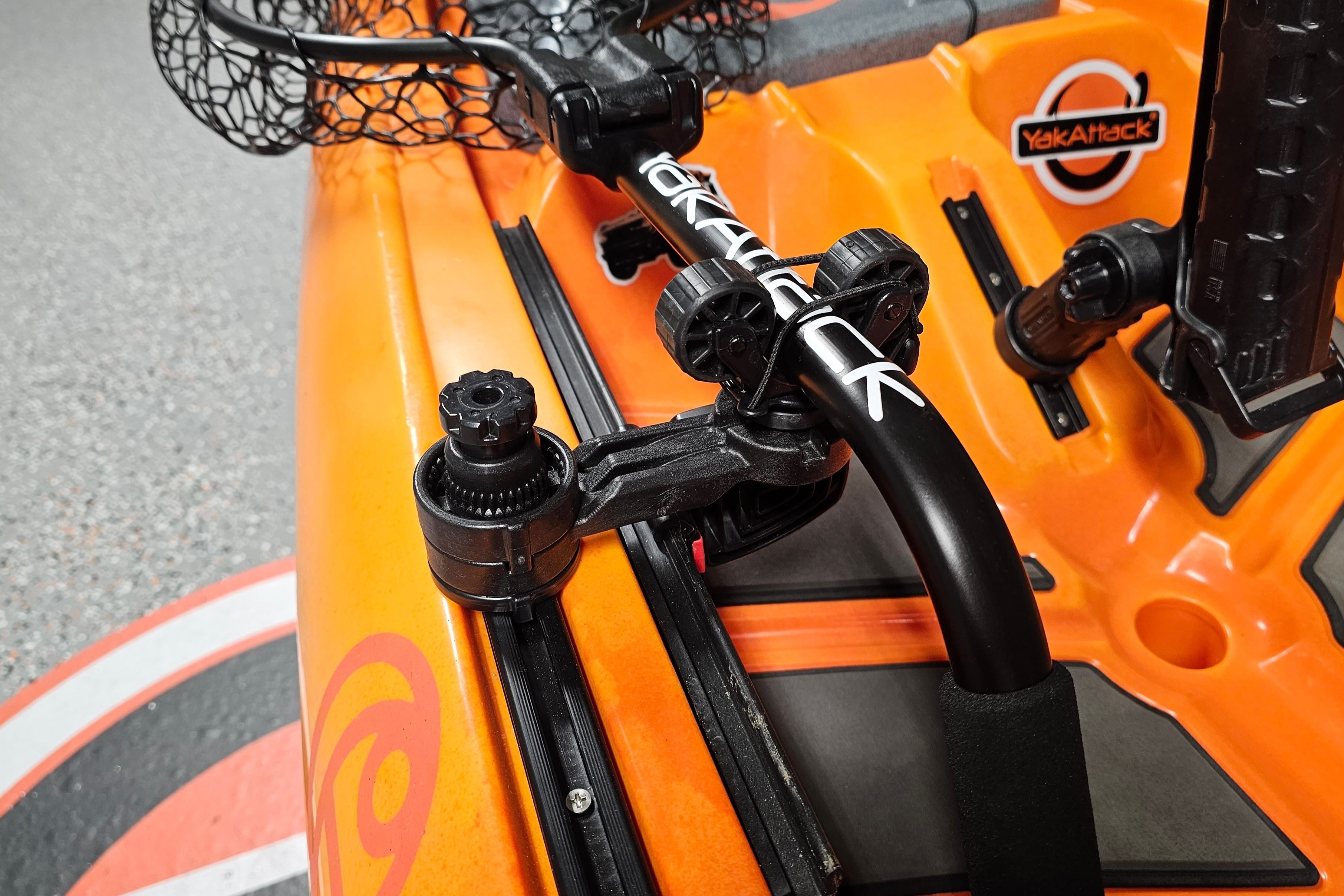 There are a lot of YaKAttack accessories that I can't leave home without, but this year, my Leverage Landing Net Holder is a big one for me. So yeah, this is more of a recipe than a single product recommendation, but this is a tool that has made my time on the water more enjoyable and organized. I prefer having my net in front of me versus reaching behind me to grab it from a rod tube, but it had to be secure in front of me. Here is what it looks like. I use a SideArm on my left gunnel pointing towards the center, and on that SideArm, I attach a ParkNPole RotoGrip paired with a SnapNStrap. This setup allows me to store the net out front and flat on the deck. The ParkNPole RotoGrip was designed to accommodate our 0.84" diameter ParKNPole, but as an added bonus, it works very well with the 1" diameter tubing used on the net handle. The added security of the SnapNStrap gives me peace of mind when in turbulent water, so I know I won't be accidentally losing anything.
---
Jody Queen - YakAttack Team Member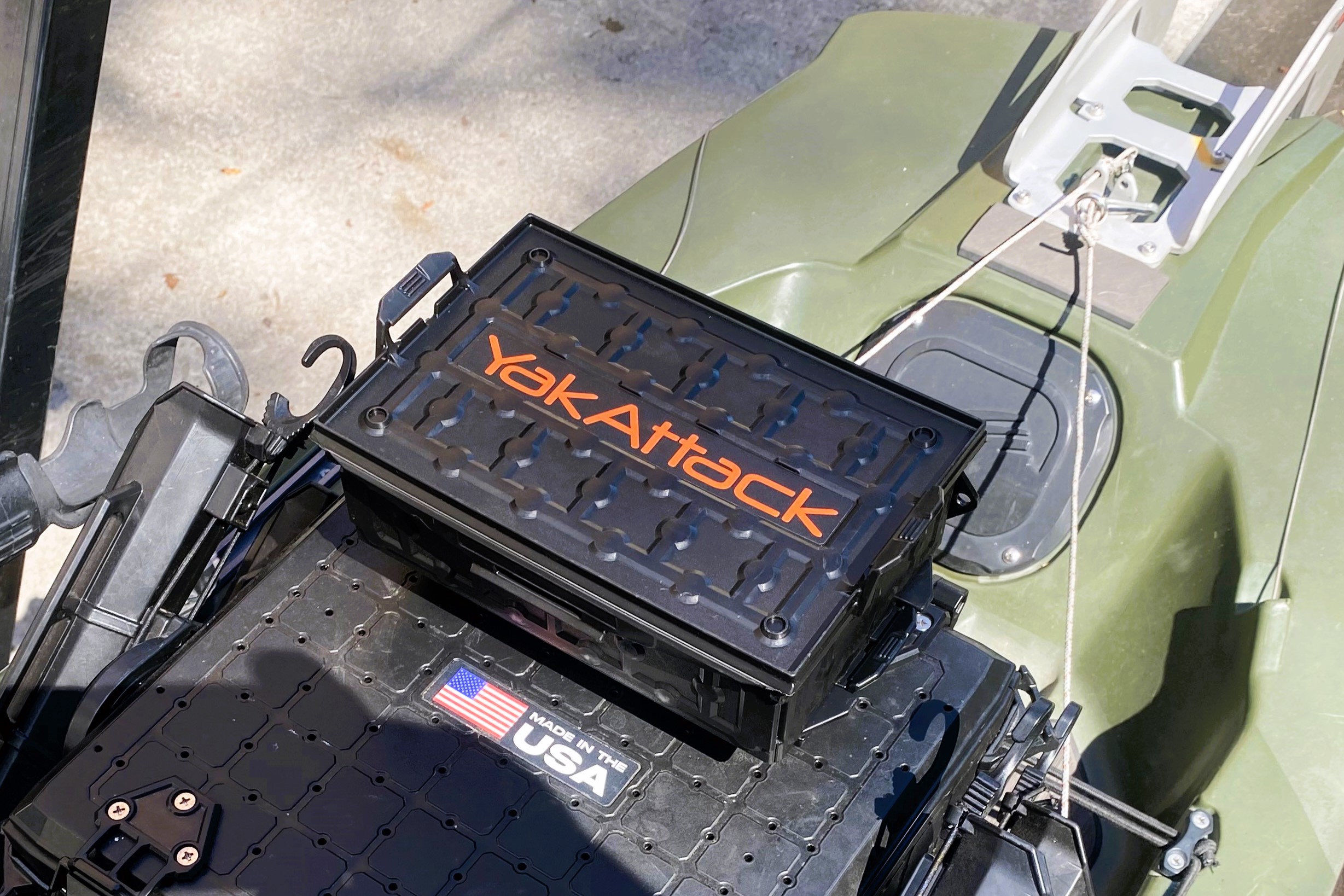 My favorite new product so far this year is the Track Pack. Simple to install on just about anything. Holds Baits I'm currently using so I'm not searching through my other tackle storage. This saves time. I use it as a Tool box, Snack box, or just a box for my cut offs while pre fishing. Awesome product.
---
Michael Guyer - YakAttack Team Member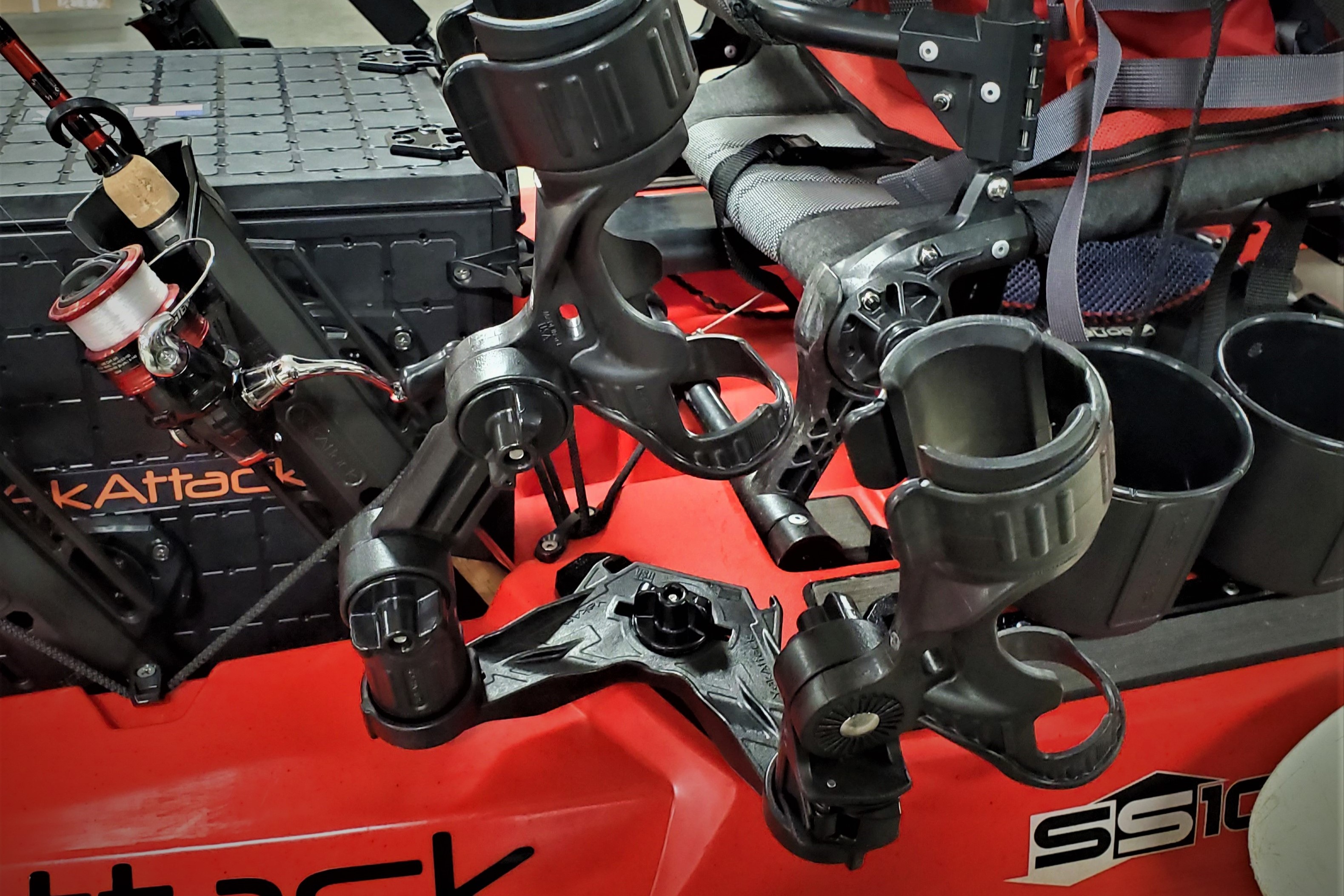 The DoubleHeader is a must-have for me because of its versatility. I use one for my bump board with RotoGrip holders and the other holds rod holders, anchored with a MultiCup!
---
Amanda Brannon - YakAttack Team Member
The 13x13 BlackPak Pro has been one of my favorite new releases by YakAttack! Its spacious design accommodates all the gear I need while spending a day on the water in my inflatable kayak, whether I'm leisurely floating or fishing. The pack's compatibility with inflatable kayaks is exceptional. Its compact size perfectly fits onto my kayak without obstructing movement or tipping the balance. The secure attachments means I can focus on casting without worrying about the pack shifting or getting in the way. Whether it's snacks, extra clothing, or fishing tackle, everything has its place in this pack. Not to mention, its lightweight nature makes it effortless to carry!
---
Dave Ohmer - YakAttack Team Member
The YakAttack TowNStow Bunkster kayak cart is my versatile, go anywhere launching platform! Be it a concrete ramp or an unimproved dirt river access point, my Bunkster gets my loaded vessel to and from the water without any concerns. Light weight and extremely stowable, this cart is by far my most valuable accessory.
---
Adam Rourke - YakAttack Team Member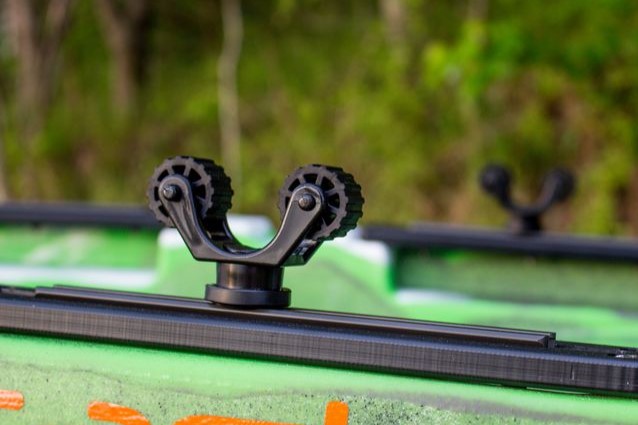 Paddles have become the "in case of an emergency" means of propulsion for me these days, which means I want it out of the way but also close. The RotoGrip Paddle Holder ensures that my paddle is secure, out of the way, but can also be ready at a moment's notice if needed.
---
Nicholas Beltran - YakAttack Team Member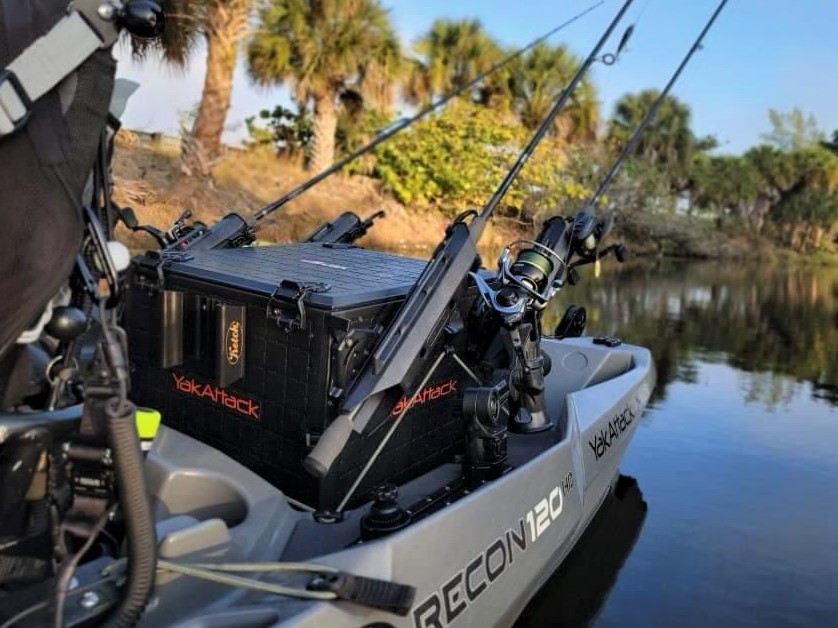 The BlackPak Pro has to be one of the most useful products that YakAttack has ever provided for us kayak fishermen, with all the unlimited ways to customize and apply accessories, it's heaven sent
---
Chuck Earls - YakAttack Team Member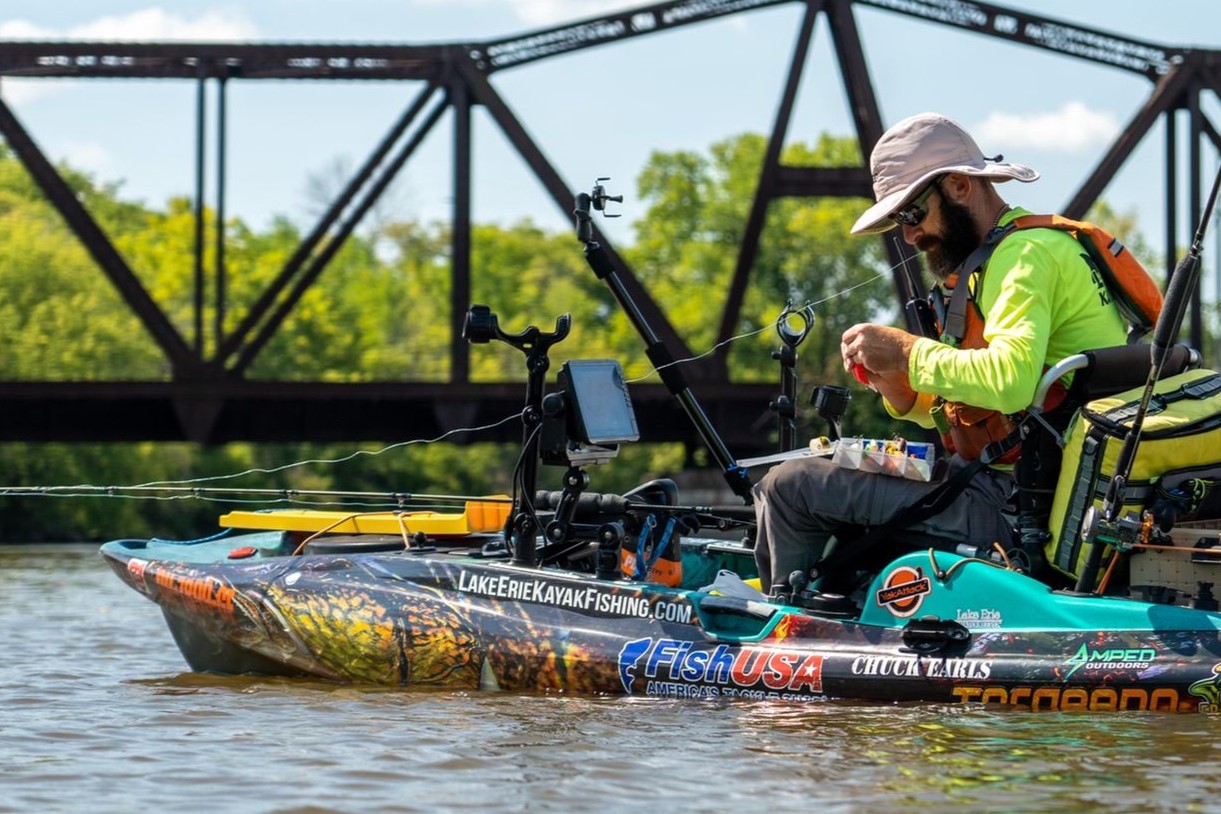 Lake Erie Kayak Fishing wouldn't be the same without the YakAttack Omega Pro rod Holders. They allow me to position my trolling rods exactly where I need them so I can keep a close eye on my rod tips and identify the bite while running a 3 line spread. After the trip is over I can quickly remove them and ready my kayak for transport.
---
Jay Brown - YakAttack Team Member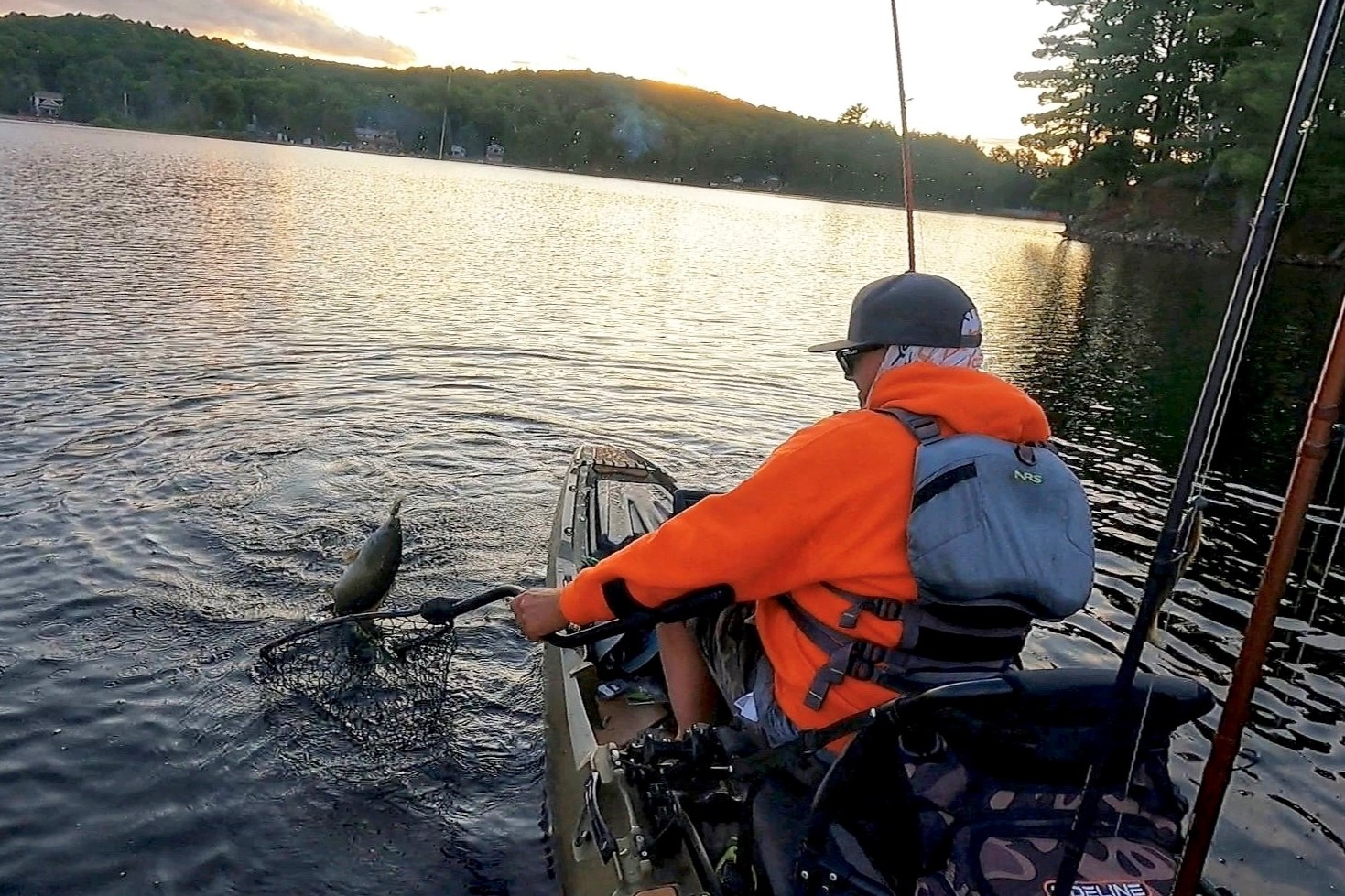 For as long as I can remember, I never used a net bc lipping bass and having "bass thumb" was the badge of a great day on the water, however, this mentality changed a few years back when I met up with YakAttack Team Member - Eron Dodds for a day on the water. As we were setting up I asked "what's up with the net?", he handed me his Leverage Landing net and explained how it not only allows him to land and recuperate his catches faster but how it also reduced the risk of getting accidentally hooked. Holding the net in my hands I was quite impressed with it's build quality, ergonomics and the functionality of the forearm cradle but it wasn't until it was put to use that day that … I had to have one! Now my Leverage Landing net is always at the ready, secured down with a ParkNPole RotoGrip on the bow of my rig.
---
---