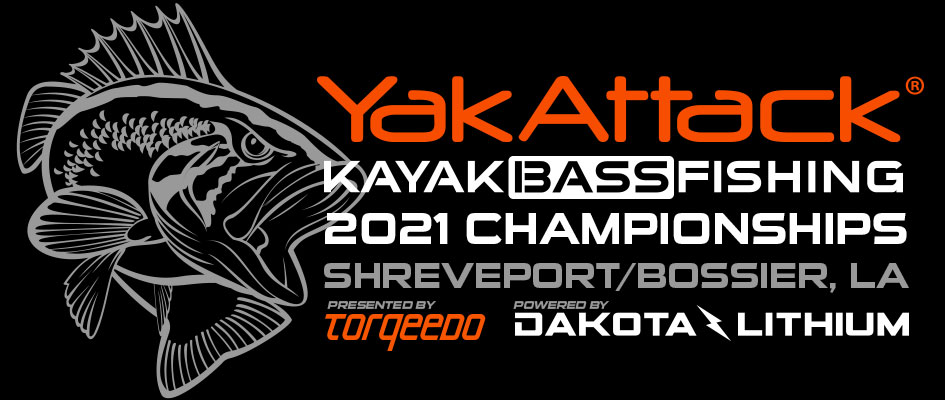 The 2021 Kayak Bass Fishing National Championship is just a few weeks away. KBF's 2021 National Championship will take place October 13 – 15, 2021 with the awards presentation on Saturday the 16. Championship contenders will be fishing not just a single lake but an entire system of river and lakes centered around Shreveport-Bossier City, including the Red River, Caddo Lake, Cypress Bayou Reservoir, Lake Bistineau, and Wallace Lake. This will be a 3-day event (Wed/Thur/Fri). The field will be trimmed after Day 2, and the top 100 competitors will meet on one of the bodies of water on Friday. While they chase down a limit that produces the next KBF National Champion. Prize ceremonies and awards will be Saturday from 11:00 – 1:00. In addition to the National Championship there is also a public expo. The expo is open to the public with no admission fee. Come browse exhibits by Kayak Bass Fishing sponsors, paddlesports manufacturers, and merchants at Shreveport Bossier City Convention Center. The expo will take place from Thursday through Saturday.
For the past three years, KBF has included a team event as part of the National Championship. This year the Top Team Challenge Cup is made up of four anglers. Each team member's highest-scoring Day 1 photo and highest-scoring Day 2 photo will contribute to the team's total score. The winning team will be determined by the highest cumulative 2-day score, with ties broken by big fish (then second biggest, third, etc.) The payout format has changed to 100% payout (minus associated admin fees) with the following breakdown. First place is 60%, Second Place will receive 30%, and 3rd place will take home 10%.
Team YakAttack is made up of a wide variety of highly talented anglers. From our top-ranked KBF team anglers, we are pleased to announce this year's YakAttack KBF National Championship Cup Team. Our four-man cup team is comprised of Robert Brown, Josh Stewart, 2018 KBF National Champion Dwayne Taff, and the 2019 KBF National Champion Mike Elsea.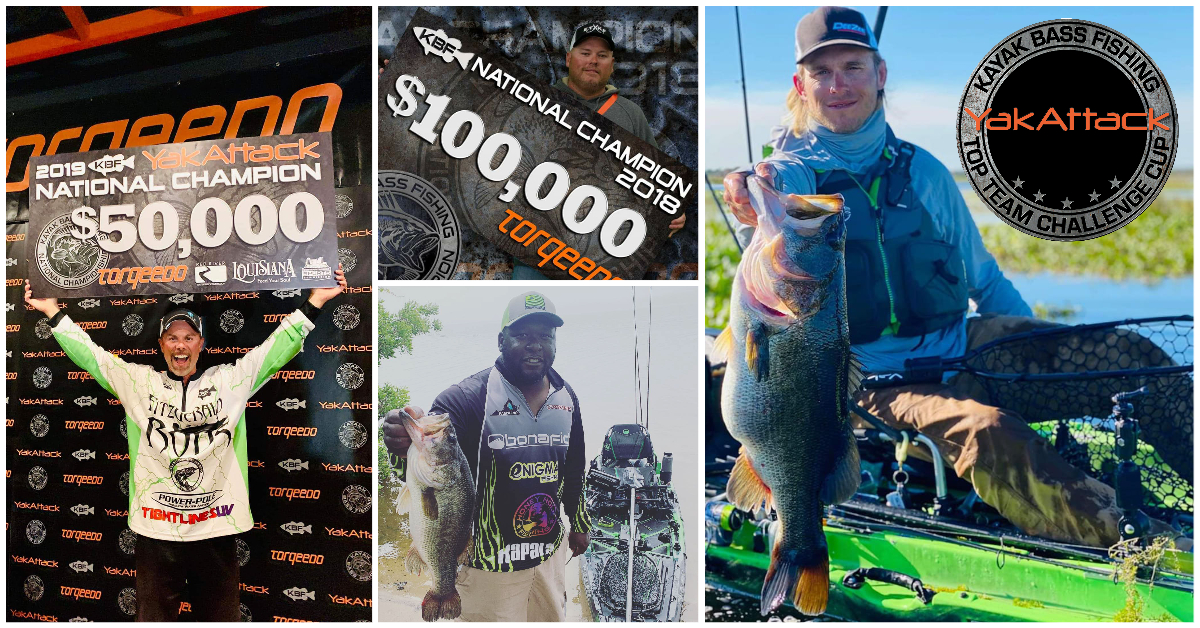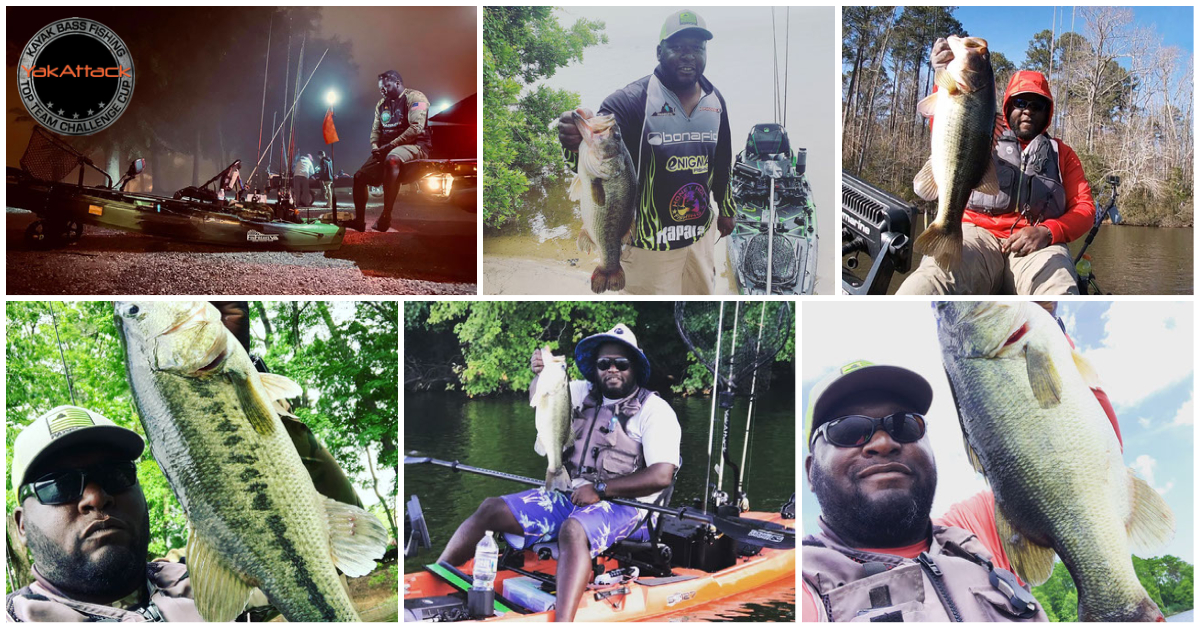 Robert Brown
Born and raised in Florida, Robert is an active duty submarine sonar technician in the greatest Navy in the world. Robert found his love for fishing at the young age of 6 years old when he caught a 5lb largemouth with a cane pole and a ribbon tail worm he found on the ground. He is a self-taught angler who honed his skills fishing the lakes and ponds of northern Florida. After joining the military in 2003, his fishing time was cut short and put away. In 2012 he saw a youtube video of Chad Hoover fishing out of a "wilderness systems ride 135" kayak, and this piqued his interest. After watching a few dozen videos from kayaking legends like Kayak Kevin Whitley and Rob Choi. The thought of trying out kayak fishing was born. Now on shore duty with time to burn, he picked back up his rod & reel and rediscovered his passion for bass fishing. He purchased a Malibu Stealth 12 and hit the lakes and ponds. A call from Uncle Sam to go back to sea duty in 2015 again made him take a hiatus. Now on shore duty again, he purchased a Bonafide SS127 and hit the kayak tournament scene in 2019. Fishing online events and the local Virginia Kayak Trail (VKT), he found a lot of success with multiple top 10 finishes. In 2020 he decided to test his skills at national level tournaments in KBF & Hobie BOS to see if he could compete with kayak bass fishing's elite. Robert's first Hobie BOS tournament on Lake Seminole saw him finish 7th out of over 120 of the nation's best. Now in his third year of tournament kayak fishing and second year fishing national-level tournaments, he has completed 68 total tournaments with 47 Top Ten finishes. His most significant kayak fishing accomplishments are top 100 at KBFNC 2020, 7th place Hobie BOS Lake Seminole, 6th place KBF Lake Murray, top 50 AOY KBF 2021, getting picked up by Bonafide & YakAttack, and getting selected to represent Team YakAttack for the 2021 Kayak Bass Fishing Top Team cup Challenge. Robert describes his fishing style as power finesse, with his absolute favorite presentation being a jig. Being a family man, Robert states he is very blessed to have a beautiful wife and kids that support his obsession with fishing. His favorite quote is: "There are not any fish in this lake."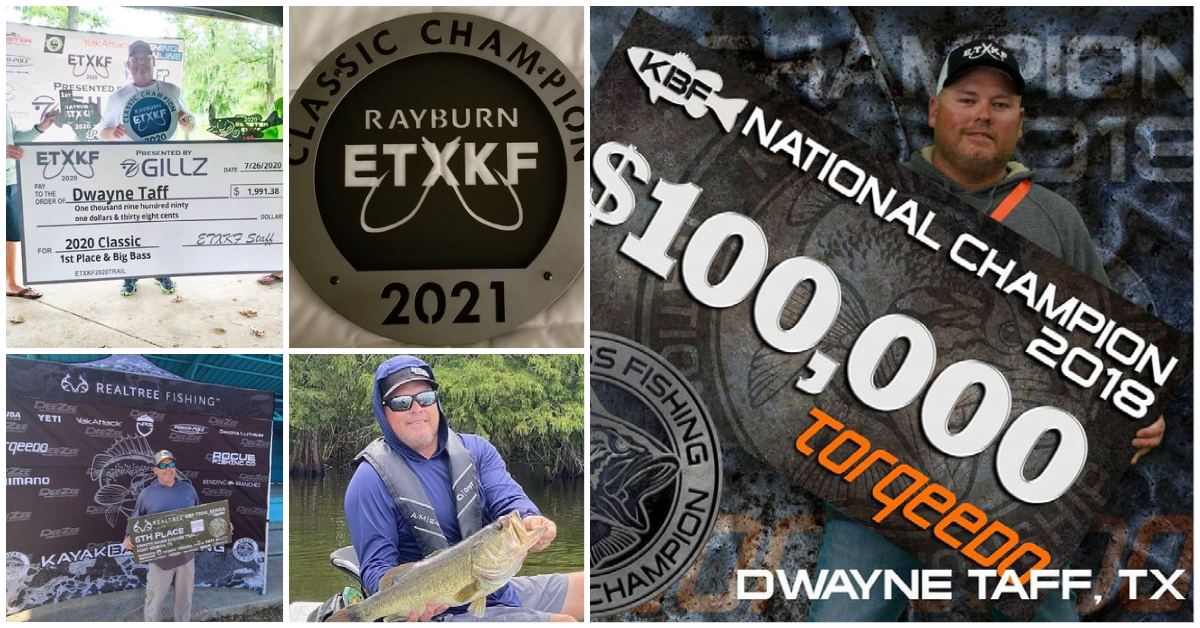 Dwayne Taff
Growing up in Houston, TX, I have always had a passion for the outdoors and have spent my entire life fishing. Whether it was my grandparent's farm pond or Galveston Bay, I have always had a love for the sport. I started competing in local fishing tournaments about 20 years ago, but kayak fishing has become a way of life for me in recent years. I spend most of my free time with my family or on the water. When I am not competing, I can usually be found paddling around my home waters of Sam Rayburn. I have been extremely fortunate to have some success tournament kayak fishing. Career highlights for Dwayne include winning the 2018 KBF National Championship, 2020 East Texas Kayak Fishing Championship, 2021 East Texas Kayak Fishing Championship, and the 2021 Northeast Texas Kayak Bass League Championship.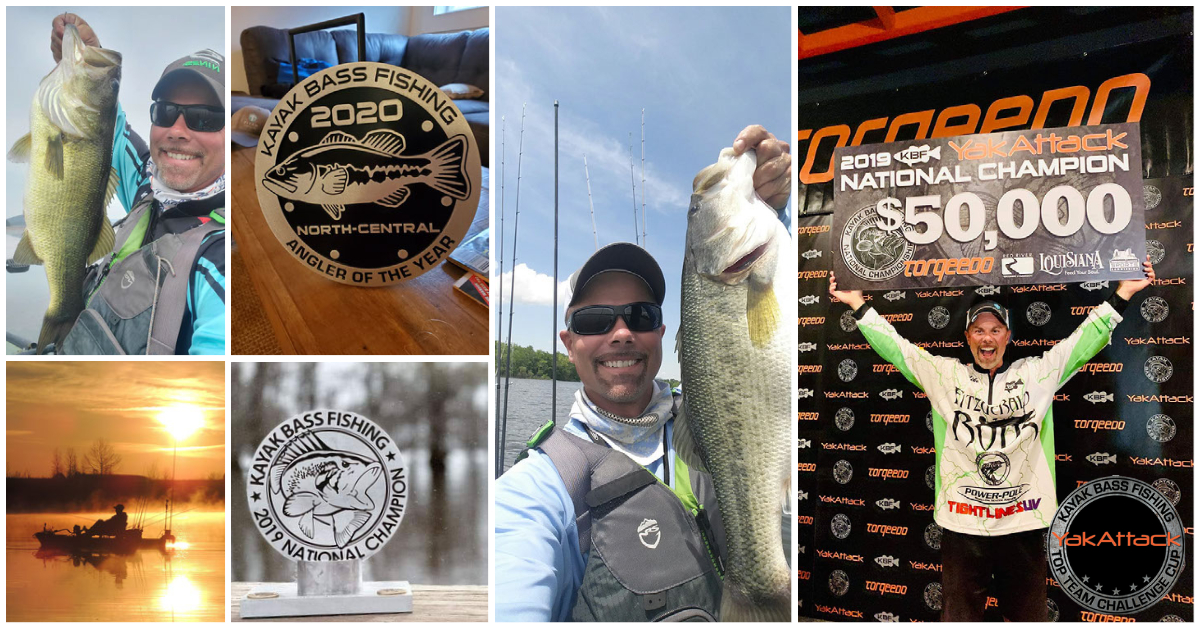 Mike Elsea
As stated by Mike, I've been fishing my whole life. I began tournament fishing when I was 16 years old, and slowly worked my way up the ranks in the bass boat world. Eventually I made it to the boater side of the Bassmaster Opens, but at that point fishing started to be less fun for me. Four years ago, I discovered Kayak Bass Fishing, and absolutely fell in love with the sport again! Since then, I've pursued making kayak fishing as my full time profession, and although there are still bumps in the road from time to time, the fun is still there! Career highlights for Mike include winning the 2019 National Championship (last time it previously held in Shreveport), 2020 The TEN Qualifier, and 2021 HKB State Champion.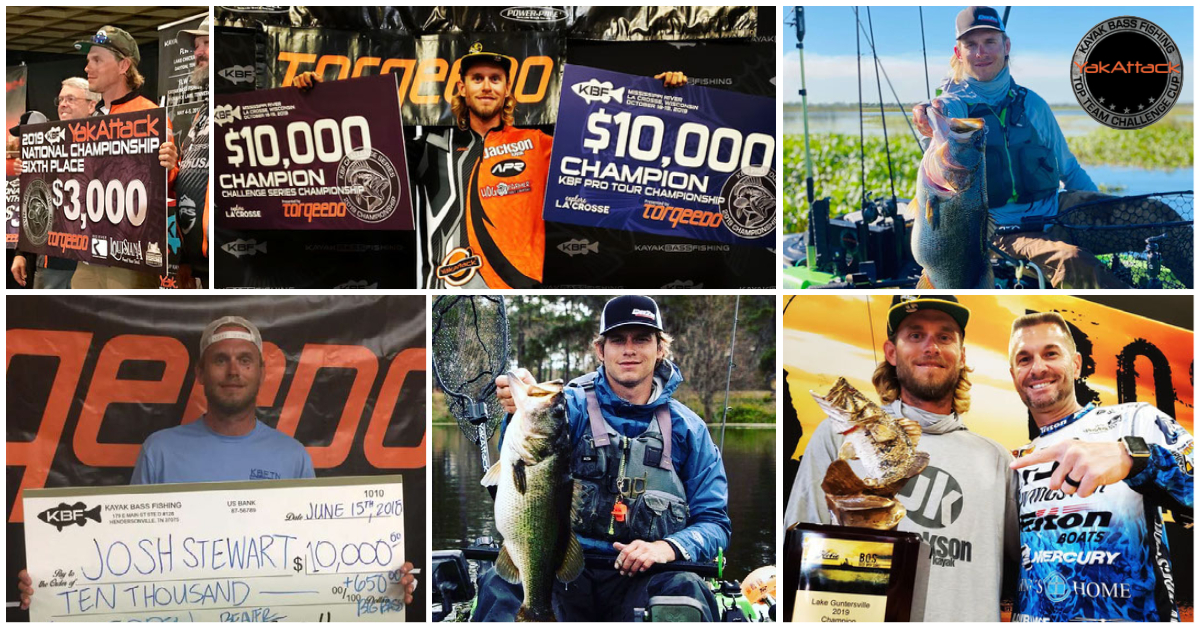 Josh Stewart
Josh grew up fishing the creeks and rivers of the Kentucky Lake watershed. After a few years of recreationally fishing from a kayak he discovered competitive kayak fishing tournaments and has been hooked since. Josh enjoys fishing the large lakes of the Tennessee River system but his favorite pastime is chasing smallmouth in the smaller tributaries. A few career highlights for Josh include 2018 National Championship 2nd Place, 2018 Hobie World's Qualifier, 2018 KBF Open Grand/Beaver Open First Place, 2018 KBF KY Lake Open First Place and a top 10 finish at the 2018 and 2019 KBF National Championship.