Anglers, kayakers, and people who love the outdoors are sometimes challenging people to shop for during the holidays. Many of them seem to be that individual who already has everything and the kitchen sink. Here are five top YakAttack stocking stuffers under $20 that are guaranteed crowd-pleasers. Also, if you find yourself shopping for a gift for an angler in your life and still do not know what to buy them feel free to call our customer service team (434-392-3233), email at support@yakattack.us, or message us on Facebook and Instagram and we will help out with a few ideas to make shopping this year just a little easier.
Tow Flag | $7.00
If you are shopping for a kayak angler who transports their kayak in the bed of their truck, this is a must-have piece of gear, and it is beneficial to keep a backup. In most states, a red tow flag is required when transporting items like a kayak, which overhang from the tailgate. The tow flag easily attaches to the handle of a kayak, and it is good practice to put it on every time you are transporting your rig. Otherwise, it could make for an expensive day with having to pay a ticket from the law.
OmniHooks | $10.00
As far as kayak mods go, there are not many accessories on the market or DIY with as much utility as OmniHooks with a $10 or less cost. If you use a standard milk crate, bucket, or YakAttack BlackPak in the stern tankwell of your kayak, then OmniHooks are an absolute must-have. To install them, loosen the knot of your bungee and slide them on. Once in place, retie the knot, and you are good to go. This easy and cheap modification is a significant upgrade from having to route bungee around rod tubes and takes a matter of seconds to secure your gear quickly. OmniHooks are sold as a four-pack. Bungee is not included, but just about every kayak already has stock bungee in the stern tankwell, so it is not needed in most cases.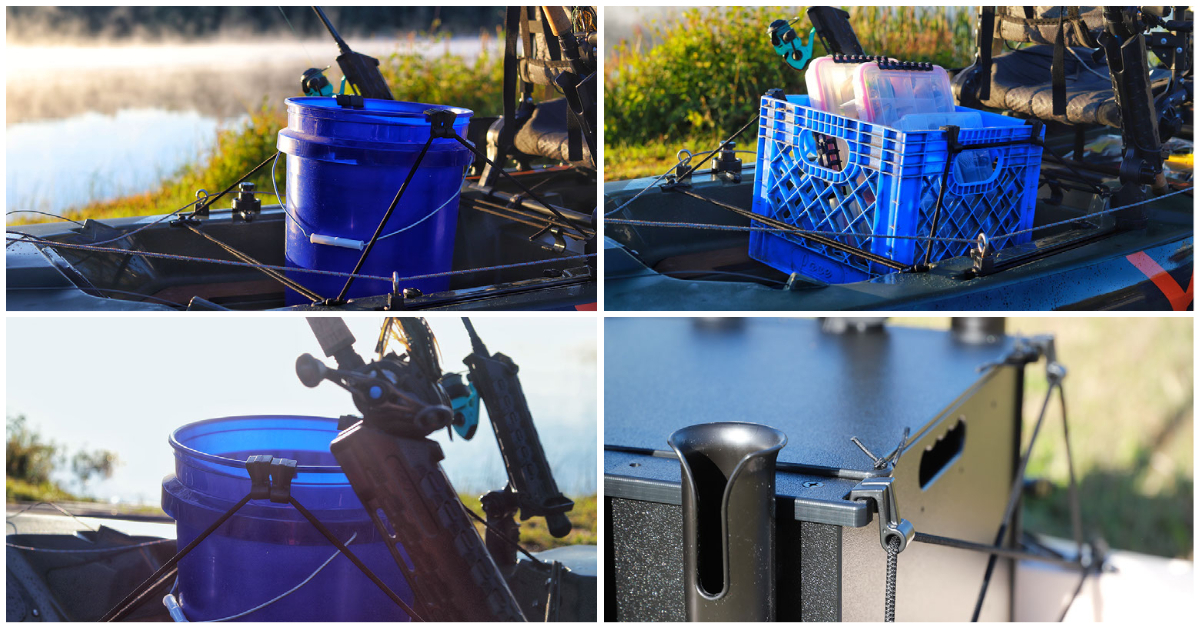 MultiMount Cup Holder | $20.00
Many kayaks lack deep space organization, and when we say cup holder, it doesn't necessarily restrict it to be used in other ways. More times than not, we see customers using the MultiMount Cup Holder as a place to stash lures, tools, hooks, and other small items that tend to get lost in the cockpit or under the seat. It is not uncommon to see anglers with more than one cup holder mounted on their kayak. One MultiMount Cup Holder might be designated for a water bottle or stainless tumbler, and the other(s) become a catch-all for old baits, a bag of peanuts, or anything else you want out of the way yet within reach if you needed it.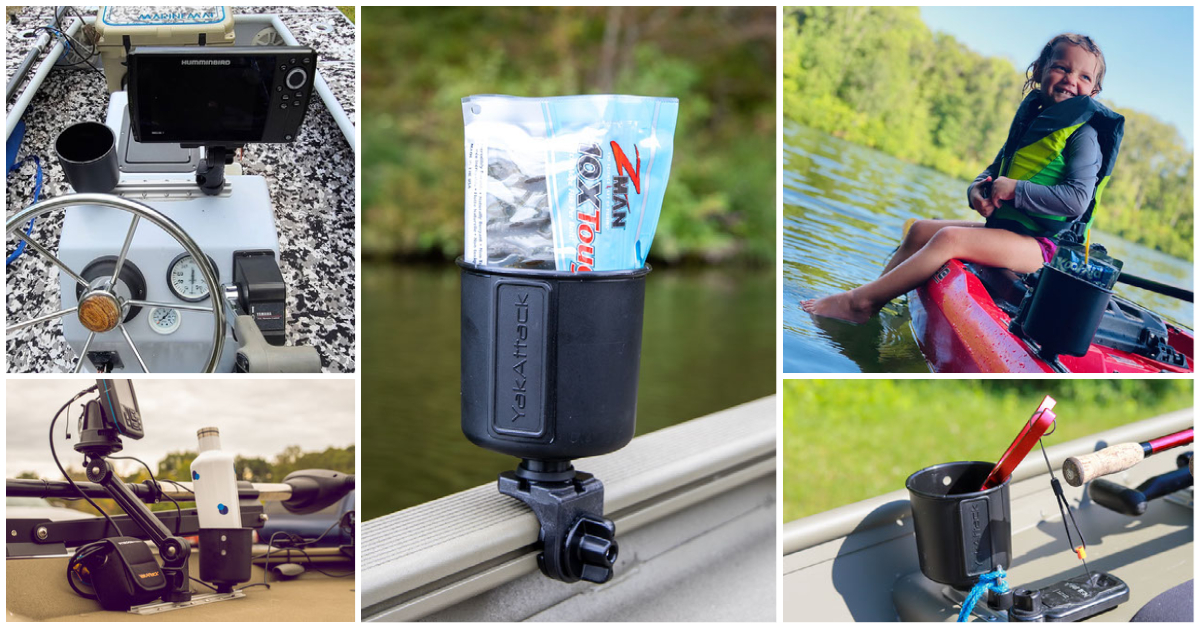 RotoGrip Paddle Holder | $15.00
Who knew a simple paddle holder would become as popular as it has. If you told us how many units we would sell each year when we launched the RotoGrip, we would have told you that you were crazy. With more and more recreational kayaks featuring track, the RotoGrip Paddle Holder is perfect for the casual paddler as well as the everyday kayak angler. About 65% of the time, customers use two RotoGrips and have one on each side of their kayak. As shown in the pictures below the RotoGrip Paddle Holder can be used in a variety of configurations to elevate the paddle holder or create an offset version.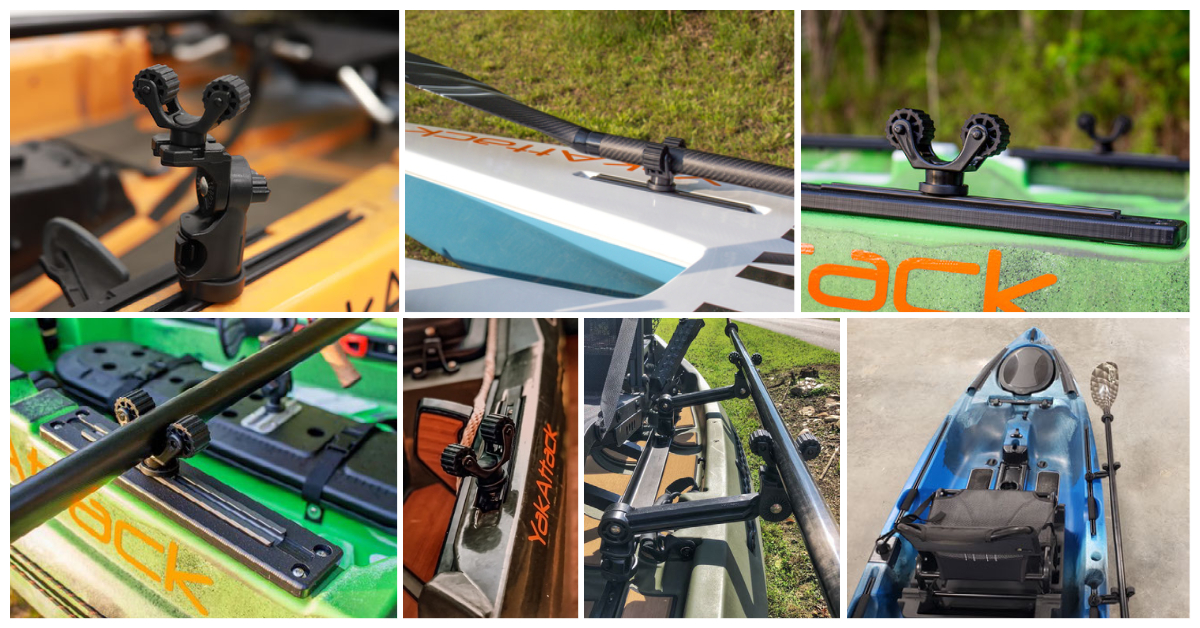 GT Cleat or GT Cleat XL | $15.00 and $20.00
Simple and effective, our GT Cleat and GT Cleat XL are track-mounted cleats great for use with anchor lines and other situations where a rope is used. The regular GT Cleat is perfect for 550 paracord or rope of a similar diameter. If a larger diameter rope is used, the newer GT Cleat XL is the right fit. Both cleats attach to YakAttack GearTrac as well as most other factory-installed kayak track. At $15 and $20, the GT Cleat and GT Cleat XL are great accessories to have in your kayak fishing bag of tricks. Shown below is the GT Cleat XL on the left and the standard GT Cleat on the right.