YakAttack did not invent track, nor were we the first to use the concept. We were one of the first to bring an aftermarket accessory track to paddlesports about a decade ago. Fast forward to today, and a number of the top kayak brands in the industry feature our GearTrac and components stock on their line of kayaks. The design feature of track on kayaks has changed the way kayaks are designed, how they are sold, and increased the overall usability and heightened customization of modern-day kayaks for both fishing and recreation. The simple nature of how the track works allow you to attach the needed gear for river fishing one day and then quickly switch to saltwater fishing the next outing. It can be said that no two anglers fish the same way, and the same applies to kayak rigging; no two kayak fisherman outfit their kayaks the same. The addition of track in the paddlesports industry helped pave the way to put kayak fishing in the same realm as customized motorcycles and cars. Simply put, everyone wants to Make It Yours.
In the past few years, you have started to hear the name Crescent Kayaks more and more. They have been an OEM integrator of YakAttack GearTrac for several years and feature our GTSL90 GearTrac on their SUP+, Ultralite, and Litetackle models, as well as our MightyMount II. In the world of fishing kayaks, Crescent hit a sweet spot with fishing-friendly options and features and kayaks that are molded and assembled in the USA at a great price point. Earlier in the month, they released a new model called the CK1 Venture. The CK1 came in at 11' in length, putting it in between their Ultralite and Litetackle models. The width of the CK1 is 34" and is the same as the 12' long Litetackle. The 34" width and unique Crescent hull design will create excellent stability but enhance maneuverability. This combined with their signature open cockpit design puts the CK1 in a great spot to be a strong choice for a number of different bodies of water and conditions. Below you will find some additional images of the new kayak as well as a few videos and the official press release from Crescent.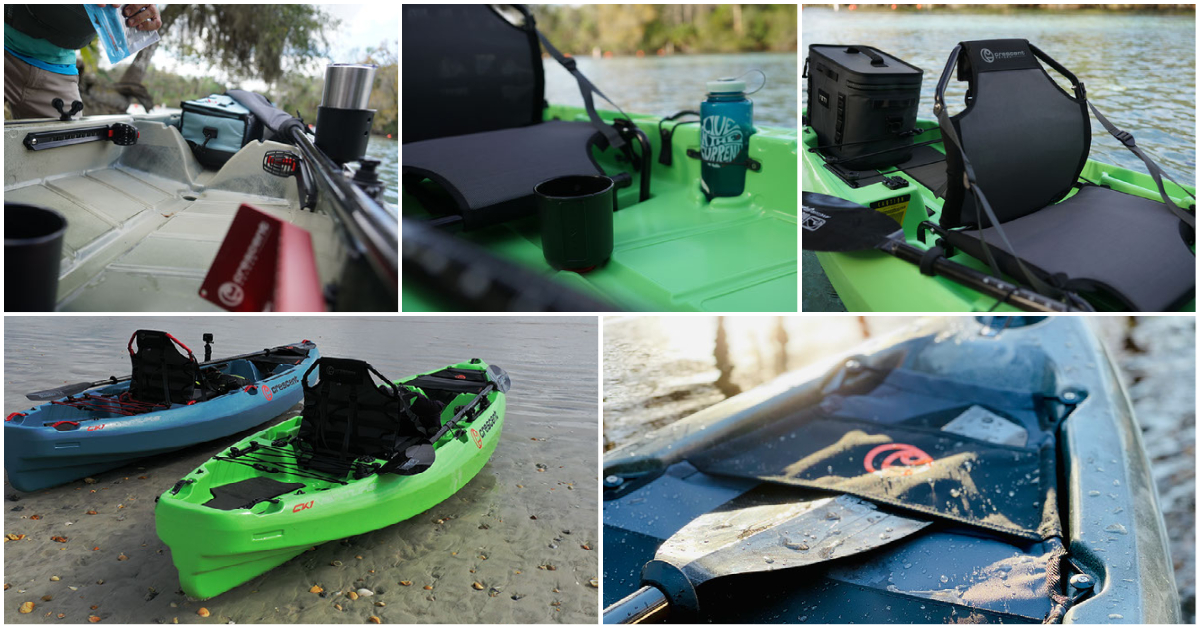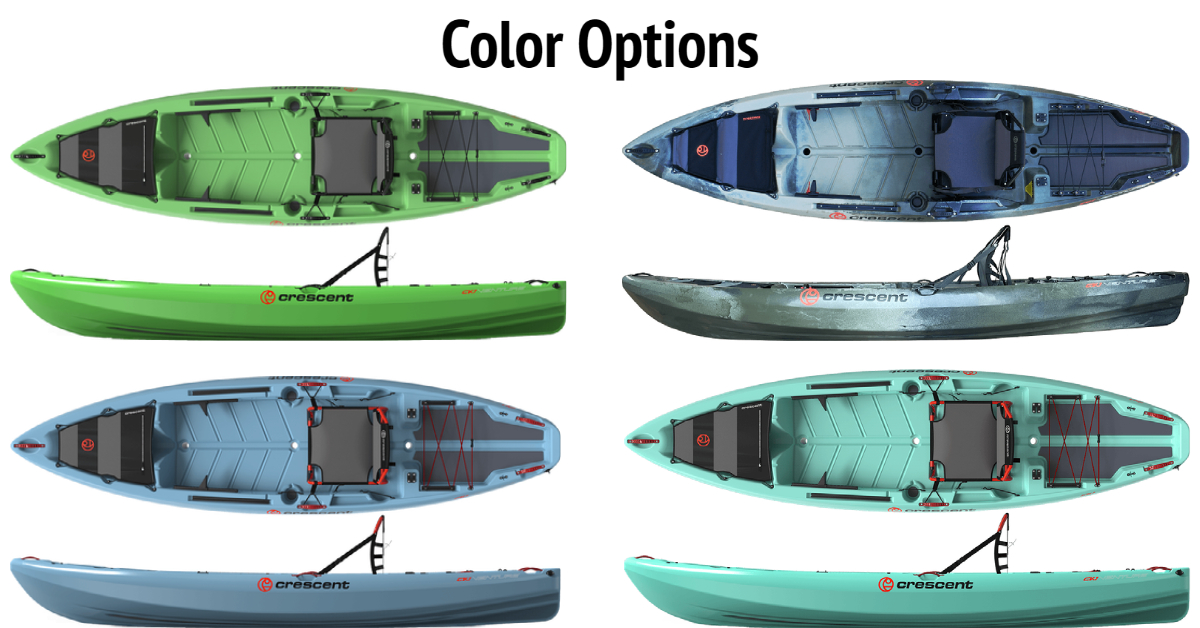 Official Press Release from Crescent Kayaks:
Introducing the CK1 Venture by Crescent Kayaks, an 11' high-weight capacity throw-and-go with a focus on paddling performance.
The newest in the Crescent line, the CK1 Venture was designed as a platform that kayakers can custom-tailor to their needs and tackle a wide range of waterways—from fishing and camping to all-around fun on the water. Bow to stern, the CK1 Venture is packed with new and innovative features to enhance our customer's paddling experience.
With the launch of the CK1 Venture, we're also proud to introduce three new colorways to the Crescent line: Dart Green, Nor'easter, and Camo—a unique blend of marsh, sand, and pitch black. The CK1 also comes in our classic, and ever-popular, Seafoam colorway.
The CK1 Venture features our patented hull design with a full-length keel and rocker profile that will keep you tracking straight and riding above the water in rough conditions like waves and small rapids. A 34" beam and enhanced second stability provide extra comfort, play, and confidence while standing and paddling. Constructed with AquaTuf resin and backed by Crescent's lifetime warranty, this boat was built to last. With a 400lb weight capacity, the CK1 Venture will get you and your gear where you need to go.
With the CK1, we've introduced our first-ever bow cover—constructed of a 600 Denier SDP Polyester/Polyurethane blend fabric. The bow cover, paired with our passthrough tankwell provides ample storage space for dry bags and gear. A water-resistant zipper pocket keeps your essentials secure and accessible. The paddle park makes for quick paddle staging and pairs nicely with the YakAttack RotoGrip paddle holder. It can also be completely removed to accommodate larger bags or your furry companion.
The cockpit features our signature, open layout with adjustable footpegs, dual YakAttack GearTracs, dual paddle holders, cupholders, and stash trays. This configuration allows every paddler to make the CK1 Venture uniquely theirs. Our seats are handmade here in the southeast and fully adjustable. They're also removable and perfect for sitting by the fire or relaxing on the riverbank. Mesh webbing offers breathability and support, keeping you comfy during long days on the water.
A large, pass-through rear tankwell features dual YakAttack MightMount II's directly behind the seat—perfect for rod holders or GoPro mounts. Dual YakAttack GearTracs with an adjustable bungee system adds additional mounting and storage options. The tankwell is capable of hauling your favorite 20l cooler or YakAttack BlackPak. A squared-off stern makes for easy trolling motor mounting.
For a closer look at the CK1 Venture, join Crescent owner/founder, James Derbecker on an in-depth walkthrough of the kayak:
We couldn't be more excited to bring this model to you and can't wait to see where you take it. Take a look at the CK1 Venture over on our site to learn more.
Your Venture is waiting.
Crescent Kayaks
Marketing Contact:
Justin Forrest
(904) 535-4933