"How pressured is that water?" is a commonly asked question by anglers networking with other anglers to find a new honey hole. When a super productive lake gets popular, the fish get smart, some disappear on stringers and the obvious places to make a cast are suddenly vacant. That's the result of "fishing pressure". The inverse is water that is full of big, gullible fish that have rarely seen a lure and jump on one immediately. We all want that.
Somewhere on the lower end of the spectrum of "fishing pressure" are electric only lakes. Most of them are regulated as "Electric Only" to keep the water clean enough to use as a municipal water source. Maryland has some huge ones, like Liberty Reservoir at over 3,000 acres. Virginia has over 120 electric only reservoirs. In fact, out of the 154 public lakes listed on the Virginia Department of Wildlife Resources, there are only 32 that you can use a gas motor in, leaving 122 electric only lakes.
Those electric only lakes have produced more than their fair share of state records too. The state record largemouth bass weighs in at 16 lbs 4 oz. Chain Pickerel, Northern Pike, Rock Bass, White Bass and Black Crappie state records are also from electric only lakes in Virginia. Other states such as New Jersey, Ohio, Georgia, North Carolina, Michigan and Pennsylvania also have a lot of electric only lakes.
This spring, I decided to build the perfect electric only reservoir rig. I've been on some beautiful "reservoir rigs" in the past, some of which attain speeds of up to 17.4 mph. But those were big, tournament ready boats with hundreds of pounds of batteries. I wanted something small enough to fit into the bed of my pick up truck, and light enough to slide into super shallow water. I started with a Tracker Marine Topper 1436.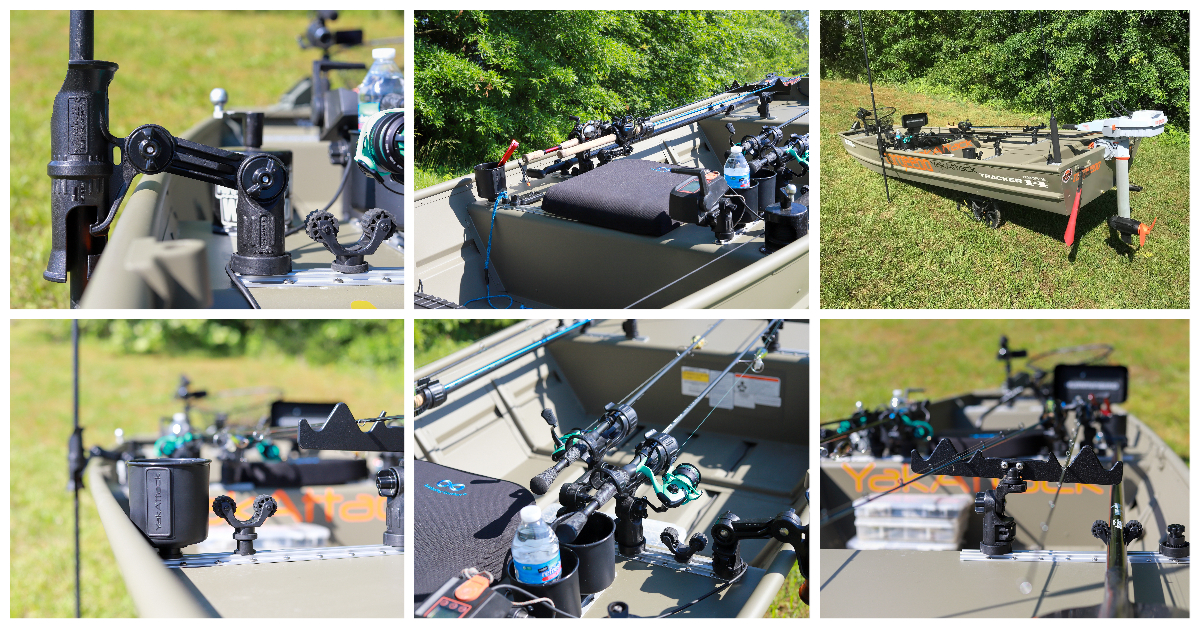 At a 162 pound hull weight, this boat started out light weight. I wanted to keep it light, so I recruited the help of Tray Leach at Innovative Sportsman in installing aluminum flooring. I had spent a lot of time on the Facebook Group "Decked Out Jonboats" and "Tiny Boat Nation". I saw a lot of disparaging comments on how unstable the 1436 was. I think that it might be, if you decked it out flat across the top, as is common with these types of boat builds. I didn't necessarily need a bunch of compartments, or even a livewell for that matter. I just wanted to keep it light, so I could go shallow.
I also wanted it light to extend the range of my Torqeedo Travel 1103. Before I completed the build, that rig was seeing a top speed of 6.5 mph with the 3 HP electric outboard. The build consisted of adding flooring, a custom anchor boom, a Millennium Marine seat on a swivel, 8 lb mushroom anchor and winch, a stick steer for the Torqeedo, tons of YakAttack GearTrac and accessories, a small bilge pump and a Humminbird Helix 10 depth finder. With that extra weight, I had slowed the rig down to a top speed of 6.3 mph. With a buddy, it's somewhere in the mid 5's.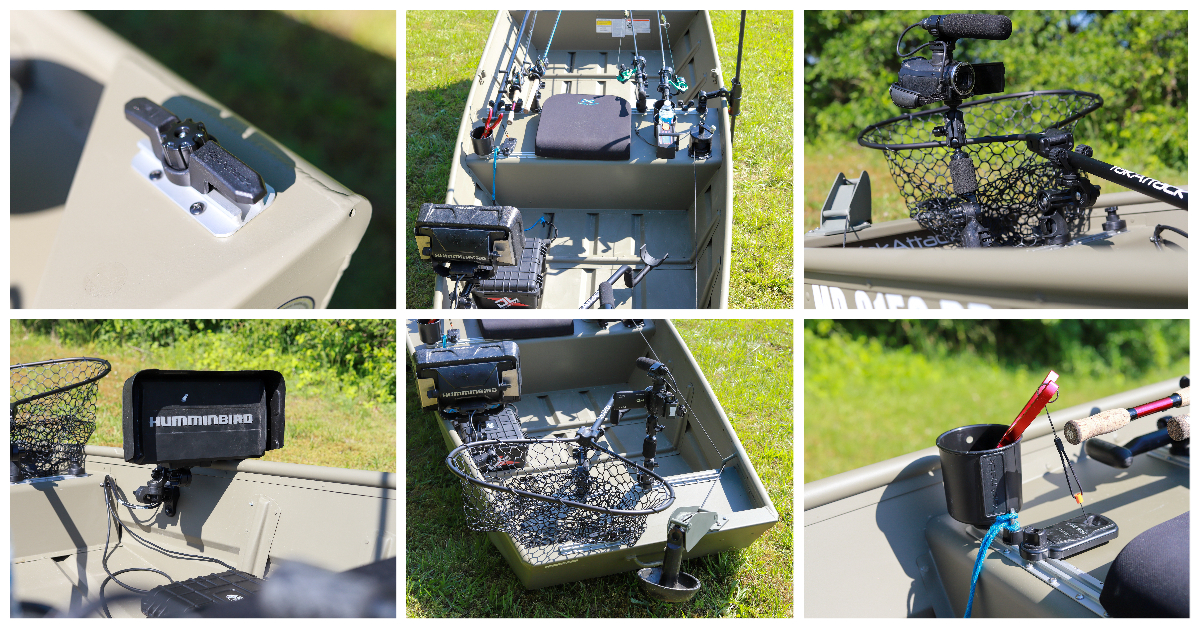 Since completing the build, the rig has helped me catch largemouth, smallmouth, chain pickerel, crappie, bluegill, white perch, yellow perch, hybrid striped bass and a few catfish in Maryland, Virginia, Pennsylvania, Delaware, New Jersey and Ohio. I've carted it in through tall cat tails to a pond that I believe is only fished by kayaks. I've seen the far reaches of some riverine reservoirs, covering over 21 miles in a day. Yes, the lithium battery that the Torqeedo Travel motor comes with can last that long, if you budget your power appropriately.
Enjoy watching the boat build videos, and if you would like to see some of my adventures in this reservoir rig, check out the "Electric Only" playlist on my YouTube Channel "The Little Stuff". All the species and states where I explored are chronicled in those videos, and more will be added soon!
Part 1
Part 2
Part 3