IFA Kayak Tour: Fernandina Beach, FL
March 20, 2016
"How do you really prepare to fish an area that you've never been to?" This thought was on repeat as I packed for my recent trip to Fernandina Beach for the IFA Kayak Tour event. It was also in my mind two weeks prior when heading off to fish the Punta Gorda event, where I didn't catch a single fish on tournament day. That being said, I spent countless hours and had many late nights studying charts, videos, pictures and anything else I could get my hands on prepping for this weekend. The main thing on my mind was the tidal situation in Northeast Florida, and knowing that I was about to see the full force of 6-9' tidal swings, something I had never experienced down south. This led me to find some local knowledge to find a launch where I wouldn't get trapped in my loaded Hobie Pro Angler 14. I turned to fellow fishing team member (on several different levels) and Jacksonville native Rory Gregg, and he pointed me in the right direction. With all of my gear loaded, I set out for Jacksonville a few days early to get a first hand look at what I was up against.
I woke up Friday and headed to the coast. I found the launch and set out towards some creeks that had been holding fish. For my first time fishing Jax and my first day of prefishing, I made sure to set my expectations low...that was a good idea. I found myself topped out at a 16" Redfish and a 17" Seatrout. Plenty of fish were caught, but only a handful of Trout were legal. I noticed a deep hole on my fishfinder, and realized it was stacked with trout. I knew that if I fished it long enough, I'd find a decent fish big enough to turn in, so I marked it as a backup for if things went sour on tournament day. I decided to head back to the launch and grab some dinner and do more studying on the area.
Day two, I pushed myself to fish another body of water nearby, and found a few nice creeks emptying out during outgoing tide. The first creek held a bigger Red than Friday at 24", and in the midst of my rush to cover more water, I found myself spooking fish all over, which, to me, was a good sign. A good sign that there was fish, but I knew I would need to slow it down on Sunday and pick the shore apart. Trout fishing went the same as the prior day, which was to be expected. I felt like I had a good grasp on the area, and I would slow it down and fish it to my fullest ability.
Saturday evening, at the captain's meeting, I saw a few familiar faces, some of them being people I had seen on stage in prior years and have looked up to for a while. Needless to say, the knots in my stomach started turning. This was a group of anglers that knew what they were doing. They were legendary in my book. So yeah, I got nervous.
As I headed home to prepare for the following day, I kept telling myself, "don't let this be a repeat of Punta Gorda, just turn in two fish." I didn't care how big, I just wanted two legal fish to know I completed my goal. I started to go over the charts and videos again when I came across a video I had seen when I was packing for the trip and decided to add a note in my brain for a backup plan, a risky and possible time waster, but a backup plan nonetheless.
Sunday morning arrives and its tournament day. I get to the launch and the tide is still coming in. This means that water is still filling up the creeks and I will have enough water to fish wherever I want all day. The clock hits 7:15, I take my "put-in" picture on my camera and head out. The skies are cloudy and there is a slight drizzle, but none of it seemed to matter with how focused I was. I get in the creek and push against the tide to an opening and start fishing. I had tied on a root beer and chartreuse curly tail from DOA, on a chartreuse jig head and was making casts against the shoreline. It only took a few minutes and a single casts over an oyster bed and I was hooked up. My first fish of the day was also my biggest trout if the day at 17.25". I chuckled after taking my picture and releasing it, hoping I'd find a better one. I decided to try out the topwater bite and grab my other rod with a pink MirroLure Pro Dog Jr tied on. Just a handful of casts was all it took and I hear the slurp of a gator trout and my lure disappears. The fish was screaming against the bank and did a couple quick rolls in front of me before darting into the grass, ditching my lure along the way. I was a little upset, knowing that I just lost a Trout every bit of 25", but I already had my trout, and just wanted to stick to my goal of turning in two fish, so I didn't let it bring me down.
Three long and tiring hours flew by, and I hadn't had a single bite. I probably threw everything I had brought and would've paid a fish to eat. After fishing a few miles of shoreline, I headed back to where I had started, to fish a little bay on my way back into the creek. I tied the curly tail back on and made several casts along the way. On the last point before going back into the creek, I felt a bump. I found my Redfish! At a hair over 21", it wasn't anything to brag about, but I couldn't believe that I had met my goal and still had several hours to upgrade. That's when my mind started to race.
There were a few options that I had. Do I go back around and stay here or do I go to a different launch and try there? I thought back to my backup plan and realized, "I already caught my two fish, it's time to take risks" and I headed out of the creek in search of deeper water. Spending a little over a year fishing Mosquito Lagoon, and over 6 years Snook fishing the bridges of the Treasure Coast, I combined the knowledge I had, tied on a First Light Tackle Snook jig onto a heavy combo, and found a ledge.
The tide had been going out for a while, and from what I had read about the area, outgoing tide was a good time to catch these Bull Redfish. I wish I had an awesome intro into this bite, but it only took 5 or 6 casts bouncing the bottom and I felt the thump of a large fish that wanted to take me for a ride. With locked drag, I wrestled with all my might and this fish used the current to give me a good tail-kicking. A few boats that were passing by slowed down to watch the show. A few minutes later, and the fish hit the surface. I heard a few complimentary screams from a passing boat, cheering me on. If they only knew what had just happened, right? I pulled the fish up onto the measuring board where it measured 41.5", took several photos quickly to make sure I got the right picture, and did my best to handle the fish as little as possible. I put him back in the water for a minute and then spun around for a quick hero shot from my GoPro, mounted on a Yakattack Panfish behind me. I put my feet to work against the current and gave the fish a lengthy amount of time to revive and he thanked me with a healthy kick of his massive tail, and a nice face full of saltwater. There's nothing better than landing a fish of a lifetime, on tournament day, and getting a happy, healthy release.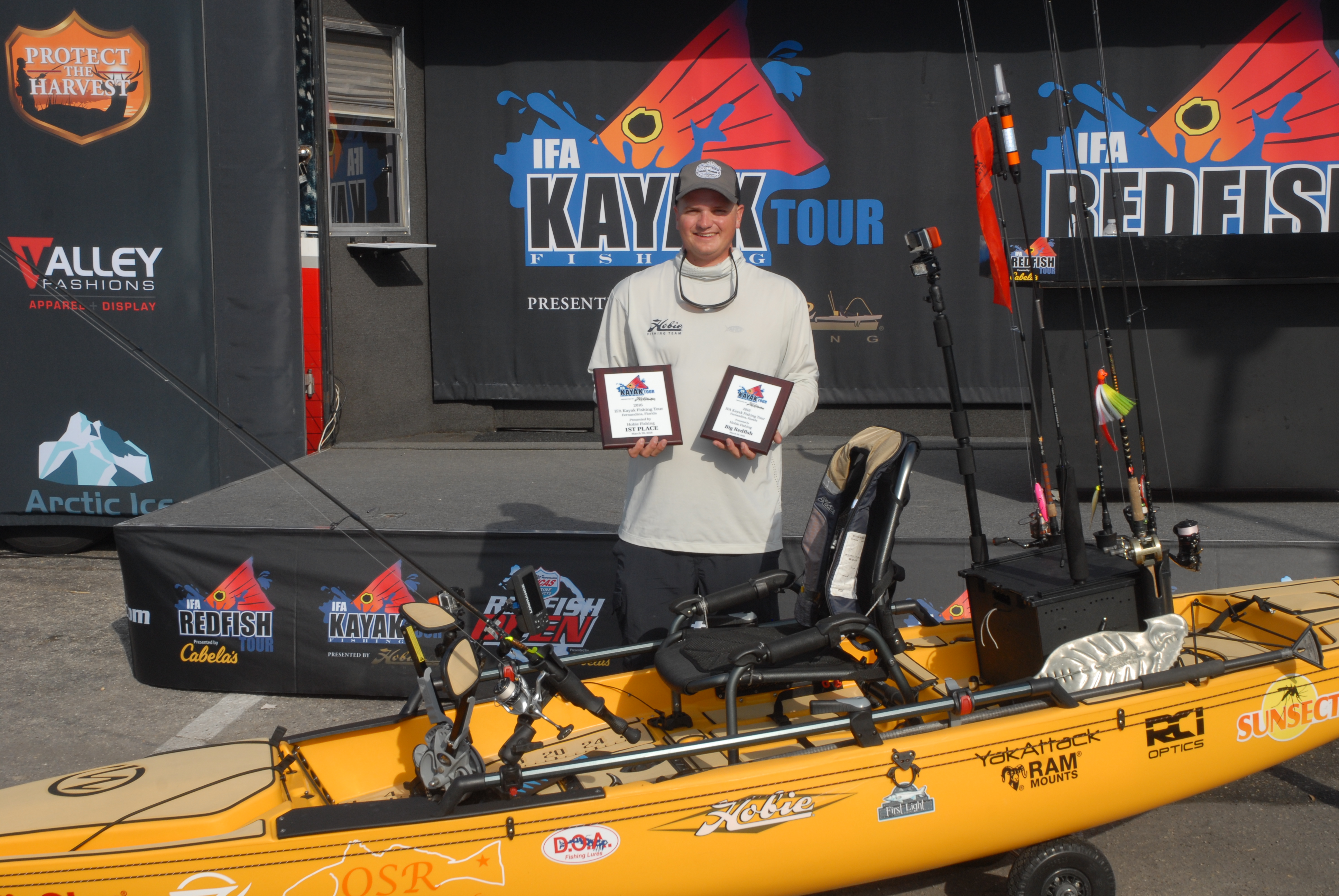 When arriving back at the marina to turn in my pictures, I started to realize that there was a good chance I could be in the money, but I never would have thought that I would be in the top 3. After hearing some numbers from fellow anglers on what they had turned in, reality set in and I realized just how good I had actually done. After awarding Junior Angler to Jake Bates with a 25.63" Red and Biggest Trout to Elizabeth Saylor with a 22.5" trout, they started the top three. Robert Powell took third with 52.5 total inches and Matt Embree took second place with 54.75 total inches and I had officially won my first IFA tournament with a total of 58.75". I couldn't stop shaking, even while standing on stage telling about my day. I had never expected it or seen it coming, but it was one of the best feelings of my life and I couldn't have don't it without the help of Rory Gregg and the support from Yakattack, RAM Mounts, Hobie Kayaks, Gillz, South River Outfitters, First Light Tackle, DOA Lures, MirroLure, Orange Star Rods, and Sunsect.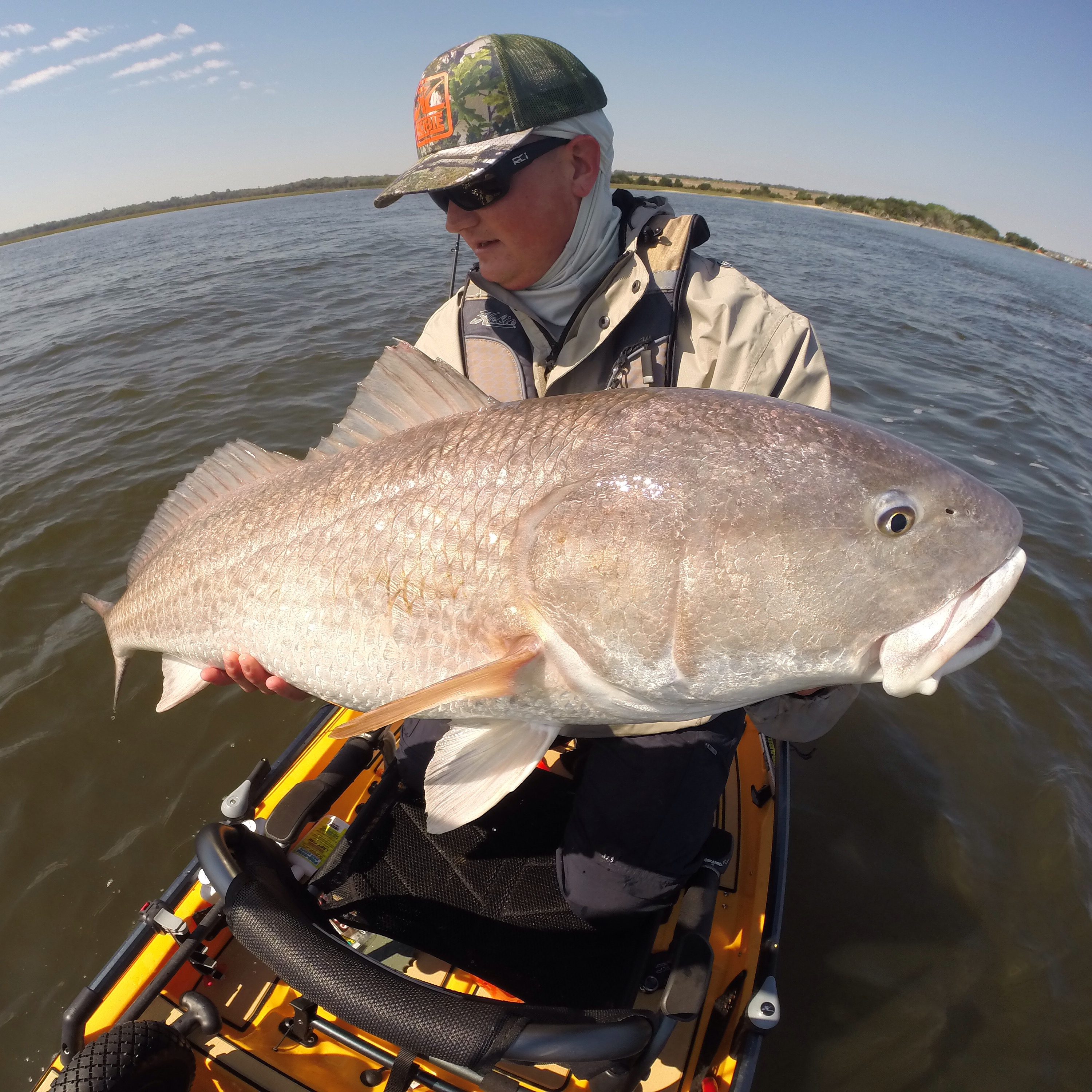 Thaddeus Day