Kwanza Henderson is one of the most genuine people you will ever meet. He is a father, family man, fisherman, and photographer who has a passion for getting the most out of life. Last November he started feeling ill and ended up checking into the emergency room a few days before Thanksgiving 2019. The doctor's diagnosis was one that was going to change his life forever; stage 4 small intestinal adenocarcinoma or otherwise known as cancer. For most of us we have known a family member or close friend who has been through a battle with cancer. Kwanza is strong and incredibly driven, but there is more that we can do to help. Kwanza is emotionally and physically drained, in & out of the hospital and unable to work at this time. Basic daily tasks leave him feeling overwhelmed. The idea of upcoming financial responsibilities is looming over his head. It's going to take some time for the numbness of the situation to fade. The stress he is under is unreal. Most of all, the love he has for his children and their future has him really concerned as you would imagine.
His friends have put together a GoFundMe campaign which can be found HERE. So far they have raised $12,837 of the $20,000 goal. Along with the GoFundMe campaign there is an upcoming nationwide fishing tournament where the proceeds will go to Kwanza to help support his battle. The tournament takes place from May 9-17 and is open to kayaks, canoes, standup paddleboards, and belly boats and are allowed to fish public water anywhere in the USA. Below are full details about the online benefit tournamet, links to enter, and more info about Kwanza.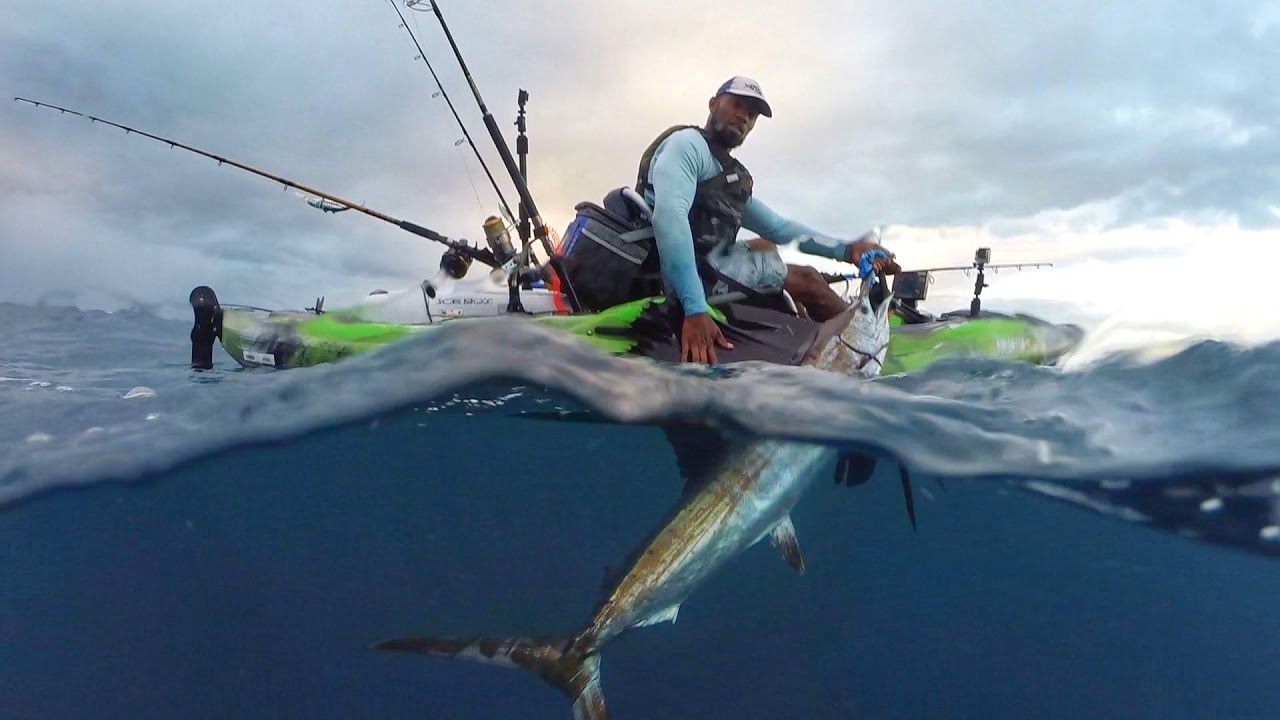 Learn more about who he is:
Learn more about his fight with cancer:
Kwanza Henderson Benefit Tournament Details
Florida Bass Paddlers is hosting a nationwide online benefit tournament with proceeds being given to Kwanza to help with his battle. The tournament is open to the entire USA via kayak, canoe, standup paddleboard, and belly boat. Eligible waters are only open to public waterways. TourneyX will be hosting the event and here is the LINK to the official tournament page for more details and to register. For all anglers who submit at least one fish in the tournament those names will be put in a random drawing for a chance to win an Old Town Topwater 120 fishing kayak, Old Town Treble PFD, and a Carlisle Magic Angler 240cm Paddle. The drawing will be held at the end of the event. This is a multi-species tournament so there are tons of ways to get involved. Below are the full details for the tournament with dates/times, rules, and prizes.
Date/Time:
Fundraiser will run 5/9 (7 a.m.) - 5/17 (6 p.m.).
Fundraiser to benefit Kwanza Henderson.
$40 entry - $5 to TourneyX, $20 to Kwanza's Fund, and $15 to "Prize Pot" less PayPal fees.
Tournament Prizes:
1st Place - 40% of Prize Pot plus an Aftco Prize Pack including a $100 Aftco Gift Card, Hat and Decal, and a YakAttack Prize Pack consisting of 2 Omega Universal Rod Holders, 2 12" GearTrac's, Padloc Paddle Holder, and a Through Hull Wiring Kit.
2nd Place - 30% of Prize Pot plus an Aftco Hat and Decal Prize Pack, and a YakAttack Prize Pack consisting of a Articulating Camera Mount, 2 8" GearTrac's, and a Padloc Paddle Holder.
3rd Place - 15% of Prize Pot plus an Aftco Hat and Decal Prize Pack, and a YakAttack Prize Pack consisting of a Multi-Mount Cup Holder, Mighty Mount, and a Padloc Paddle Holder.
4th Place - 10% of Prize Pot plus an Aftco Hat and Decal Prize Pack and a set of YakAttack RotoGrip Paddle Holders.
5th Place - 5% of Prize Pot plus an Aftco Hat and Decal Prize Pack
Tournament Details:
Tournament will be hosted on TourneyX.
Open to Kayak / Canoe / SUP / Belly Boat Anglers.
Any public water allowed.
Artificial lures only
Identifier will be available on 5/8 at 8:00 p.m.
Mouth ALL THE WAY closed with nose touching bump board...NO EXCEPTIONS!!!
Identifier needs to be present in picture.
Any retailer purchased measuring device acceptable.
Watercraft visible in picture.
5 Fish Max (Unlimited Upgrades)
3 Bass (Largemouth, Smallmouth, or Peacock) and 2 other freshwater HOWEVER 1 MUST be a Panfish
Acceptable freshwater species include Bowfin / Mudfish, Mayan Cichlids, Tilapia, Catfish, Oscar, Pickerel, Catfish, Hybrid / Sunshine Bass, Gar, Snakeheads, Clown Knife, Trout (Brook, Brown, Rainbow), Walleye
Your Panfish must include 1 of the following species: Crappie, Bream / Bluegill, Sunfish, Perch.