The world of paddlesports and kayak fishing is ever evolving and once a year or so you see something that pushes the limits among brands and manufactures within our industry. This change and push against the norm happens in every sport, hobby, and interest and it is those brands and individuals who help shape the landscape of what is to come. In history you have seen it from brands like Ferrari in the automotive industry, Rolex in the watch industry, and high end whiskey companies like Mccallan selling a 50 year old single malt. It could be a technology used in manufacturing their products such as Ferrari's influence on the sport of racing and engineering or something like Rolex and Mccallan using the finest materials, craftsmanship, or something so limited as a 50 year old evaporating spirit. Products like this aren't for everyone and they were never intended to be. The main and only purpose they were created for was to heighten the user experience and bring on a sense of enjoyment. They are filling a void in the market but it wasn't until their dream to create that void that it was possible.
Eric Jackson, founder of Jackson Kayak, announced earlier in the year about starting a new venture and parting ways with Jackson Kayak to start a new company that focused on alternative manufacturing methods and materials. Most of us if not all of us expected to see composite whitewater playboats, but within one of the early social post from Apex it read; "We believe that the quality and texture of our products not only helps users to catch more fish, but also amplifies their experience." I am not saying that a whitewater boat won't happen from the Apex brand but with that statement it sounds like the current focus is composite and carbon fishing kayaks. For the past few months Apex and founder Eric Jackson have been showing teasers of the kayak, the team behind the brand, and their focus on carbon construction.
Today, 6/30/2020, Apex Watercraft released their Kickstarted campaign revealing their flagship kayak, the TYR Carbon Fishing Kayak. The preproduction specs of the TYR read as follows; 12' 10", 36" wide, 18" tall, MSRP of $10,999, and weighing in around 40 pounds. A fishing kayak near 13' long and 36" wide is about the sweet spot for a great mix of stability and speed and with the carbon construction 40 lbs sounds like a dream come true. On the Kickstarter page Eric mentions the following, "Ever since I started seriously kayak fishing I've desired to build lightweight kayaks for myself and others. It wasn't just me asking for a lightweight kayak. While hosting an annual Dealer Summit of the best kayak dealers right here in Rock Island they have all pointed to fishing kayaks as being too heavy as a major common complaint. "Make lightweight kayaks" was the most common feedback the dealers provided year after year." Personally, I was sitting right there during that conversation at the Dealer Summit among retailers, pro anglers, and employees and it was an interesting discussing talking about the direction of where the kayak fishing industry was going with a mix of the aging demographic of the average kayak buyer. It was that same year that Jackson released the Big Rig so the current conversation was bigger is better. I have always been interested in the potential of making a kayak lighter and lighter, but in the end a change in material from standard polyethylene or even from thermoformed ABS there is going to be an associated cost difference. You see the same thing on the canoe side of the sport with high performance canoes constructed from carbon and Kevlar, and those models serve a specific need and aren't designed for everyone.
With Eric's time at Jackson Kayak and the influence on the industry they have made, I have no doubt Apex will leave their mark on the sport in a similar way. The team they have put together is world-class and ranges from Bob Blair their hull designer who has shaped countless winning stand-up paddleboards to Russ Emanis who came from running the composites program at Lockheed Martin for the F-22 Fighter Jet. Add in Eric Jackson with his years of paddling and fishing and a team of craftsman who are specialist and experts in their field and you end up with such a unique array of talents and skill sets resulting in a lot of possibilities. As a kayak angler, marketing professional, and someone who enjoys companies who push the limits and take risks I am excited to see what happens next.
Below is more information about the Apex Watercraft TYR Carbon Fishing Kayak. Here is the LINK to the full release and Kickstarter campaign.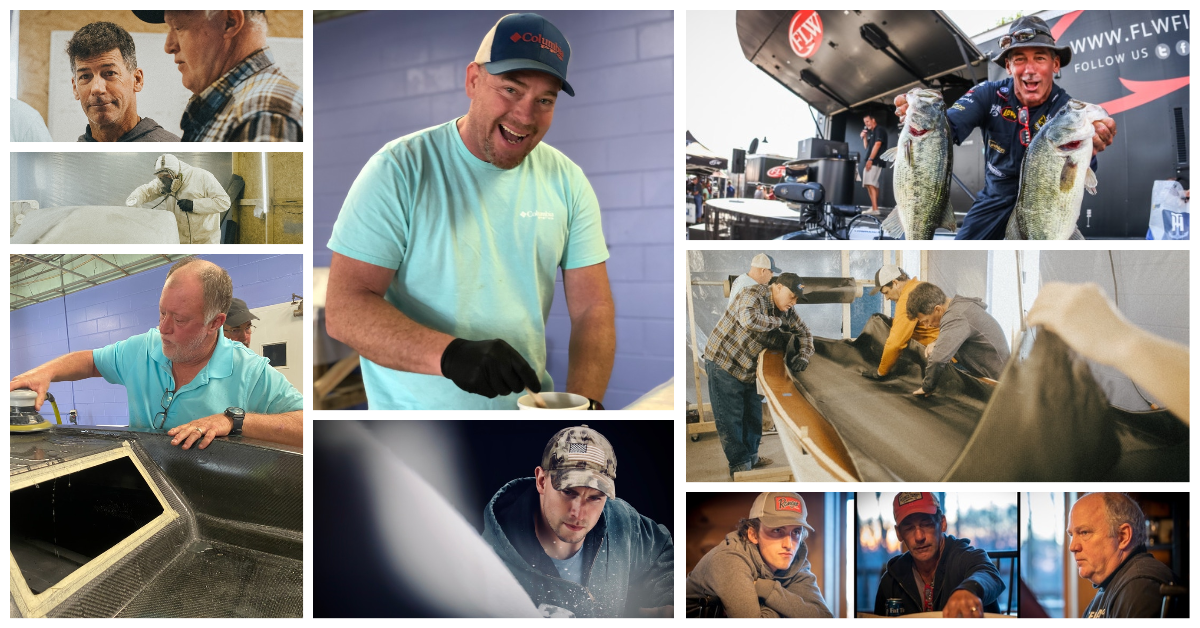 "Kayaking and fishing are in my blood. It has been 50 years since I became hooked on them, and the past 30 of those years have been spent training and competing at the highest levels of national and international competition. Olympics, 4 World Champion Titles, and hundreds of wins. Combining kayaking and fishing in new ways has become an obsession for me."
- Eric Jackson, Apex Watercraft Founder
Apex Watercraft Tyr Specs
Length- 12'-10"
Width- 36"
Height- 18"
Hull- Planing Hull- shallow draft
Seat- Carbon Fiber Swivel Bucket- 7" above standing platform
Weight- near 40 pounds- settled upon layup/weight still pending.
Rod Stagers- built-in and reverse facing, pressure secured.
Hatch- Carbon Fiber, magnet closure.
Custom Cork Decking typically used on "Super Yachts" is laser etched and provides traction, a wonderful look, and sound dampening.
Foot-braces- Custom Carbon Fiber contoured braces mounted on YakAttack Lightweight "Geartrac"
Fins- Custom made ultralight carbon fiber "V shaped" low profile floating fin.
Paint Scheme- Airbrushed stock design with customer selection of colors at no charge. Custom Paint schemes also available at an upcharge.
Titanium Tyr Medallion inlaid into deck.
Neodymium "Super Magnets" are inlaid into boat in key areas for holding tools, lures, paddle, and more.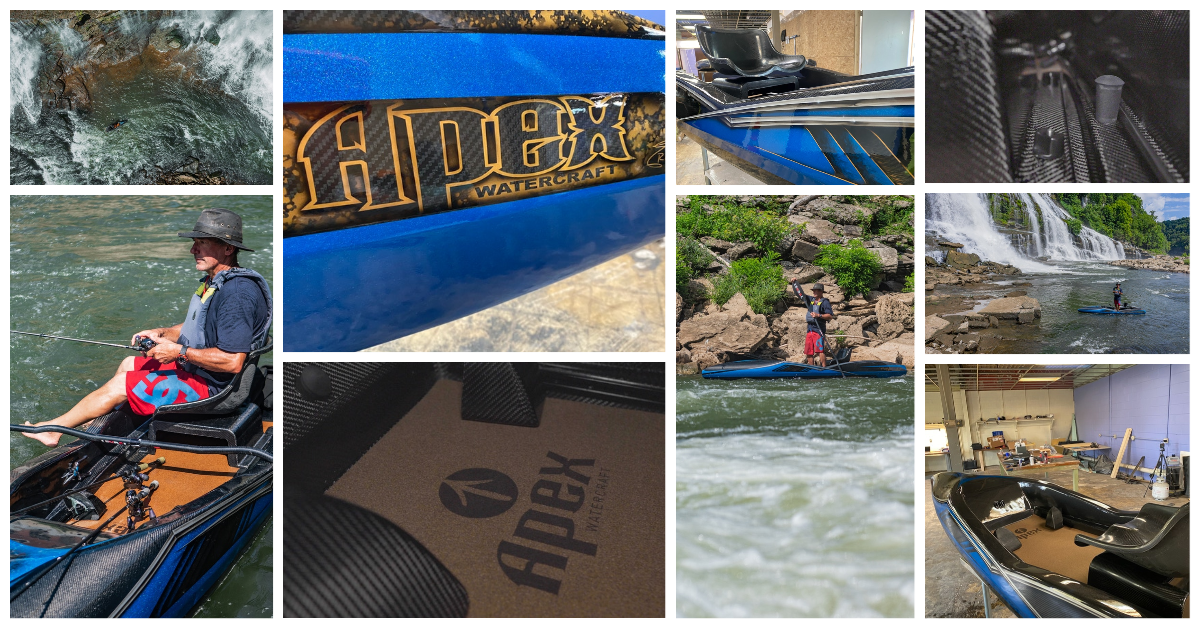 About the Apex TYR from the Kickstarter Page
Imagine a fishing kayak you can pick up with one hand and walk to the water. Finally you have the ability to stand and fish on your kayak with more confidence than ever before. Taking paddle strokes on your favorite waters you realize this kayak responds immediately. It skims the water effortlessly in calm conditions giving you an on water experience like nothing else. With the piercing bow it breaks through waves with ease and confidence, and water drains almost instantly with the open stern design.
The seat is based on the best in racing cars, kayaks, jets, and yes, even the tried and true tractor. It provides support where you need it keeping you free to engage your upper body in paddling, casting, and the all important hook setting. The seat swivels freely to allow you to turn and still be comfortable and secure. Getting out of the kayak on shore has never been easier. Swivel sideways, put your hands on the sides of the seat and step out on the shore! The 12" of forward and aft adjustability allows you to trim your seat for different performance characteristics while paddling, (or simply to provide more room where you desire it). Fishing out of this kayak is simply a joy no matter where you bring it. It's about the fishing experience for you and we tailor towards a minimalistic approach. Less stuff means less weight, and more freedom for you to move.
The reverse facing rod staging area, allows you to keep your rods quietly and safely next to you when not using them, but makes them easy to access if needed.
Our Natural Cork Decking is a treat to the eye, but has performance benefits not found in foam. It has more slip resistance, more sound dampening, and is entirely more environmentally friendly. This type of decking is most commonly found on multi million-dollar Yachts. The custom made carbon fiber foot braces are nearly weightless and offer best comfort, fit, and support of any foot braces I have ever used.
If you're like me and desire something that looks great to the eye and feels good to the touch, you'll appreciate the custom paint job we complete on every boat. Our in-house painter has been responsible for some of the most admired air brush jobs on show cars, motorcycles, helmets, and race cars. Starting with a high gloss perfectly applied clear coat to protect your epoxy and carbon, we have a stock paint job with the best pigments, and a focus on bringing the best of the carbon out, while adding functional style. We are building these boats as showpieces. They will amplify your personal experiences on and off the water, as any elegant piece of equipment truly does.
This kayak is 12'10" long and is an extremely versatile design that is based on the latest in hull design. A reverse piercing bow replaces the traditional lifting bow found on plastic fishing kayaks. A full planing hull replaces the keeled displacement hull and eliminates the unsightly and high drag scuppers found on fishing sit-on-top kayaks. Weighing about 1/3 the size of most larger paddle fishing kayaks, the Tyr is easy to turn, and accelerate. Loading and unloading is a joy in comparison, and portaging is made much easier.
Super Magnets replace latches, and provide clean/quiet ways to close the hatch. You can keep your custom Apex Tackle bag in place behind the seat, or store your pliers or scissors for easy access.
Front Dashboard Area has a hatch that can hold up to a 9" Electronics screen flush mounted, an industry first. It also provides access to the inside of the boat for storage, batteries, mounting your sonar transducer to "shoot through hull" , keeping it out of the way and protected.
Yak Attack Gear Tracks allow you to mount additional accessories to the bow area and seat area.
Rear of boat provides ample storage for tackle or overnight gear.
A future "tailgate" accessory will close off the stern for those not expecting water over the bow in rough water.
We are using the strongest and lightest materials possible to build this boat. Epoxy resin, carbon-fiber, innegra fibers, and foam core for the main construction materials. The infusion process produces amazing results.It didn't make sense to make just any carbon fishing kayak, I wanted to push all of the performance features of fishing kayaks forwards along with the dramatic improvements you get from lighter weight. Our hull designer, Bob Blair has been creating winning SUP racing hulls using the latest technologies in hull design. We are changing what the kayak fishing hull will look like in the future. The deck design followed suit and didn't match anything anyone else was doing in kayak design. We were also using different materials so the shapes are both limited, but also set free. No longer did we need scupper holes, those unsightly holes in the bottom of plastic sit-on- top fishing kayaks.
Pat Keller, whitewater hero and our boat shaper, helped turn the "pattern" into exactly what we wanted to prototype. Bob Blair and Russ Emanis assisted in our prototype's first design with their unique expertise. Colton Breeding and Craig Heflin have helped me turn my outfitting ideas into reality. Once the testing of our prototypes was complete, and hundreds of fish were caught from them, we settled on the changes we wanted to see.
We have done 90% of the work already. Every boat that's ordered on Kickstarter has a plan for manufacturing and delivery at a rate of about 4 boats a week starting when we get funded. We expect to be shipping the first completed boats in August with a "White glove shipping" method, or pick up at factory. We'll be hand delivering and giving you a walkthrough on your new boat personally when feasible. Also offering shipping or if possible the opportunity to have you come by the factory to pick up your boat yourself.
A Note From The Apex Watercraft Founder:
"I've lived many lives and been lucky to have achieved many dreams of mine. I only thrive in scenarios where I am chasing a dream. I dream of changing the kayak fishing market forever. This is a critical part of that dream. This top tier fishing kayak has never been made before. It is time to provide those who truly want the best possible fishing kayak with one, instead of them just having to choose from what's been available. This kayak and APEX Watercraft isn't for everyone. There are 37 brands that sell plastic fishing kayaks for everyone else. APEX is intended to cater to those who want the best possible experience. I'm truly proud of this kayak, knowing I didn't substitute a better material, process, staff member, or component simply because it was cheaper, easier, or more readily available. This has never happened in kayak fishing and we believe it's time; APEX is here and we've already done it! Now, to make it available to you, we need your help to make our production sustainable and get you out on the water." Choose the best reward or rewards for your needs and budget and help us make this dream a reality!
If you need more information to pull the trigger on your new Apex Watercraft Tyr- please call or email me directly:
Eric Jackson
931-256-7117
eric@apexwatercraft.com