The Issue
The sudden and growing nature of the coronavirus pandemic (COVID-19) has created a short supply of Personal Protective Equipment (PPE) that doctors, nurses, first responders, and other healthcare professionals need to protect themselves from the virus as they serve our sick families and friends.

Unfortunately, most of these front line defenders are being issued very limited quantities of these supplies. In some cases, they are resorting to wearing bandanas and scarves for masks, trash bags for gowns, and trying to clean and reuse all sorts of PPE and equipment that was designed to be disposable. Aside from the obvious humanitarian concern, we need our medical experts healthy and working in order to fight this pandemic. We all have to do what we can to serve those that serve us in our mutual hour of need.


Who We Are
My name is Luther Cifers, and I am the Founder and President of a company called YakAttack, located in Farmville, Virginia. YakAttack is a developer and manufacturer of fishing related products for kayaks, boats, and skiffs, and has been in business for 11 years. We are highly competent in product design, design and fabrication of tooling, CNC machining, injection molding, assembly, and fulfillment, and have a long history of bringing products to market at very low cost and at speeds that few companies can match.



Solution
A few days ago, a friend made a comment that YakAttack may be able to help this situation, given our unique capabilities. In the few days since, this idea has grown into a massive effort for our little company. On March 24, 2020, we began developing several emergency PPE supplies, and in that short time have made rapid progress on a number of desperately needed items, including a replacement PAPR shield, a face shield, an emergency respirator that can accept whatever filter media is available, and an isolation tent for intubation and transport of infected patients.



We are working closely with our local hospital to ensure the solutions we are developing meet their needs, and once in production, will work around the clock to supply our local community, the state of Virginia, and the hotspots all over the country with as may of these supplies as we can make.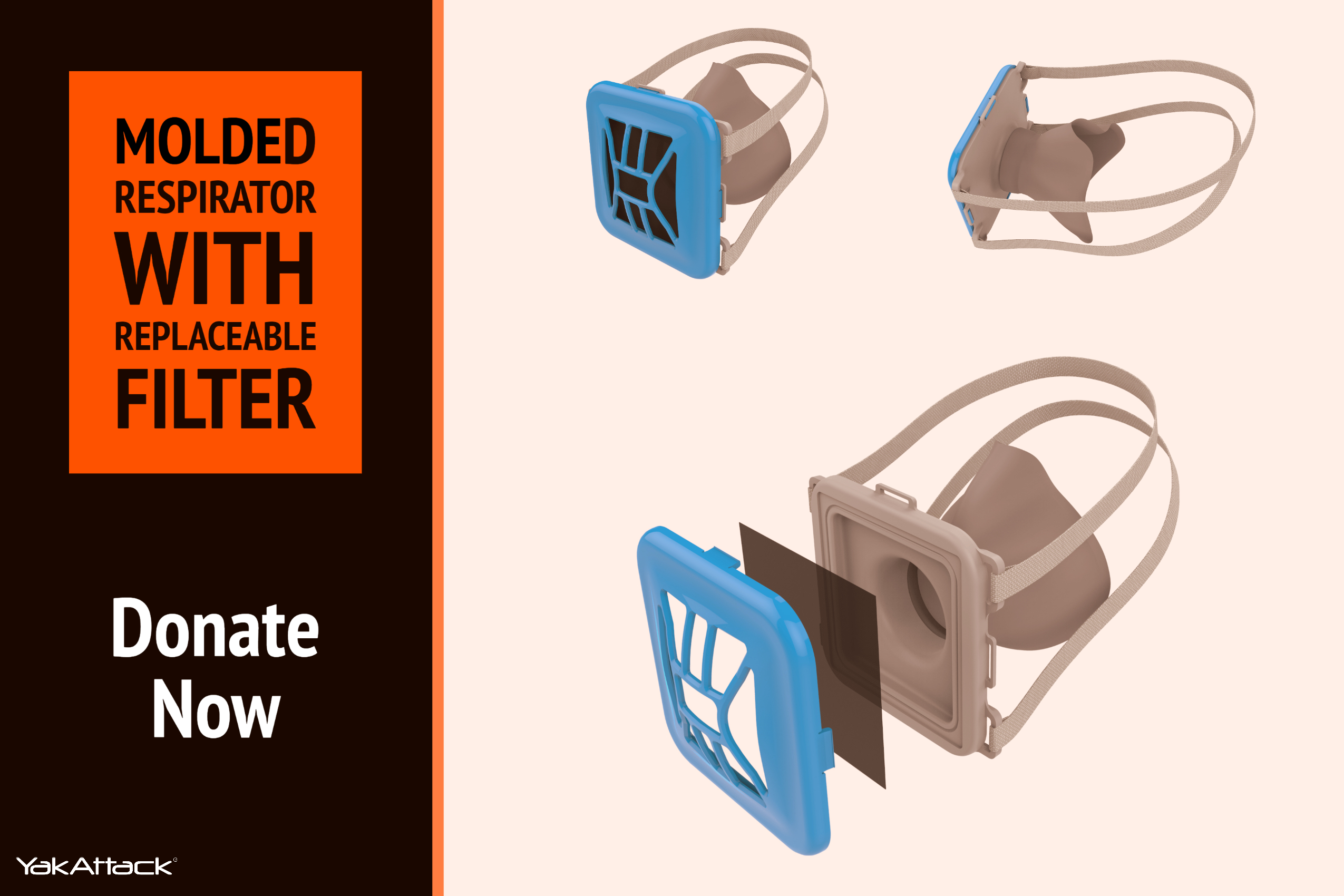 As we launch this campaign on April 1, 2020, our first solution in this effort, the replacement shield for PAPR positive pressure respirators, is going into production. We'll be shipping them by the hundreds within a few days, and will provide this and other solutions to the open source community, sharing our designs and methods with others who have the tools and equipment to reproduce them in their own factories or garages. We expect other solutions to be ready to ship within days, not weeks or months, as long as we have the resources to continue our current pace.


How the Fund Will Be Utilized
Our efforts in this response are NOT FOR PROFIT, but if we don't cover our costs, we will not be able to supply at our full capacity, as we will simply run out of money. Some small orders to front line workers and non profit entities are being donated at zero cost using these funds, and we are also using these funds to supply independent volunteers the materials they need to create emergency PPE for their local community. Larger orders to larger organizations are being sold AT COST and at no profit so that we can keep this effort going.

We need your help. Our commitment to you is that we take your donation seriously. We know this is a financially challenging time for all of us, and promise to be excellent stewards of your dollars, ensuring that every one makes a real difference. Thank you.
Here is the link link to learn more and make a donation: https://bit.ly/39C1vMu