DoubleHeader with dual ParkNPole Rotogrips Giveaway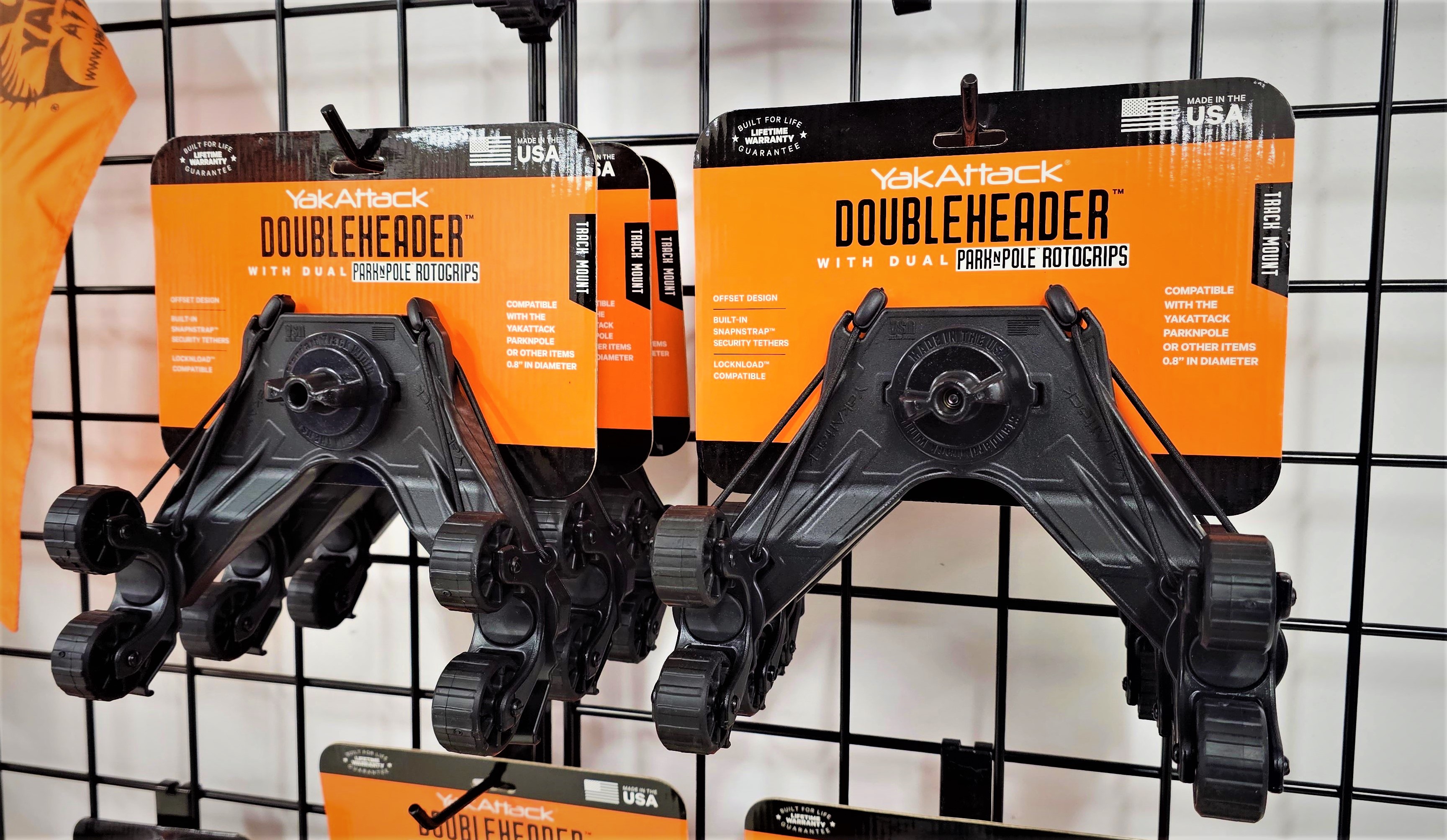 By popular demand, the ParkNPole DoubleHeader has now become its own product, and to finish out the month of May, we are going to give one away. One lucky winner will be drawn at random from the pool of entries, and we're going to send them the new DoubleHeader with dual ParkNPole RotoGrips, but to make it better, they will also receive our 8-foot ParkNPole Link so they have something to put in it. Enter today and make sure to return and check in daily for additional chances to enter.
In typical YakAttack fashion, what started as an idea for a single offset RotoGrip Paddle Holder resulted in a product with a bit more versatility. The DoubleHeader track mount can serve several different purposes, but in this case, it is the foundation for the perfect offset ParkNPole holder that our customers have been asking for since the release of the DoubleHeader with dual RotoGrip paddle holders. Compatible with 0.84" diameter shafts, the DoubleHeader with dual ParkNPole RotoGrips has become a popular solution for kayakers needing a place to stow their stake out poles, but before, customers had to buy the individual parts and assemble it on their own. Not anymore.

The same as using two RotoGrips on a single piece of track for a paddle, you cover up the entire length of the track with your paddle, rendering open track space useless. The DoubleHeader in this configuration eliminates that problem entirely and offsets the ParkNPole RotoGrips from the kayak allowing for the full functionality of the remaining track space for other accessories. If you are tight on track space, the DoubleHeader includes an additional feature to add LockNLoad accessories like YakAttack rod holders, camera mounts, and more. Simply replace the stock knob from the DoubleHeader with the LockNLoad base of a rod holder or other accessories, and you are able to have multiple attachments on a short section of track or a single point of attachment like a MightyMount II. The DoubleHeader track mount is compatible with YakAttack GearTrac, MightMount XL, MightyMount Switch, MightyMount II, and most other factory installed kayak track.

As mentioned above, we are going to sweeten this giveaway by including a ParkNPole with the ParkNPole DoubleHeader. The ParkNPole Link is a two-piece version of the popular 8' ParkNPole. The two-piece construction makes transportation easy to and from the water or makes it possible to store inside the hull of your fishing kayak. For a longer option purchase the 46'' extension making the total length 12'.