A quick Google search will result in dozens of articles and YouTube videos telling you the best early springtime bass lures include jerkbaits, lipless crankbaits, jigs, spinners, chatterbaits, Alabama rigs, squarebill crankbaits, and the almighty Senko. And they'd be correct. But nowhere on this list do you see or hear topwater of any kind, especially a hollow body frog. Far be it from me to tell you what to cast, but it may be time to add it to your cold-water spring repertoire.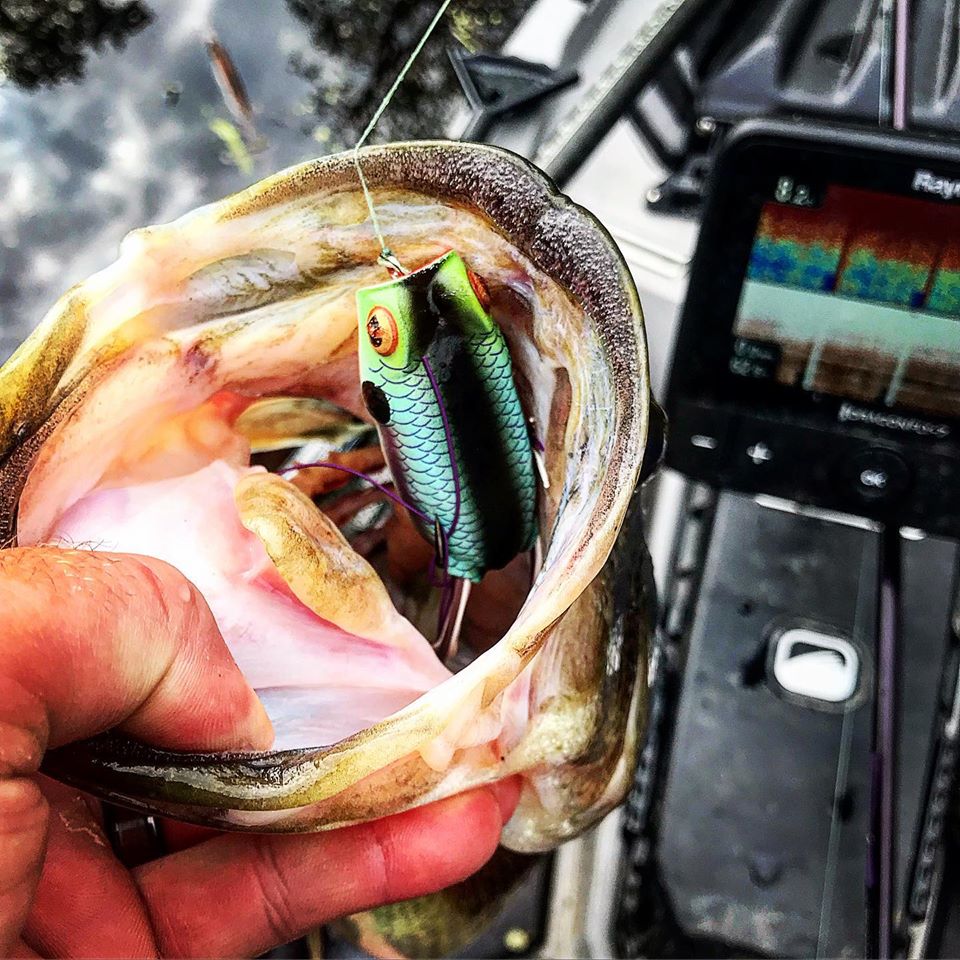 Now let me preface this article. I live in La Crosse, Wisconsin on the Mississippi River, renowned for its amazing summertime frog fishing backwaters and I am a self-proclaimed frog-fishing fanatic. However, just two weeks prior to this outing on the open water, I was standing on a foot of ice in a backwater slough catching panfish and handlining northern pike as well as the occasional bass on the tip-ups through a hole in the hardwater. I live by the frog! But never in my life did I expect it to be a staple in my first catch of the 2020 open water season.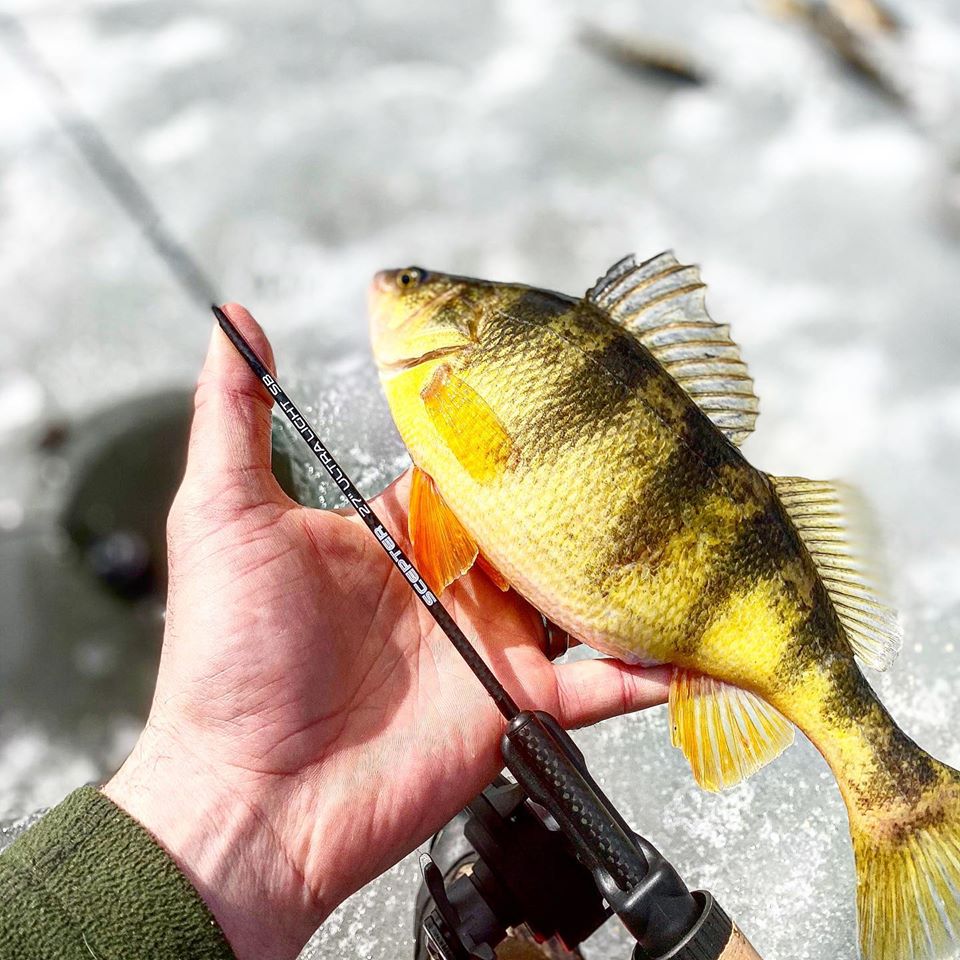 Once the ice melted, I took no time to load the boat and start exploring the waters in order to get my open-water rod-bending fix in after the long, frigid winter months without casting a line. Two separate outings the past week in search of finned predators at wintering depths, warming shallows, and points in between, heaving every aforementioned lure and many more, resulted in an itch that still needed scratching as not a bite was found.
The last day of March, preluded with a few days where temperatures reached high 40s or mid 50s during the day but still dipping to the low 30s or even into the high 20s, had water temps slowly on the rise reaching 46 in the mouths to a high of just over 50 degrees where I finish the story. Another trip in the boat in search for these elusive early spring bass led me to the slough I had been ice fishing just two weeks prior. The slough was a ghost town. However, the spring thaw brought a lot of water into the Mississippi River and now the islands and shore were a few feet underwater. I pushed through the trees and pitched structure, weaved spinners and swimjigs through laydowns and flooded timber, patiently waited as my Senko delicately danced on the fall on all the ideal warming structure imaginable… still no bites.
At this point, I was making my way through a small opening along the shoreline with some grass bent over on the surface of the water. The grass came alive with swirls everywhere with fish scattering as I nudged the boat through. Fish were under the grass in only a foot of water. I continued to pitch my beaver bait and stick worm to the area and had yet to find any takers. With nothing to lose at this point, my fishing partner jokingly tied on a hollow body frog as a last ditch effort to coax a reaction strike on what would have been strike number three in just as many outings. Sure enough, in just a few casts, a swirl on his frog through the matted grass had our hearts pumping. We were astonished; there was no way these fish should have been hitting that bait this time of year.
Unfortunately, I had just taken my frog rod out of the boat to make more room and left my boxes (yes, boxes!) of frogs at home, for there should be no reason to need them, right? Luckily, my partner in the boat had a spare and in no time, I had that frog tied onto what was my flipping rod. My first cast felt wrong to be casting this bait but a few twitches to dance the bait on the surface in perfect walk-the-dog-fashion, including a pause in the action every few feet, proved fruitful when a subsurface predator busted through the matted vegetation to inhale the bait. A brief pause to be sure the frog was properly stowed in upright position deep in the mouth of the bass led to a big hookset and a fight on the ALX IKOS Hammer7 rod! The rod stayed strong and the 50# braided line taught as I horsed the first bass of 2020 through the grass and into the boat. A chunky 16.5 inch, 2.5-3lb largemouth certainly scratched the itch of a much-needed tug on my line, and in a fashion I could only have dreamed of, especially under the conditions.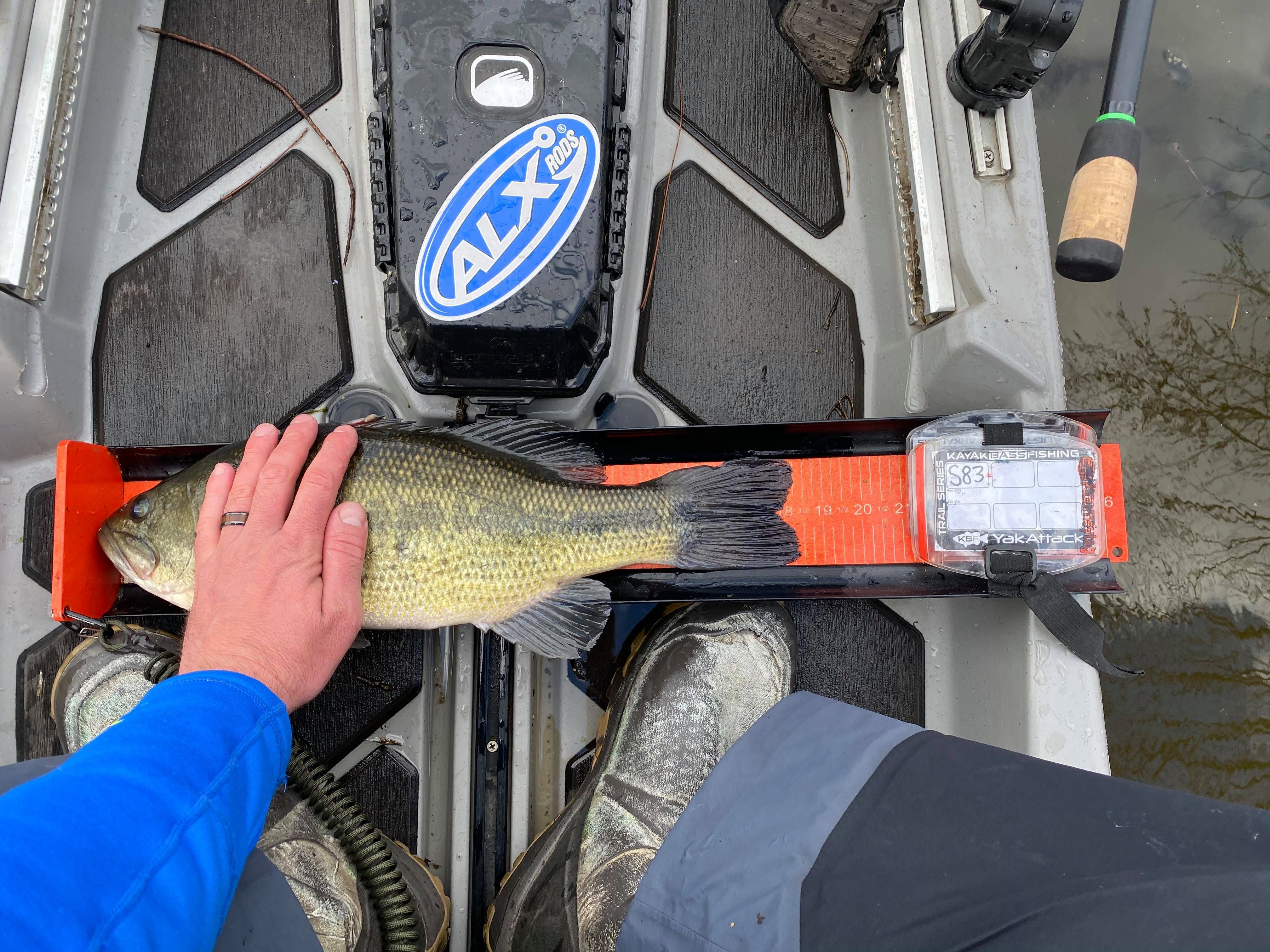 A few more bites but no hookups in the waning hours of daylight led me to launch the kayak in those same waters the next day. A cooler day, but the shining sun had me believing these bass would be right back to the blankets of matted grass and floating debris (really more of a Snuggie, as the fish could swim with their fins free from the constraints of normal blanket… sorry, back to the fishing).
I fidgeted in my chair, awaiting the conclusion of the workday and then immediately hit the water, departing into the Upper Mississippi River Fish Refuge from the roadside where the flooded waters had risen. I weaved my Bonafide SS127 through the trees to the first mat of flooded grass I could find. A quick deployment of the YakAttack ParkNPole locked me into position as to not drift into the cover in the close-quartered combat fishing I refer to as "guerrilla warfare bassing." First cast: a streak through the grass and a quick gulp of my frog underwater followed by a brief fight resulted in a short 13.5 inch largemouth. Surely first cast catch superstition was going to ruin any more fun I was hoping to have this trip, right? Let's hope not.
A few swirls and missed opportunities led me to believe maybe it would. But I kept the course as I hit every isolated grass patch and piece of flooded debris with my floating frog. Another little 14-incher landed broke the first cast and catch curse. More lethargic swirls and gulps were produced from bass that missed the bait in the thick, flooded debris and grass.
As I worked the frog side-to-side, back-and-forth in tantalizing fashion from one grass clump to the next, a wake veered out from under a grass blanket and devoured my hollow bodied bribe. Immediately, I knew it was a much better fish than the two previous. The ALX IKOS Hammer73 stayed strong and kept the 18.5-inch 4-pound prespawn ditch donkey pinned up throughout the fight and over the hull straight into the embracing arms of this giddy angler! It was a great catch on the Upper Mississippi River and a wonderful start to my Kayak Bass Fishing Wisconsin State Challenge for the month of April. A few pictures on the Ketch board to upload this beauty onto the TourneyX app (tournament management system) before she was released back into the cool waters of Old Man River.
A few more bites and another small largemouth finished out the evening, but the fun was had and the lesson had been learned.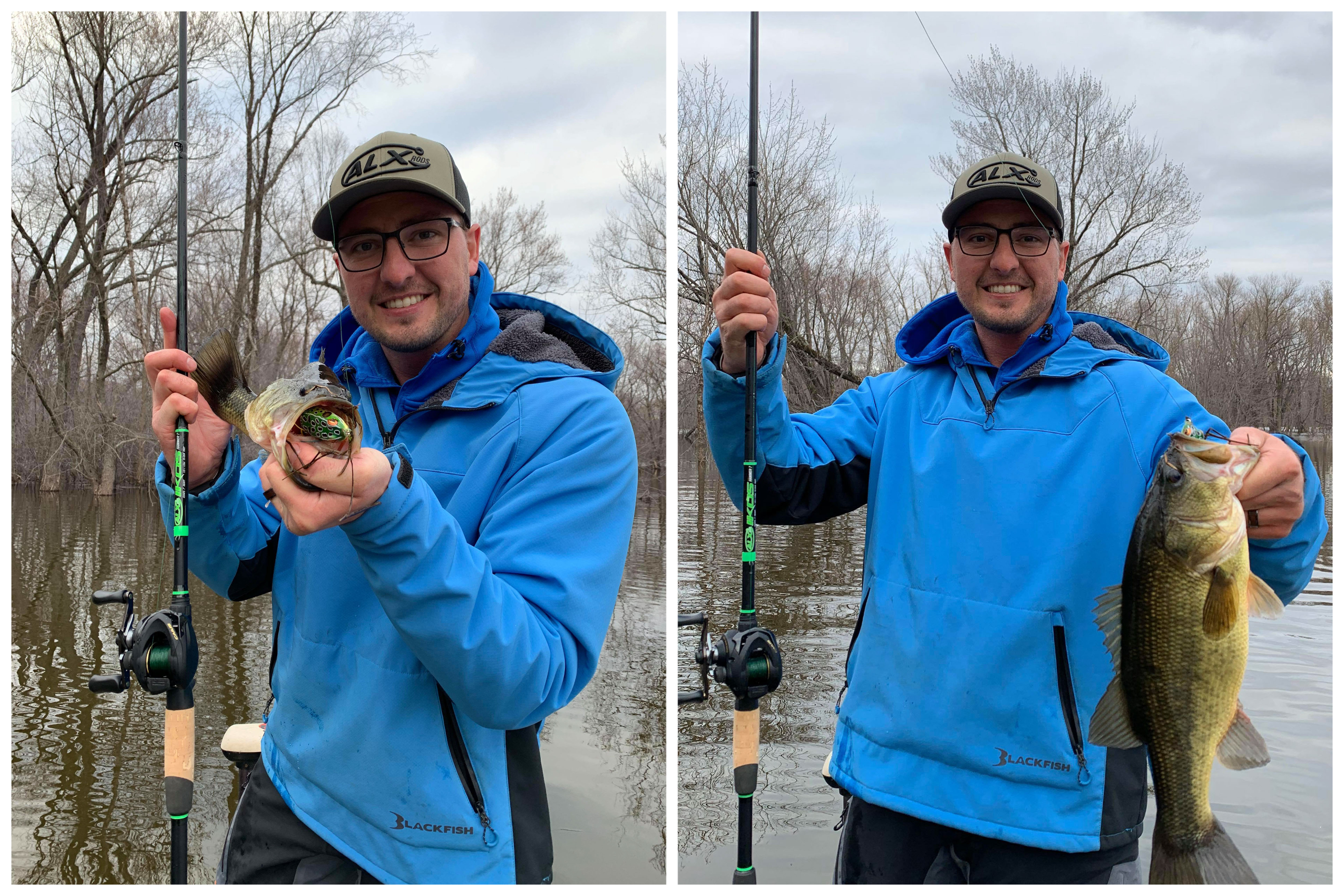 Trends and tendencies are just that: tendencies. We all know fish sometimes don't behave as planned or as expected. It seems they always throw a wrench into our plans on tournament day after prefishing led to a surefire game plan that would have left us holding that big check and trophy high at the conclusion of the event.
Adapting to the ever-changing conditions of rising and slightly warming waters led me to my favorite way of catching bass at a time I never would have guessed would work. In fact, when we left the shores that night, I would have bet that there would be no way to entice a bass to a frog bite yet, no matter how much I may have wished it. But I would have lost that bet; happily, I might add.
The next time you depart for your early spring bass trip, don't forget to load the frog box and seek out those isolated grass patches where the fish might be lying tight under to seek shelter and warmth as the sun heats it up throughout the day. When the fish aren't biting, don't be afraid to tie on a few different lures that may not be the standard during that time of year or under the conditions. But most of all, use your angling intuition and fish your strengths when conditions are tough. You never know what the next bite may come on.