In 2007, Jim Dolan founded Heroes on the Water, an organization dedicated to rebuilding lives, instilling hope, and expanding horizons for military members and first responders with service-related injuries that inhibited their ability to enjoy vigorous outdoor sports, especially kayak fishing. After Jim passed away in October 2019, Kayak Bass Fishing instituted an annual award to recognize men and women who epitomize his commitment and passion for serving others in our sport.
On Friday, October 18, Chad Hoover had one more award to present after announcing the results and awarding trophies for two KBF Series Championships and the Top Team Challenge Cup competition.
He declared: "The 2022 Jim Dolan Sportsman of the Year goes to someone who exemplifies hard work and dedication while selflessly putting others first—one of the nicest people you're ever going to meet. The guy sacrifices time away from family at an almost incomprehensible level. For years I've considered myself the hardest working person in kayak fishing, and this guy makes me tired just watching him!"
"The 2022 Jim Dolan Sportsman of the Year award goes to a really good friend of mine. To be honest with you, the first couple of years, his name came up; we were using him as the standard… you know: "We need people who do stuff like Jeff." And if everyone was being compared to him, why not give that guy the award? Because he was such a close friend, his selection might seem disingenuous to some, but I can't discredit someone simply because he's a friend of mine. The 2022 recipient of the Jim Dolan Sportsman of the Year is my good friend, Mr. Jeff Little."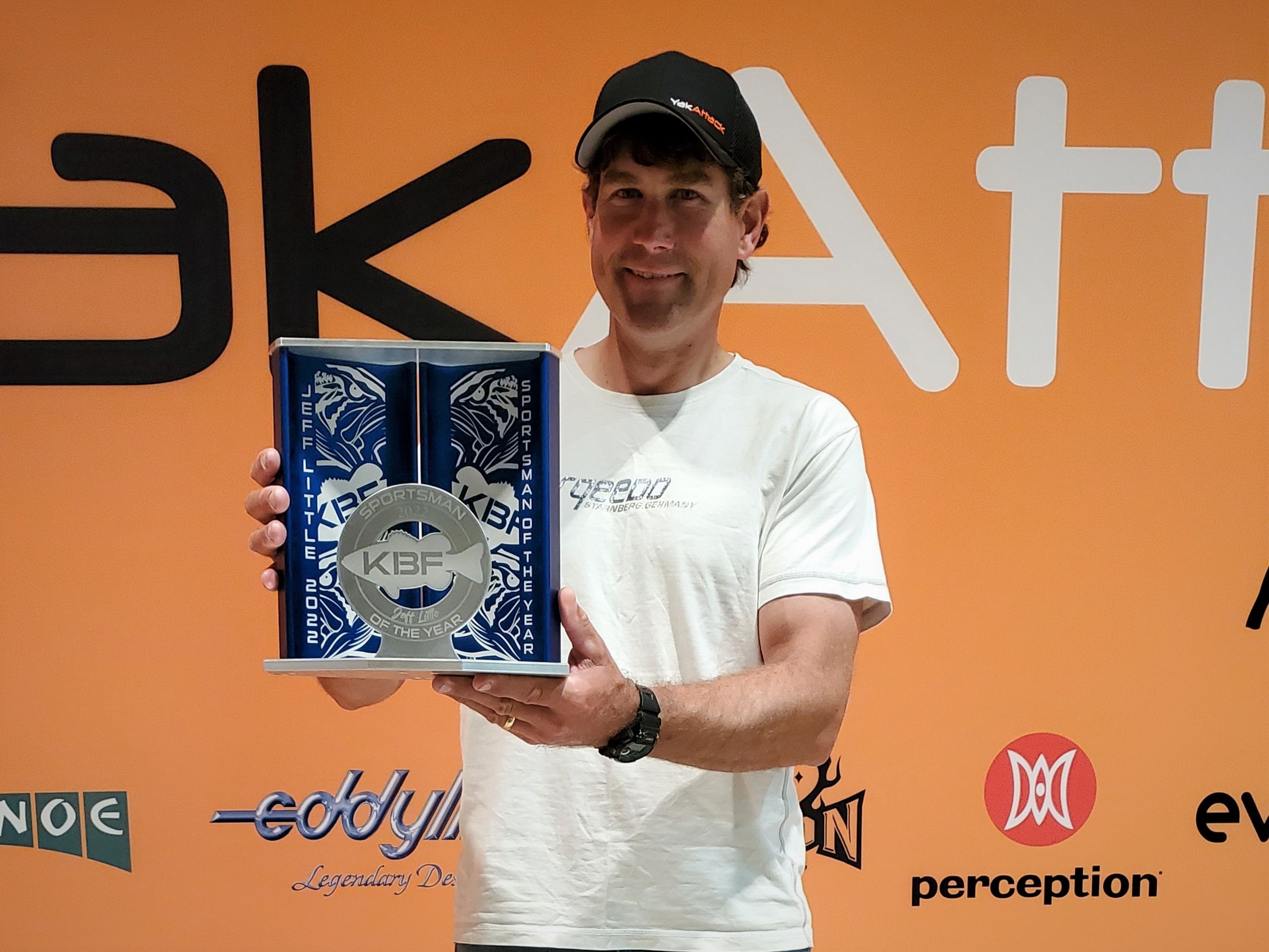 In accepting this award, Jeff said: "Today exemplifies what it means to be part of this community. Even though I'm not competing in the tournaments, I enjoyed hanging out with the guys of Iron Kayaker and hearing and filming stories of their journey here to this event. On the way back, my truck broke down. At 276,000 miles, the transmission is gone. I am so blessed that it happened here because I have friends in this industry here to help me out; to tow my truck up the hill to the place that's going to put a new transmission in while I fly home to Maryland to hang out with my family."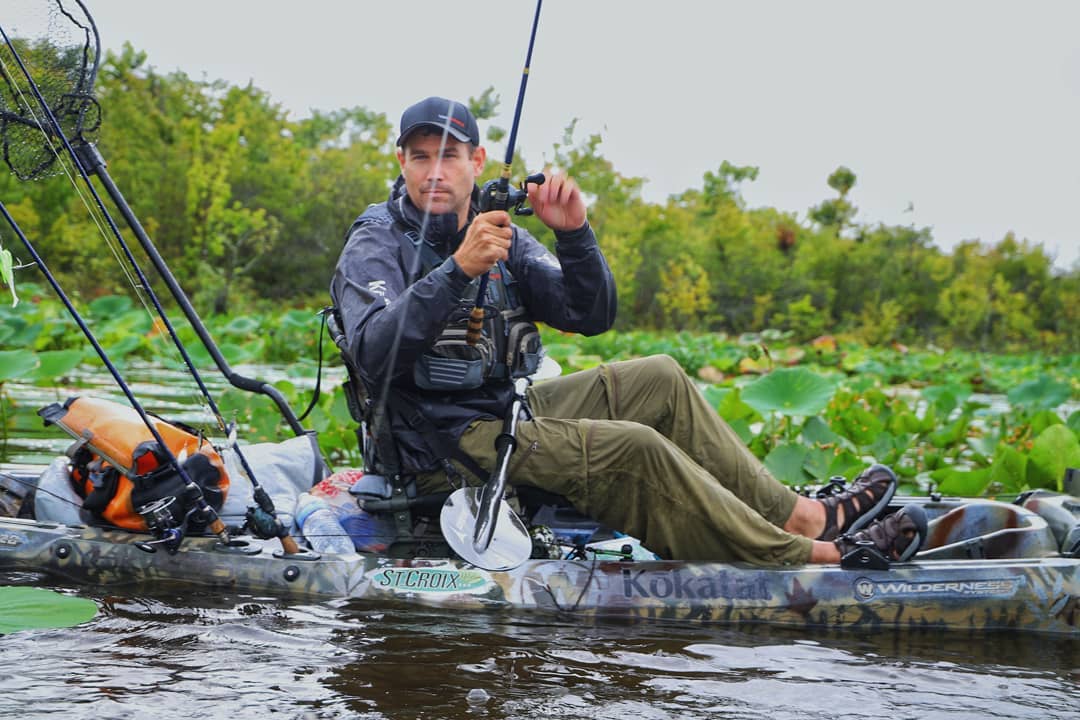 "It's just good to be part of this community, and I love it. And I love seeing it grow, and I'm blessed to be part of it and to have so many friends here, so thank you all very much." Jeff said that when asked to express his idea of "sportsmanship," what it looks like in the kayak fishing arena, "Sportsmanship boils down to just doing what's best for kayak fishing."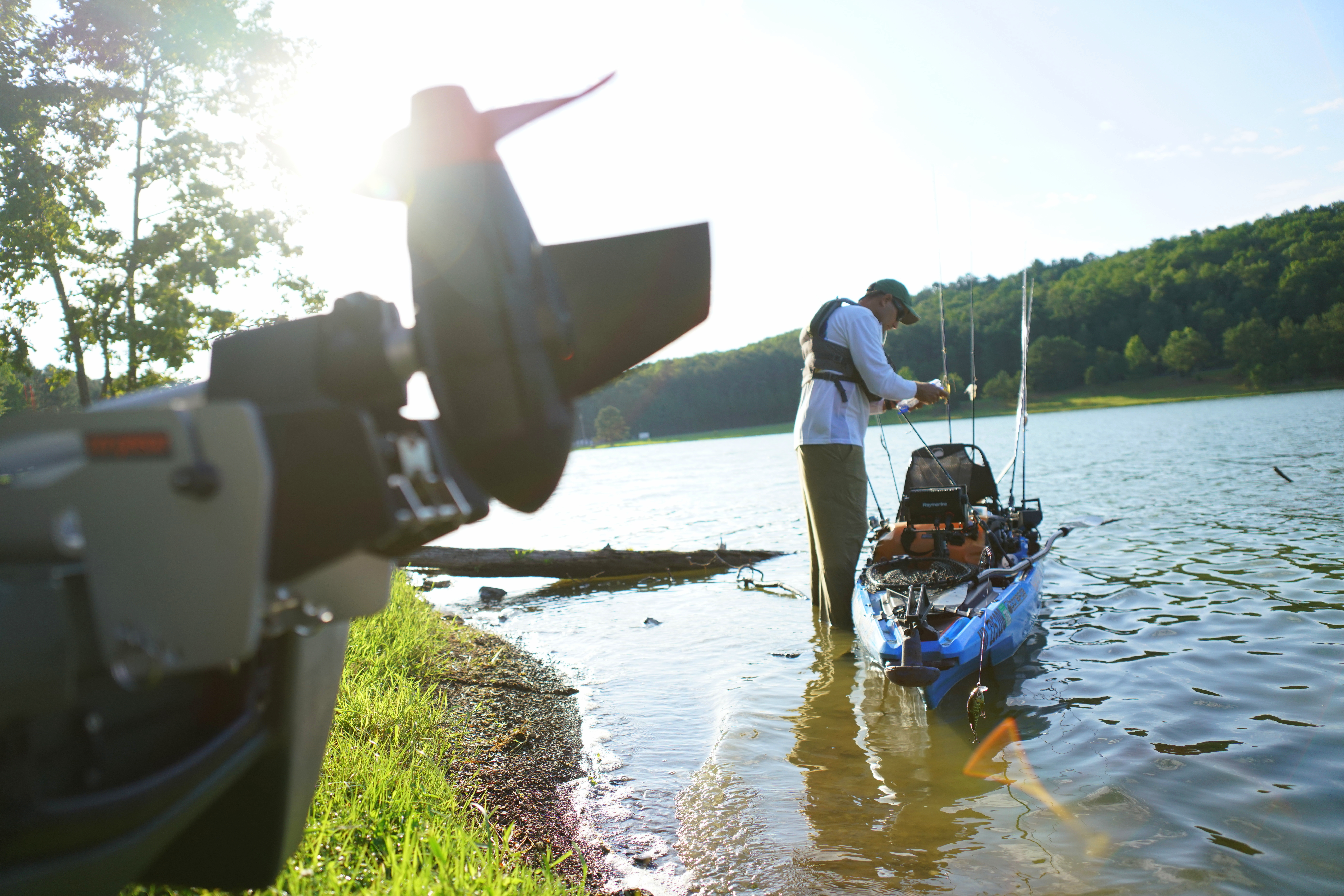 Jeff is the third member of Team YakAttack to be honored in this way. Last year, Barry Davis was awarded the Jim Dolan Sportsman Award in acknowledgment of his selfless labor in supporting and building up the sport in his region of South Carolina; in creating opportunities for others to experience high-caliber kayak bass fishing competition and enjoy the camaraderie of this sport.
Two years ago, KBF recognized Cory Dreyer as the first recipient of the Jim Dolan Sportsman of the Year. Cory saw a young lady in peril on the water and put her welfare above his own. As many can attest, he is an intense competitor, but he set everything aside to rescue a girl from drowning and then spent more time ensuring she was safe and secure. Cory's actions ultimately cost him a top finish in the tournament, but his servant's heart guided him.
While these three share the distinction of a Sportsman of the Year title, the attitudes they exemplify certainly are not unique among members of our society. Every week, in every state and region, men and women in the kayak fishing community exhibit outstanding sportsmanship, putting others above themselves and conducting themselves in ways that reflect positively on the sport. In doing so, making it bigger, stronger and better for us all.
Each of us are sportsmen in the mold of Jim Dolan when we put the welfare of others above our own, when we look for opportunities to build others up, and offer tips, time, encouragement, and resources to get other people on the water and into this sport.