KBF Members competing in the 2020 KBF National Championship have an opportunity to band together to win cash, and to promote the fishing and paddlesport companies they support or represent their kayak fishing club or circuit. Five-person Challenge Cup Teams will form under the banner of a single sponsoring business or organization. Each team member's highest scoring Day 1 photo and highest-scoring Day 2 photo will contribute to the team's total score. The winning team will be determined by the highest cumulative 2-day score, with ties broken by big fish. On Thursday night, October 8, the winning team will be presented with plaques and split the Top Team Challenge Cup First Place Prize.
We are proud to announce the members of the YakAttack Top Team Challenge Cup for the KBF National Championship. The YakAttack team is made up of some of the top KBF anglers and some of the best kayak anglers in the country. The accomplishments that these five anglers have been able to achieve over the past few years is remarkable and they are at the top of their game.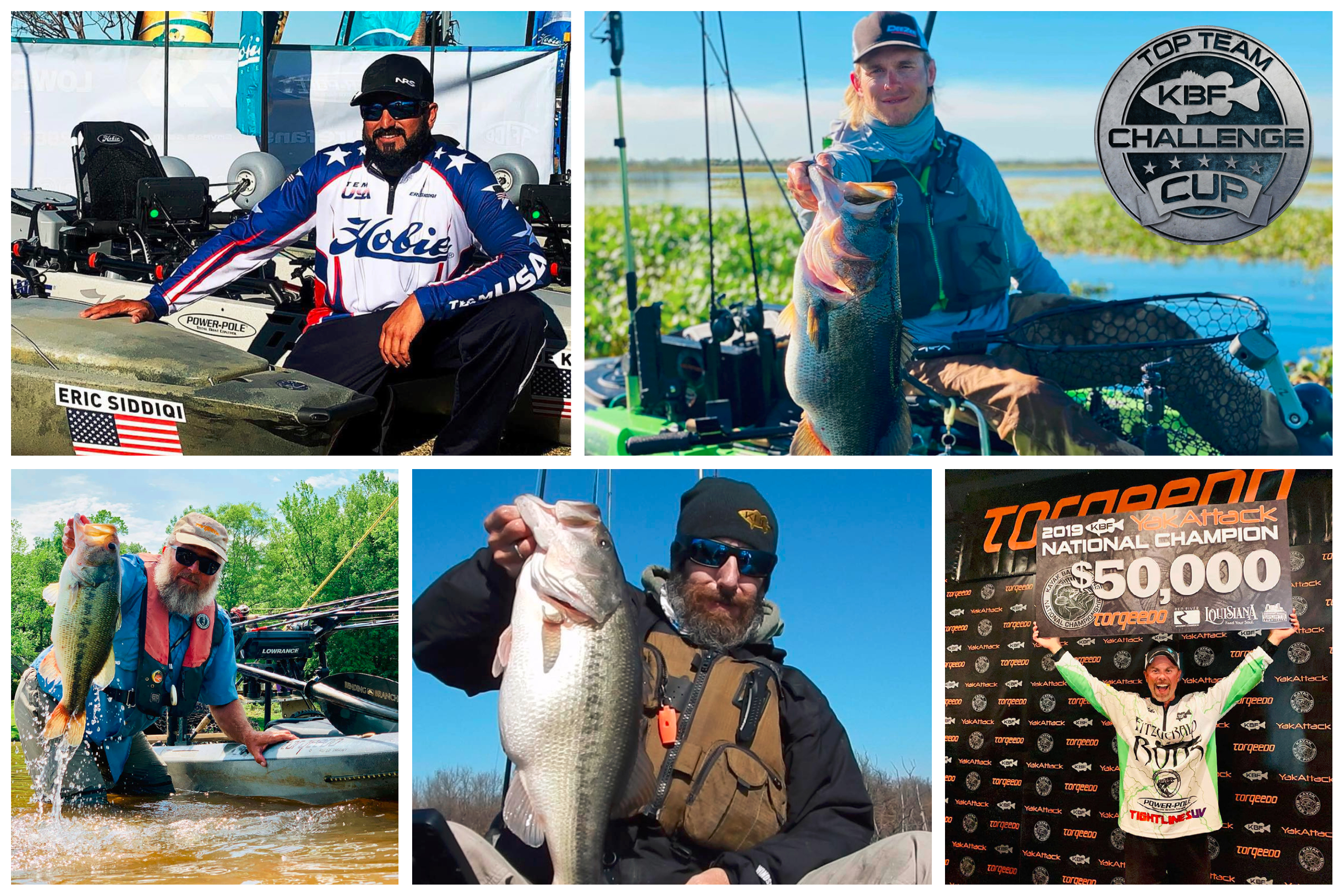 Meet the Team:
Josh Stewart
Bio — Josh Stewart grew up fishing the creeks and rivers of the Kentucky Lake watershed. After a few years of recreationally fishing from a kayak he discovered competitive kayak fishing tournaments and has been hooked since. Josh enjoys fishing the large lakes of the Tennessee River system but his favorite pastime is chasing smallmouth in the smaller tributaries.
Sponsors
All Pro Rods
YakAttack
First Stop Outdoors Waverly, TN
Jackson Kayak
Career Highlights
2018 National Championship 2nd Place
2018 Hobie World's Qualifier
2018 KBF Open Grand/Beaver Open First Place
2018 KBF KY Lake Open First Place
2016, 2017, and 2018 KBF Top Ten
Follow
Mike Elsea
Bio — Mike currently lives in the Indianapolis, Indiana area working at a commercial livestock operation and is also a personal fitness trainer. In 2019 he took home the title of Kayak Bass Fishing National Champion and the winnings of $50,000+. At the 2020 event on Guntersville he is hoping for some good luck and a chance to win the title of National Champion for the 2nd year in a row.
Sponsors
Native Watercraft
Titan Tungsten
YakAttack
YakPower
SinkeRSwim Tackle
Power Pole
BFH
Fitzgerald Rods
Rogue Fishing
Dakota Lithium
Nines
Career Highlights
2018 Indiana Challenge Series Points leader
2019 KBF National Champion
2019 KBF The TEN qualifyer
2020 KBF North Central Region AOY
2021 Bassmaster's Classic Qualifyer- Kayak Series
8 Top 5 finishes
11 Top 10 finishes
Follow
Brad Case
Bio — Born and raised in Mississippi, Brad has been fishing all his life. He grew up fishing the waters of Mississippi. "I have even caught bream at the mailbox ditch." Although he has fished some bass tournament trails in Mississippi's reservoirs from his bass boat, Brad's passion is fishing the waters of South that only a kayak can get to. He will fish fresh or saltwater and always carries an extra kayak with him. If you see him, ask to fish. Brad enjoys teaching others how to fish. "The smile on their face, says it all, as they reel in that fish."
Sponsors
The Fish Grips
Torqeedo
YakAttack
Spro
Lowrance
Cablz
AO Coolers
American Tackle
No Name Rods
Gerber Gear
Gamakatsu
Career Highlights
190 Tournaments 2010 To 2017
32 – 1st Place Finishes
85 – Top 5 Finishes
107 – Top 10 Finishes
142 – Top 20 Finishes
Kayak Bass Series 2nd place Angler of the Year 2015
River Bassin Largemonth Bass Angler of the Year 2015
2nd place River Bassin Largemonth Bass Angler of the Year 2016
2nd place River Bassin Largemonth Bass Angler of the Year 2017
Elite Kayak Bass Series Angler of the Year 2017
10th place Kayak Bass Fishing Angler of the Year 2017
Follow
Eric Siddiqi
Bio — Eric Siddiqi is a tournament fisherman born and raised in Cincinnati, Ohio. When he isn't on the road fishing tournaments, Eric spends his time at home with his two 2 boys, 5-year-old Zaiden and 4-year-old Lofton. A completely self-taught angler, he is an example of someone who just has fishing in their blood. Growing up, he would take every opportunity to be on the water honing his skills.
In 2015, he purchased his first kayak and began fishing online tournaments…and winning them. He then went on to fish his first live tournament at Toledo Bend Reservoir where he qualified to fish the first Kayak Bass Fishing National Championship and he never looked back.
Since then he has had a lot of success at tournaments all over the country, breaking records and winning tournaments at every turn. His tournament career has just begun and there is much more to come from this talented angler. Everyone Fishing in a kayak knows to watch out when Eric Siddiqi shows up to Fish a tournament.
Sponsors
YakAttack
Fishing Online
Cal Coast Fishing
Career Highlights
4X KBF National Championship Qualifier
2017 Hobie Bass Open – All Time single day Record 61.75" (3 Fish)
2017 KBF Trail – Pickwick Lake – 3rd Place
2017 KATS Border City Classic – Lake St. Clair – 2nd Place
2017 #1 KBF Overall Trail Points
2017 #1 KBF Challenge Points – Ohio
2017 KBF 100 Challenge on Toledo Bend Reservoir – 5th Place
2018 KBF Trail – Mississippi River in La Crosse, WI – 1st Place
2018 Hobie Bass Open – All Time single day Record 64.25" (3 Fish) (Current Record)
2018 KATS Border City Classic on Lake St. Clair – 1st Place
2018 KBF Trail – Table Rock Lake – 1st Place
Featured on "Kayak Bassin'" (S06 E13) on the World Fishing Network (WFN)
2019 Team USA Hobie World Championship Qualifier
Follow
Mel Ashe
Bio — Mel Russell Ashe grew up in the Carolinas fishing farm ponds with his Dad, Melvin and his grandfather Russell. After working many years around the US he landed in Kansas City, MO. Missouri has so many wonderful ponds and lakes, and Mel went out on many with his friend Matt Clark and his canoe. Matt is the one that came over one day and said " You gotta see this guy fish out of a kayak" on "Knot Right Fishing". That was 2012…and in 2013 he was in a kayak fishing Santee Cooper in the KBF Open. He was hooked…line& sinker. Mel travels all over the Midwest, South & East (still haven't gone West, maybe 2019) fishing KBF events and Midwest Kayak Bass Fishing Series events as well as his local club NEKKA. When not on the water, he loves spending time with his wife, Toni, and his three amazing rescue pit bulls-Remington, Dixie, and Zima. Saturdays during football season, if he isn't fishing, you definitely will find him on the couch watching his beloved Clemson Tigers.
Sponsors
YakAttack
Xtreme Velocity Outdoors
Career Highlights
KBF's The Ten 2016
KBF's The Ten 2017
4th place KBF Beaver Lake/Grand Lake Open 2018
4th place AOY Midwest Kayak Bass Fishing Series 2018
KBF National Championship Qualifier 2016, 2017, 2018, & 2019
Follow