2020 has been an interesting year and the same goes for this year's tournament. With the world being affected by the Covid-19 pandemic and by Governor orders, there was no chance the tournament was going to take place in the same fashion as it has for the past 11 years. Normally the annual tournament takes place at the Cedar Crest Conference Center at Twin Lakes State Park which is about 15 minutes from our new facility and is located in Green Bay, VA. Anglers show up to the state park or local hotels sometimes up to a week before the tournament in an attempt to unwind, spend some time with friends, and maybe do a little pre-fishing. Starting on Friday smells of smoked ribs and the commotion of volunteers start radiating from the conference center and anglers from almost 20 different states gather in excitement to kick off a weekend of fundraising and fishing. The tournament is about community, our passion for fishing, and most importantly to recognize and raise money for Heroes on the Water and Project Healing Waters; two organizations who focus on rehabilitation of our country's soldiers and first responders through kayak fishing and fly fishing. It is a chance for like-minded individuals to come together and make a difference. It is a time to escape day to day life, spend some time in the woods and on the water, and to enjoy some great home cooked food. For the majority of the participants in the annual tournament this might be the only tournament they fish each year and after reading this much you can understand why they always come back year after year.
This year however the event had to be different, and to be honest we wanted the tournament to happen the way it was planned as much as everyone did. Out of any event or company activity we do the annual tournament is our favorite and is something we look forward to year after year. Although it is one of the busiest weeks each year and takes more involvement than doing an industry trade show like ICAST it is the one time each year we get to see familiar faces and make a difference in the community. For the 2020 event the focus shifted from the normal fundraising from the two previously mentioned organizations to raising money to help make an impact in the one thing that was the reason the tournament wasn't taking place in-person at Twin Lakes State Pack; Covid-19 (Coronavirus). Before announcing the changes to the tournament where it wasn't occurring as an in-person event with all the normal festivities we spoke with our contacts at Heroes on the Water and Project Healing Waters about this year's event. We are all affected by the current Covid-19 situation in one way or another and they completely understood the shift in focus from raising money for their organizations to supporting PPE manufacturing to help fight the spread of the Coronavirus. With YakAttack's unique set of tools and manufacturing capabilities we took the leap into the research and manufacturing of several PPE (Personal Protective Equipment) items use by doctors, nurses, first responders, and other healthcare professionals needing to protect themselves on the frontlines.
Our efforts in this response are not for profit, but if we don't cover our costs, we will not be able to supply at our full capacity, as we will simply run out of money. Some small orders to front line workers and nonprofit entities are being donated at zero cost using these funds, and we are also using these funds to supply independent volunteers the materials they need to create emergency PPE for their local community. Larger orders to larger organizations are being sold at cost and at no profit so that we can keep this effort going. Currently we are manufacturing or developing a face shield, respirator, intubation tent, face mask, and a replacement shield for a PAPR. Combined with the funds raised from this tournament and a GoFundMe campaign we launched back in March we were able to raise over $30,000. We want to thank everyone who donated to the campaign or participated in this year's tournament. Our commitment to you is that we take your donation seriously. We know this is a financially challenging time for all of us, and promise to be excellent stewards of your dollars, ensuring that every one makes a real difference.
Now, let's move on to this year's tournament. Instead of being an in-person event with several home cooked meals, festivities, raffle prizes, and more the only way for the tournament to take place was to move it online. By doing this we were also able to open up eligible waters to the entire USA and Canada. For the 2020 event we originally had 200 anglers from over 20 states and several from Canada registered for the event so by moving to an online format it allowed anglers to stay in their hometowns and fish their local bodies of water rather than having to travel. We received a lot of feedback about how making it a nationwide tournament would guarantee a winner from states like Florida, Texas, and California, but at the cutoff time to submit fish on tournament day the results probably ended just about the same as they would have if the tournament would have taken place like normal. We had 114 anglers participate in the actual online portion of the tournament. With all of the changes made to the original event we had some anglers request refunds and some simply said to please donate my money as I know it is going to a good cause.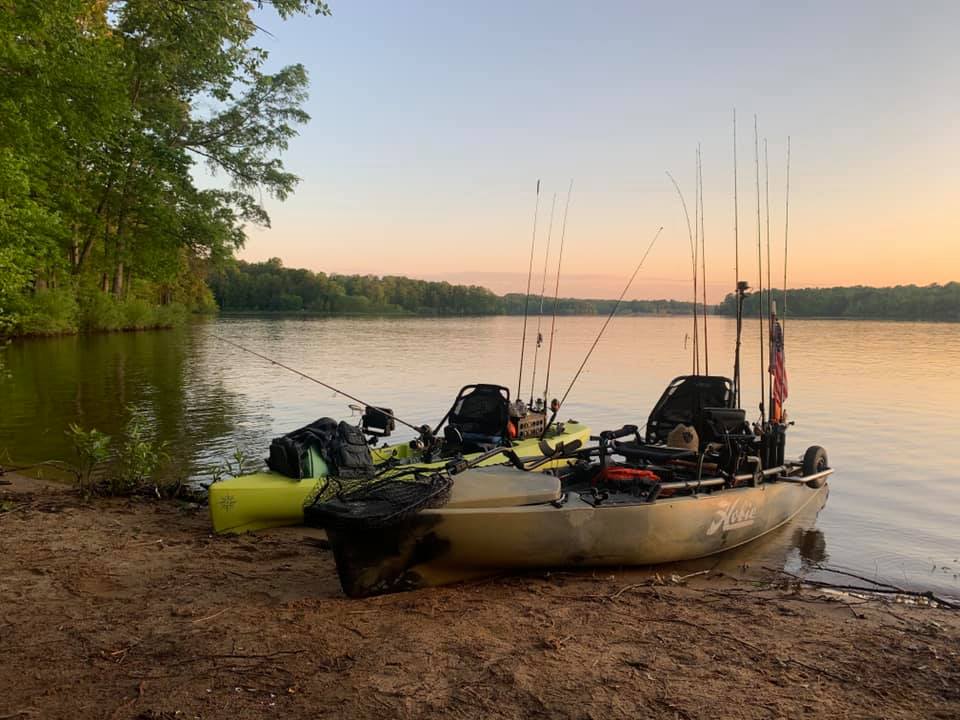 Just like any other springtime fishing tournament you are going to have anglers catch fish and about half that don't. For this year's tournament we opted for a three bass limit instead of our normal two since we had to do away with the other two divisions and the slam; Bluegill and Crappie. With it still being a benefit tournament we wanted to keep things interesting so we went with three bass compared to the popular five. With having a smaller 3 bass limit you still have to be a strong angler but it could still be anyone's game. In the end we had five out of the top ten fished bodies of water in Virginia and most of them fished the same places there were going to fish if there weren't any changes made to the event. 3rd, 6th, 7th, and 10th place came out of Florida, South Carolina, and Georgia. Listed below are the top 10 in the Bass Division, winner of Big Bass, and Hourly Big Bass for the 13 hours of fishing.
Bass Division Top 10, 3 Bass Limit
1: Casey Reed 62.00", Trophy and $500 YakAttack Gift Card
2: Jason Hensley 61.00", $250 YakAttack Gift Card
3: Allen Sweat 59.75", $100 YakAttack Gift Card
4: Dustin Good 59.50"
5: Steve Bishop 58.50"
6: Noah Tomasik 57.25"
7: Daryl Boyd 57.25"
8: Robert Brown 56.50"
9: Cameron Gatlin 55.00"
10: Bobby Morin 54.25"
Big Bass, Trophy and $500 YakAttack Gift Card
1: Noah Tomasik 22.00"
Hourly Big Bass, $25 YakAttack Gift Card
Hour 1: Kodi Bowers, 16.00"
Hour 2: Ashley Taylor, 18.50"
Hour 3: Daryl Boyd, 19.25"
Hour 4: Tim Beers, 19.00"
Hour 5: Casey Reed, 21.50"
Hour 6: Noah Tomasik, 22.00"
Hour 7: Steve Bishop, 21.50"
Hour 8: Bobby Morin, 21.75"
Hour 9: Jason Hensley, 20.25"
Hour 10: Cameron Gatlin, 20.25"
Hour 11: Allen Sweat, 21.50"
Hour 12: Donald Dehm, 18.25"
Hour 13: Jason Hensley, 21.25"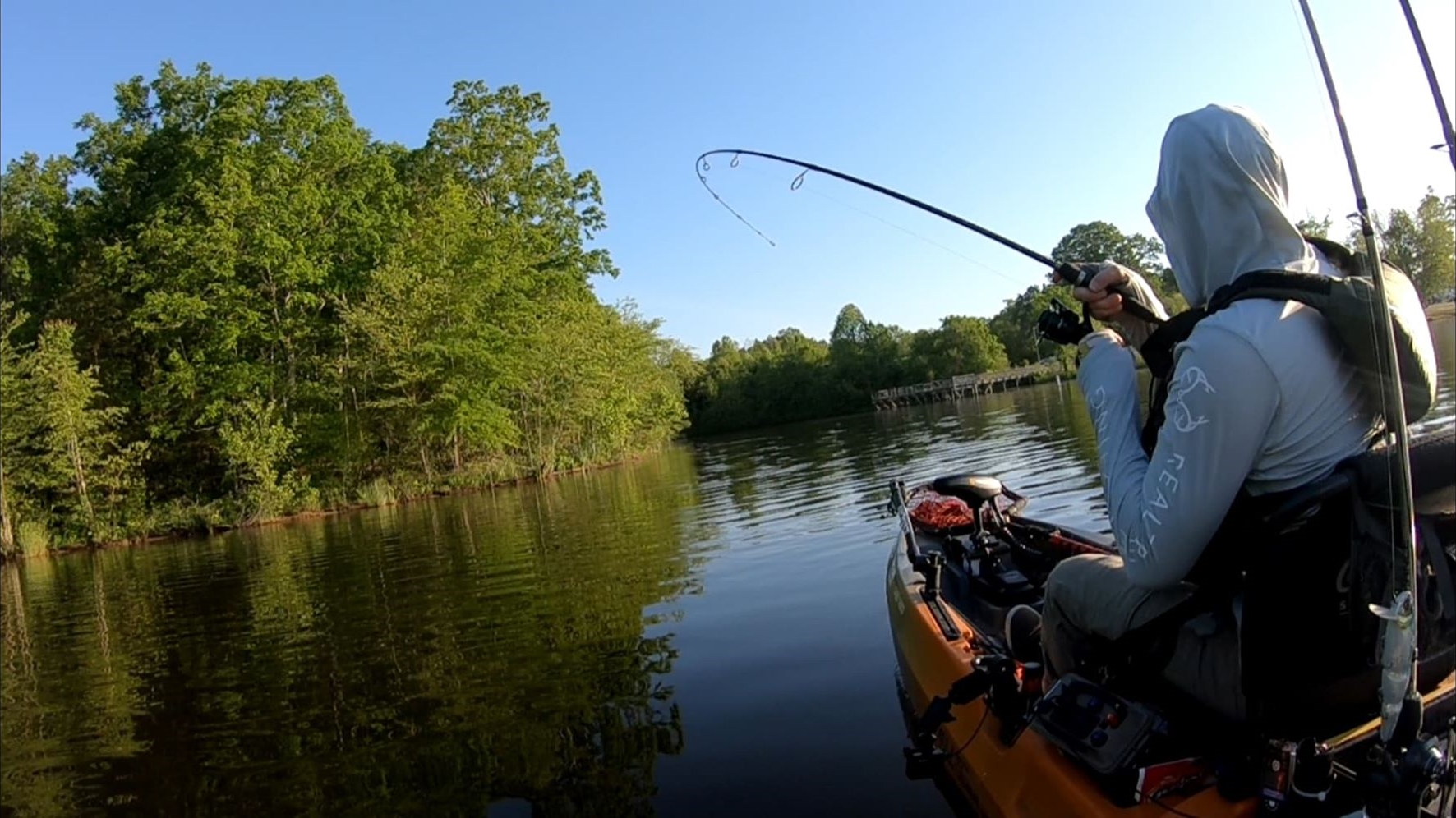 Casey Reed is one of the most dedicated tournament anglers in our sport and can be found traveling all over Virginia and most of the east coast participating in kayak fishing tournaments or hunting to catch that next personal best. The lakes of central Virginia aren't necessarily his home lakes but with the sheer amount of time he has spent on them over the past few years he knows them better than most locals. Casey was able to put up 62" for his best three with his largest of 21.50" by 1pm on tournament day. Anglers could launch at 6:30 am, lines-in at 7:00, and the tournament concluded at 8:00pm. It was a long day on the water and most anglers were out there all day. Casey kept fishing throughout the day trying to upgrade from his smallest being 20.25", but for most anglers they would call that a solid day on the water. This was the 4th out of 5 years that Casey has participated in the Annual YakAttack Tournament and even though this event is more about the community and raising money I could tell he wanted the win more year after year and this time around it happened. For placing first with 62" Casey took home the Bass Division trophy and a $500 YakAttack gift card.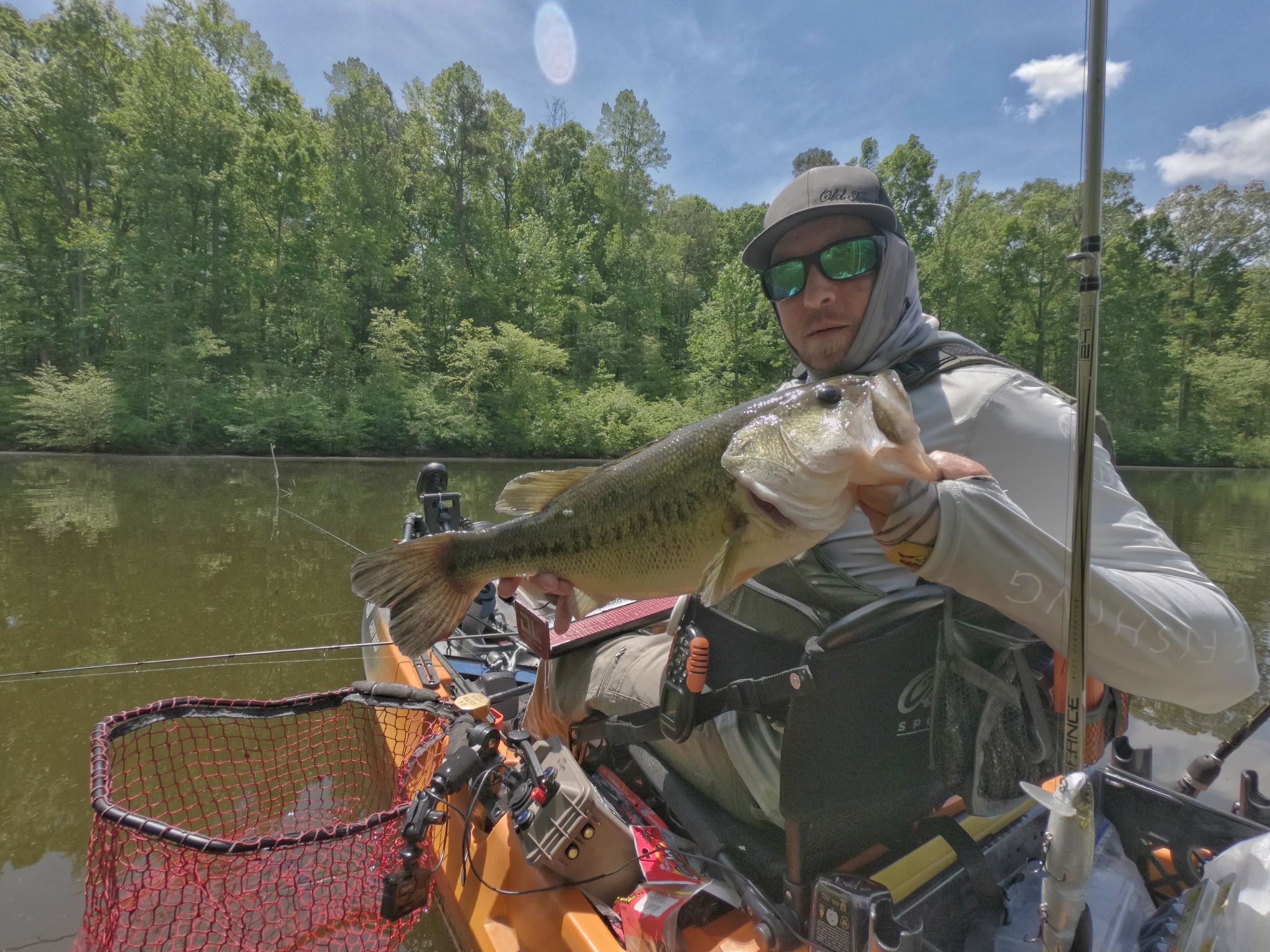 We want to thank our sponsors and everyone who participated in the event this year for sticking with us and we hope it was the best it could have been given the circumstances of a national shutdown of events and gatherings. Several anglers reached out after the event and said they were hungry because they didn't get their yearly ration of BBQ, but they still had fun fishing the 13 hour marathon. If the world is still standing we will host the 2021 13th Annual YakAttack Benefit Tournament at the Cedar Crest Conference Center in Green Bay, Virginia on May 14-15. The entry fee will be $100 and the event will be limited to 200 people. Registration for the event will take place online and will open on January 10, 2021 at 7pm EST. We will post the exact details of the 2021 event and a link to registration later in the year. We have already stated planning and hope to see everyone at next year's event to raise money for Heroes on the Water and Project Healing Waters.
2020 Sponsors
TourneyX | NRS | Anglr | One Objective | Torqeedo | Kayak Bass Fishing | LC Angler's Paddle Sports | Sea-Lect Designs | Floating Feathers Kayak Fly Fishing | Appomattox River Company | Seal Line | Nocqua Adventure Gear | Innovative Sportsman | Lifetime | Rocktown Adventures | Action Hat | Watersports West