Another year is in the books and even with the most rain we have seen in years it turned out to be the best one yet. Out of 200 registered anglers we had 177 participate in the event, and the torrential rains and high water didn't hinder the fishing results. Minus the crappie division all of the 1st place numbers were better than last year and the 2017 tournament had pretty ideal weather conditions.
Our slam format makes things pretty interesting and it isn't easy to run away with any division. The YakAttack Tournament brings in some big names in kayak fishing and some very strong local talent. This year we had 16 different states represented but the anglers from the south east ran away with the top spots. The state taking home the most hardware was Tennessee and took home Blue Gill, Big Bass, and the Slam Division.
This was the first YakAttack Tournament for Jon Gardner from Rogersville, TN and he took home first place in the Blue Gill Division with 19.75" for his two best. For the second time in three years YakAttack team angler Nik Brown has taken home the Slam Division with a total of 39.25" for this year's event, and for the third consecutive year the Slam Division trophy ends up in Chattanooga, TN; YakAttack Team angler Cameron Gatlin took home the Slam Division at the 2017 event with a total of 40.00". Also a Chattanooga, TN resident and first time participant Steve Owens landed some huge numbers on the day of the event. His top two bass went for 45" with his largest being 24". With numbers like that it really proves that central VA is still a solid big bass factory.
At our tournament we only allow an angler to win one division and Steve chose to take home the 2018 Big Bass title and trophy. Florida resident and YakAttack team angler Daryl Boyd took home the Bass Division and the Rob Choi fish print with a total of 40.25". This was Daryl's third YakAttack Tournament and first division win. Local Virginia angler and YakAttack team member Joe Underwood took home the Crappie Division with a total of 18.50" and a beautiful Rob Choi fish print. We want to thank all of our sponsors, volunteers, and employees for coming together to make this happen and we are already planning and looking forward to next year's event.
Blue Gill Division
1st - Jon Gardner 19.75"
2nd - Jeff Lockhart 19.00"
3rd - Max Moran 18.75"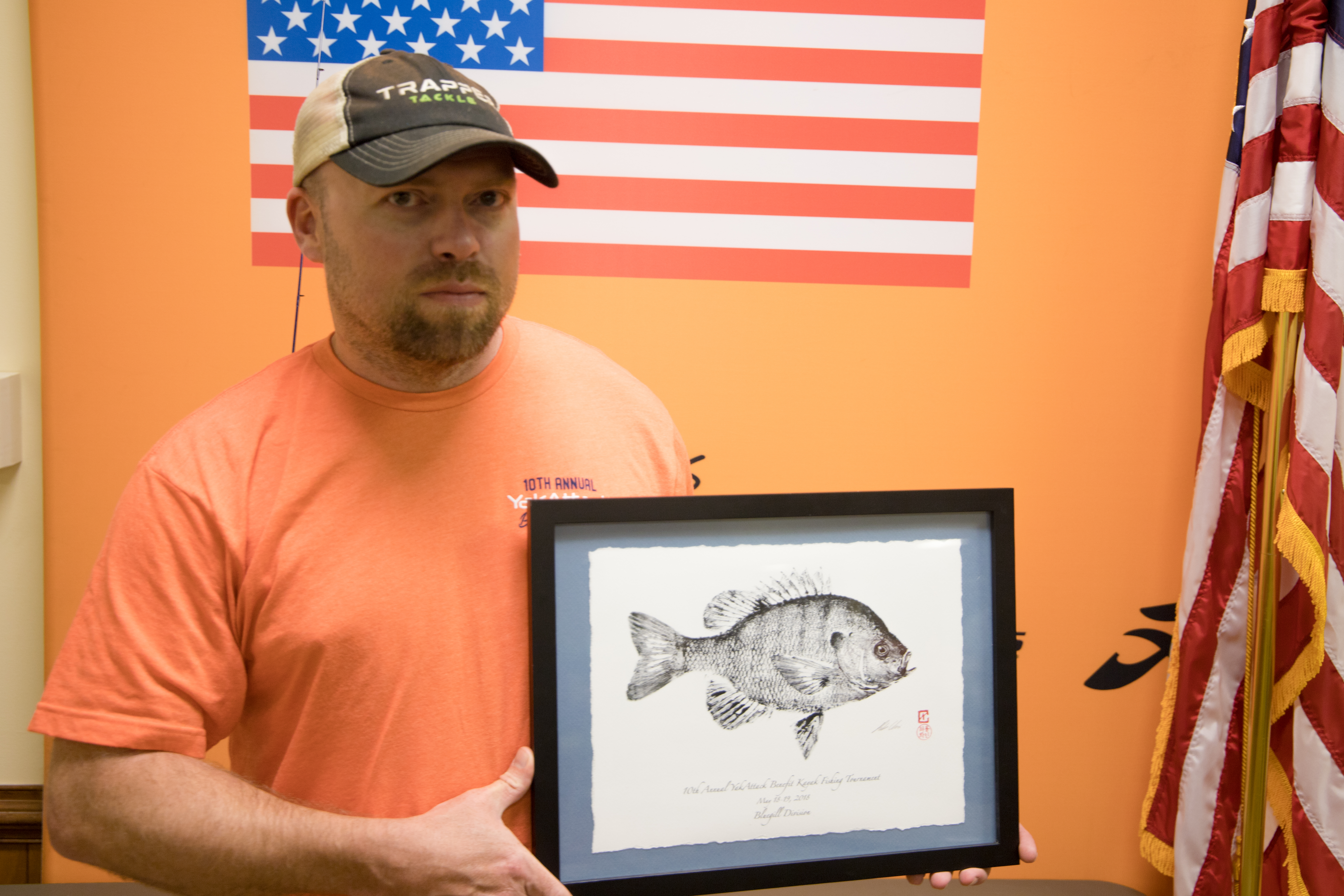 Crappie Division
1st - Joe Underwood 18.50"
2nd - Chuck Chambers 18.25"
3rd - Grant Alvis 17.25"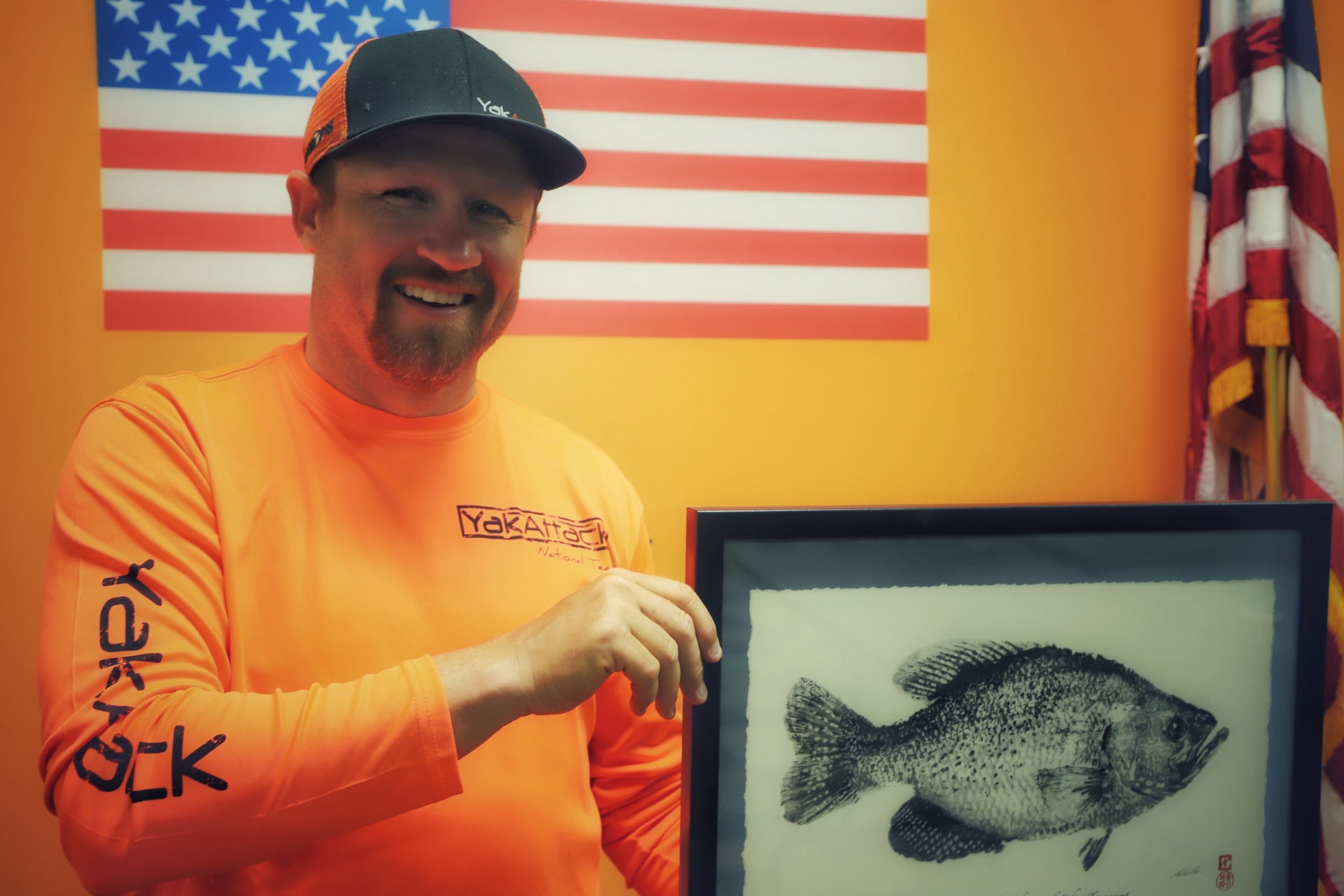 Bass Division
1st - Daryl Boyd 40.25"
2nd - Albert Sklarski 38.25
3rd - Casey Reed 38.00"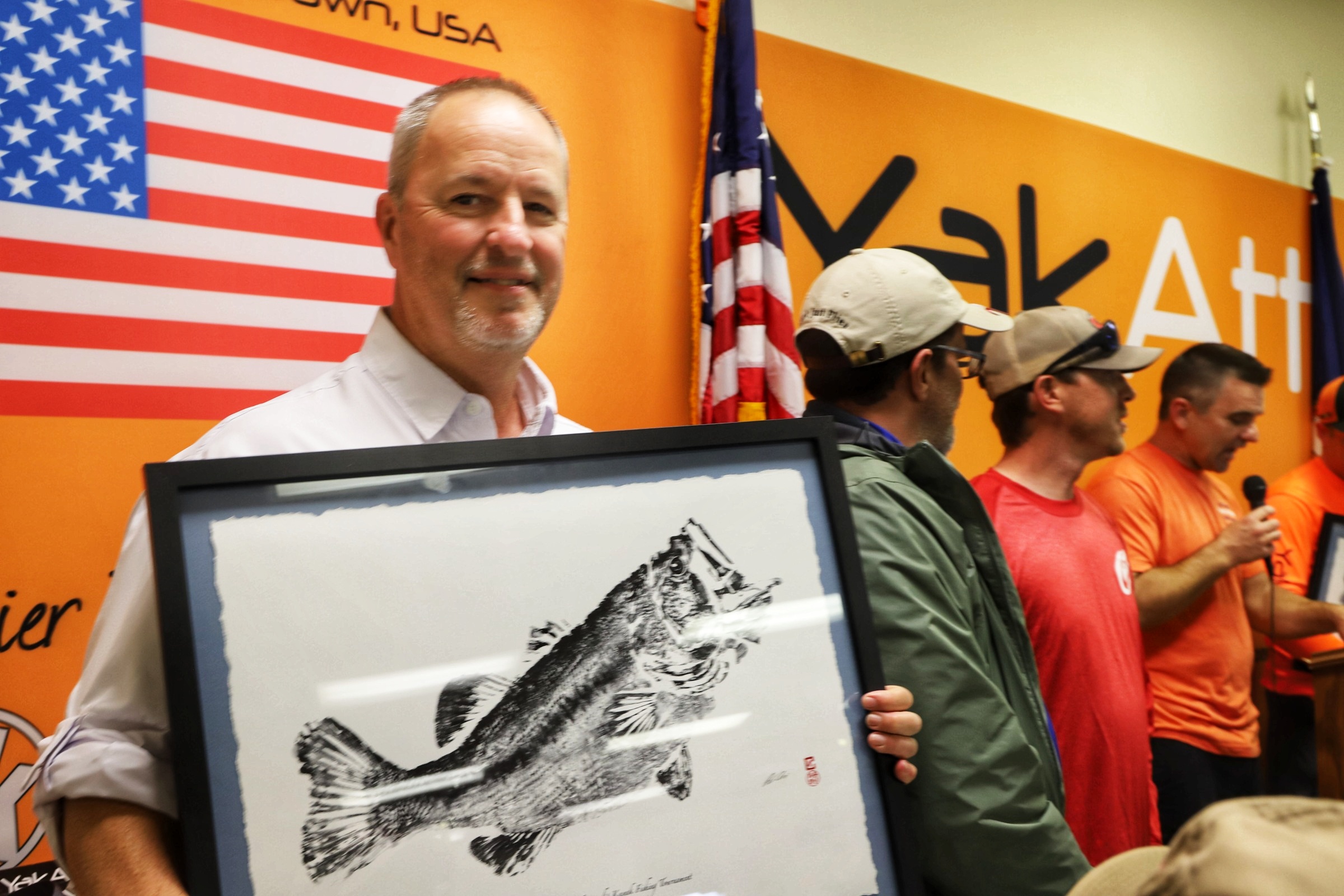 Slam Division
1st - Nik Brown 39.25"
2nd - Danny DeBoard 36.25"
3rd - Joseph O'Campo 35.50"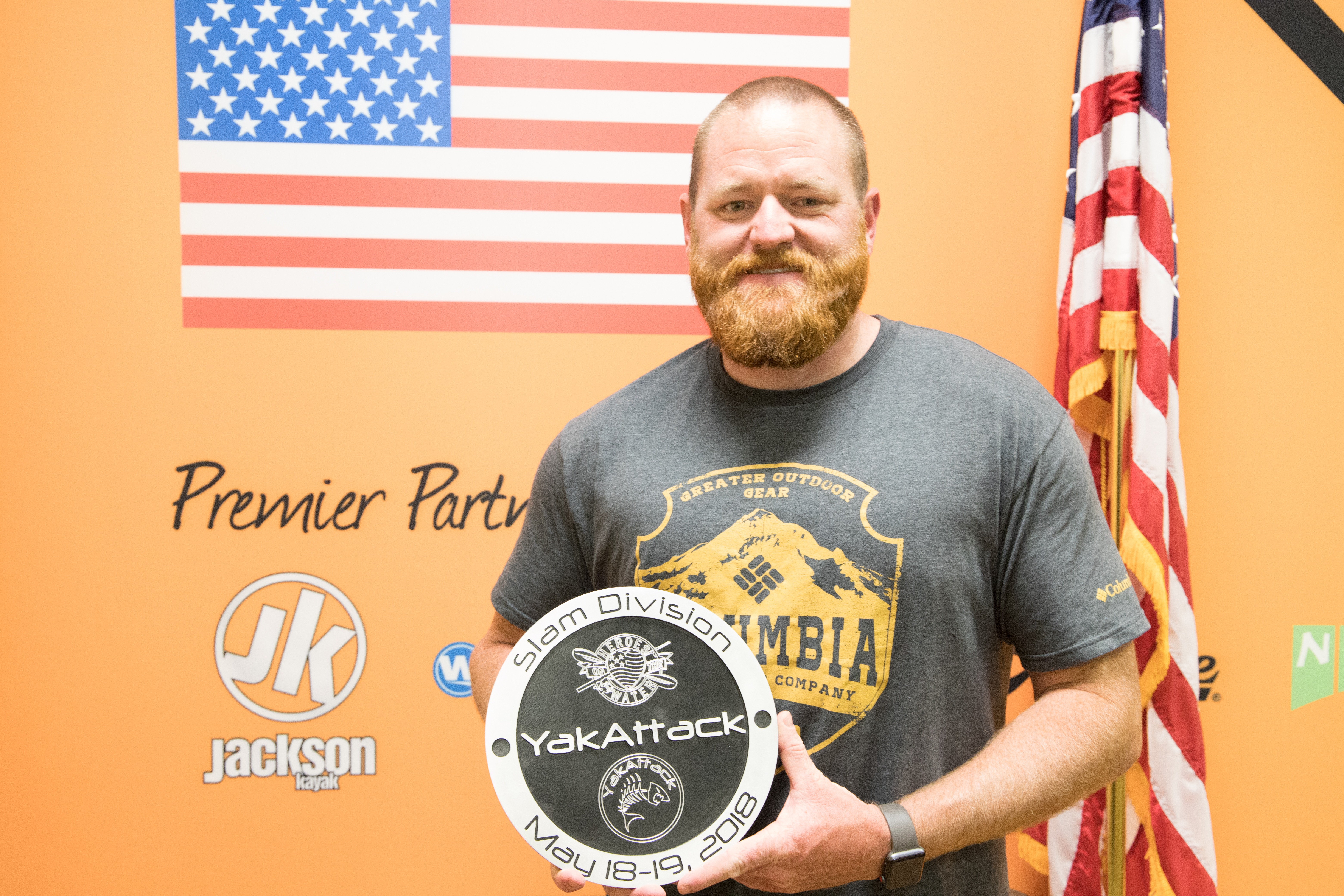 Big Bass
Steve Owens 24"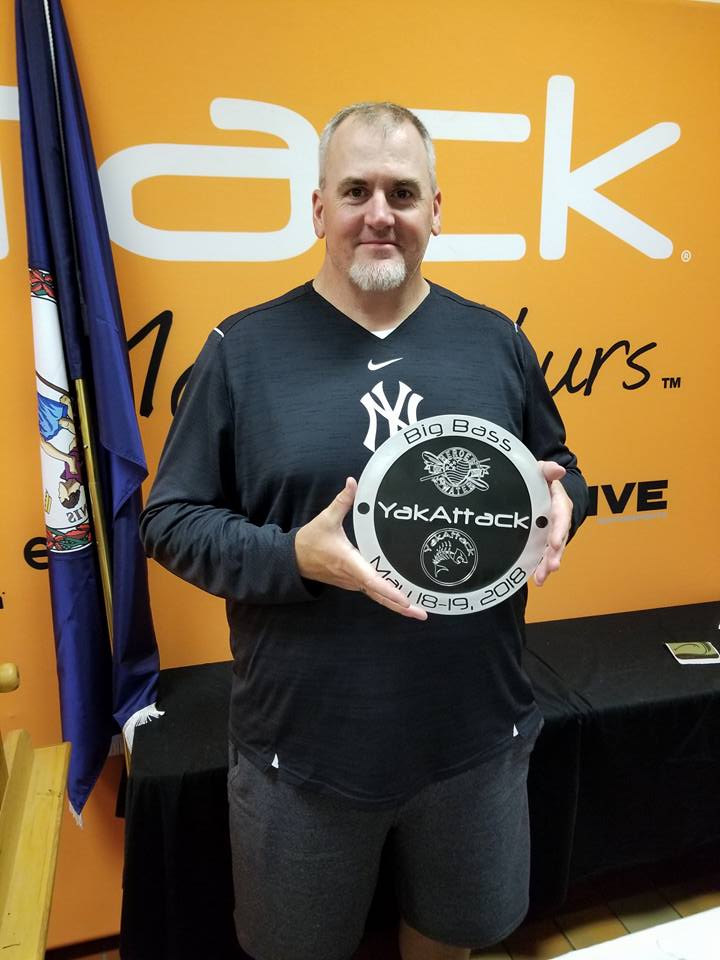 Twin Lakes State Park| Bonafide Kayaks | Evoke Paddlesports | Live Watersports | Rob Choi | Power-Pole | Temple Fork Outfitters | Vicious Fishing | Werner Paddles | BRD Jet | Bending Branches | Floating Feathers Kayak Fly Fishing School | Smallie Stix | Action Kayak Adventures | Ruthless Outdoor Adventures | Kayak Fish PA | Coastal Kayak Fishing Adventures | River Stalkers | Malone Auto Racks | NRS | MTI Adventurewear | Buck Knives | Hoo-rag | SealLine | Wind Paddle | Appomattox River Company | Anchor Wizard | Adam's Custom Lures | Weston Supply | SuperNova Fishing Lights | Action Hat | Kokatat | Tektite | Sea-Lect Designs | Unfair Lures | The Fish Grip | D.O.A Fishing Lures