When people ask me "Where do you live", they want to know the address listed on my tax paperwork. They want to know the state and town where I raise two teenage boys with my wife. But for much of the year, including the last 17 days, the answer is "In that F-150 over there – the one with two kayaks in the 8 foot bed". I live in motel rooms where I occasionally need to bring my valuable fishing gear (depth finder, Torqeedo motor/battery, rods and tackle) into the room with me. I live and truly feel alive in the frothy series of breaking waves of a thunderstorm spawned by Hurricane Ida in Grand Isle, Louisiana. Sometimes my head hits the pillow propped between the headrest and driver's side window of that F-150 at 2 am. That happened on this trip in an Alabama clay dirt lot next to a truck stop after a night in which I battled a tarpon and lost.
Well, I live in New Windsor, Maryland with my wife and two sons. I'm happy to be here after an intense, sleep deprived, hard driving, hard fishing and business productive 17 days that covered 17 states. The respite is overdue. The adventure was intense. When I'm not at home, my life and job selling electric outboards for fishing boats consists of something similar to the following account.
17 Days: August 15th through 31st, 2021
17 Species: Walleye, White Perch, Freshwater Drum, Steelhead, Channel Catfish, Smallmouth Bass, Largemouth Bass, Paddlefish, Gar, Hybrid Striped Bass, Speckled Trout, Redfish, Tarpon, Spotted Bass, Choctaw Bass, Pumpkinseed, Shoal Bass. Three of these species I list even though I did not land the fish: Tarpon, Redfish and Paddlefish. I saw enough to know the type of fish that I hooked, fought and eventually lost.
17 States: Maryland, Pennsylvania, Ohio, Indiana, Illinois, Missouri, Arkansas, Tennessee, Mississippi, Louisiana, Florida, Alabama, Georgia, South Carolina, North Carolina, Virginia, West Virginia
5 Dealers: FishUSA in Fairview, Pennsylvania, EcoFishing Shop in Camdenton, Missouri, Pack & Paddle in Lafayette, Louisiana, Everything Kayak & Bicycle in Gulfport, Mississippi, Southern Boutique Outfitters in Americus, Georgia
2 Kayak Manufacturers: Crescent Kayaks in Carrollton, Georgia, Big Adventures (Bonafide Kayak, Native Watercraft) in Fletcher, North Carolina
3,569.2 miles: This was the distance that I claimed on my expense report. The actual distance was more, as there were "destinations" such as roadside pull offs where I dragged my kayak into a creek that could not be added to the expense report because they are "personal" and have no destination address to list.
Sunday August 15th, 2021
I leave home with a truck packed with two kayaks: a Star Rival Fish inflatable and a Wilderness Systems ATAK 140, a Torqeedo branded 10 x 10 pop up tent, a table and Torqeedo branded tablecloth to go under the tent, 80 catalogs, 8 fishing rods, two Ultralight motors, three 915 Watt hour lithium batteries, a suitcase with enough clothing for half of this trip (had to do laundry at a coin operated machine in Lafayette, Louisiana), a set of NRS Sidewinder Bibs, rain gear, extensive videography equipment in dry bags, pre-portioned shelf stable food in gallon ZipLoc bags (one for each day on the water) and tackle for a wide variety of fresh and saltwater species. The first leg of the trip took me through western Maryland, into the mountains of western Pennsylvania to Fairview, Pennsylvania, where FishUSA is headquartered near Lake Erie. I have a 2:30 pm appointment there with Chuck, a kayak fishing guide, and Emily, a marketing manager with FishUSA.
Chuck Earls is a brave, big hearted and ambitious man who guides for walleye and steelhead on Lake Erie out of his Torqeedo powered Old Town Kayak. He is what I was in the early 2000's: a first generation kayak guide. What I mean by that label is that he is the first to have the courage and ambition to guide out of kayaks on a particular fishery. In 2001, I started guiding for river smallmouth in Mid-Atlantic Rivers like the Shenandoah, Potomac, Rappahannock and Susquehanna. Few people had ever seen someone fish out of a kayak back then, much less have a guide service with that platform. I fought an uphill battle to convince people to navigate whitewater to access great river smallmouth water. Chuck works to overcome similar barriers, convincing people to venture out into Lake Erie in kayaks. That often deadly water can transition from placid and sunny to angry with 5 foot breaking waves in under 20 minutes. Like, I said, he is ambitious. He's up for the challenge as he teaches the safety of dry suits, keeping an eye on the sky and radar and being able to zoom to shore at 6.8 mph with the motor when it's "go time".
He arrived with his daughter Julia. I promptly shoved a video camera in Julia's hands and showed her how to record us. Chuck and I introduced a three video series that teaches the tackle, presentation, water safety as well as the preparation and cooking of walleye and steelhead. Part of the introduction footage included a glimpse into FishUSA's massive and well organized stock of tackle. Hard baits, lines, rods, reels, soft plastics, electronics and terminal tackle in neatly organized warehouse aisles went on for acres. Chuck and I wrapped up the selection of a handful of stick baits, worm harnesses, spoons, blade baits and clip weights that I used the following three days. I then traveled to a hotel near Avon, Ohio where I slept a total of 17 hours in the following three nights.
Monday August 15th, 2021
Chuck and I meet the next morning at a launch that wasn't part of his usual rotation with clients. He chose to use our time together to explore and find new productive water for his clients. The "worm burner", a harness of hooks that you put a night crawler on behind a spinning hot pink and chartreuse spoon gets the first walleye in the boat. A "Tru-Trip" trolling accessory about 6 feet ahead of that delivers the offering down to the 30 foot mark, where multiple sizeable marks could be seen on the depth finder. Chuck provided me with a bandit stick bait to troll on the other side of the kayak. The hard bait was trolled 70 feet back as marked by the line counter of the reel. He also taught me to stop the reel once the stickbait is 35 feet back and add a 2 oz clip weight to get it deeper. When you have a fish on the line, you reel it half way in, remove the clip weight and continue the fight. We put four walleye on the stringer for dinner before a different type of fish took down the stickbait.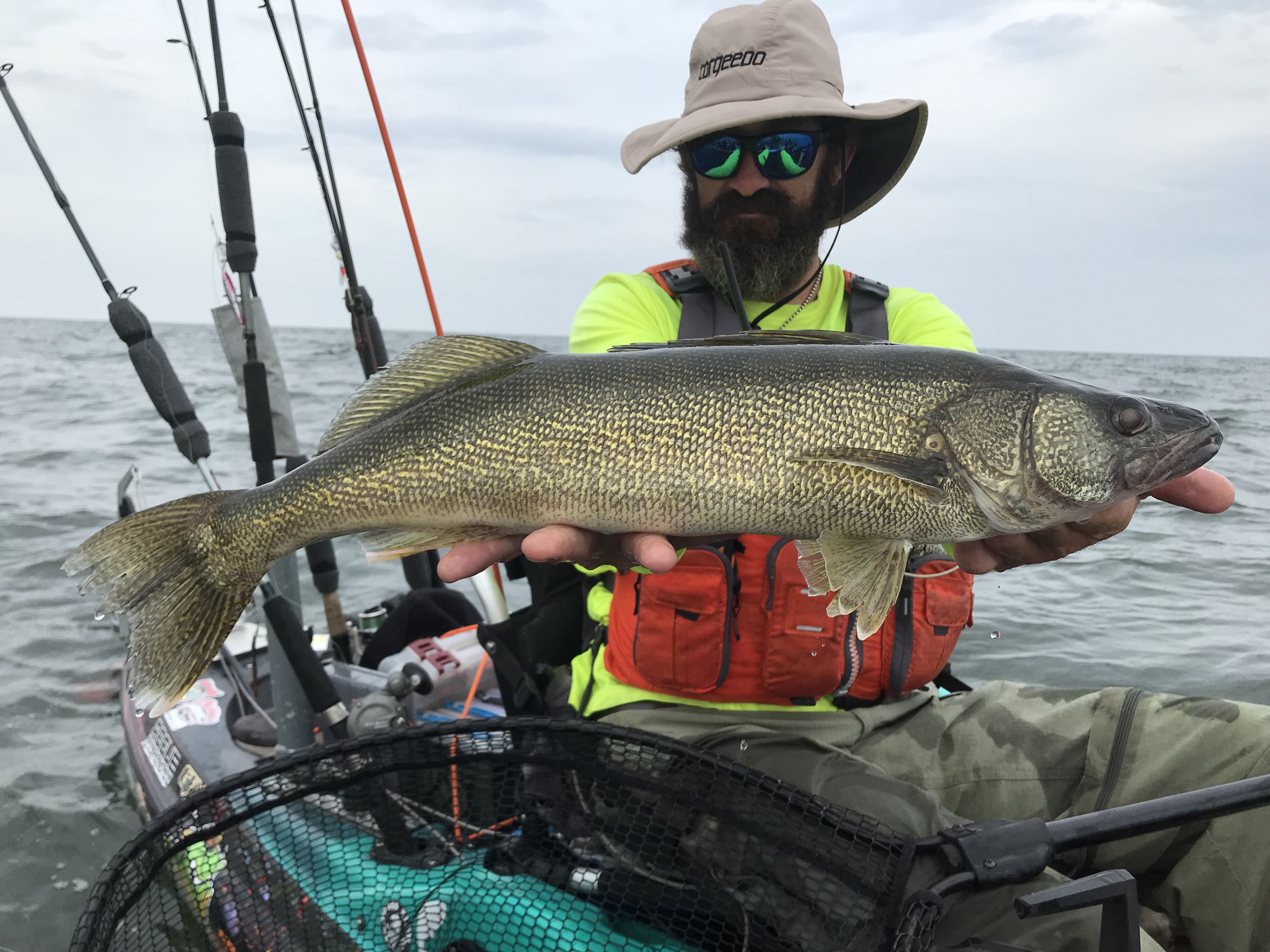 Walleye aren't known as a hard fighting fish. At times, it feels like reeling in a sock filled with mud. But they are great eating, as I will found out much later that night. So when the rod doubled back and drag ripped out the way striped bass on my Chesapeake home water do, I knew that it was something other than a walleye. "Fish on! Fish on!" I call out to Chuck. He moves within range to film the fight. "I think it got off – it was really fast!" I explain as I remove a clip weight from slack line. About the same time, a silvery rocket explodes out of the water in between Chuck's kayak and mine. I'm confused, but I keep reeling and feel the full weight of the fish again. I eventually net the fish on the opposite side of my kayak that it just jumped. "Steelhead!" Chuck cried out as I scoop the fish up with my YakAttack Leverage Landing Net.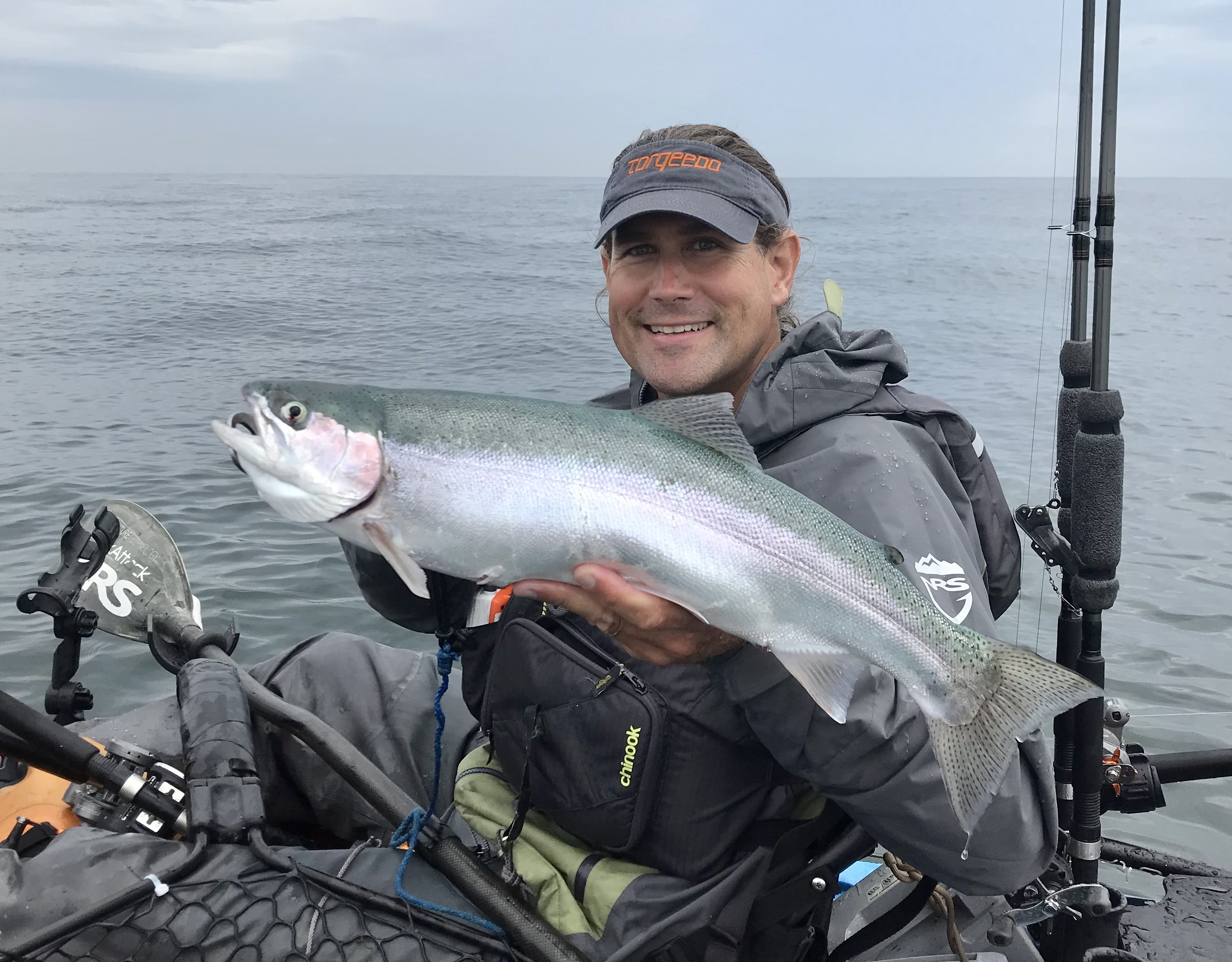 We continued the exploration of new water, reaching as far as 4.3 miles offshore. Cleveland's skyline loomed large in the distance. Chuck kept his eyes on the sky and routinely pulled up the radar on his phone. At some point, he abruptly called out, "Lines in!" I questioned him as to why we are ending our day early, and he explained, "See that group of clouds back in the direction we launched? That's starting to form something that could become a thunderstorm. We need to at least move within a mile of shore so we can make a quick run if we have to." We quickly sliced across the still calm water at almost 7 miles per hour. Once we could see the launch, he let me know to go ahead and start trolling again. We continued to catch fish until sundown. We ended up at his house later that night, filming the cleaning and frying five of the walleye in a bread crumb and Ritz cracker breading. I've never had fish taste so good. Here's the video from day 1: https://youtu.be/ptIcv-5EgqM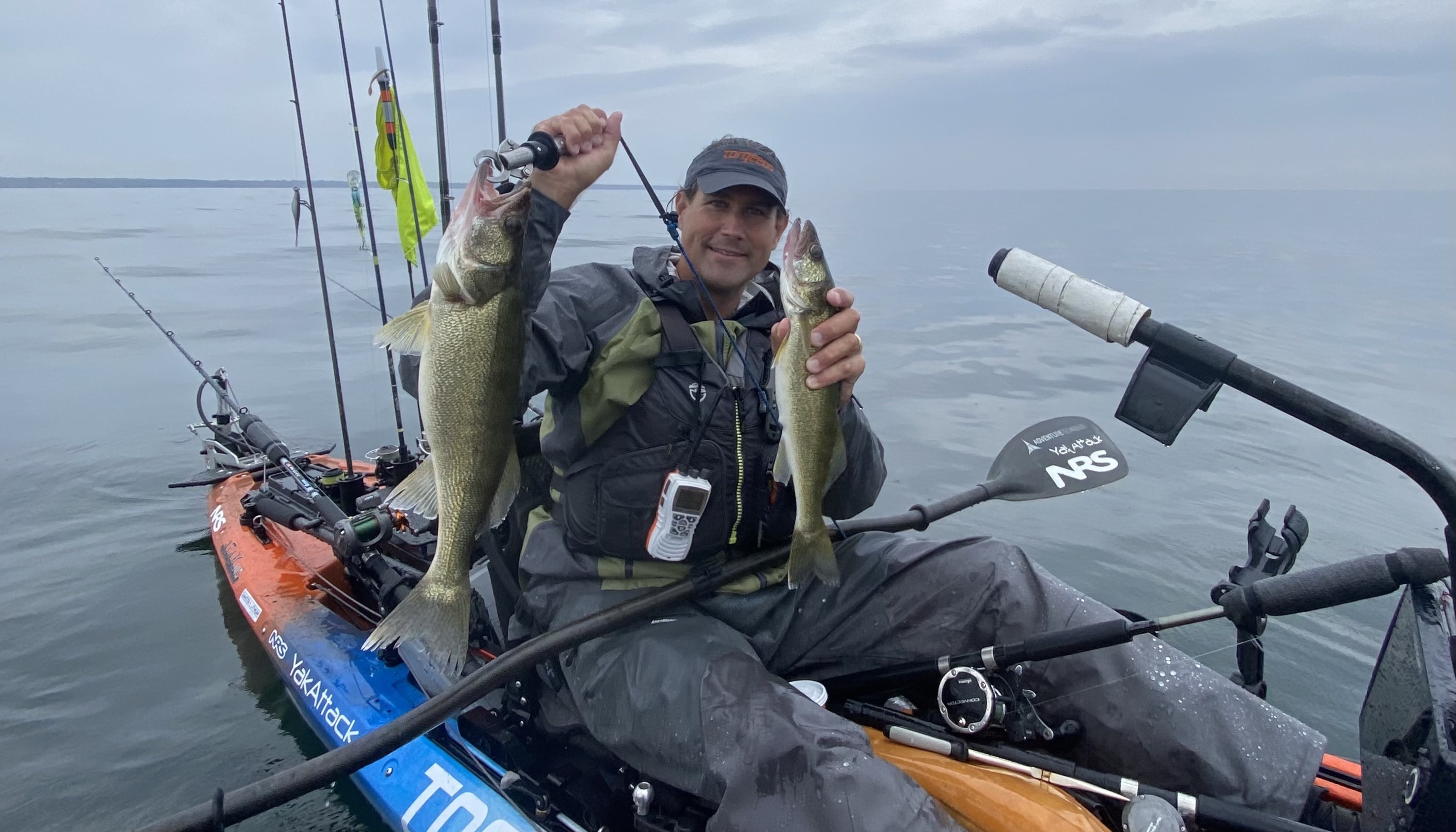 Tuesday August 17th, 2021
Day 2 brought more of the same consistent walleye catching. We ventured as far offshore as 6 miles. Chuck reviewed some jigging options for the camera, but the trolling tactics got the job done. He pulled in several fish in the mid 20 inch range. On the way back in, I hooked and fought a 15 pound channel catfish. Like the steelhead the day before, I immediately recognized that the fish at the end of the line was not a walleye. Some of the 23 to 25 inch walleye can put a significant bend in the line, and you can't really expect to horse them in and get them into the net. But a thick headed channel cat will straight up rip drag on a set up for walleye trolling. Day 2 video: https://youtu.be/RjxPZR74H-w
Wednesday August 18th, 2021
On day 3, we decided to target smallmouth. I had never caught a Lake Erie smallmouth. Chuck's forte is walleye and steelhead, so we consulted with Team Torqeedo angler Shaun Boggs, who provided some very detailed directions on where we should go. Instead of trolling with the Tru-Trips in front of worm burners and clip weights ahead of stick baits, I tied on two deep diving crankbaits that I have used with success with reservoir smallmouth back in Maryland. We continued to catch both walleye and freshwater drum. The most consistent bite came on spots where the depth contour lines were stacked tightly together: drop offs. I started to search the depth finder chart for more of these areas and found a deep water hump – a 22 foot peak with lots of 27 foot water all around it. I made a beeline for the feature and on the first pass, both rods doubled over. Chuck caught up and filmed the first fish in, a 19.5 inch, 4 lb 8 oz beautifully tiger striped smallmouth. The other fish, a thick drum hung from my Boga Grip at 8 pounds even. My first impression of the fish was that the mouth was undersized for the body. I know that they are "small" mouth, but I handle a lot of this species. I believe that the forage base here must be good enough for the muscle growth to out pace the skeletal growth of these hard fighting football sized fish.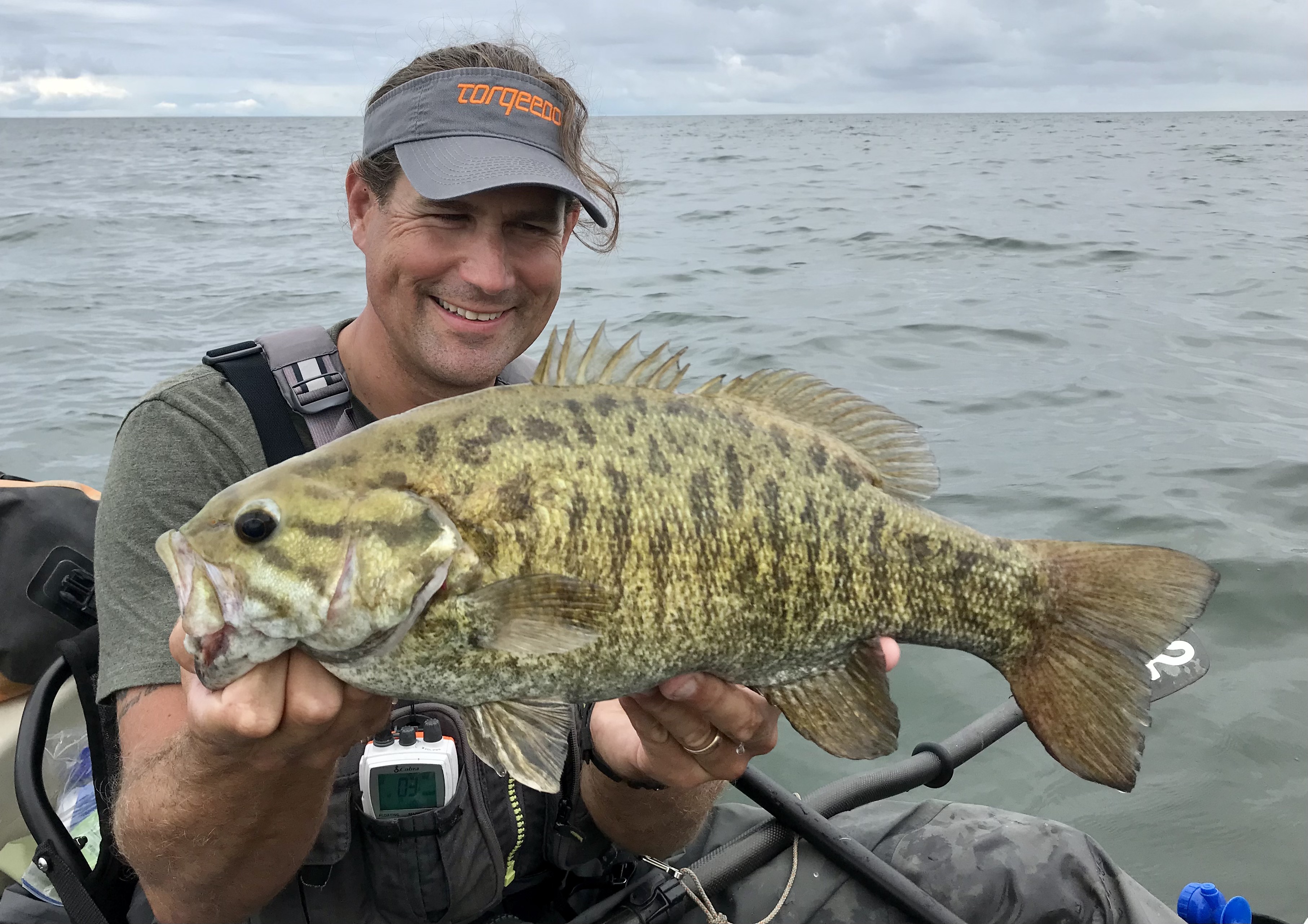 I will note that Chuck and I were incredibly fortunate to have three days in a row where the wind laid down enough on Lake Erie to launch and film each day. It's a rare and fortunate occurrence. I ended the day by driving through Ohio, Indiana, into Illinois, past Chicago to Crystal Lake, Illinois where Torqeedo's United States operation is based. Day 3 video: https://youtu.be/ECZbROmXkSY
Thursday August 19th, 2021
I arrived in Crystal Lake late the night before, caught up with emails, Facebook messenger messages, texts, Instagram messages, smoke signals and other assorted methods of communication. When you are on the water most of the day, then drive for 6 to 8 hours straight, the communication "to-do" list grows quickly. Much of this happens after midnight in a hotel room. I got a few hours of sleep, then head in to the office. We had a company wide meeting with presentations. I'll not provide any detail here, but know that electric mobility for boats is booming, and Torqeedo is the benchmark for safety and quality. Business is very good. After a nice catered lunch, I returned to the hotel room around 2:30 pm.
Once back at the quiet hotel room, I didn't come up for air for over 10 hours, editing all three days of footage. I set up my laptop with three of my video cameras and an external hard drive. During the editing process, I routinely checked on video camera, Torqeedo motor, depth finder and cell phone battery chargers. All outlets in the hotel room and bathroom were being used to bring a variety of lithium batteries back up to 100%. I completed the editing of all three videos, uploaded one to the Torqeedo Kayak Fishing Facebook Page, and all three to my YouTube Channel, The Little Stuff. At 1:30 am, I realized that I forgot to eat dinner. I found a granola bar in my suitcase, washed it down with the complimentary bottle of water, laid out my clothes for the next day, gathered all of the battery chargers and packed up everything I could for a quick departure after barely 4 hours of sleep.
Friday August 20th, 2021
This day brought a company event in which all employees were treated to a boat ride around the Chicago waterfront followed by a nice lunch at the top floor of a downtown skyscraper restaurant. While we were out on the cruise, the United States Navy Blue Angels performed practice runs for the air show scheduled for the following day. The deafening sound overhead shook more than our eardrums. The intense white noise arrived in delay of the amazing acrobatics: free fall spirals over Lake Michigan, "splitting the uprights" between Chicago's downtown buildings and coordinated formation maneuvers that left you wondering if there would be a mid air collision.
Following the company event, I drove to a small motel in Havana, Illinois. This dank and dirty motel was the first of several questionable lodging accommodations I found myself in on this trip. When you stay rural, there aren't as many choices. You just don't know what you are getting until you arrive. Hotel chains aren't always close to the types of places that I want to launch my kayak the next morning. I tend to drive late into the night to get miles behind me and get close to the next target location. In the case of this long run south of Chicago, the target location was a Wetlands Reserve off the Illinois River.
Saturday August 21st, 2021
I slept in. My body and brain needed the reset. The place I chose to fish was only a few miles away from the motel, but it was 11:30 am before I launched. I can't always enjoy both the first light bite and the sunset bite. A sunset bite seems to be my preference. The area had been farmland, but the Nature Conservancy took ownership of it and allowed the floodwaters of the river to take the area back to the natural state: a river bottom wetland, perfect for the migratory sand cranes and other birds. Largemouth bass also flourished there. The "creek channel" that I thought that I identified within a few moments of launching turned out to be an old drainage ditch, originally excavated to make the other acreage farmable. I found more, each one running either perfectly parallel or perpendicular to the others. Any lure dipped more than 3 inches below the surface disappeared behind thick brown suspended particulate. Several stands of lotus pads lined the shallow eastern edge of the water. I auditioned several different lures, but the first one that got smacked was a black Z-Man Jackhammer bladed jig with a black with blue fleck Palmetto BugZ trailer. That noisy bait moves a lot of water, announces its arrival and is easily tracked in the murky water.
A thunderstorm formed over the river on the east side of the wetlands reserve. A 25 mph wind rushed across the water towards the big dark clouds. The storm appeared to be moving past, but not into the area. I kept fishing. Looking across the edge of one of the drainage ditches where the clay edge came out of the water, I spotted movement. Wind pushed across the shallow drop off edge that went from inches deep to a six foot trench. I could barely see the back and dorsal fin of a fish scooting up onto the edge. The largemouths belly must have been pressed into the mud it was squirming across in that shallow water. The wide bodied fish turned and ate some hapless morsel that the strong wind delivered into place. Placing a cast parallel to the drop off with the Jackhammer yielded several 18 and 19 inch largemouth. The bite continued as long as the wind was blowing. But the storms moved past, and the bite trailed off.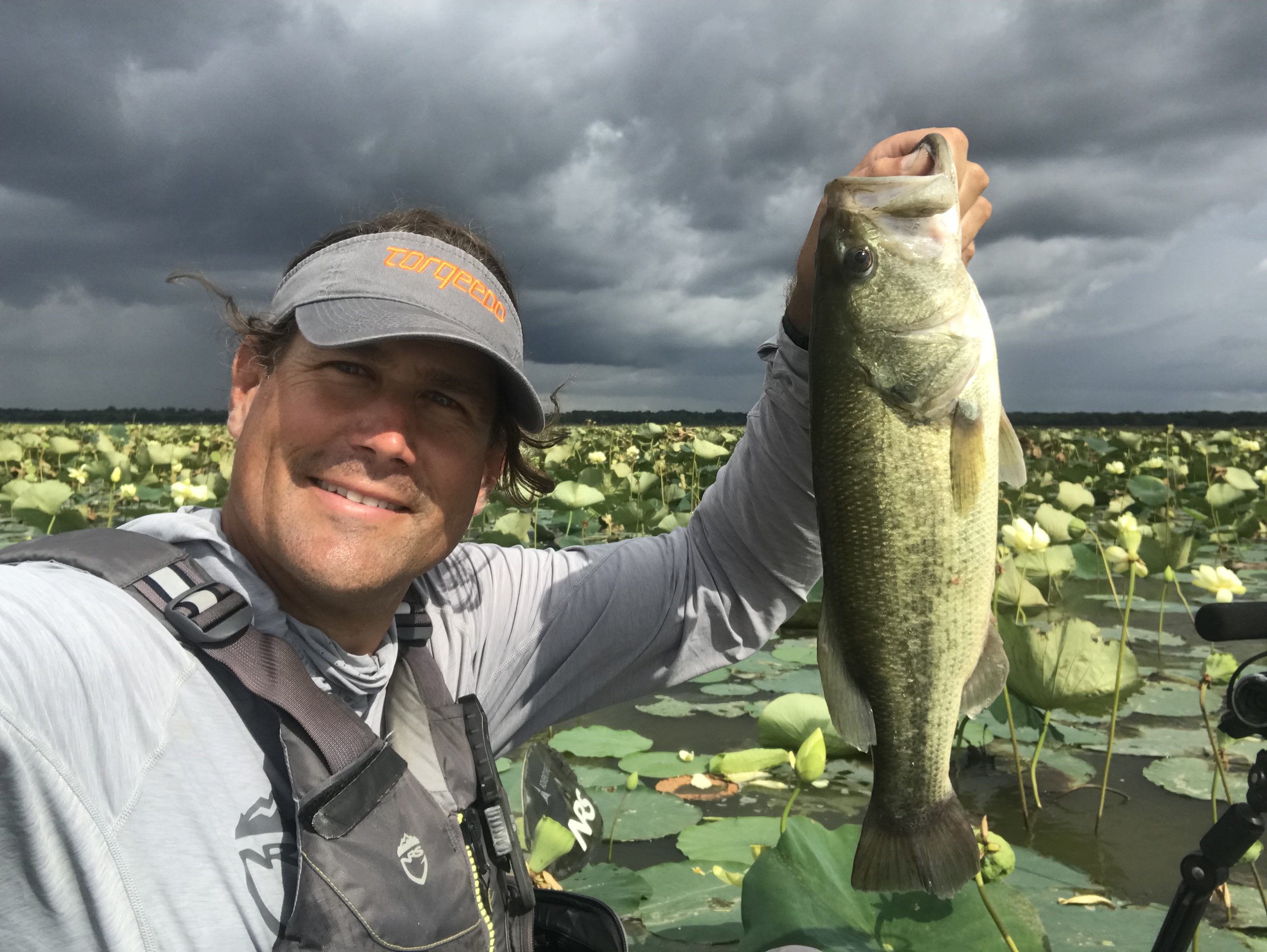 With the sun lowering, I decided to explore the upper end of the wetland where several drainage ditches entered. I set the Torqeedo Ultralight throttle at 3 mph, and started chucking that Jackhammer randomly and quickly. One of the casts pulled in a 14 inch largemouth. Another one was met with a powerful explosion in shallow water from a fish that looked to be around 40 inches long. I fought it for about 30 seconds, unable to bring it towards me. I could see a deeply forked tail and some other shapes that made no sense to me. Initially, I thought it might be a musky or a very large pike. It popped off and I watched the reverse wake trail off in 18 inch deep water to the nearest submerged drainage ditch. Looking back, I believe that it was a paddlefish that I accidentally snagged with the Jackhammer. I found several other nice sized largemouth before the sun set. Here is the video of that adventure: https://youtu.be/b_zU92GZ8Jw
Between sunset and some time around 10 pm, I drove several hours south to Pittsfield, Illinois. I lucked into a cleaner hotel than the one the night before. This time, I didn't feel the need to carry my valuables into the room with me. I stayed up until 1:15 am editing the day's trip and uploading it to YouTube.
Sunday August 22nd, 2021
Moving south and crossing several rivers in the upper Mississippi watershed, I made my way to Camdenton, Missouri. I had an appointment the following day at EcoFishing Shop. Arriving at the hotel near Lake of the Ozarks, I set up my laptop and external hard drive, caught up on emails and recharged various batteries. I initiated another upload to the Torqeedo Kayak Fishing Facebook Page: one of the Lake Erie videos. Leaving the laptop to that upload, I chose a nearby creek to explore.
The low water bridge access point proved to be a popular spot for locals to float in kayaks and inner tubes while they drank Busch Light and splashed their friends. Most of that activity was going on south of the bridge, so I blasted up through the low clearance of the bridge and explored upstream. I'm never sure what I'll find when I just pick a small river to fish. This one had a great variety of species, but wasn't the strong smallmouth fishery I had hoped for. I caught several smallmouth and largemouth, but none were of any size. I motored and casted my way up to a dam that I had identified on Google Maps when deciding on an area. Dam tailraces always produce fish. A 6 lb freshwater drum did have me fooled for a moment. Once at the dam, I hooked a 3 foot long gar. Once it was done jumping, I dragged it over to a gravelly beach and applied the longest part of my pliers to remove my hook from rows of skinny sharp teeth. I also hooked a hybrid striped bass in the whitewater at the base of the dam.
On the float back to the bridge, the creek that I had written off as "not a great bass fishery" proved me wrong. A largemouth in the 5 lb range crushed my gold Jackhammer, going airborne long enough to show me my incorrect assessment. It threw the bait. I got back to the launch and was swarmed by four horseflies that were about 2 inches in length. One bit me through a cotton t shirt. I killed two of them, swatting with my visor when they stopped on my tailgate. The others kept me packing up my gear as quickly as I could. The permethrin bug spray that I applied before launching did nothing to slow these monsters down. I got back to the hotel room, set up another video upload and got some rest.
Monday August 23rd, 2021
EcoFishing Shop came out of the gate strong as a Torqeedo dealer about a year ago. They understand how to leverage e-commerce better than most other dealers. I wanted to swing by their brick and mortar. Inside, I found a very new, fresh looking retail operation with lots of kayaks, stand up paddle boards and tackle. Travis, the shop manager and his dog greeted me. He showed me one of the Torqeedo installations in process, then we watched a few of my installation videos on their big screen television behind the register.
Leaving Missouri, I knew that I had some time in between this dealer and the next appointment at Pack & Paddle in Louisiana. I called Team Torqeedo Angler Brad Case and asked if he had time the next day to get on the water with me. He had just left Louisiana where he had been prefishing for a kayak fishing tournament. Brad had just returned to his home in Mississippi. He texted me a pin drop where we would meet the following morning at 5:30 am. I completed a Google Maps search for lodging close to that pin drop.
This was one of the lodging locations in which I brought items of value into the room with me. I backed up my truck to the window of my first floor room, and left the blinds open to a line of sight from my old sagging double bed to the bed of my truck. Cable locks secure my kayaks to tie downs in the bed, but there's lots of other stuff that could be pilfered. I had the thought, "What items do I NEED in order to complete all the tasks of the remainder of this trip?" I brought those items inside in four separate trips. On one of the back and forth trips, I could hear a domestic dispute down the hallway. A man slammed the door to that room as I stepped around a ceiling drip catching bucket in the middle of the stained hallway carpet. It wasn't a very restful sleep.
Tuesday August 24th, 2021
At 4:45 am, I rolled out of there as quickly as I could. It took a few trips to get my gear out of the room, and on the last trip, my key card failed to open the front door to the hotel. I buzzed the doorbell. I knocked on the glass. Nobody came. I buzzed some more, and thought of calling Brad to tell him I would be late. Walking around the side of the poorly maintained hotel, I found another entrance that had a key card entrance. It had mattresses and kitchen equipment stacked up in front of it on the inside. I thought, "I can crawl over and around that stuff if I can get inside." The key card didn't work there either. Walking around the back, I found another door. The key card failed again. Then I just pushed on the door. It opened without resistance, apparently from the pin being forced open. I got my remaining rods and depth finder monitor out of the room and tossed my non-functioning key card through the little opening in the Covid plexiglass at the front desk.
Brad was already there when I arrived, only two minutes late. I turned on the video camera to kick off an introduction for the video and switched to night vision mode. As Brad introduced me and explained what we were about to do, the humid Mississippi air obscured my lens. I laughed and jammed my finger to clear the moisture. From the meeting spot, we drove through a peanut farm to an oxbow of the Pearl River. Along the way, we had to unhook three low slung barbed wire strands across the dirt road leading in. The heavily electrified fence was designed to keep wild hogs from getting to the peanut crop.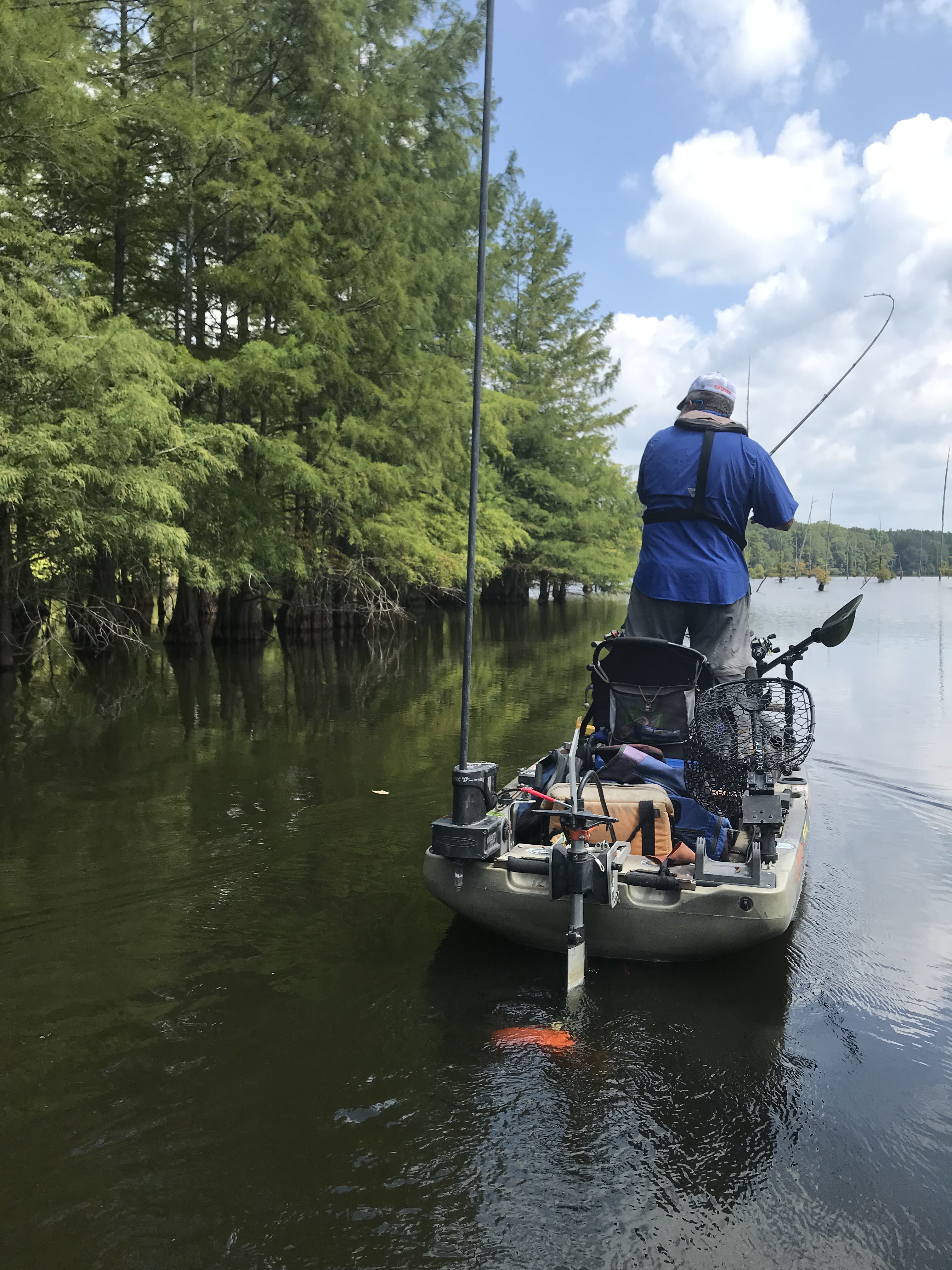 Brad and I launched and we made a beeline to his sweet spot, motoring at almost 6 miles per hour. Along the way, I filmed his talking about the efforts to make kayak fishing a high school sport. It's happening at the college level, so why not? We pulled into a gap between two points. The Cypress trees hung Spanish moss like a set of door beads to some back room of a bar where the good stuff is served up. I hooked the first one right there on a gold Jackhammer, but the back corner was where I put the rod down and filmed Brad catch 4 fish in almost as many casts. His largest was over 20 inches, and I caught a pair of 19 inchers. We fished until around 11:30 am, then hit a local Mexican place for lunch. This short trip gave me enough time to make it to my next stop: Lafayette, Louisiana. Here's the video of "Mississippi Morning" https://youtu.be/A2nwo2cCfyU
I arrived in Lafayette in time to complete some coin operated machine laundry in between editing the mornings adventure. I didn't get it uploaded because the WiFi was terrible. While I was checking my gear to make sure there was nothing on my kayaks that looked like a candidate for a five finger discount, I noticed that I had been dragging one of my tie down straps. It wasn't frayed too bad. I recut the edge and dug out a lighter to singe the end of the strap. Doing this attracted some attention. In that dark parking lot, the spark of a lighter was noticed. A man in an S-10 pick up came zooming across to the parking spot next to where I was working on my gear. "Hey man you gotta cigarette?" I replied that I did not. He repeated his request for a cigarette, and I reiterated that I did not have a cigarette. I never understood that. If I see someone eating French fries, and I think "Man, I could go for a French fry", I would never walk up to that person I had never met and ask, "Hey bud, can I bum a fry?" I got my laundry done, caught up on all the Facebook messages generated by the Lake Erie videos, replied to all emails, charged all my batteries and slept enough before my 8 am appointment at Pack & Paddle with John Williams and his crew.
Wednesday August 25th, 2021
This is one of the coolest shops in the south. It took several years to get them as a dealer, but I am glad that they are on board selling Torqeedo. John Williams is the perfect leader and owner of a paddle shop. Legitimate experience in the outdoors, paddling, hiking and fishing is so valuable if you want to have the right gear, provide the right rigging and get your customers set up for their own epic adventures.
Amy, the store manager let me in the side door an hour before the shops posted opening time. I worked with the Pack & Paddle crew to install an Ultralight 403A on a Bonafide SS127. His group of engaged, hands on employees jumped right in, drilling holes, running steering lines and asking detailed questions on battery options and how to rig other models. John generously offered up lodging and a home cooked meal at his home nearby. I didn't need to be in Grand Isle for the Louisiana Coastal Conservation Association "Ride The Bull" tournament until later that week, so I took him up on the offer.
Going on the recommendations of one of his employees, I found a late lunch of some sort of beans and rice with spicy sausage at a local sandwich shop before heading over to John's place. He was busy with orders, so I had time in the afternoon to transition my rods from freshwater fishing to targeting giant redfish and feisty speckled trout. That evening, John grilled and his wife Becky put together the rest of a delicious home cooked meal. It's tough to get vegetables through a drive through window, so this type of meal is so appreciated when I am on the road. John shared some photos of both he and his wife holding up monstrous redfish. I need to come back and fish with them this winter.
During dinner, we discussed the then unnamed Tropical Storm in the gulf. I had been talking with Dustin Nichols, a Team Torqeedo Angler who I planned on fishing with for a day or two before the weekend's tournament. He was driving over from Texas to meet with me and prefish the marsh for a Bayou Coast Kayak Anglers tournament that will be held in Grand Isle in October. Dustin expressed some concern about the storm, but reassured me that he was still coming. I asked John his opinion on what the storm would do. He said that it looks like it would come in well after the Saturday tournament, but the task of boarding up, packing up and getting out may take precedence over a fishing tournament.
Thursday August 26th, 2021
I left early the next morning refreshed and excited to catch some reds and specks. Dustin texted that he was running a little bit behind. I made the several hour drive to Grand Isle and checked us into the motel on stilts. I met the owner, who didn't remember me making the reservation over a month ago. Dustin showed up during the hour long period of time it took the long winded owner to figure out where to put us. Escaping the owner's conversation proved to be challenging. We dumped our suitcases in the room and headed to a local launch for the afternoon. I am not sure that the motel still stands. CNN drone footage of that barrier island showed the kind of damage you would expect from a tornado: very few structures remaining, piles of splintered lumber, shingles and standing water everywhere. Grand Isle ended up being directly in the path of what became Hurricane Ida. This massive storm chased me the remainder of the trip.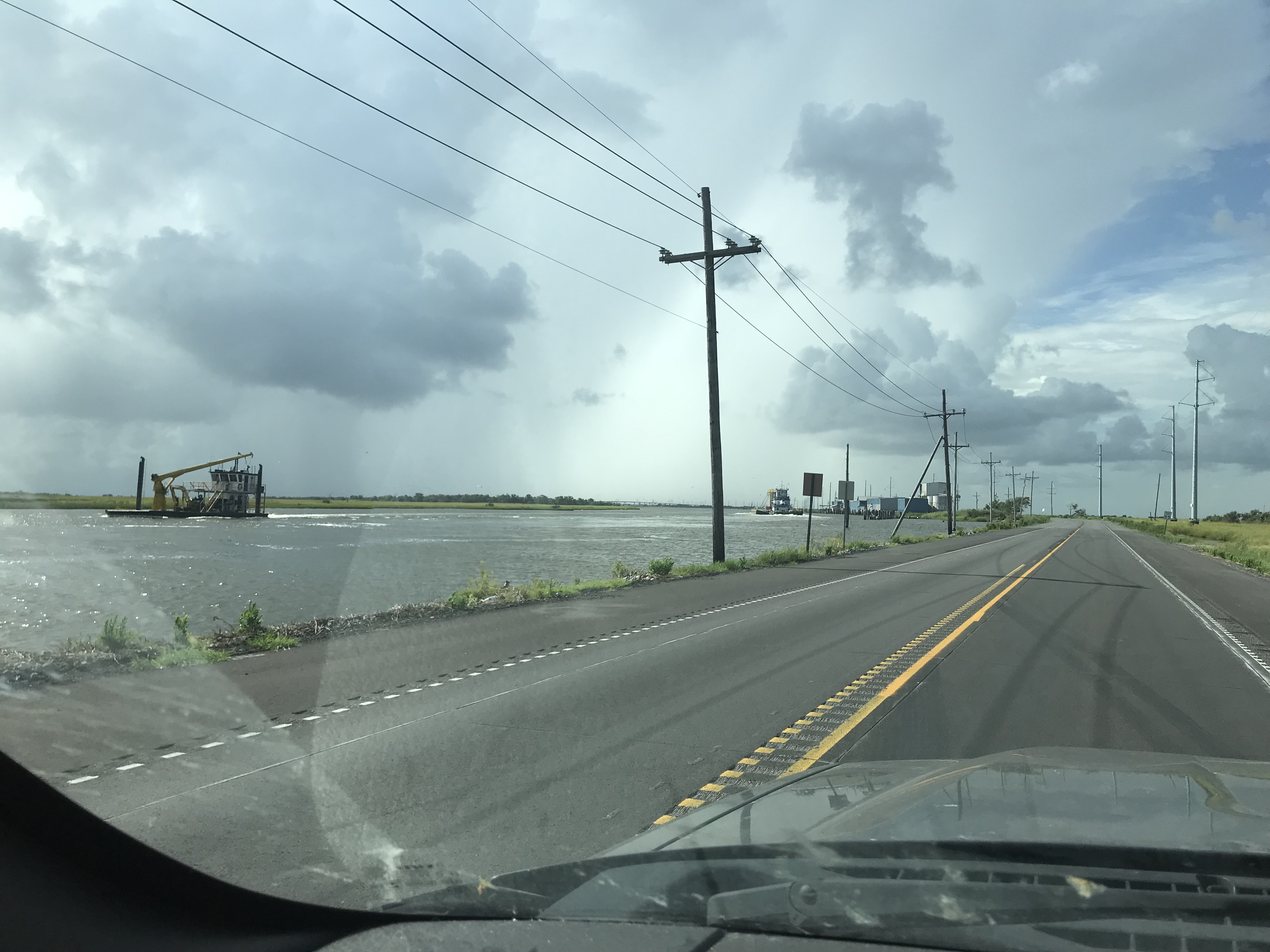 Dustin and I fished that afternoon. I hooked into a redfish that exploded in shallow water on my 7 inch swimbait tipped Jackhammer. It ran drag, changed directions twice, ran more drag and popped off. I reeled in the bait and found that it had straightened the hook. My largest redfish to date is still 41 inches. The fish I encountered there would have been my new personal best.
Throughout the afternoon, we watched thunderstorms fire up and douse the marsh behind us. With the wind direction moving toward the heavy dark clouds, and open blue sky over the gulf, we felt safe from the earth's fatal static electricity transfer with the atmosphere. We had some big breaking waves though. That wind whipped up some rough water that pushed us back into the marsh and out of the pass. Dustin got into a little speckled trout and flounder action, and we chased the occasional signs of big reds busting bait in one cove in particular.
On the way back to the ramp, the previously blue sky over the Gulf became obscured by heavy gray clouds. We had already crossed the pass when it started. I recorded cell phone video footage of Dustin on the opposite side of a jetty moving at full speed with his Ultralight 1103 to the ramp. I know that my full speed perspective moving in the opposite direction to get around the jetty had something to do with what this video looks like. Nonetheless, his sprint was an impressive display of "beat feet to the ramp". The video shows Dustin over taking a power boat that was also breaking the "No Wake Zone" rule in order to get to safety before that storm hit. I didn't make it in time. I got soaked. I couldn't see where I was going because of the rain and 40 mph wind that just chopped off the tops of breaking wind and splattered that water across the gaps in between the 3 foot waves. I passed Dustin on the way to the ramp. He took shelter on the shoreline about 200 yards short of the ramp. I took it and continued to the ramp, hitting it at full speed, hopping out, dragging it far enough to not be blown back into the water then sprinting to a nearby pavilion. I posted the video of Dustin's pre-storm sprint on the Torqeedo Kayak Fishing Facebook Page.
We learned while eating dinner at a local restaurant "Hurricane Hole" that an evacuation order was going into effect the following morning at 10 am. I would move east to get out of the way of the storm, and Dustin would return to his home in Texas the next day.
Friday August 27th, 2021
This was supposed to be a full day of fishing the marsh with Dustin. Instead, I found myself scrambling to get out of Grand Isle, then figuring out what I could do with the time in the south before my next appointment at Crescent Kayak in Carrollton, Georgia the following Monday. I called Brandon Barton, a Team Torqeedo Angler and kayak fishing guide near Pensacola, Florida. He said that he could get on the water with me that night. He explained that there was a window of time between 7 pm and maybe midnight before the wind would kick up there. I arranged to meet him at a pin drop he texted me, then figured out what I was doing until then.
I stopped off at Everything Kayak and Bicycle in Gulfport, Mississippi. Shop Manager Edward Hornsby was happy to see me. We talked tournament fishing, kayak rigging and local fishing. He invited me to stay for fish tacos that he would be grilling and serving up for his employees later that afternoon. In the mean time, a shipment of Hobie Kayaks arrived. I jumped in and helped them unload the truck. After a few red snapper tacos, I headed east to find Brandon.
We launched in a place that I would certainly describe as a "creative access point". If it works, it works. I filmed a little bit of an introduction while the light was still enough to see his face as he narrated. He said he was good to go until around midnight. I switched the video camera over to night vision and we headed up to a light line of a bridge in search of redfish, triple tail or tarpon. I was first to hook up, by trolling a Yozuri Crystal Flash Minnow along the south side of the light line. My first tarpon experience commenced.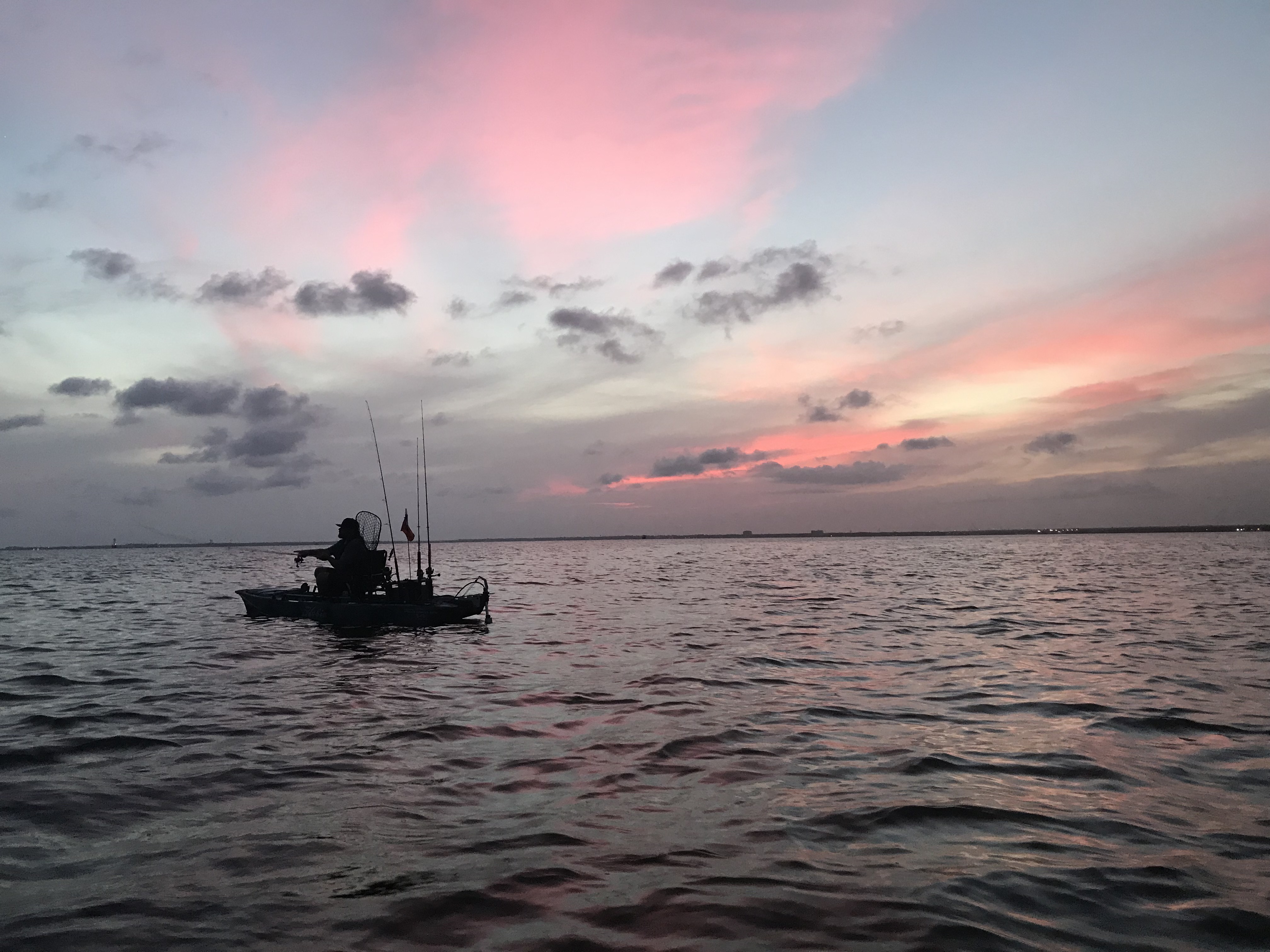 It's a different level. The first run of drag peeling away seemed to never end. I called out to Brandon, "Fish OOOOONNNNN!" I was immediately certain that I would be spooled. But then it stopped, changed direction. Once I caught up with the slack of the fish running past me in the opposite direction of the first run, it did something crazy underwater that made the braided fishing line do things to the surface of the water that I had not yet seen. Then it jumped right beside the back of my kayak. I would say that it splashed me soaking wet, but I was already soaked from the thunderstorm that passed through earlier. By then Brandon had pulled in behind me. I held onto the rod firmly and handed him the dry bag so that he could start filming the fight. The fish was 15 feet directly under my kayak. It was pulling, but mostly just staying. I pumped the rod, dropped the reel back down and gathered line in small increments against brief periods of my drag not engaging. Was it succumbing to exhaustion? Not even close. I pumped and reeled the silver fish to the surface. I could have reached down and touched it, but I didn't. It's almost like I had never fished before because with that size and power of fish, I didn't know my first move. I glanced at a net on the bow of my kayak and thought "I might fit it's head inside that – nope!" I thought about my larger sized Boga Grip and realized that it's jaw bone was too thick for the metal claws to fit around. I would need to reach my hand inside it's mouth. Somewhere in there is a set of treble hooks – not the best option. I understood why swimbaits with a single jig head hook are the most often used lure for these fish. My indecision allowed the fish dive and easily take back whatever amount of drag it wished. The fish was down there, collecting its thoughts. It made a plan, and mustered the next burst of energy. It rocketed up 15 feet to the surface, broke the surface with its mouth open already, shaking its head violently. It's five foot long body twisted in the air. As soon as my brain caught up, the thought "Just hang on!" was almost audible in my memory. But the lure was ejected back at me. It was over. Somehow I was not pissed that it got off. I was grateful for having experienced that fish doing its 100%. No other fish that I have tangled with was even close to this experience, and a 5 footer was a baby compared to some of the ones that people like Brandon, Matthew Vann and Marty Mood have caught in this area. Tarpon will change you.
Brandon and I finish the trip by targeting redfish visible in the northern light line. He catches a nice one on an artificial shrimp that he altered to provide a slow rate of fall. Another thunderstorm kicked up and we raced at full speed to the access point. It was 1:30 am. Brandon helped me load my kayak and we departed. Here's the "night vision enabled" footage: https://youtu.be/-_dspwN4tIs
Saturday August 28th, 2021: The Day That Ride The Bull Should Have Taken Place
At almost 2 am, I drove north without a clear destination. I wasn't staying where I just left – it wasn't worth the almost $250 rate I was quoted for a room there. My adrenaline rush of the experience had subsided, and by 2:30 am, I pulled into an empty lot next to a truck stop. Tractor trailers lined up like books on a shelf let me know that no officer would be tapping on my window to wake me up after I nodded off. Reaching into the back seat through a jumble of rods, bags and batteries, I extract a pillow, jam it between the head rest and door and try to recline my seat against all that gear. I crack the windows half an inch, and try to sleep. Sleep comes readily, but I wake periodically to turn the key and let the engine and air conditioning run for a few minutes to push the hot humid air out of the cab again.
I give up the effort around 6:30, pull up to the truck stop gas pumps and top off my tank. I have a destination in mind: Scott Beutjer's house in Carrollton, Georgia. But that isn't on my itinerary until Sunday evening. I was supposed to be at the Ride The Bull tournament in Grand Isle with hundreds of other kayak anglers. With that plan altered, I wanted to make the most of my time. I called Tim Perkins. Tim was kind enough to look at some river gauges where he lives much further north in Alabama, then network with his buddy and River Bassin Tournament partner Lance Coley. Within 20 minutes, I received a text of a Google Maps pin drop. I set my navigation to the pin and call Tim. He explains that I will catch Choctaw Bass, a species I won't find anywhere else.
I ended up at a different launch, but it was part of the same watershed. The creek was far less than a cast wide under the bridge where I parked. A pick up truck with an empty boat rack over the bed was already parked there, so I knew that the water was worth a float trip. As I drag my light weight inflatable kayak over a sand mound, another party of vehicles with canoes and kayaks pulls down under the bridge with me. I speak with the patriarch of the three generation family. The gray bearded grandpa with a pistol holstered on his hip explained that I'll catch as many bass as I want to. They were leaving one vehicle with a trailer there and floating back down to that spot.
I move upstream casting a spinnerbait at woody targets on the bank. Seeing Cypress trees on the bank instead of Sycamore trees let me know that I wasn't on my familiar Mid-Atlantic creeks. The sandy bottom river was light colored in the shallows and tea colored when the depth was anything over 2 feet deep. The first fish came within sight of the bridge, an 11 inch bass with a rough patch on the tongue and broken stripes along the white belly portion. I look it over and release it quickly. Was that a Choctaw Bass? I didn't know. But whenever I caught one, it was followed by three or four others the same size chasing the hooked fish in, trying to rip at the strands of the spinnerbait skirt to join in on the feast. This was catching, not fishing. Occasionally, I would hook into a larger fish, say 14 or 15 inches, but when I pulled it into the kayak, I knew that it was the familiar largemouth. By mid morning, I ran into another angler floating down in a kayak. I spoke with him about the fishery. He let me know that he fished some of the BASS Nation and Hobie BOS tournaments, including one at Eufaula that Rus Snyders won earlier in the year. When I posted a release video of one of the Choctaw Bass on my Instagram and Facebook account later that day, he chimed in his final count of fish caught on his float: 33. I can't really say how many I caught, but it was a lot. None of the Choctaw Bass were very large, but they all looked like they could be featured in an Al Agnew painting: perfectly ornate examples of the species.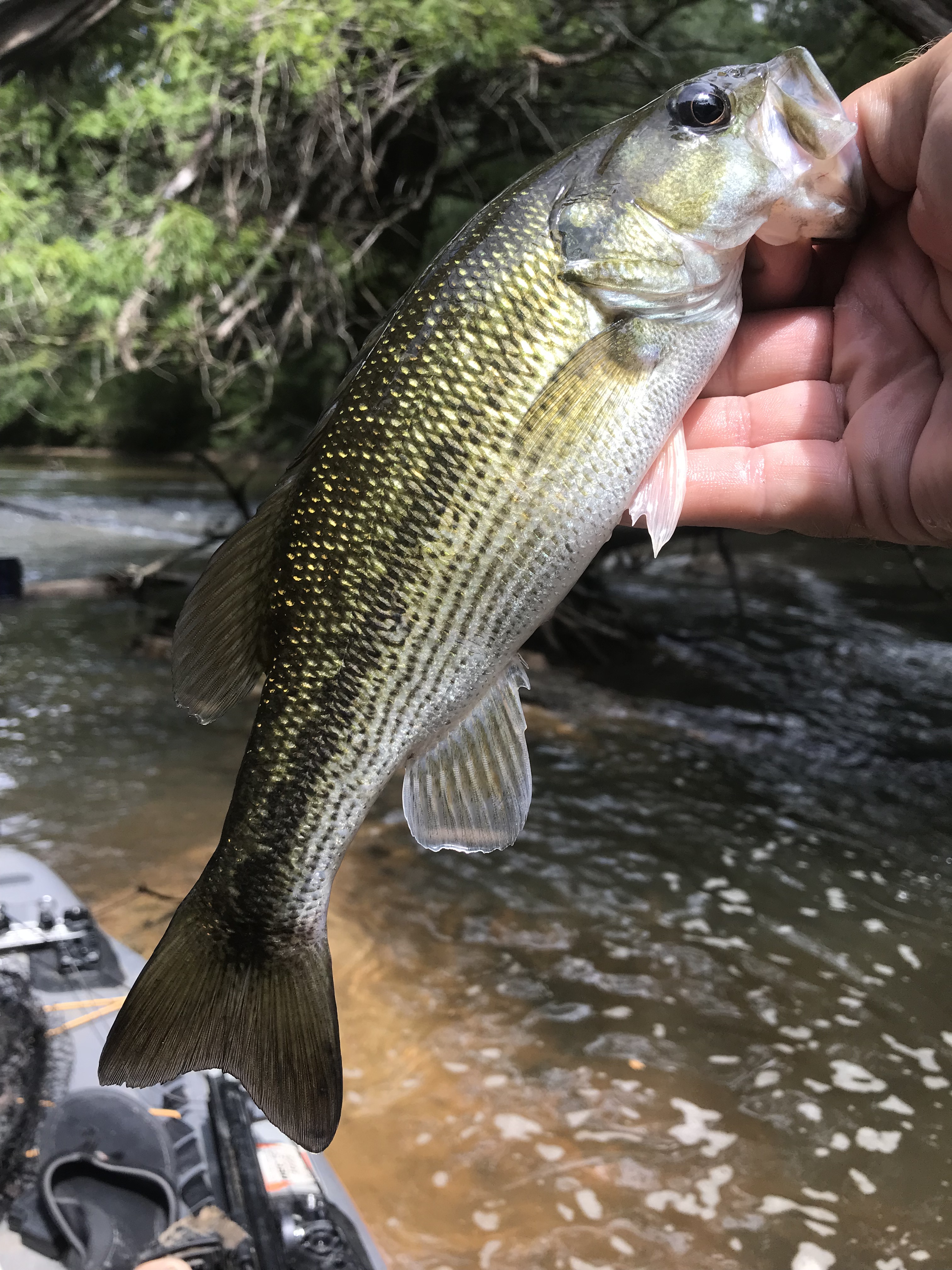 I finished the trip by turning around and floating back to my truck. The three generational group had passed me somewhere along the way, and I spoke with the Grandpa again. His son and grandson were in a different boat. The grandson was casting a beetlespin as his father positioned the canoe for the perfect cast. Getting close to submerged wood without snagging in it was the key. I caught up with them at the bridge as they were loading up. Most of my fish came on a Z-Man Deizel Minnow in Redfish Toad color rigged on a ¼ oz Trout Eye jig head. I cut it off my line and handed it to the grandson, letting him know that it was my most productive presentation.
Driving north on rural roads in south Alabama, I realized that smelled. My next move was to find lodging and a hot shower. It should be close to another small river to fish the following day. This time I wouldn't be going on a recommendation. I spent about 20 minutes parked on the red clay and gravel shoulder swiping and zooming in and out of several rivers closer to where Scott lived. The spot I chose was a well developed access on the upper portion of a river known to have another species: the Shoal Bass.
The lodging I found was the third one I tried in the town closest to the access. Weekend vacancies are rare. Finding a room during the peak of the pandemic was easy. The rates were good too. That's over, and if you wait until you are at or near your destination, you take what you can get. In this case if was a motel where the weekly rate inhabitants of the adjoining rooms found me and my gear much more interesting than anything on television. They just opened their doors and stared as I unloaded my suitcase and gear. The older gentleman who checked me in ran across the parking lot apologizing for giving me the wrong key. His son came soon after, explaining that room 19 had a problem with the shower. Room 18's shower worked, but the window was duct tape and cardboard. The odor inside was a mix of cigarette smoke, moldy carpet and some sort of heavy floral air freshener that had no chance of overpowering the other two smells. I showered. It was hot. I slept fully clothed on top of the comforter. I have yet to be bit by bed bugs, but this is the type of place where it's likely to happen.
Sunday August 29th, 2021
The morning came quick and I was off to go explore a small river in central Georgia. Rains ahead of Hurricane Ida had muddied the creek near the put in, but the main river had a nice greenish brown color – perfect for chucking a spinnerbait at some log jams. I set up my gear on the inflatable kayak, set it on the cart and showed the camera that I was bringing two 915 Watt hour batteries. The idea was to use an entire battery to make it as far upstream as possible before floating back down. This provides a nice alternative to setting up a float trip and shuttle with a float trip partner. It allows a single point access for a solo angler to enjoy a day on the river.
The first part of the day was a full speed trip up through a series of pools with Cypress trees lining the edges. Occasionally, I would come across an outside bend that was boulder lined instead of tree lined. It's tough to bypass good looking water, but I needed to cover water. After several miles, the temptation was too much. I grabbed a rod with a bluegill colored squarebill and launched it to a path that would grind along a boulder strewn outside bend. The rod loaded up quickly with the throb of a 16 inch spotted bass. I didn't really know what a Shoal Bass looked like, other than it having some vertical bars similar to a smallmouth. I wanted to catch a shoalie, but this fish had the tongue patch of a spot.
I moved on, knowing that the outside bend rock structure was a target worth moving to quickly on the return trip. The sound of radials on a metal grate bridge around the next bend let me know that I had reached the first measurable waypoint. Beyond that lay a set of shoals that would certainly require my getting out and dragging up and over. Once across that barrier, I heard a familiar sound: the whine of a jet engine followed by the crash of an aluminum hull smashing across shallow gravel. I caught a glimpse of two anglers hopping out of the jet boat, pushing it up through shallow water, then jumping back in to shoot upstream again. I couldn't believe that someone had the courage to run a jet in such a small river. I ran into them later in the day many miles upstream.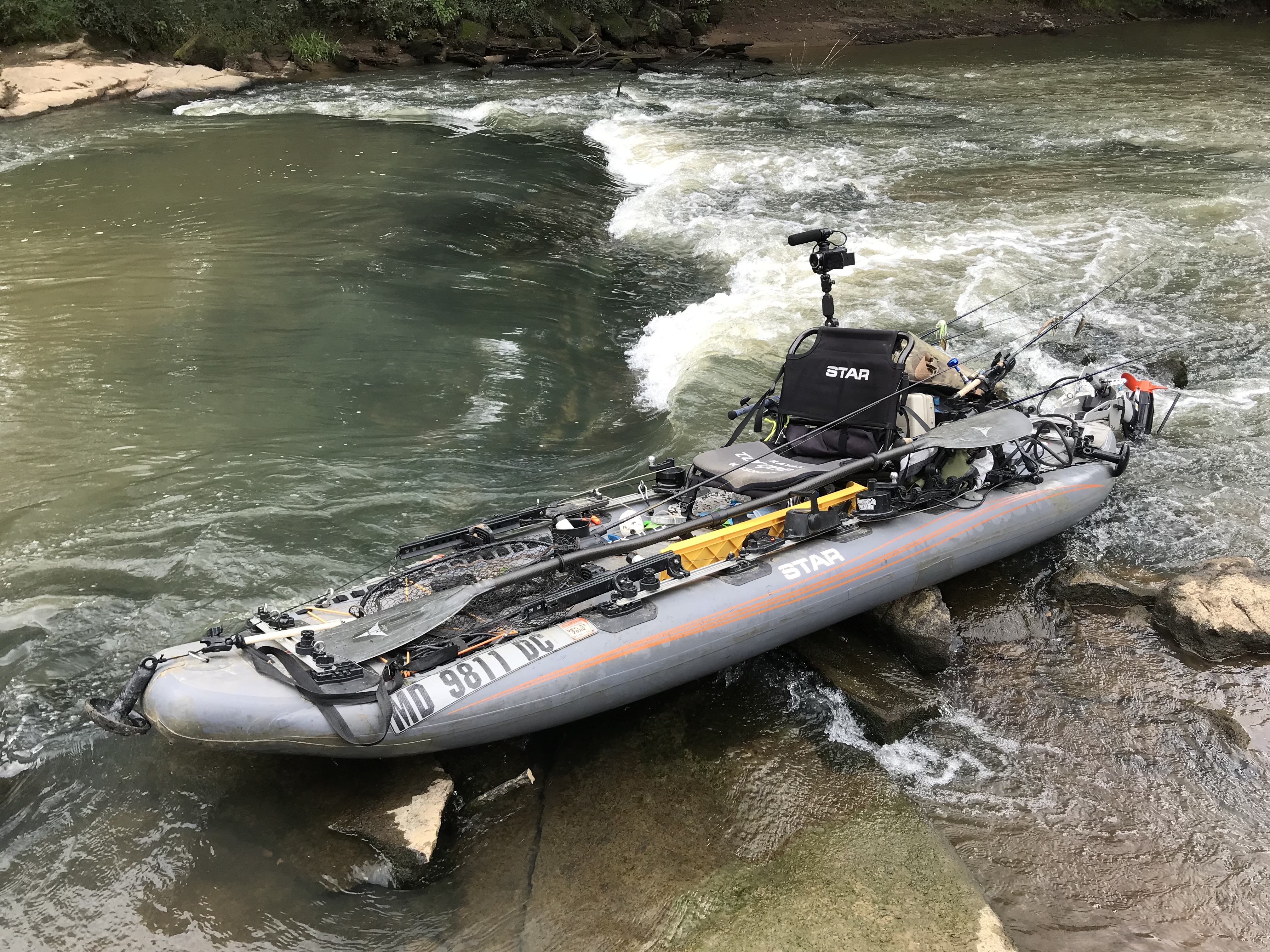 At the furthest upstream part of the trip, I came across a bank to bank strainer: a tree trunk about 2 feet in diameter that stretched from one bank to the other. In higher flow, that would flip and crunch up a boat. Tossing my lightweight inflatable over it from the downstream side wouldn't be an issue, but I decided that I didn't want to do it twice in a day. So I stopped there, initiated a trip record on the Anglr App to record the one way distance, and started fishing. Spotted bass made up the bulk of my catches, but here and there, I would hook then lose a smaller fish that looked like a smallmouth.
Approaching the largest shoal in the trip, I cast a customized gold and green Jackhammer down into the push water. A bright green flash turned on the bait and quickly went airborne. It looked like a smallmouth, and when I eventually got to lip the fish, I could see the vertical banding that let me know that it's a Shoal Bass. I continued my float back down, catching spotted bass, the largest of which was an 18.5 incher that smoked the Jackhammer in the spot where I caught the first fish on the squarebill. The sun was almost down, so I ended up motoring through the last few miles to the access point. Per the Anglr app, the one way trip from the furthest upstream point to the take out was 7.6 miles, resulting in a 15.2 mile round trip in 8.5 hours. This video link will let you follow along with me on that adventure: https://youtu.be/Myj1Y_duAdU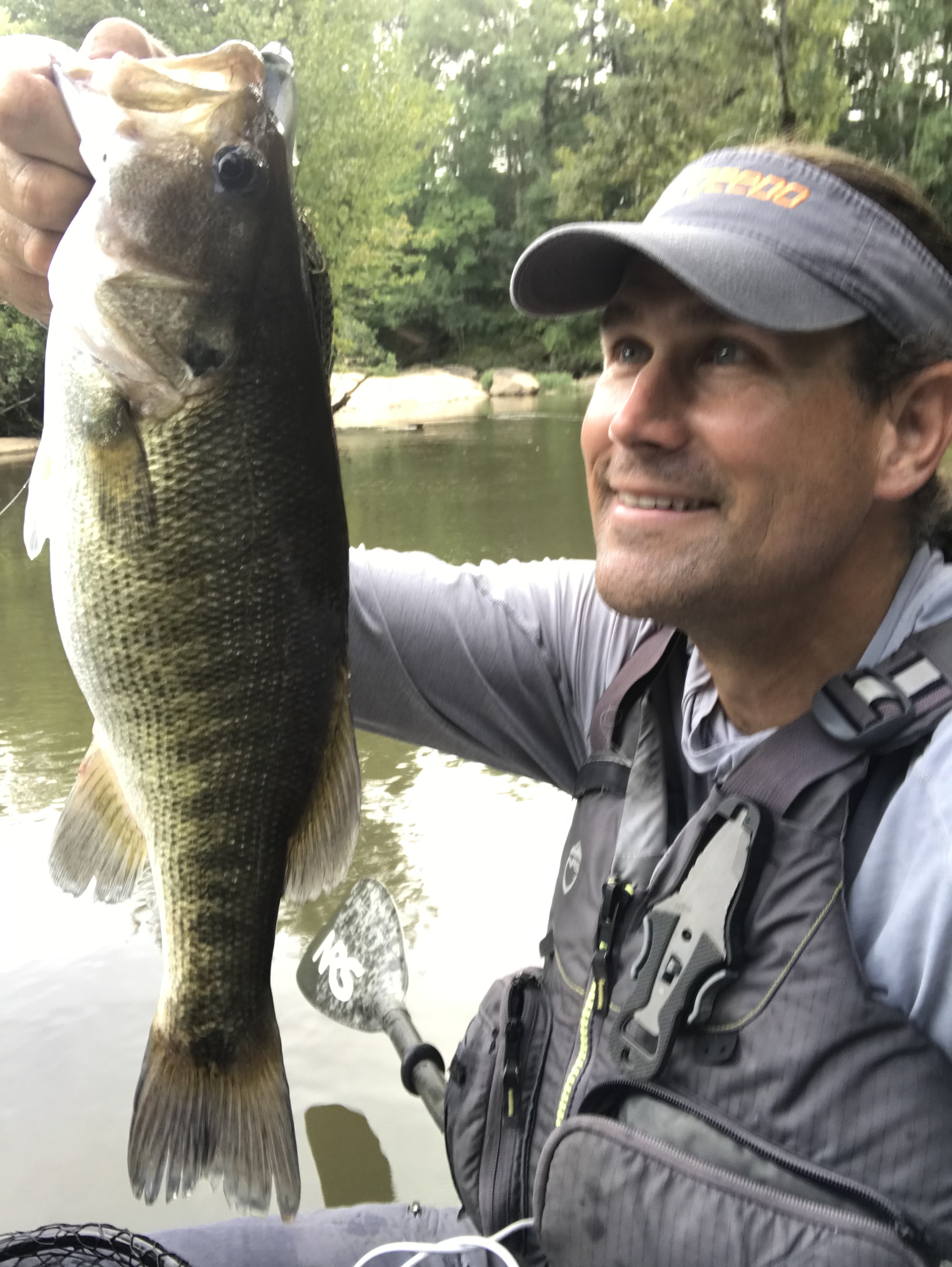 I drove the hour and a half to Scott's house. He had enjoyed a fun day with his wife and kids at an Atlanta Braves game while I was on the river. Everyone was in bed by the time I got there, so I took a shower and turned in myself.
Monday August 30th, 2021
In the morning, I joined Scott in his supply chain and shipping duties at Crescent Kayaks in Carrollton. I met several of his coworkers and even helped them load up a container with 67 kayaks destined for Puerto Rico. I also met Billy, the owner of Southern Boutique Outfitters in Americus, Georgia. I gave him a dealer application, and plans were made for me to return next month and teach him how to install an Ultralight 403A on a Crescent Crew.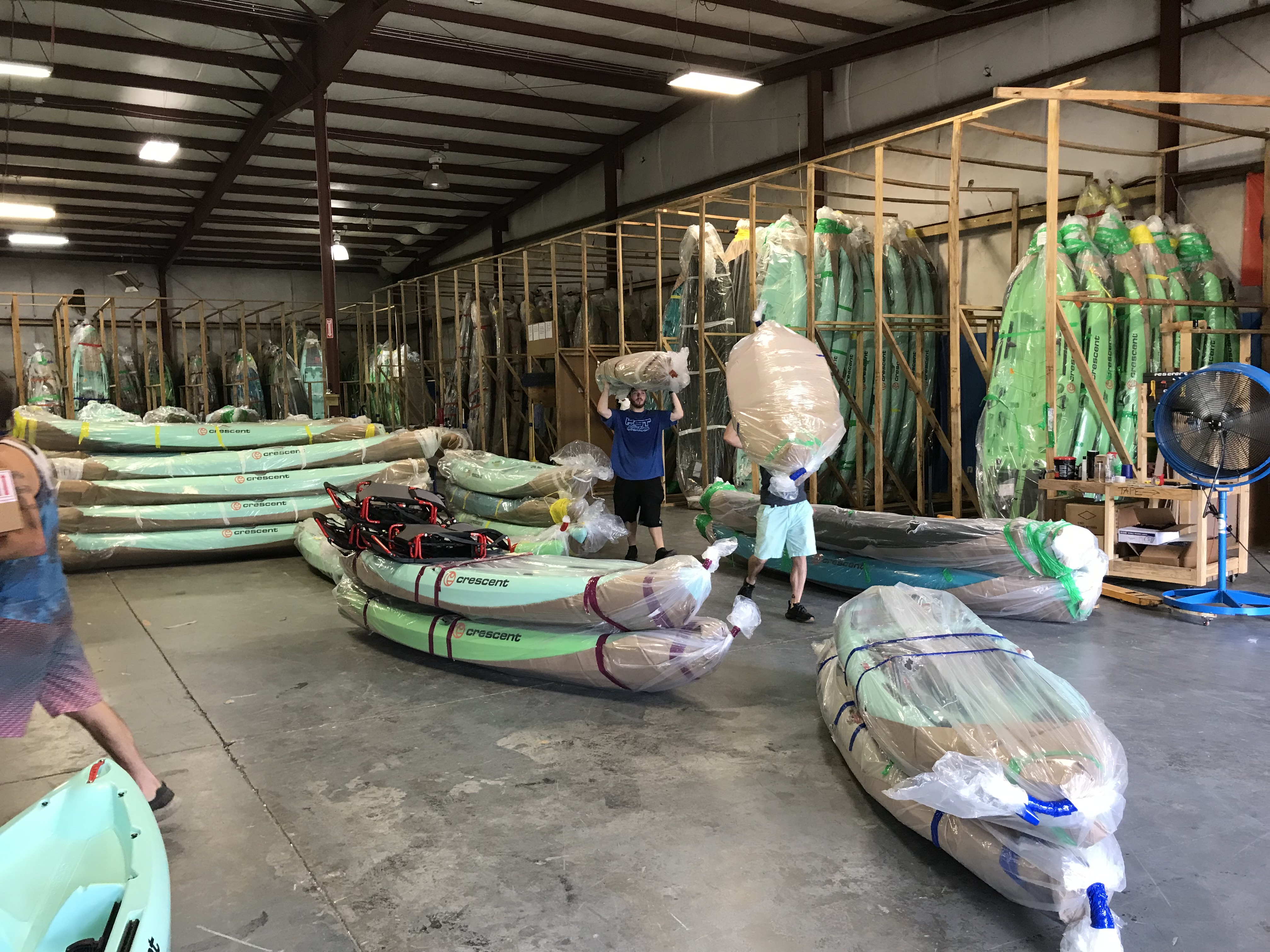 Scott wrapped up his business, we grabbed a quick lunch at Chick Fil-A, then drove to Lake Nunya. At least I think that's what he called it when I started filming an introduction at the ramp. I believe that it's an indian word that translates to "my fishing hole, not yours". Scott popped the first fish in a cove right next to the ramp, a 19.5 incher that smashed a Jackhammer ripped through the deep grass. We ventured up into a creek where we found much cooler water, and I connected with a 17.5 incher that proved to be difficult to pull out of a log jam.
The clouds of Hurricane Ida's leading edge moved across in waves, and by late afternoon, we heard thunderstorms in the distance. Scott suggested that we make a long run to the opposite end of the lake. Actually, he gave me two options, and I chose the long run despite the occasional downpour and distant thunder. We moved to the back of another creek. I cast my custom color Jackhammer to a point on the left side of the creek and it immediately loaded up with the weight of a solid 4.5 lb largemouth. I don't really know the weight, but I saw it clearly enough to make that estimate as it jumped two feet out of the water and threw the bladed jig. I had pulled my video camera down due to the now steady rain. It didn't matter – I just wanted to keep casting.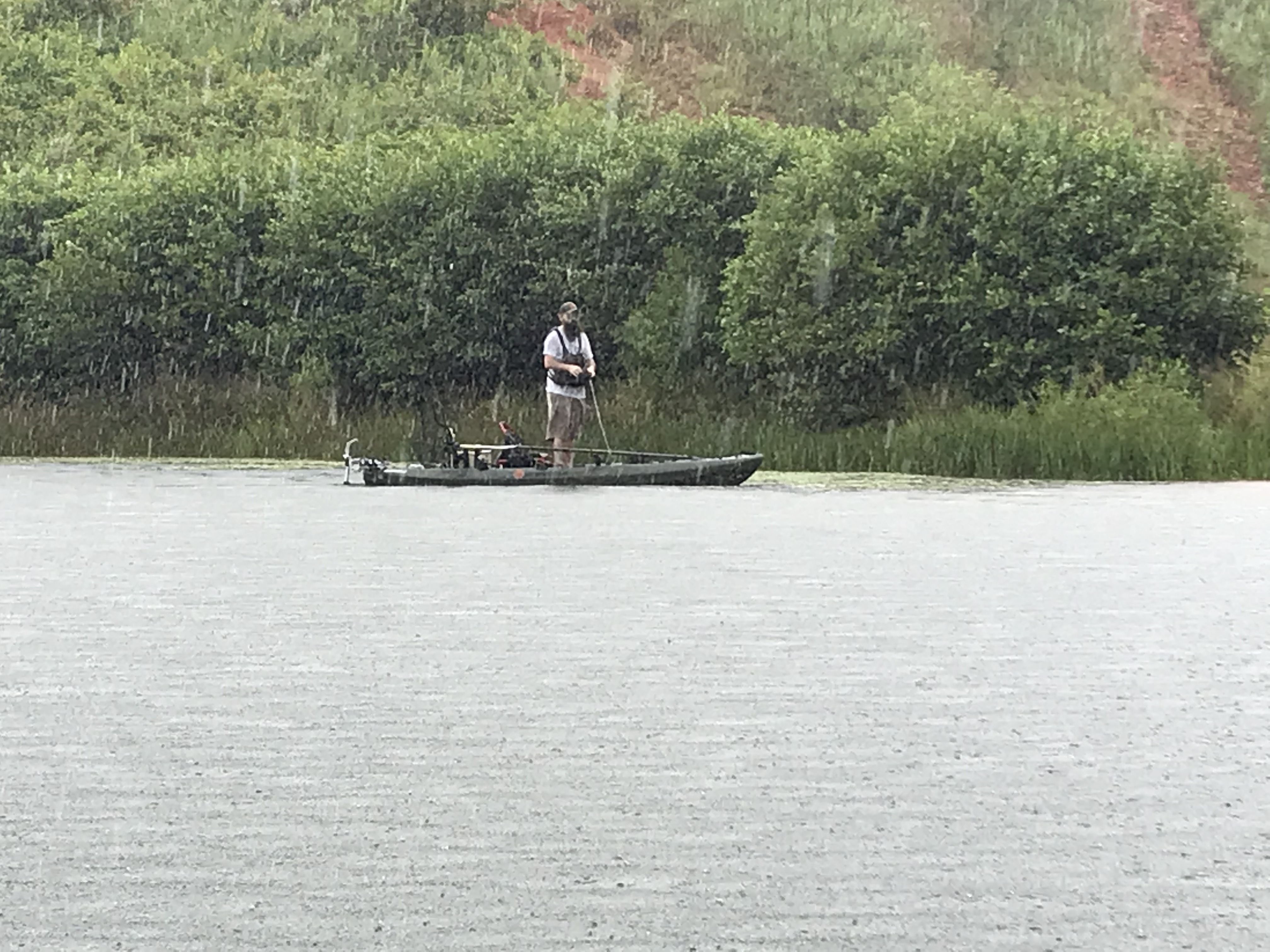 Two casts later the rod loaded up again. I didn't see the fish for 10 full seconds. For 7 of those 10 seconds, it pulled drag. When it jumped, I immediately did a mental comparison to my personal best largemouth, a 7 lb 15 oz West Virginia fish. Yep, the fish at the and of my line was bigger, and not by just a little bit. The kind of pulls this fish still had in it reminded me of the 28 to 31 inch range striped bass that I catch up on the Chesapeake Bay in the spring. I knew that this one would be my new personal best, and was glad that I had the 32 inch Ketch board instead of the 26 inch version. As the fish tired and allowed me to bring it close enough to the kayak to dip the net and scoop it up, I felt the familiar thump of the Jackhammer blade. That was a let down. What did I do wrong to allow this fish to escape? I looked down in the water to see if it was still in the area, but the rain drops obscured my view. I sulked for a moment, then kept casting.
Three minutes later, I had a largemouth that measured just over 20 inches in my net. It fought well and was in the same area as the two other fish that I had missed. I motored over to Scott who perked up when he saw the fish I was holding down in the water. He then looked confused as to why my face looked so distraught while holding such a nice largemouth. I explained what happened as I handed him the dry bag with the video camera. We filmed the release of the fish and my account of what could have been a new personal best. I kept fishing and caught several other fish in the 18 and 19 inch range, this time with the camera recording. Regardless of the heartbreak, Scott and I laughed a lot, learned a little from each other and enjoyed our time on the water together. This video shows the fun: https://youtu.be/dTqciVHW_CU
We wrapped up the day with Danielle's delicious home cooked meal of country fried steak, corn on the cob, fresh bread, potatoes from the Beutjer garden, a side of peas and a birthday cake. It was August 30th, my 46th birthday. We all turned in for the night, and I set an alarm for 6:00 am.
Tuesday August 31st, 2021: Homecoming Day
Rolling over and looking at my watch at 3:30 am, I knew that I was ready to be home. But I had one more stop along the way: Big Adventures in Fletcher, North Carolina. I pulled my items together, exited through the garage while the Beutjers slept, hitting the automatic door closer on the way out. Around 6:15 am, I called my wife Jessica. It woke her up, which isn't always the case at that hour. She has animals on the farm to feed in the early morning. We talked as I watched the sun came up over the South Carolina countryside.
Once in Fletcher, North Carolina, I pulled into the parking lot of Big Adventures, where Bonafide and Native Watercraft kayaks are manufactured. Hans Nutz, Product Designer for Bonafide met me in the parking lot, and we looked over the inflatable that I had been fishing out of the last several days. We went inside to collaborate on the soon to be released Bonafide P127, a pedal drive kayak similar to their best selling SS127. He had already installed the Ultralight 1103 on the prototype, but wanted my input on the foot control steering set up he had installed. It's in the brand's best interest to make sure that Torqeedo installation is easy. This includes the foot control steering kit. After some discussion and re-rigging his motor lift lines, we headed over to Lake Julian to test the steering, and obtain speed and range data.
The wind had picked up and we were getting sprinkled on as we launched. Hurricane Ida just wouldn't leave me alone! I found a wind protected cove to get the speed and range data on smooth water. It hit a top speed of 6.5 mph. If you look on the Torqeedo Kayak Fishing Facebook page, you'll find a live feed showing how the foot control steering performs. Hans and I got off the water quickly then found a local taco place to get lunch and talk about what's next with that boat and a foot control steering kit.
I had about 9 hours to go once I got back on the road. Somewhere along Interstate 81 in southwest Virginia both of my cell phones started blaring a Tornado Watch warning. I pulled over to check my load of kayaks, tent, cart and other gear to make sure everything was secure. I understand that if I am in a Tornado, the entire truck and all it's contents get tossed around. It wasn't a rational move. I did check Google Maps to look up the county that the Tornado Watch was issued. I had been in that county 20 minutes prior. Time to keep moving!
As I made my way up through Staunton, Harrisonburg and eventually my turn off near Winchester, I noticed how frantically the tractor trailers were trying to stay ahead of the windy storm front. I felt that out of all the dangers I faced on the trip: 3 foot breaking waves on Lake Erie, lightning and 40 mph gusts at Grand Isle and Pensacola, seedy motels pretty much everywhere and the occasional class 2 rapid on a few of the river runs, this leg of the trip was the most treacherous. The feeling was sort of like being in a crowd that was stampeding away from gunshots: every vehicle for itself trying to escape the danger closing in behind.
Near Harper's Ferry, the rain subsided and I had a gentle ride the remaining hour drive to my home in New Windsor, Maryland. I was greeted in the driveway by Nacho the barn cat. I started the days long process of unpacking, drying out gear, charging batteries and rehabbing my gear damaged by intense use. It was late, so the most important task was setting up a few batteries to charge and getting my tent and table inside where they wouldn't get soaked in the 5 inches of rain that would fall in the next 24 hours.
I hugged my wife, took a shower and got in bed. The following morning, I learned that Hurricane Ida had killed many people in the areas of Louisiana that I had been in just days ago. It hit a wide area with sustained winds over 170 mph. A weather channel drone flew down the main drag of Grand Isle, showing very few structures still standing. I don't believe that the motel that Dustin and I stayed in survived. The corner of our yard flooded, and later that night I watched reports of the same flooding going on from Philadelphia up into Maine. Parts of New Jersey and New York seemed to be especially hard hit.
I counted my blessings to have stayed just ahead of this killer storm. Friends and the good people who serve the kayak fishing community in a variety of roles: dealer, guide, tournament angler, pro staff all helped make this a memorable trip. I hope you've enjoyed the insight. My next adventure being a traveling salesman, videographer story teller in the kayak fishing market starts again in just a few weeks.
Jeff Little
Torqeedo Inc Sales Manager - Retail/OEM