---
It's not every day you get the opportunity to kayak fish one of the big bass factories in the country, Lake Caddo, with Chad Hoover and the newly crowned 2019 Kayak Bass Fishing National Champion, Mike Elsea, however we were presented with that opportunity following the KBF National Championship in Shreveport, LA in late March. Between Chad, the YakAttack crew, and Mike we all had a long week and needed a day of rest, so we took off the Sunday following the end of the National Championship and woke up on Monday to almost freezing temps and a water temperature drop of 10-15 degrees. We knew the bite might be tough but between all of us we knew we could put together a solid game plan to find the fish and have two days of low pressure kayak fishing and having fun with old and new friends.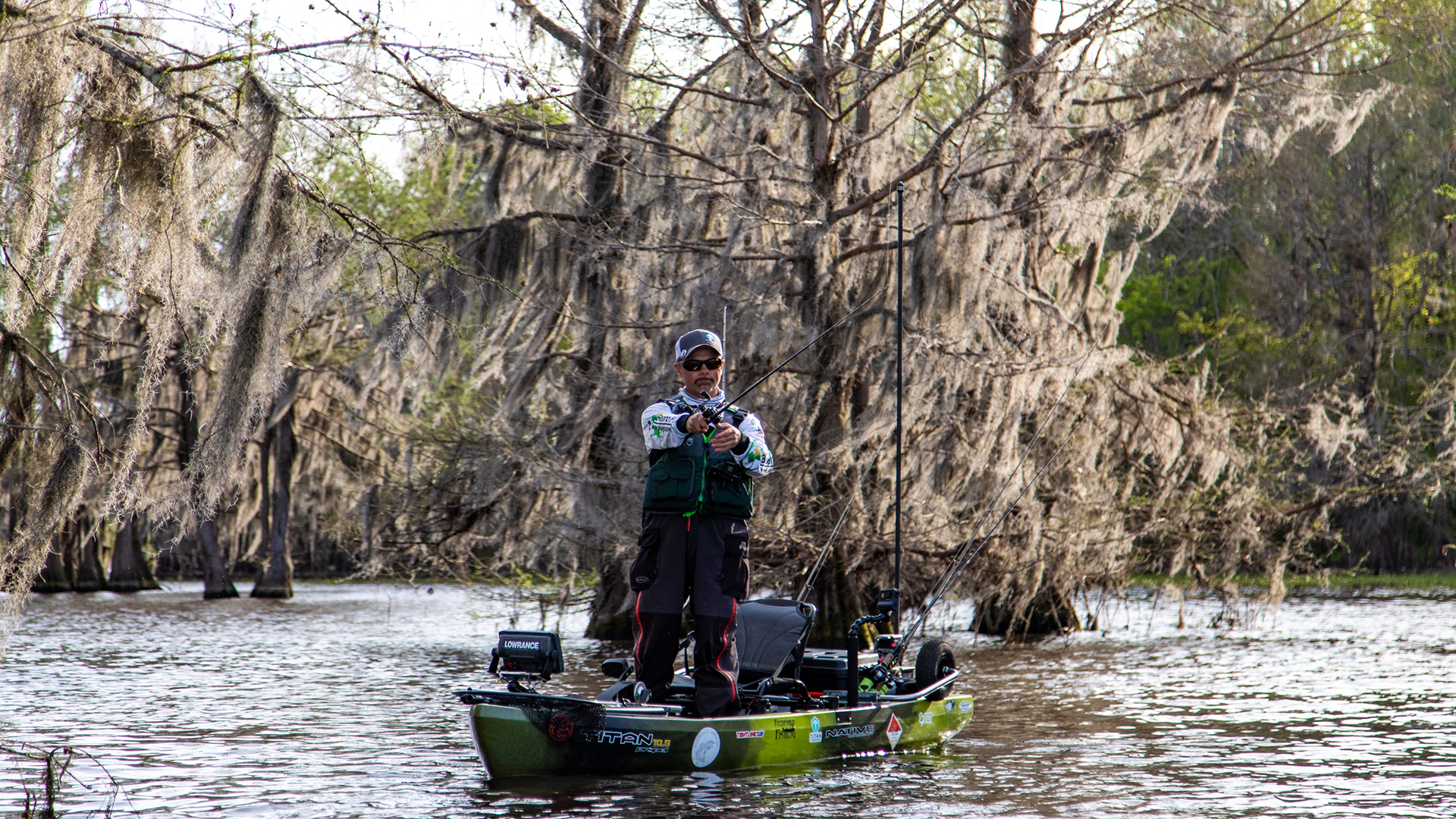 Originally, the plan was for Luther Cifers, President of YakAttack and CEO of Bonafide Kayaks, to fish and film with Chad and the 2019 KBF National Champion, but we had to make an audible and find replacement anglers so we were highly unprepared with no gear, tackle, or appropriate clothing for paddling in very frigid temps for late March in Louisiana. After a quick stop to the local Cabela's for base layers, NRS for PFD's, and multiple friends for kayaks and tackle were were ready to hit the water; of course we were covered on YakAttack so we were able to outfit all of the kayaks with the right gear.
The game plan for day one was to follow in Mike's footsteps of his third and final day of the National Championship covering the techniques and the location that helped him win 1st place with a three day combined total of 288.75" and winning by 16". Chad, Mike, Patrick Dantonio (Manufacturing Engineer at YakAttack), Ryan Jones (YakAttack and Bonafide Kayaks Sales Rep), and I hit the water and within the first mile of paddling the temps dropped even more and the winds picked up. We knew we were in for a long day but when surrounded by a world class fishery and good friends the only thing you can do is enjoy the company and fish. Day one was slow with only a few small fish coming before the storm front and some better quality fish and more numbers picking up later in the day as most of the crew had already paddled back to the ramp and called it a day. It still wasn't the result or numbers we were looking for. Over the three days of the National Championship almost 4,000 fish were submitted through TourneyX so we knew the fish were there, and it was just a matter of finding them and being persistent and precise to get them on the hook and in the kayak.
The forecast for day two looked night and day difference, and we arose to a beautiful morning with air temperatures that were more common to the area for that time of the year. For the location we chose an area that none of us had previously fished but we had some good local intel and the area looked great from Google Maps. There were pads, open water, and a mix of thick groups of cypress trees, a vast number of stand alone trees, and anything in-between. This area offered the clear water we were hoping for along with a variety of environmental hot points for big fish. All of us were catching fish, but nothing of any size. A few 2-3 lbs fish but nothing close to what Lake Caddo is know to produce. Nearing the end of the second and final day before everyone hit the road headed home we found the one we in search of.
I had been fishing a Texas and a wacky rigged Gary Yamamoto Junebug Senko on and off for both days and the common result was smaller fish up to about 3 lbs, and trying to swing for the fence as the sun started to set I switched over to a few larger baits in hopes to trigger the bite we were looking for. As approaching the last section of cypress trees I kept trying to talk myself out of casting my rod with the wacky rigged Seko, but this tree in conjunction with an adjacent lay-down I knew I could bet on the Seko getting slammed in that situation. I made a nice skip cast in-between the main cypress and the base of the lay-down and after two seconds the fish was hooked and I knew it was a better fish. Mike was in shouting distance so he pedaled over in his Native Titan to see what was going on. Chad and the film crew were off in the distance finishing up some footage for the National Championship TV episode. I was able to land the bass without a hiccup and Mike was able to supply his net to allow the fish to rest while the film crew was able to motor over to get some footage. For me it was my biggest bass of the year, largest Louisiana largemouth, and a top ten fish by length ever for me personally coming in at 23.25 inches.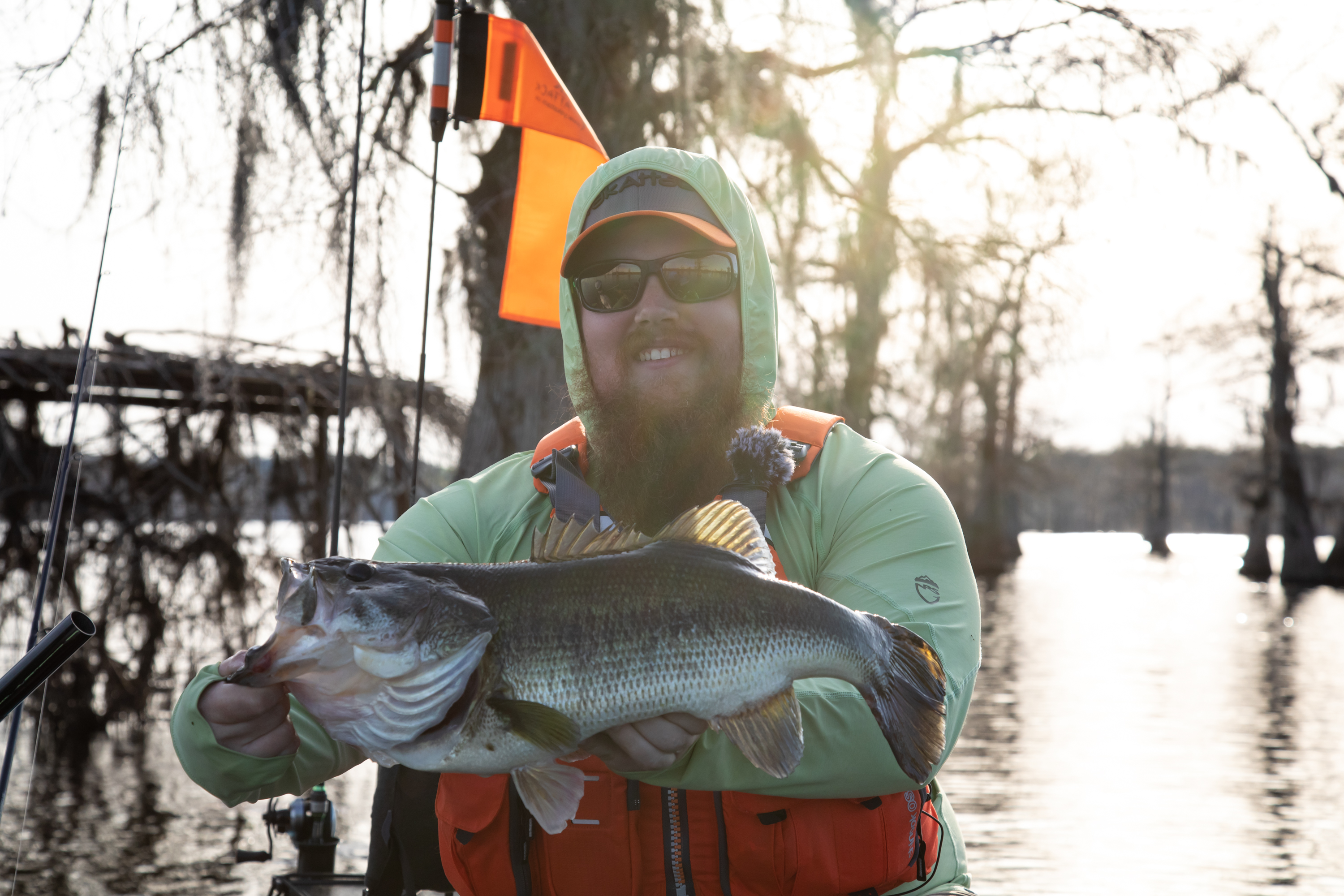 We do a fair amount of traveling for YakAttack and aren't always able to fish those areas so these two days on the water meant a lot to me. Sometimes you have to slow down, enjoy, and experience the sport we help grow and love with others in the industry and new friends because that is the reason we truly do what we do. If you ever get the chance to experience Lake Caddo from a kayak or a boat, do it and you won't be disappointed. It was a kayak fishing paradise and one of the most beautiful places I have ever been to. From the YakAttack family we want to congratulate Mike Elsea on his 2019 Kayak Bass Fishing National Championship and are more than blessed to have him be a part of the YakAttack family. See you on Lake Guntersville in April of next year for the YakAttack KBF National Championship, presented by Torqeedo.